By Lele Galer, Columnist, The Times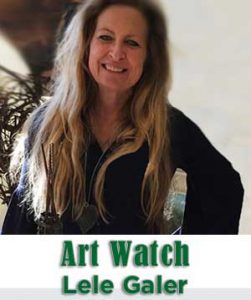 So many great shows and art events happening this weekend that it will be very difficult for you to choose which event to go to!
After months of an important retrospective show of Andrew Wyeth's works, Somerville Manning Gallery opens this Friday with "Under the Influences," a wonderful show that pairs a contemporary artist's work with original work by a famous artist that inspired them.
Also this weekend is the Paoli Hospital Auxiliary's Fine Art Show, with a big Opening Night Gala on Friday Night. This Friday in Oxford, at the Oxford Arts Alliance, is the artist's reception for "Schaller, Friends & Family" from 5-8pm, and this Saturday from 5-10pm, Ivystone Studio in Downingtown hosts a silent auction and benefit art show for hurricane Relief. "Art From the Heart" at the Wayne Art Center is also holding a big hurricane relief art sale this Sunday, September 17th from 3-5pm. So much to do art-wise this weekend!
"Under The Influences" is such a great idea for an art show – pairing a regional artist's work with work of the master artist who has inspired them. Not many galleries can actually get original work of great masters like Francisco de Goya, John Singer Sargent, or Andrew Wyeth, but Somerville Manning can, and does a beautiful job hanging the disparate works, and showing the relation of one to the other.
Vicki Manning, owner of Somerville Manning Gallery, said "All of our artists in the show are influenced by the art history before them, so having an opportunity to view a contemporary artist alongside an original master gives us a rare insight into today's art." If you were to have your work shown with a lauded master, whose work would you choose?
For "Under The Influences" the artistic pairings include: Vicki Vinton, to Sol LeWitt, Sarah McRae Morton to Francisco Goya, Judith Pond Kudlow to John Singer Sargent, and Betsy Eby to Mark Tobey. The opening reception is this Friday from 5:30-7:30, at Somerville Manning Gallery, Breck's Mill, 101 Stone Block Row in Greenville Delaware and the exhibition runs through October 14th.
In Downingtown, the beautiful Ivystone Studio, located at 138 Moore Road in Downingtown Pennsylvania, hosts a Silent Auction and Benefit Art Show for Hurricane Relief. During the day, from 5-10pm, 15% of all art sales and 100% of all auction items will be donated to charities involved in hurricane relief efforts. Besides art for a great cause, it is a wonderful art place to visit, with two stories of art, revolving room dividers and now a newly installed gallery catwalk. Owner Justin Smith is really changing up the traditional art gallery space with Ivystone Studio. Be sure to check out the hand-blown industrial glass works made by Justin Smith, as well as the many canvases, jewelry, sculpture, furniture and more made by an ever-growing list of exhibiting local artists.
Also helping with the hurricane relief effort is The Wayne Art Center, at 413 Maplewood Avenue in Wayne Pennsylvania. This Sunday from 5-7pm, Wayne Art Center presents "Art from the Heart", with art donated by an enormous list of well-known regional artists, all very affordably priced from $75-$200. 100% of the proceeds will go to All Hands Volunteers to benefit those in Houston and the surrounding areas in Texas affected by Hurricane Harvey.
This Friday is the swank Opening Gala for the Paoli Hospital Auxiliary Fine Arts Show, with 50 regionally known artists of every medium, including featured painter Jacalyn Beam, as well as Erica Brown, Jeff Schaller, me (Lele Galer), Sandra Severson, Diane Micklin, Darcie Goldberg, John Pompeo and many more. Along with this show and sale of regional art, Devon Fine Arts will be showcasing some of their fine collection of modern and contemporary art by Picasso, Chagall, Basquiat and other greats. "Last year's art show was incredibly well-received by all who attended, and we look forward to another great turnout this year," said Paoli Hospital Auxiliary President Carol Rabe Palmer. This year's Opening Gala is from 6-10pm, and costs $75 per person, which includes a full bar and hors d'oeuvres. If you can't make it to the Gala, then please check out the show during this Saturday and Sunday from 1-4pm. The Paoli Hospital Auxiliary's Fine Art Show is held at The Barn at Liseter, formerly the John duPont estate, at 1 Liseter Road in Newtown Square.
Further south, the opening for "Schaller, Friends & Family" is also this Friday from 5-9pm at the Oxford Arts Alliance at 19 South Third Street in downtown Oxford. Well known encaustic artist Jeff Schaller has curated a wonderful show with fellow artists Heather Davis, Paul Downie, Teresa Haag, Rhoda Kahler, Jeff Schaller and his daughter Mia Schaller. These artists will show their own work as well as special collaborative works made especially for this show. This a fun, innovative art show that I heartily recommend you to visit this month. "Schaller, Friends & Family" runs through October 13th, with a not-to-be-missed "Artist Talk" on Wednesday September 27th at 7pm. Across the street from the Oxford Art Alliance, at the Art Annex, landscape painter Patsy Reese is exhibiting her work through September 30th.
Art Watch Raddio is every Wednesday from 1-1:30 on AM station WCHE 1520. This week, Wednesday September 13th, well-known clay sculptor Rhoda Kahler interviews Gallery 222 owner Andrea Strang, her videographer Sarah Graham and me, artist Lele Galer, just in time for the Anniversary Show "Graham, Durnin & Galer", celebrating Gallery 222's first year! Stay tuned.