Coatesville Police documented recent vandalism on Monday afternoon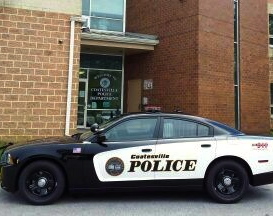 On Monday, Dec. 9, at 1:45 p.m., Coatesville Sgt. Rodger Ollis observed recently applied graffiti on the south wall of a city Redevelopment Authority property located at 399 Fleetwood St., police said. Anyone with information regarding the vandalism is asked to contact the police department by phone, send an anonymous text by using the keyword Coatesville and their message to 847411, or complete an anonymous web tip form located on the police department webpage at www.coatesvilleorg.
Officer Joseph Norcini came into contact with Rachel Davis, 30, of Coatesville, on Monday, Dec. 9, at 6:30 p.m. in the unit block of Chester Avenue, police said. Davis, who was found to have a criminal warrant, was taken into custody without incident, police said.
On Monday, Dec. 9, at 11:08 p.m., police checked on an occupied vehicle in the parking lot in the unit block of South Third Avenue, Officer David Marquette reported. One of the occupants,Tashiana Clark, 27, of Coatesville, was found to be in possession of a controlled substance, appeared to be under the influence of a controlled substance, and resisted arrest, police said. Clark was transported to the station to await arraignment, police said.