By Denny Dyroff, Staff Writer, The Times
History and antiques go hand-in-hand – especially at one special event in Chester County every spring.
From April 7-9, the 35th Annual Chester County Antiques Show (610-692-4800, http://www.chestercohistorical.org), a major fundraiser for the Chester County Historical Society (CCHS), will be held at the Phelps School (583 Sugartown Road, Malvern).
The event, which is sponsored by PECO, will feature approximately 50 top-flight dealers from across the country, making it a must-see for anyone searching for that perfect piece of furniture or accessory.  The theme of this year's event is "Botany."
Visitors will be able to browse and purchase items such as 18th-century and 19th-century American and continental furniture, rugs, paintings, ceramics, glass, silver, jewelry, needlework and other decorative arts.
The show, which typically attracts more than 2,000 visitors and collectors every year, will hold a preview party on April 7 from 5-9 p.m. Regular show hours are April 8 from 10 a.m.-6 p.m. and April 9 from 11 a.m.-5 p.m.
Special events will include a pair of lectures — "Thy Sincer Cousen" on April 8 at 1 p.m. and "Ladies in the Landscape" on April 8 at 3 p.m.
The roster of participating dealers includes A Bird in Hand Antiques, Bill Kelly Antiques, Britannia House Antiques, Dennis Raleigh Antiques and Folk Art, Dixon-Hall Fine Art, Dover House Antiques, Edward J. Rayeur Antiques, H.L. Chalfant American Fine Art & Antiques, D. M. DiLaurentis Antiques, Dubey's Art & Antiques, The Federalist Antiques, Greg K. Kramer & Co., Hanes & Ruskin Antiques, Hilary and Paulette Nolan, Holly Peters Oriental Rugs, and James Gallagher.
Also participating will be James M. Kilvington, Inc., Johanna Antiques, Joseph J. Lodge, Malcolm Magruder, Gary Sergeant Antiques, LLC, Heller Washam Antiques, Mid-Atlantic Antiques, Neverbird Antiques, Philip H. Bradley Co., John H. Rogers,Leatherwood Antiques, Marc Witus Antiques,  R.M. Worth Antiques, Inc., Roger D. Winter, Ltd., Mark and Marjorie Allens and Thistlethwaite Americana.
The roster also features School House Farm Antiques, Quadrifoglio Gallery Oriental Rugs, Steven Smoot Antiques & Navajo Textiles, The Haneberg's Antiques, Thomas Brown Antiques, Van Tassel Baumann American Antiques, Wesley T. Sessa Antiques, West Pelham Antiques, William Hutchison, and William R. and Teresa F. Kurau, The Norwoods' Spirit of America, and W.M. Schwind Jr. Antiques and Fine Art.
General admission tickets for the Chester County Antiques Show are $15 for adults with children (10 and under) admitted free.
The First Friday Art Stroll (http://historickennettsquare.com) will be held in downtown Kennett Square on April 7 from 6-9 p.m. The Art Stroll is a monthly celebration of the local art scene as it is showcased in the galleries, shops and restaurants throughout town.
Residents and visitors are encouraged to stroll the tree-lined streets and browse the many businesses that stay open late. After 5 p.m., visitors can enjoy free parking anywhere in the Parking Garage and at any of the street meters.
For more information about participating artists, go to http://chescotimes.com/?p=20065.
There will also be First Friday activities in Lancaster from 5-9 p.m. with an arts extravaganza that features exhibitions, performances, unique boutiques, performing groups and professional theater. For more information, visit http://www.visitlancastercity.com.
This is the final weekend to check out Philadelphia's Subaru Cherry Blossom Festival (http://subarucherryblossom.org), which is known in Japanese as Sakura Matsuri. The event is running now through April 9 at a variety of locations around the Philadelphia area.
For centuries, Japan has been celebrating the beauty of the elegant pink cherry blossom with picnics under the trees and traditional music and dance performances.
The Subaru Cherry Blossom Festival offers visitors the opportunity to explore the best of Japanese culture including delicious cuisine, delicate craft displays, intriguing performances and demonstrations of traditional customs.
"Japanese Culture Week" will be held at lunchtime at the Liberty Place Rotunda. Visitors will be able to participate in daily events and learn more about Japanese traditions and culture.
The centerpiece event of the colorful annual festival is Sakura Sunday, a day-long outdoor celebration of all things Japanese.
Sakura Sunday will be held on April 9 from 9:30 a.m.-5 p.m. at Fairmount Park's Horticulture Center (100 North Horticulture Drive, Philadelphia). Tickets are $15 for adults with children (12 and under) admitted free.
Sakura Sunday features live music and dance performances, martial arts, cultural demonstrations, arts & crafts, karaoke, and much more. Some of the featured attractions are Little Akiba Anime & Cosplay Area, Subaru Sushi Samurai of the Year, Prettiest Pet in Pink Parade, Harajuku Fashion Show and Shofuso Tours."
Last weekend marked the official re-opening of Shofuso Japanese House and Garden (Lansdowne Drive and Horticultural Drive, Philadelphia, 215-878-5097, http://www.japanesehouse.org).
Shofuso is a 1.2-acre Japanese garden listed as the third best Japanese garden in North America by Sukiya Living, and named the "Best Hidden Tourist Attraction" by Philadelphia Magazine.
The site features a viewing garden with koi pond and island, a tea garden, and a courtyard garden located inside the 17th century-style Japanese walled and fenced garden of this historic museum. The newly-restored, historic 1876 Sakura Pavilion is year-round space for programming, classes, meetings, events, and exhibitions.
Visiting hours now through October are 10 a.m.-4 p.m. Wednesday through Friday and 11 a.m.-5 p.m. on Saturday and Sunday. Admission is $8 for adults, $5 for senior citizens, children (ages 3-17) and students.
The Morris Arboretum (100 East Northwestern Avenue, Philadelphia, 215-247-5777, http://www.business-services.upenn.edu/arboretum/index.shtml) is presenting its Japanese Cherry Blossom Festival on April 8 and 15.
The history of the Morris Arboretum is rich with Japanese influences. In addition to the colorful blossoms, the event will feature traditional Japanese cultural activities.
With the early spring this year, many Yoshino cherries will be in their bloom period during the celebration. The Arboretum's vast cherry collection includes trees with varying bloom times, and their season can last up to three weeks. This should ensure that Arboretum visitors will enjoy flowering cherries during the festival.
The daily schedule this weekend at Morris Arboretum includes "Cherry Walk" (10:15 a.m. and 12:15 p.m. – participants meet at the Garden Railway), KyoDaiko Drumming Crew (10:30 a.m. and noon — Azalea Meadow), Samurai Arts Group (11:30 a.m.), Traditional Japanese Tea Demonstration (1 p.m. — Oak Allée Plaza) and Japanese Elements Tour (2-3 p.m. – participants meet at the Garden Railway).
Visitors to Morris Arboretum will also be able to check out its new 2017 exhibit, "Morris Arboretum in Motion: The Kinetic Sculptures of Lyman Whitaker."
Whitaker is an American sculptor from Utah who has been a working sculptor for more than 40 years. Since the early 1980s, Whitaker has focused on kinetic art, creating "Wind Sculptures" — artworks driven by the wind.
His pieces are organic in nature and dependent upon their natural surroundings to provide their movement. They are also intended to make observers think about their surroundings and their own relationship to nature.
Admission to Morris Arboretum is $17 for adults, $15 for seniors (65 and older), $9 for students, youth (ages 3-17) and military (active and retired).
There are several top-caliber "Easter Brunches" in the area including ones at Winterthur and Longwood Gardens. While these special brunches are not until next weekend, it is advisable to make reservations early rather than potentially being shut out when Easter Weekend arrives.
Winterthur Museum, Garden & Library (Route 52 just south of the Pennsylvania state line, Wilmington, Delaware, 800-448-3883, http://www.winterthur.org) will host "Easter Brunch with the Bunny" on April 15 and 16 from 9 a.m.-1 p.m. both days. The Easter Bunny will make several appearances each day starting at 9 a.m.
Tickets are $35.95 per person with children (ages 2-12) at  50% off. Reservations can be made through ccater@winterthur.orgor by leaving a message at 302.888.4826.
Some of the featured menu items are House-Smoked Filet of Beef, Chocolate French Toast, House-Smoked Salmon, Four-Cheese Tortellini with Locatelli Cream, Peas, Prosciutto & Broccoli Rabe, and "Assorted Breakfast Breads, Pastries, Bagels & Spreads."
The Easter Buffet at Longwood Gardens (Route 1, Kennett Square, 610-388-1000, www.longwoodgardens.org) will be held on April 15 and 16 from 10 a.m.-4 p.m. both days. Live music will be presented in the Conservatory from noon-3 p.m. both days.
Brunch will be held in Longwood's 1906 restaurant and will feature lamb ragout and smoked duck quiche.
Longwood's Café will be open from 10 a.m.-5 p.m. with a special menu of lamb, salmon, pasta, soups, and salads. Additionally, a wine and champagne bar will be available at the Terrace Restaurant.
Another seasonal attraction at Longwood Gardens is "Spring Blooms," which opened on April 1 and is running through May 26.
Visitors can enjoy hundreds of lush acres featuring burgeoning gardens of daffodils, tulips, magnolias, azaleas, flowering cherries and more than 240,000 flowering bulbs.
In the indoor part of "Spring Blooms," lilies, delphiniums, hydrangeas and other spring blossoms fill the conservatory with color. Also featured are Longwood's grand treehouses, whimsical Topiary Garden, and colorful Idea Garden.
During peak bloom, Longwood's historic 600-foot long Flower Garden Walk boasts more than 125,000 tulips and other seasonal blooms in a rainbow of color. The Idea Garden is awash in innovative plant combinations that will inspire.
Longwood's inviting and expansive Meadow Garden comes to life in the spring as Carolina silverbell, Eastern redbud, flowering dogwood, and sweet azalea grace the Forest Edge.
Daily visitor programs, including gardening demonstrations, behind-the-scenes tours, and talks add to Longwood's charms. Children will enjoy the many activities in the outdoor Children's Area, and the imaginative fun of the Indoor Children's Garden.
Admission to Longwood Gardens is $20 for adults, $17 for seniors and $10 for students.
On April 8 and 9 and again on April 15, Chaddsford Winery (632 Baltimore Pike, Chadds Ford, 610-388-6221,www.chaddsford.com) is holding its annual "Adult Easter Egg Hunt."
Based on the premise that kids shouldn't be the only ones to have fun at Easter, the winery is inviting visitors to embrace their "inner child" and partake in an exciting "Adults Only" Easter Egg Hunt.
Participants will scour the Winery grounds in search of hidden Easter eggs containing a wide array of treats such as Easter candy, bottles of wine, tickets to future Chaddsford Winery events, free wine tastings, Philadelphia Flyers gifts, couponstowards wine purchases, vouchers for Chaddsford gear (scarves, tee shirts), and glasses of wine.
The hunts will be held at 10 a.m., noon, 2 and 4 p.m. and all participants are guaranteed to win at least one prize.
From April 8-15, there will be a special event called "Hayrides to Bunnyland" at Linvilla Orchards (137 West Knowlton Road, Media, 610-876-7116, www.linvilla.com).
The hayride to Bunny's House features a ride in a hay-filled trailer that travels around Linvilla's grounds and eventually arrives at the house of Linvilla's Easter Bunny.
Upon arrival, the big, happy rabbit emerges from his house to pose for pictures with his guests. There is a storytelling session, tours of the bunny's home and seasonal treats for all visitors. Other special activities include pony rides, train rides and face painting
"Hayrides to Bunnyland" run every 15 minutes from 11 a.m.-4 p.m. Tickets, which are $9 per person, can be purchased in the Garden Center.
The Easter Bunny hops like a rabbit but also moves around in a variety of other ways. There are times when he hops on trains and rides the rails on special excursions. This weekend, he will begin riding trains and hanging out with his buds.
The West Chester Railroad (610-430-2233, www.westchesterrr.net) is running its Easter Bunny Express on April 8, 9 and 15 with trains at noon and 2 p.m. each day.
On the 90-minute round trip along the beautiful Chester Creek from West Chester to the historic Glen Mills village, the Easter Bunny will be on board handing out treats to all passengers.
During the 20-minute stop at the historic Glen Mills station there will be plenty of opportunities for riders to take photos with the Easter Bunny. Additionally, Greg Wright and Friends will be playing live music and singing all of your favorite Easter songs.
Tickets are $24 for adults, $17 for children (ages 2-12) and $7 for toddlers.
The Easter Bunny will also be down in Delaware for trips on the Wilmington and Western Railroad (Greenbank Station, 2201 Newport-Gap Pike, Wilmington, Delaware, 302-998-1930, www.wwrr.com) on April 8, 9, 14 and 15.
On the special trains, the big bunny with the big ears will visit with all passengers and pose for pictures. Departure times are 12:30 and 2:30 p.m. and fares are $19 for adults, $18 for seniors (ages 60 and older) and $17 for children (ages 2-12).
As an added attraction, every child on the excursion trains will receive a special treat from the Easter Bunny.
The New Hope and Ivyland Railroad (32 West Bridge Street, New Hope, 215-862-2332, www.newhoperailroad.com) is running its annual Easter Bunny Express from 7-16 with departures at 11 a.m., noon, 1,2,3 and 4 p.m. each day.
The Easter Bunny is going to ride onboard the train where he will visit with each child, hand out special treats and pose for pictures. Coach tickets are $32.95 for adults, $30.95 for children (ages 12-plus) and $9.95 for toddlers (under 2).
At the Strasburg Rail Road (Rt. 741 East, Strasburg, 717-687-7522, www.strasburgrailroad.com), the special Easter Bunny Train will be running on April 14, 15 and 16 with departures starting at 11 a.m. each day.
The Easter Bunny will meet and greet all the kids on each train and have a special treat for all of them. Coach fares are $12 for adults and $12 for children (ages 2-11).
The Middletown & Hummelstown Railroad (717-944-4435, www.mhrailroad.com) will be running its Easter Bunny Express on April 8, 9, 14 and 15 at 1:30 p.m. each day.
Fares for the ride are $17 (ages 12 and older), $13 (ages 2-11) and $4 (under age 2 and on lap). The Easter Bunny will have a special present for all kid riders.
Highland Orchards (1000 Marshallton-Thorndale Road, West Chester, www.highlandorchards.net) is presenting "Hayrides to Easter Bunny" on April 8-9 and 12-15 from 11 a.m.-3 p.m. each day.
Participants can enjoy a leisurely hayride to visit the Easter Bunny, hear a story about spring and receive an egg with a coupon for a treat to be redeemed back in the Market.
The event takes about half an hour and wagons leave about every half hour. No reservation is required and tickets can be purchased in the Farm Market on the day or in advance. The cost is $7 per person.
Another seasonal event will be held in Berks County on April 8 when the Daniel Boone Homestead (400 Daniel Boone Road, Birdsboro, 610-582-4900, www.danielboonehomestead.org) hosts its annual "Pennsylvania German Easter" from noon-4 p.m.
Visitors are invited to join the Friends of the Daniel Boone Homestead for their annual Pennsylvania German Easter celebration. Children — with the help of volunteers — can hunt for eggs filled with candy and treats hidden inside the site's historic buildings. There will also be ongoing "mini" egg hunts throughout the historic area.
If you're a fan of roots music – Americana, folk, country or blues — then you should plan on visiting Media on April 8 to take part in the 15th Annual Americana Roots Ramble (various venues in downtown Media, 610-566-5039, www.statestreetblues.com).
The festival, which is billed as "The 15th Anniversary Americana Roots Ramble: A Tribute to Chuck Berry (1926-2017)," will be held from 6 p.m.-1 a.m.
This year's Americana Roots Ramble, which features a wide array of traditional music indigenous to North America, will take place on more than 20 stages at indoor venues in downtown Media.
The showcase attractions will be concerts by legendary rocker Charlie Gracie at 10 p.m. at Azie and by Leroy Hawkes & the Hipnotics at Sher-E-Punjab at 9:30 p.m.
Gracie, who was born and raised in South Philadelphia, had a huge hit with his song "Butterfly." The song reached Number 5 on the Billboard Hot 100 chart in 19 57 and has sold more than three million copies.
Leroy Hawkes & the Hipnotics are a soul/R&B group featuring keyboards, horns, guitars and a rhythm section. They are a band that is known for lively, over-the-top shows that get fans out of their seats.
The 2017 line-up includes Dukes of Destiny, Andrea Carlson, Ben Tinsley & Dimtri Papdopoulos, Found Wandering, Reggae Thunder, Mason Porter, Katie Barbato, The Twangabillies, and April Mae & The June Bugs.
This year's roster also features Manatawny Creek Ramblers, David Falcone, Betty & the Bullet, Will Paynter & Jay Popky, The Ultimates, Bethlehem & Sad Patrick, Art Miron & Millard Brown, Christine Kinslow & Steven Lord, Wheelhouse, and Lost Northern Tribe.
Tickets are $15 in advance and $20 day of show.
The General Warren Inne (9 Old Lancaster Road, Malvern, 610-296-3637, www.generalwarren.com) is an historic site — a site with a lot of history and a site that is still involved in history of the area.
Since 1745, the Historic General Warren Inne has been center stage for American history and a premier carriage stop for hungry travelers. The Inne was initially called the Admiral Vernon Inne and was changed to the Admiral Warren after the famed Admiral Peter Warren, a hero who defended the American colony at Louisburg, Nova Scotia during the French and Indian War.
During the time of the American Revolution, the Inne was owned by John Penn of Philadelphia, who was a loyalist and the grandson of William Penn. Situated on the main highway between Philadelphia and Lancaster, it became a popular stage stop during the Revolutionary War era — and a Tory stronghold.
The Paoli Massacre was planned and launched from the Admiral Warren Inne in September 1777. In 1825, the Admiral Warren was renamed the General Warren, to honor the American hero of Bunker Hill.
Now, the General Warren Inne annually presents a series of lectures about America's war for independence. On the second Monday of each month now through May, the Inne will host "Paoli Battlefield Lecture Series" presented by the Paoli Battlefield Preservation Fund.
On April 10, Elizabeth Beatty, executive director of the National Historic Landmark Fort Mifflin, will present a lecture titled, "Fort Mifflin: The Fort That Saved America."
During the six-day siege at Fort Mifflin in 1777, the 400 Americans inside the fort had only 10 cannons to defend the fort. They had to contend with the invading British which arrived with 2000 troops, a fleet of ships, and 228 cannons.
The next two installments of the lecture series will be "Soldiers Stories: Letters from the Valley Forge Encampment" by Dr. Nancy K. Loane on May 8 and "Charlie Zahm:"An Evening of Patriotic Music" on July 18.
Seating is limited so it advisable to make advance reservations. Admission, which is $49 per person, includes lecture, buffet, family style sweets, taxes, gratuities and all non-alcoholic beverages. Alcoholic beverages are available at an additional cost.
Hagley Museum and Library (Route 141, Wilmington, Delaware, 302-658-2400, www.hagley.org) will have a special family-oriented event this weekend.
On April 8, Hagley will present "Science Saturday: Soaring Satellites." The fun and educational activity is slated to get underway at 1 p.m. and run through 4 p.m.
Participants will have the opportunity to learn about Bernoulli's Principle and have a "lifting" experience as they design satellites that will stay afloat.
In fluid dynamics, Bernoulli's principle states that an increase in the speed of a fluid occurs simultaneously with a decrease in pressure or a decrease in the fluid's potential energy. The principle is named after Daniel Bernoulli who published it in his book "Hydrodynamica" in 1738.
Visitors of all ages are invited to discover solutions to science and engineering challenges.
This is a drop-in activity go people are invited to join in on the fun proceedings at any time from 1-4 p.m. All activities are included in admission and free to members.
Admission fees are: Adults, $14; Students and Seniors, $10; Children (ages 6-14), $5; Children (ages 5 and under), free.
Visitors are instructed to use Hagley's main entrance off Route 141 in Wilmington, Delaware.
On April 8, the Sixth Annual Philly Farm & Food Fest will be held at the Pennsylvania Convention Center (11th and Arch streets, Philadelphia, phillyfarmfest.org) from 11 a.m.-4 p.m.
It is a one-day event that promises to inspire and connect consumers, farmers, and food artisans in our region. The Philly Farm &Food Fest was created as a unique opportunity for local farmers and food artisans to connect with thousands food-loving area residents.
Attendees will have the opportunity to taste hundreds of delicious samples of local food and find new ways to buy, cook, grow and share local food every day. The event will feature more than 150 exhibitors and approximately 50,000 square feet of local food.
Other attractions include ongoing free workshops and cooking demonstrations,  a Local Libations Lounge, a book nook with local cookbook authors, interactive contests for attendees and homesteading and urban farming demonstrations and workshops.
Tickets are $20 with children (under 12) admitted free.. Proceeds benefit Fair Food and PASA (Pennsylvania Association for Sustainable Agriculture) whose work supports local farms and food.
Both food and beverages will be celebrated this Saturday.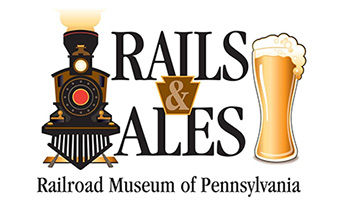 On April 8, the Railroad Museum of Pennsylvania (300 Gap Road, Strasburg, 717-687-8628, www.rrmuseumpa.org) is presenting a special event called "Rails & Ales," a craft beer tasting event that will take place among the museum's amazing historic trains.
Participants are invited to enjoy an evening of responsible adult fun, featuring breweries, food trucks, live music and a variety of festive activities.
Some of the participating breweries at this year's "Rails & Ales" are Twin Lakes Brewing Co., Howling Henry's Brewery, Boneshire Brew Works, Lancaster Brewing Company and Raven Beer.
"Rails & Ales" will run from 7-10:30 p.m. Tickets are $40 ($15 for designated driver).
Historians have discovered beads that date back almost 40,000 years. The name "bead" is derived from "bede", which meant "prayer" in Middle English. Beads have been made from a variety of materials and have been used as prayer items, ornamentation, money, decoration and amulets.
Now through April 9, you can get a bead on the subject by attending an event that is all about beads – the Innovative Bead Expo at the Greater Philadelphia Expo Center (100 Station Avenue, Oaks, 610-232-5718, www.phillyexpocenter.com). This is an event that claims to be the largest bead and jewelry show on the East Coast.
Billed as a "bead and jewelry extravaganza", the huge annual event will feature hands-on jewelry making classes, informative seminars, beading competitions and a large vendors' area where visitors can purchase everything from beading supplies to hand-crafted jewelry.
Bead Fest will have close to 180 booths and over 70 workshops which will be presented by experts in the bead and jewelry fields. A number of special techniques will be demonstrated, including, wire weaving, bead stitching, lampworking, metal clay, chain maille, wire and metal, kiln fusing, wire knitting, design, wire and beads, bead crocheting, metal smithing, bead stringing and wire wrapping.
The hours for Bead Fest Spring are 10 a.m.-6 p.m. on Friday and Saturday and 10 a.m.-5 p.m. on Sunday. Tickets are $10 and are good for the entire weekend.