By Gail Supplee Tatum, Columnist, The Times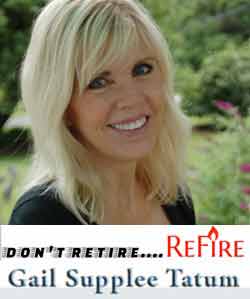 Is that a "loaded" question? Is there an age limit on asking this question? At what point is it too late in life to ask such a question?
There may be some who would think that, if there life isn't what they hoped it would be or what they wanted it to be, there's no point in trying anymore. Would that decision be dependent on how old we are? Young or old, that could be the mindset of some. If the dream job isn't offered right out of college or if, after years of working on an entrepreneurial endeavor, you don't have the kind of life you dreamt of, do you stop pursuing? Do you "settle"? Do you just accept where you are and stop trying for fulfillment?
I'm here to tell you, with 100% certainty and confidence, that it is NEVER too late to pursue your dream! Those of you who are regular readers of my column have heard me say that several times. It warrants repeating over and over again. I am living proof of that fact. Make no mistake, I'm not saying that because, finally, after 65 years on this earth, I have the life I envisioned for myself. I'm also not saying that my life isn't the life I want.
This may sound contradictory, so to explain what I mean, I must break down those two concepts. It will unfold with clarity, how different those two statements are.
My journey in life has gone off course many times. In my early 20"s, I thought I had my life, in my first marriage, then, in my late 40's, I thought I finally found my life in my second marriage. When I found myself back on my own as I turned 60, yet again, I was starting over. With each new start, there were financial setbacks. I always managed, but not without help from my family and friends. So when I say I don't have the life that I envisioned, I'm speaking about financial security. I greet each day, open to what new possibilities I will be creating for myself and my life, to continue the work that I'm passionate about, which is my focus that will be realized with hard work and time. Zig Ziglar says, "There are no traffic jams on the extra mile." He also says, "Dig deep within yourself and find what it is that will drive you when you think you have nothing left." I envision myself on that extra mile!
I have learned many lessons through my life. When I say that I have the life I want, it has nothing to do with money.
The life I have is priceless.
I have the love of my children, my grandchildren and an amazing circle of close friends. That is everything to me! I have learned the importance of being present in their lives. The only gift that they can hold in their heart and carry with them is the gift of my time and the conversations, fun activities, laughter and/or moments of stillness that we share. I have created a flexible lifestyle so that if my children or grandchildren need me, I will be there for them in any capacity from babysitter to confidant. I see my friends on a regular basis. I make a point to stay in touch with them, not just by text alone, but by actually getting together and spending time together.
For my friends, who live out of state, I have made a commitment to visit them once a year. I know when I get there, I will have a place to stay, so if money is tight, I can buy an airline ticket using my miles. This has allowed me to keep my commitment to myself and to my friends. It has enriched my life. The Dalai Lama says, "If you want others to be happy, practice compassion. If you want to be happy, practice compassion." That is how I live my life with my family, my friends and the world.
We have the power within us to make choices about the life we want and how to create it. Jim Rohn says, "Happiness is not something you postpone for the future; it is something you design for the present."
Yesterday is gone and we don't know what tomorrow will bring. The only time we have is now, the present. It's never too late!