Ray Davies, Peter Frampton and the Zombies all with local shows
By Denny Dyroff, Staff Writer, The Times
Over the next few days, there will be three shows in the area featuring legendary British rockers whose careers began in the early-to-mid 1960s — rockers who are still making relevant music and are far from past their prime. Area fans will be treated to shows by former Kinks' lead guitarist Dave Davies, Peter Frampton and the Zombies.
The Kinks got their start in 1963 in the Muswell Hill section of North London while the Zombies formed two years earlier in St. Alban's, which is located about 25 miles north of London. Frampton, a native of the London Borough of Bromley, was in his first band The Preachers in 1964.
Recognized as one of the most important and influential rock acts of the 1960s and early 1970s, the Kinks closed up shop around 1996 and were inducted into the U.K. Music Hall of Fame in November 2005.
Since the band's demise almost two decades ago, Davies has forged a solid solo career and has continued to release new music and tour the world. His current tour will bring him to the area for a show on October 12 at SteelStacks (101 Founders Way, Bethlehem, 610-332-1300, http://www.steelstacks.org).
Davies wrote many of the Kinks' songs and his powerful guitar work was as much a part of the band's identity as were the lyrics which were mostly penned by his brother Ray.
On the Kinks' first hit single "You Really Got Me," his guitar riff with its unique distorted sound laid the groundwork for a whole new style of music. Davies was the forefather of the hard rock and heavy metal genres.
"One of the songs on my studio album last year — 'Ripping Up Time' — was a softer song," said Davies, during a phone interview Wednesday afternoon. "I was thinking about the front room in our parents' house in Muswell Hill where Ray and I used to write."
Davies worked out the famous two-chord riff of "You Really Got Me" in that front room.
"I did it on a speaker that was sliced with a razor blade," said Davies. "I was working on the riff and it didn't sound weird enough. So, I sliced the speaker cone. I was frustrated. It was a complete accident that I found that sound."
Davies' most recent album is a live album titled "Ripping Up New York City: Live at the City Winery." It was released on September 4, 2015 on Red River which is distributed by Sony/RED. The recordings were culled from two exciting live performances by Dave and his band in NYC in November 2014.
The album features many of the great songs Davies wrote for the Kinks, songs from his prior solo projects and songs from "Ripping Up Time." It closes with the Kinks' first two chart-toppers from the mid-1960s — "You Really Got Me" and "All Day And All Of The Night."
"In my live shows right now, I'm doing three or four songs from 'Ripping Up Time' including 'Flowers In The Rain' and 'King of Karaoke,'" said Davies. "I do 'Death Of A Clown' and 'You Really Got Me' and the audiences always sing along. It's nice to see people like these songs.
"On the studio album last year, I mixed it up with rocking songs and with ballad-type songs like the ones we did years ago on the Kinks' 'Muswell Hillbillies' album. Different ideas and different characters dictated what the music would be like.
"I'm pretty much writing songs all the time — except when I'm on tour. Song start with whatever you get — sometimes it's a character or a story. I could be driving along when I get a line for a song.
"With a song like 'Suzannah's Still Alive,' the character came first. On the new album's title track 'Ripping Up Time,' it came out of a nightmare. There is a repeated phrase — 'There is madness here.' The dream was about the past, the present and the future all clumped together in a weird scene."
Davies' career — and life — almost was cut short back in June 2004 when he suffered a debilitating stroke. Fortunately, he has recovered admirably.
"My health is good," said Davies. "I'm fightin' fit. When you have a stroke, it's a daunting prospect of recovery. It's very frustrating. I had to learn how to talk again and how to walk again. I just kept thinking about a Winston Churchill quote — 'When you're going through hell, just keep going.'
"Now, I'm working on songs for my next album that should be coming out next year. The songs are a lot about family and the world. They're about forgiveness and trying to move forward — coming to terms with our lives and the world. I also try to write with a sense of humor so it doesn't sound too dark."
Video link for Dave Davies — https://youtu.be/wH9RaB0VmS4.
The show at SteelStacks will start at 7:30 p.m. Tickets are $35 and $45.
Other upcoming shows at SteelStacks are Bela Fleck and Abigail Washburn on October 8, and Ed Kowalczyk from Live with "Throwing Copper Unplugged" on October 10.
Peter Frampton will bring a special show to town when he performs on October 12 at the Scottish Rites Theatre (315 White Horse Pike, Collingswood, N.J., http://www.collingswood.com/entertainment/theater-and-ballroom). It's  "Peter Frampton Raw, An Acoustic Tour."
Following his summer co-headlining run with American rock legends Cheap Trick, Frampton is back on the road, this time performing an acoustic only set for the first time ever. Gordon Kennedy, Frampton's longtime collaborator and co-producer of his Grammy Award-winning album "Fingerprints," will join him on tour as well as an added special guest — Frampton's son, singer and guitarist Julian Frampton.
"I wanted something different to do and I had never done a fully acoustic tour," said Frampton, during a phone interview last week from his home in Nashville. "I can get up with myself and another guitar player and go all around the world. On most of my tours with my band, I'd do a 15-minute solo portion. So, I'm looking forward to this.
"I'm also doing a new CD — acoustic re-dos of earlier stuff. I'm doing the hits and some of the deeper tracks. I'm about two-thirds of the way through. It wasn't as easy as I expected it would be. The first tracks I did sounded like me without a band. I realized that the performance was too forceful.
"Some of these songs, I've done for so long that they've evolved. I wanted to return — to go back to how they sounded when I wrote them. When I play them live in this show, there will be a little more force. And, there will be a story about the song — why I wrote the song.
"'Show Me The Way' and 'Baby, I Love Your Way' were most difficult because I had done them so many times with a band. Performance is always about the vibe you play with — putting the songs across with emotion. If it's a good song, it will work with anything."
Frampton knows that there are some songs he must play — no matter if he's performing solo or with a band.
"'Do You Feel Like We Do,' 'Show Me The Way' and 'Baby, I Love Your Way' are must-plays. I didn't play 'I'm In You' for years and now I'm doing it again. There are times when I wish we could just stop doing this song or that song.
"Then, the thing I remember is that without those songs, the audiences wouldn't be sitting out there night after night. If I didn't do 'Do You Feel Like We Do,' I'd be lynched before I left the building.
"I'm looking forward to doing the songs in their original state. I have a good feeling about it. With acoustic stuff, people sit forward in their seats. They sit forward and listen."
Video link for Peter Frampton — https://youtu.be/y7rFYbMhcG8.
The show in Collingswood will start at 7:30 p.m. Tickets are $79.50, $69.50 and $45.
The Zombies have been building their fan base for more than 50 years and those fans are in for a special treat this fall. The band will be presenting a two-pronged show when it plays October 11 at the Keswick Theater (291 N. Keswick Avenue, Glenside, 215-572-7650, www.keswicktheatre.com).
The band is releasing a new album "Still Got That Hunger" on October 9 and will be on tour for two months performing its classic "Odessey and Oracle" album for the first time ever in the United States. The show will start with the current line-up of The Zombies performing new songs along with hits and favorites not on "O+O," followed by the original members performing "Odessey and Oracle."
All four surviving original members will recreate the seminal album in its entirety with full instrumentation. Founding and current members, vocalist Colin Blunstone and keyboardist Rod Argent , will be joined by original bassist/co-songwriter Chris White and drummer Hugh Grundy for their first American tour together in five decades.
The show will also feature the acclaimed current Zombies' line-up featuring bassist Jim Rodford (formerly of ARGENT and The Kinks), Rodford's son Steve Rodford on drums, and renowned session guitarist Tom Toomey performing material from their forthcoming studio album.
"It's nice to be back in the states with the lads," said White, during a phone interview Sunday from a tour stop in Providence, Rhode Island. "The last time was 1966.
"We recorded 'Odessey and Oracle' and nobody wanted it. So, we decided to call it a day. Rod and I wanted to continue writing together. Then, eight months later the album was a hit. 'Time of the Season' went up to Number One.
"All of us have stayed friends through the years. Rod and I produced Colin's first three albums and also produced Argent's albums. Rod and I put Argent together and I wrote 'Hold Your Head Up.'
"But, I thought Jim (Rodford) was a much better bass player than I was. I wanted to focus more on production. 'Hold Your Head up' — that's what made us able to survive."
Argent's "Hold Your Head Up" was a top-selling single that reached the Top Five in both the U.K. and in the states.
"In 2008, we decided to do 'Odessey and Oracle' in London for three nights," said White. "It went over well and the next year we did four cities in the U.K. — but never in America. This will be our American premiere.
"The catalyst for bringing it back now — we recorded it in 1967 so 2017 will be the 50th anniversary. We decided to do the 50th anniversary thing two years early. We're getting older so who knows if any of us will still be here in two years."
Indeed, one of the original quintet has already checked out. Guitarist Paul Atkinson died in Santa Monica, California in April 2004 from liver and kidney disease.
"For this tour, Rod and Colin's new band do the first half of the show," said White. "They'll play songs from the new album and old stuff like 'Tell Her No' and 'She's Not There.' In the second half, we do the whole 'Odessey and Oracle' album. We're trying to reconstruct the album as close as possible to the original. Then for the encore, both groups will get together for a reprise of 'She's Not There.'"
Video link for the Zombies — https://www.youtube.com/watch?feature=player_embedded&v=g4wpHjAkY-I&list=PL818E8A6FA5AFCDB2.
The Zombies will play the Keswick on October 11 at 7:30 p.m. Tickets range from $39.50-$72. 
The Keswick will also host the Winery Dogs on October 8 and the house will be rocking.
The power trio format produces some the most dynamic bands in the world. The Winery Dogs are a power trio that can rock hard and be melodic at the same time. The band includes Mike Portnoy on drums, Richie Kotzen on guitar and vocals and Billy Sheehan on backup vocals and bass guitar.
Portnoy was one of the founding members of Dream Theater and was the band's drummer for 25 years. Sheehan played bass and was the voice of Mr. Big, which had a Number One single with "To Be With You." Kotzen, who was born in nearby Reading, joined Poison when he was just 21.
The Winery Dogs' second album "Hot Streak" was released October 2 on Loud & Proud Records. The first single, "Oblivion," was released to radio in August 25 and its video came out last month. A double vinyl edition of the new album is also in the works for release early November. The trio's launched its 2015-2016 U.S. headlining tour on October 3.
"This tour will take us well into 2016,"said Kotzen, during a phone interview last week. "On my own, I did two solo albums — 'The Essential' and 'Cannibals.' My band and I did an extensive tour around the world and filmed one of the Tokyo shows. It was the first time I ever did a proper DVD of a live show and I'm very excited about it. My band is different than the Winery Dogs, This band is a trio. It's a format I really take well to."
The trio first exploded onto the rock scene with their self-titled, self-produced and critically acclaimed debut album that was released July 23, 2013 on Loud & Proud Records and followed by a sold-out worldwide tour.
 "The Winery Dogs" debuted on Billboard's "Top Alternative Albums" chart at #3, "Top Independent Albums" chart at #4, "Top Rock Albums" chart at #5, "Top Internet Albums" at #8 and "Top 200 Albums" chart at #27.
"I was working with another singer/guitarist but wanted something different so I called up Billy Sheehan," said Portnoy. "I was fresh out of my time with Dream Theater and I wanted to work with Billy in a real band. That was one of the things on my post-Dream Theater list.
"Then, another friend suggested Richie as a bass player. We went up to Richie's place in January 2012 and immediately hit it off. We had three or four songs after our first practice. The chemistry was obvious. We started writing more and more and that led to the album."
The Winery Dogs' music is not for the timid. The band rips into each song with a vengeance. The music snarls as its power presses against the listener. It's a bona fide power trio doing what power trios are supposed to do.
"We're rooted in a classic rock sound," said Portnoy. "It's something the three of us have a love for — the love of the classic rock of the last 1960s and early 1970s.
"Going with a power trio was a conscious decision. We wanted to try to tap into that old school power trio sound. We wanted to take that old school sensibility and bring it up to the present."
"We did over 100 shows touring the first album. It was greater than our expectations. I thought it would just be a limited project but it's been a full-time band. We have great chemistry.
"Obviously, we're known for our expertise with our instruments. Bu, our live show is more a visual show. We're running around the stage. Mike is throwing his sticks in the air. Billy is playing his bass upside-down. It's like an NBA All Star Game — in the Michael Jordan era."
Video link for the Winery Dogs — https://youtu.be/fnMBix9Zq5o
The October 8 show starts at 8 p.m. Tickets range from $29.50-$75.
The Keswick will also present Syzokryli Ukrainian Dance Ensemble and Cheremosh Ukrainian Dance Company on October 9 and Paula Poundstone on October 10.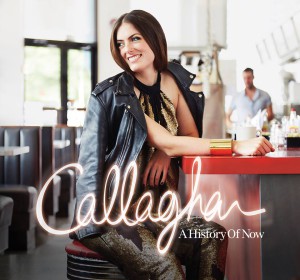 Another show on October 8 will feature Callaghan at Burlap & Bean Coffeehouse (204 South Newtown Street Road, Newtown Square, 484-427-4547, www.burlapandbean.com).
The artist's birth name is Georgina Callaghan but, in her career as a musician, she just uses one name — Callaghan. She was born in the town of Boston, which is located in Lincolnshire, a small port town in England's midlands.
Callaghan, who was a resident of Atlanta for a few years prior to moving to her current home in Nashville, is touring in support of her new album "A History of Now." Her debut album "Life in Full Colour" came out a few years ago.
"The new album came out world-wide in April," said Callaghan, during a recent phone interview from a tour stop in Florida.
"It's doing really well in the U.K. and I've been over there touring four times this year. I'm focusing on the U.S. and the U.K. at the moment. For the last five years, it's been the U.S. only.
"I wrote the songs for 'A History of Now' over the last couple years. My last album came out in 2011 and I've been touring non-stop since then. Being on the road, living life's experiences and meeting new people influenced the songs. I'm really happy with how the 12 songs came out.
"I recorded the album last autumn. I did a lot of pre-production and worked very closely with producer Dennis Matkosky. He co-wrote some of the songs. We were definitely on the same page. And, I worked with some phenomenal Nashville musicians.
"It was recorded really quickly. We tried different things like recording to tape to give it more authenticity. The song is always the root of what I want to do. I wanted songs you could just perform with one instrument and voice.
"My songwriting depends on the song. Sometimes, I have a really strong idea for the melody and the lyrics come later. Sometimes, I have an idea for a story. When I'm co-writing, it might start with a hook."
Callaghan has been a professional musician most of her adult life.
"When I left school at 18, I decided not to go to college," said Callaghan. "I moved in with my sister in London and dedicated myself to my music career. I had a day job and, at the same time, played all the singer-songwriter venues in London. It was a great city to live in. Living in America makes it much easier for people who play my kind of music.
"My British accent doesn't show when I sing but I can never write songs as an American because I have a different background. There are a lot of American influences in my music but I think people can still hear the British influences."
Video link for Callaghan — https://youtu.be/AJMdKllm0tc.
The show at B&B will start at 8 p.m. with opening act Megan Burtt. Tickets are $12.
Other shows over the next week at Burlap and Bean are Mary Bragg and Rj Cowdery on October 9 and Chris Trapper (of the Push Stars) with Jessy Tomsko on October 10.
Another show on October 8 will feature a bizarre female duo from the heart of Tennessee. Birdcloud, which features a guitarist and a mandolin player, will headline a show at the Sellersville Theater (24 West Temple Avenue, Sellersville, 215-257-5808, www.st94.com).
According to the rowdy duo's press release bio — "Birdcloud is Jasmin Kaset and Makenzie Green, a pair who met in a place called Murfreesboro and who, since 2009, have used things like booze and sacrilege to make very modern country music. The duo write songs about what Sarah Palin deemed "the real America," that unsung republic of countrified interstices stretching from coast to coast between cities. Kaset and Green's America is a nation of indulgent reprobates and boastful imbeciles, laughing maniacs and horny high school dropouts— the desperate, absurd place we all inhabit in one way or another."
"We met when we were partying at Middle Tennessee State University," said Kaset, during a phone interview Monday afternoon. "We both just played music a little bit. We started by playing songs for our friends at parties. We formed the band and, a week later, a friend booked us at The Hobbit in Nashville. We had 200 people at the show that first night."
Green said, "We started writing our own songs right from the start. When we write the songs, it's 50-50 — 100 per cent. We always do it together. Our new album came out last month. We'd been writing it for four or five days and then spent two days in the studio recording it.
"Now, we're leaving for a two-month tour. We're going all across the country in our mini-van. We're going to play our music and we'll change the world."
Video link for Birdcloud — https://youtu.be/V_XGwF2DIqM.
The show at Sellersville, which also features Mountain Sprout and Blain Cartwright, will start at 8 p.m. Tickets are $15 and $25.