Also: PA Hunt Cup kicks off Nov.
By Denny Dyroff, Staff Writer, The Times
With October having five weekends this year and Halloween falling on the final Saturday night of the month, the area's event calendar has been thrown off a bit. Many of the activities that usually are scheduled for the beginning of November are slated for the weekend of November 6-8 this year.
Obviously, the calendar for this weekend features a huge variety of Halloween attractions and events. And, there are still a lot of things not related to Halloween to keep you entertained until the next work week arrives.
The Pennsylvania Hunt Cup (Pennsylvania Hunt Cup racecourse, Newark Road, Unionville, 484-888-6619, http://pahuntcup.org) is one of the oldest and most respected equestrian events in the Mid-Atlantic region. This year, the Hunt Cup will celebrate its 81st anniversary on November 1.
The equestrian competition will feature four open races sanctioned by the National Steeplechase Association. Three of them will feature races over fences and one will be a race on the flat. The challenging course features 22 post and rail fences and is one of the few select four-mile races sanctioned by the National Steeplechase Association. Another popular race is the children's Pennsylvania Junior Hunt Cup.
Gates open at 11 a.m. with the first event — the Pennsylvania Junior Hunt Cup — scheduled to start at noon. There will be the traditional "Carriage Parade" at 1 p.m. followed by the Lewis C. Ledyard Memorial Foxhunters Chase at 1:30 p.m., the Arthur O. Choate Jr. Memorial Trophy race at 2:15 p.m. and the Pennsylvania Hunt Cup at 3 p.m. The final race of the day will be the Athenian Idol Race at 3:30 p.m.
Traditionally, the Pennsylvania Hunt Cup has had a number of local conservation organizations as beneficiaries. For 2015, the beneficiaries are Chester County Food Bank, Work to Ride and Upland Country Day School. General Admission, which is $50 per car, includes parking and admission for all occupants of one vehicle.
The Brandywine River Museum (Route 1, Chadds Ford, 610-388-2700, www.brandywinemuseum.org) will host its "Fall Harvest Market" on October 31 and November 1 and again on November 7 and 8.
The event runs from 9:30 a.m.-4:30 p.m. and admission to the museum is free from 9:30 a.m.-noon. Regular admission is $15for adults, $10 for seniors (65 and older), $6 for students with ID and children (ages 6-18.)
Visitors will be able to shop for everything from honey and apples to pottery and handcrafted jewelry. Regional artisans will be showcasing their crafts in the museum's courtyard. Regional artisans will be showcasing their crafts in the museum's courtyard. Hand-woven rugs, quilted items, pottery and handcrafted jewelry and more will be offered on a rotating basis.
Longwood Gardens (Route 1, Kennett Square, 610-388-1000, www.longwoodgardens.org) celebrates autumn with its annual Chrysanthemum Festival every year. The 34th Annual Mum Fest, which runs through November 22, is an expansive exhibit featuring more than 20,000 colorful, blooming chrysanthemums in Longwood's huge conservatory.
Longwood's horticulturalists have grown and developed the mums into a variety of unusual forms. They have groomed chrysanthemums to resemble clouds, torches, spirals, fans, 13-foot arches and more. This year, Longwood has the largest chrysanthemum outside of Asia on display. Grown at Longwood, the plant is expected to produce over 1,500 perfectly placed, uniform blooms on one plant.
Another attraction is Longwood's "Autumn Days," an event that opened in September 12 and is running through November 22. Right now is an excellent time to take a nature walk in Longwood's Meadow Garden, where visitors are surrounded by colorful flowers and meadow grasses.
Admission to Longwood Gardens is $20 for adults, $17 for seniors (62+) and $10 for students (ages 5-18).
This is also the final opportunity for visitors to Longwood Gardens to enjoy "Nightscape: A Light and Sound Experience." The installation, which will be open through October 31, brings the garden to life after dark with colorful lights and moving images that are choreographed to music.
"Nightscape" is set in various areas of the garden — Rose Arbor, Large Lake, Flower Garden Drive, Legacy Tree, Flower Garden Walk, Topiary Garden, East Conservatory and Silver Garden. The installation will open every day at sunset.
"Nightscape: A Light and Sound Experience" was created by Philadelphia's Klip Collective, a group known for its impressive installations at the Philadelphia Flower Show. Longwood will also host a variety of special events during "Nightscape," including a new beer garden in collaboration with Victory Brewing Company.
Video link for "Nightscape" — https://youtu.be/PtY-nRxWzhA.
Tickets are $27 for adults, $17 for students (ages 5-18) and free for children (ages 4 and under).
While there are loads of Halloween events, there are also some that celebrate the other holiday associated with Halloween — Mischief Night."
"Mischief Night," which took place the night before Halloween, was (and still is) "all trick" and "no treat." Those who remember "Mischief Night," probably also remember their parents telling them to stay at home so they wouldn't get in trouble.
You can celebrate "Mischief Night" on October 30 at a special event called "Mischief Night at the Woodlands." The Woodlands (4000 Woodland Avenue, Philadelphia, 215-386-2181, http://woodlandsphila.org) is a 54-acre undulating landscape that is a one-of-a-kind 18th-century English pleasure garden and a 19th-century rural cemetery.
Visitors to the event, which runs from 6-9 p.m., are invited to "Spend the creepiest night of the year in the cemetery."  Other suggestions offered by the Woodlands staff are — "Bring your own smores, flashlights and bravery — this evening is not for the faint of heart! Take a brisk walk or a leisurely (spooky) stroll."
Admission is $5 per person.
Another "Mischief Night" event will take place on October 30 at the Laurel Hill Cemetery (3822 Ridge Avenue, Philadelphia, 215-228-8200, www.thelaurelhillcemetery.org). The site is presenting a special event called "True Tales from the Tombs: Mischief Night by Firelight at Laurel Hill Cemetery."
On Friday night, performers will entertain visitors with true tales from Laurel Hill Cemetery's historic tombs. From the desecrated grave of a prestigious doctor to the woman who is buried in two places, "True Tales from the Tombs" will feature stories of the cemetery's most provocative and memorable permanent residents, as they return from the dead to tell their stories.                                     
Featuring The Not Ready for After-Life Players as storytellers of these otherworldly tales, the candlelit tours will follow a path through the stones and mausoleums of Laurel Hill and end with hot cider and cookies. Participants are instructed to bring their own flashlights.
Tours, which start at 7 p.m., will last approximately one hour and depart every half-hour, with the final tour departing at 9:30 p.m. The cost is $20 per person general admission. Tickets can be purchased at the door, by phone or online. Upon arrival, guests must register at Laurel Hill Cemetery's Gatehouse entrance, 3822 Ridge Avenue, Philadelphia. Free parking is located in the lot directly across the street from the Gatehouse.
If you're looking for something to do this weekend that's a hoot, check out the "Halloween Owl Prowl" at Bucktoe Creek Preserve (432 Sharp Rd, Avondale, www.bucktoecreekpreserve.org0. The nature-oriented event, which is being presented by The Land Conservancy, will be held on October 30 from 5:30-7:30 p.m.
Visitors are invited to spend a spooky evening exploring Bucktoe Creek Preserve's woodland habitat looking and listening for owls. Great Horned, Eastern Screech, and Barred Owls are known to roam the preserve.
Participants are encouraged to come dressed in costume or just come as they are to join in the fun. Admission is $5 for The Land Conservancy members and $10 for non-members.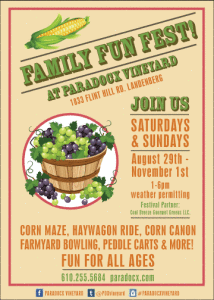 On October 31 and November 1, Paradocx Vineyard (1833 Flint Hill Road, Landenberg, 610-444-9003, www.paradocx.com) is presenting its final Family Fun Fest of the year. Families are invited to partake in an afternoon of barnyard games, a corn maze and wine (adults only).
On Saturday and Sunday from 1-6 p.m., Paradocx will be partnering with Cool Breeze Gourmet Greens to host barnyard activities for all ages. The list of activities includes Corn Maze, Peddle Carts, Corn Canon, Hayride and more. Tickets are $1 each & ticket amounts vary per activity.
The free event will be held weather permitting. All children must be accompanied by an adult.
This weekend, the Greater Philadelphia Expo Center (100 Station Road, Oaks, 610-529-3614, http://www.fanaticsauthenticshows.com/shows/philadelphia-oct-30-nov-1) will host the Fanatic Authentic Sports Spectacular.
The show will feature appearances by some of the biggest names in Philadelphia sports over the course of three days. Athletes in attendance will be available for meet-and-greets, photo-ops, and autograph signings.
The roster of football greats includes Bo Jackson, Andy Russell, Jack Ham, Jack Lambert, Jim Kelly and Joe Greene. Representing the U. S. National Women's Soccer Team that just won the World Cup will be Carli Lloyd and Christen Press.
Many former baseball all stars will be participating including Brooks Robinson, Darren Daulton, Greg Luzinski, Jim Palmer, Mike Schmidt, Pete Rose, Ryan Howard, Steve Carlton, Ozzie Smith and Cal Ripken, Jr.
The line-up of Philadelphia Flyer alumni features Larry Goodenough, Bernie Parent, Andre Dupont, Bill Barber, Bob Kelly, Bill Clement, Bobby Clarke, Dave Schultz, Don Saleski, Ed Van Impe, Gary Dornhoefer, Jim Watson, Joe Watson, Orest Kindrachuk and Rick MacLeish.
There will also be a number of members of the Philadelphia 76ers' 1992-1993 NBA champion team — Billy Cunningham, Julius Erving, Bobby Jones, Clint Richardson, Earl Cureton, Clemon Johnson, Franklin Edwards and Reggie Johnson.
The show's hours are 4:30-9 p.m. on October 30, 9:30 a.m.-5 p.m. on October 31 and 10:30 a.m.-4 p.m. on November 1. Admission is free.
The UniverSoul Circus (52nd Street and Parkside Avenue, Philadelphia, 800-345-7000, www.unniversoulcircus.com) will be treating circus fans to a whole new experience.
The new circus' performances, which will be held in the UniverSoul Big Top next to the Mann Music Center, blend traditional circus attractions with urban culture, hip hop tunes and world beat music. It's the lively music that elevates the show to another level.
Celebrating 21 years under the big top, UniverSoul Circus features music, theatrical performances, incredible circus acts and loads of fun. You'll see flashy Caribbean dancers from Trinidad, acrobats and high-flying trapeze artists from China, mind-boggling contortionists from Ethiopia, funny clowns from South Africa and Guinea, plus lions, zebras and much more.
The roster of acts on this year's tour includes the Wuhan Flying Trapeze, Trinity (gymnastics), the Navas Wheel, Black & White (zebra act), Globe of Death, Color Me Caribbean (dance), The African Dream (wire act) and Fresh the Clownsss. It's all held together by Lucky the Ringmaster and Sidekick Jake.
The circus is in town now through November 15 at its site in Fairmounht Park. Ticket prices range from $15-$35.
With the "Day of the Dead" arriving this weekend, most Halloween activities are heading down the home stretch. A few will continue through next weekend but most will wrap up either this Saturday or this Sunday. The following is a look at what's left on the Halloween event calendar.
The 25th annual edition of "Haunted Hayride, Bates Motel and Haunted Corn Trail at Arasapha Farm" (1835 N. Middletown Rd., Gradyville, 610-459-0647, www.thebatesmotel.com) will be scaring visitors through November 1.The haunted hayride through the woods features monsters, special effects and actors. The Bates Motel has haunted rooms with special effects and computerized lighting. A haunted trail is cut through a cornfield inhabited by monsters. Admission prices are: Haunted Hayride, $20; Bates Motel, $15; Haunted Corn Maze, $15; combination tickets, $40. There are reduced rates for children.
Pennhurst Asylum (100 Commonwealth Drive, Spring City, 484-866-8964, www.pennhurstasylum.com), which is open through November 1, is on the site of a former mental asylum which has been shuttered for over a quarter of a century. It has been transformed into a haunted attraction with huge sets, detailed rooms and live actors. Visitors can also explore the labyrinth of underground tunnels. Tickets are $16 for "Pennhurst Asylum", "Dungeon of Lost Souls" or "Tunnel Terror," $20 for "Ghost Hunt" and $45 for a four-event combo.
Penns Woods Winery (124 Beaver Valley Road, Chadds Ford, 610-459-0808, www.pennswoodswinery.com) is presenting a special event this year called "Painting in Pumpkinland" on October 31 from 11 a.m.-4 p.m.
Participants will be able to choose their pumpkins from the Penns Woods Pumpkin Patch and decorate them — Paint them, sticker them, glitter them and more. The cost is $15 -18/per pumpkin (depending on size). Price includes pumpkin and all decorating materials.
Wine by the glass and bottle will be available for all adults over 21 and there will be live music and food trucks. Visitors can take family photos in the winery's pumpkin patch with our historic barn in the background. There will also be other fun Halloween activities for children.
Music will be performed by Pete Marziano.
 "Hurricane Hill Farm Maze" (Baldwin's Farm, 704 East Reeceville Road, Coatesville, 610-384-6952, www.hhfmaze.com) will be open Saturdays and Sundays until November 1. This event features miles of trails through a five-acre corn maze along with a corn slide, hayrides, a pumpkin patch and a farm animal display. Tickets are $13 for adults and children and $10 for seniors (ages 60 and over).
Corn mazes, hayrides, a pumpkin patch and scarecrows will be featured at Ramsey's Farm (500 Ramset Road, Wilmington, Delaware, 302-477-1499, http://www.ramseysfarm.com) on weekends now through November 1. The theme for the Corn Maze at Ramsey's Farm this year is a trip around the world with sections for North America, Europe, South America, Africa, Australia and Asia. Tickets are $7 for the corn maze, $4 for the sorghum maze, $3 for the hay maze, $2 for pumpkin painting and $3 for a hayride.
Another popular corn maze in the area is running now through November 7 at Cherry Crest Adventure Farm (150 Cherry Hill Road, Ronks, 717-687-6843, www.cherrycrestfarm.com). The main attraction is Cherry Crest's "Amazing Maize Maze." Billed as "the world's most dynamic and interactive corn maze," it is a five-acre corn maze with over two-and-one-half miles of paths, scenic bridges, and clues. There will also be a "Flashlight Maze" every Friday and Saturday night. Tickets are $17 on Thursday and Fridays and $20 on Saturdays.
"Candlelight Ghost Tours" (Fort Mifflin, Fort Mifflin and Hog Island roads, Philadelphia, 215-685-4167, http://fortmifflin.us) are scheduled for October 30. Visitors can tour historic (and haunted) Fort Mifflin by candlelight from 7-10 p.m. each night and hear tales both historic and haunting on a candlelight tour of National Historic Landmark Fort Mifflin.
Widely regarded as one of the most haunted sites in the country, Fort Mifflin shares true stories of paranormal activity experienced by decades of visitors and staff — no decorations, no blood….just real ghosts. This event is billed as an "authentic experience."
Tours are generally appropriate for ages 8-and-older. Tours last about an hour and depart from the Hospital Building (adjacent to the Parking Lot) every 15-20 minutes beginning at 7 p.m. The last tour departs at 10 p.m. Admission is $20 for adults and $15 for students (12 and under).
The Garden State Discovery Museum (2040 Springdale Road, Cherry Hill, New Jersey, 856-424-1233, www.discoverymuseum.com) is holding its Third Annual Halloween Hootenanny on October 31 from 6:30-8:30 p.m.
This Halloween Event, which has been designed especially for young children, is an evening of happily haunted surprises. The night will be filled with one-of-a-kind Discovery Museum fun including spooky crafts, inside and outside trick-or-treating, activities, music and fun for all.
Local families and businesses will be lined up and down the Discovery Museum parking lot with their Halloween themed cars and decorated trunks for families to go from trunk-to-trunk to get Halloween treats. Kids will also be able to bounce the night away in the moon bounce.
Inside, the Discovery Museum has been decorated in its Halloween best. On the Museum floor, each of the exhibits is decked out in a happily haunted manner. Kids can trick-or-treat from exhibit to exhibit and they will get anything from candy to Halloween tricks and goodies.
Admission to Halloween Hootenanny's inside and outside attractions is $15 for children and $5 for adults. 
 "Valley of Terror" (1215 Wawaset Rd., Kennett Square, 484-886-6080, www.valleyofterror.com) will be held now through November 1 on Friday, Saturday and Sunday each weekend and will offer two attractions — "Zombie Safari," which features a zombie-killing ride in the back of a 40-foot military truck stocked with individual, bolted-down paintball guns, and "Gateway to Hell," which is an unguided and unlit stroll through scary territory. Admission is $20 for "Gateway to Hell," $25 for the "Zombie Safari" and $38 for a "Combo Ticket."
"Valley of Fear" (300 W. Bristol Road, Feasterville, 215-942-9787, www.valleyoffear.com), which is open through November 1, features four "heart pounding attractions" — "Haunted Hayride," "UnderWorld," Zombie Escape Maze" and "Operation Z Paintball."  Admission prices start at $19.
For "Count's Halloween Spooktacular at Sesame Place" (100 Sesame Place, Langhorne, 215-752-7070, www.sesameplace.com), the popular amusement park has been converted into a Halloween-themed safe venue for kids with trick or treating, pumpkin decorating, hayrides and a hay maze.
Featured attractions, which will continue until November 1, are "Abby Cadabby's Magical Halloween Maze," "Rubber Duckie Costume Party," and "The Not-So-Spooky Hayride." Admission to the park is $45.
 "Halloween Haunt at Dorney Park" (3830 Dorney Park Road, Allentown, 610-395-3724, www.dorneypark.com), which runs now through November 1, features scary creatures roaming the park and scarecrows lining line the walkways while frightening activities take place at the following attractions — "Fright Lane Including Skeleton Key," "Chamber of Horrors" and "CarnEvil" along with seven mazes and four "Creepy Scare Zones." Admission is $37.
The  "24th Annual Fright Fest" (Six Flags Great Adventure, Route 537, Jackson, NJ, 732-928-2000, www.sixflags.com), which is running now through November 1, features family-oriented activities during the day and much scarier attractions after dark for teens and adults including "Asylum," "Blood Shed," "Voodoo Island," "Total Darkness," "Wasteland," "Circus Psycho," "Bone Butcher Terror-tory," "The Manor," "The Bloody Fountain" and "Skyscreamer of Doom." Tickets start at $49.99.
Ghost Tour of Philadelphia (215-413-1997, www.ghosttour.com), Ghost Tour of Lancaster (717-687-6687, www.ghosttour.com) and Ghost Tour of Strasburg (717-687-6687, www.ghosttour.com) operate through November and offer an eerily entertaining evening of true ghost stories and real haunted houses. Tickets are $17 for adults for Philadelphia and $15 for Lancaster and Strasburg and $10 for children at all locations.
The "30th Annual Jason's Woods" (99 Stehman Road, Lancaster, 717-872-5768, www.jasonswoods.com), which is running through November 7, is a horror show complex that features a combination of live actors, impressive animation and scary special effects. Popular attractions include "Horrifying Hayride," "Chamber of Horrors," "Zombie Apocalypse," "Lost in Jason's Woods," "Carnival of Fear," "Fields of Fright" and the "The Grand Jason's Woods Theater." Admission prices are for combo tickets are $25 for three attractions and $40 for six.
"Terror Behind the Walls" (Eastern State Penitentiary, 2124 Fairmount Avenue, Philadelphia, 888-763-NITE, www.easternstate.org), which continues through November 7, takes place at a site Penitentiary that was once was an active prison and is now a National Historic Landmark. It is a scream-inducing event featuring laser and special-effect lighting, digital sound, sinister scents, animatronic creatures and 3-D illusions. Admission prices, which vary with the date, range from $13-$39.
"Pumpkinland" (Linvilla Orchards, 137 West Knowlton Road, Media, 610-876-7116, www.linvilla.com), which is open through November 1, features fairy tale characters from nursery rhymes along with a huge scarecrow and a really tall storybook. Other activities include train rides, a straw bale maze, hayrides, pick-your-own apples and pony rides. Another attraction, which runs through October 30, is "Hayride to the Witch's House." Admission is free and hayrides are $9 per person.
 "Field of Screams" (Stone Battery Road, Lancaster, 717-285-7748, www.fieldofscreams.com), which is open now through November 9, features "Den of Darkness" (three-story horror house), "Frightmare Asylum" (walk-through haunted barn), "Extreme Blackout," "Nocturnal Wasteland" and the "Haunted Hayride" (a 25-minute fright-filled ride featuring state-of-the-art special effects, pyrotechnics and animatronics). Admission is $34.