Also: West Chester Christmas Parade and more get holiday season going
By Denny Dyroff, Staff Writer, The Times
While many of the holiday attractions are treats for the eyes and the taste buds, there is an ongoing holiday tradition in Kennett Square that is a treat for the ears.
On December 5, the Kennett Symphony of Chester County will perform "Pops Goes the Holiday" at 7:30 p.m. at Unionville High School (750 Unionville Rd, Kennett Square, 610-444-6363, http://www.kennettsymphony.org).
The Kennett Symphony and Music Director Michael Hall will present a holiday concert filled with the joyful sounds of the season. The family-oriented event will also feature the Kennett Symphony Children's Chorus, a sing-a-long and a visit from Santa.
The fun will get underway at 6:30 pm with "Selfies with Santa" and pre-concert entertainment featuring caroling from the Kennett Symphony Children's Chorus and a brass trio.
The Kennett Symphony Children's Chorus will also be part of the main show, and, back by popular demand, First State Ballet Theatre will dance excerpts from "The Nutcracker."
The show will offer an array of holiday classics including Nikolai Rimsky-Korsakov's "Dance of the Tumblers," Pyotr Ilyich Tchaikovsky's "Nutcracker Selections," Jim Stephenson's "Bassoon It Will Be Christmas," Vaughan Williams' "Greensleeves," and Lukas Richman's "Hanukkah Festival Overture."
It will also feature a variety of compositions by Leroy Anderson, including "A Christmas Festival," "Hark the Herald Angels Sing," "Sleigh Ride," "O Come O Come Emmanuel."
Attendees are asked to join the Kennett Symphony in a food drive to benefit The Kennett Food Cupboard by bringing non-perishable food items to the concert on December 6. Tickets for the concert are priced at $40 in advance and $45 at the door for adults and $10 for students.
Another way to get in the holiday spirit in Kennett Square is by taking a special seasonal ride. Horse-drawn carriage rides will be offered on December 6, 13, 20 and 27 from noon to 3 p.m. The rides begin on State Street at the Genesis walkway and tickets are $5.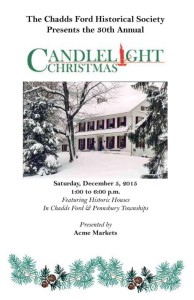 Turning 30 can be a wonderful thing — especially if it's an event as popular as Candlelight Christmas in Chadds Ford (various locations in the Chadds Ford area, 610-388-7376, www.chaddsfordhistory.org). For three decades, it has been one of the area's highly anticipated holiday events.
This year's tour, which is presented by the Chadds Ford Historical Society, will be held on December 5 from 1-6 p.m. at a variety of locations in the Chadds Ford area. The tour includes more than 10 homes and historic sites in Pennsbury and Kennett townships, including be the CFHS's main buildings — the Barn Visitor Center and the Barns-Brinton House.
Some of the other stops this year will be the Christian C. Sanderson Museum, 2 Chadwyck Lane, the John Chadd House, Mill Run Fram, the Hope House, the Fairville Inn, the Cameron House, and Pennsbury Mill.
Tickets for Candlelight Christmas in Chadds Ford are $20 in advance and $25 day of tour.
One of the most eagerly-anticipated traditional holiday events in Chester County is "Old Fashioned Christmas in Historic West Chester" (various locations in downtown West Chester, 610- 696-4046, http://www.downtownwestchester.com).
The 2015 staging of the festive annual event, which is running now through December 6, features more than 40 events, including theatrical and musical performances, guided walking tours, a craft bazaar and the Annual Jingle Elf Run.
The featured event is the Christmas Parade which is scheduled to get underway at 7:15 p.m. on December 4 with the lighting of the borough's Christmas tree. Runners in the Jingle Elf Run will take off at 6:30 p.m. The parade will highlight the arrival of Santa in his sleigh.
Some of the attractions on the long list of events are  "A Candlelight Christmas Concert" (First Presbyterian Church), Carriage House Brass (Knights of Columbus), Chester County Youth Orchestra Pops Concert (Church of the Holy Trinity), Christmas music with violinist Kathy Thomas (West Chester Friends School), "Gettysburg Address Contest (Lincoln Building), Gracenotes' a cappella show (Susquehanna Bank), "Handel's Messiah" (St. Agnes Church), "Historic Lincoln Biography Building Open House" (Lincoln Building), and "Jingle Juggling" (Santander Bank).
Some of the other featured events will be "Trial by Jury" (Chester County Courthouse), Luminaria (Marshall Square Park), "It's A Wonderful Life" live radio play (Chester County Historical Society), "Story Pirates (West Chester University), Hickman Annual Holiday Bazaar (The Hickman), "2015 Holiday Home Tour" (West Chester Library), "Carols of the Season" (First Presbyterian Church), "Breakfast with Santa" (Chester County Historical Society), "Christmas in West Chester Walking Tour" (Chester County Night School), "Make the Season Bright" performed by A Cappella Pops (West Chester University), and "A Charlie Brown Christmas" (Taylor's Jazz Musicians).
"A Brandywine Christmas," which is running now through January 3 at the Brandywine River Museum (Route 1, Chadds Ford 610-388-2700, www.brandywinemuseum.org), is a family-oriented annual holiday event. Visitors to "A Brandywine Christmas" this weekend get an extra bonus because the museum's annual "Critter Sale" is being held on December 5 and 6.
From December 4-6, Hibernia Mansion (Hibernia County Park, off route 340, Wagontown, 610-383-3812, http://dsf.chesco.org/ccparks) will host its annual Candlelight Tours. The tours will be presented from 6:30-9 p.m. on Friday and Saturday and 2-4 p.m. on Sunday.
The event at Hibernia Mansion features costumed tour guides portraying former mansion owners and their families. The 19th-century mansion will be decked out for the holidays. Live music will be performed in the Ballroom and Santa will entertaining friends each day. Also, the Friends of Hibernia will greet visitors with refreshments.
Admission is $5 per person with children under 12 admitted free.
If holiday events with an old time feeling appeal to you then Malvern's Victorian Christmas (610- 296-9096, www.malvernsvictorianchristmas.org), which will be held December 4 and 5 in a number of locations around downtown Malvern, is something you should circle on your calendar.
Malvern's annual "Victorian Christmas" will begin with the Christmas tree lighting at 6 p.m. in Burke Park and continue through 9 p.m. at sites all around downtown Malvern. There will be a variety of shows and performances on Friday evening along with a number of "Open Houses" by area merchants in the downtown area of the borough.
There will be special musical performances throughout town, strolling street performers, children's shows, horse and carriage rides and hayrides. As an added attraction Friday night, Santa Claus will be available to hear children's gift wishes under the pavilion at Burke Park.
Saturday's schedule includes "Photo with Santa & Mrs. Claus" (Malvern Federal Savings Bank), MVC Carolers (King Street), "Make a Gingerbread House" (Malvern Bible Chapel), and "Kids Holiday Crafts" (Malvern Public Library).
Additionally, there will be free horse and carriage rides (10:30 a.m.-3 p.m.), pony rides (11 a.m.-2 p.m.) and hayrides from noon-3 p.m. The carriage rides board in front of Sheffield Furniture on King Street while the hayride takes place in the Malvern Federal Saving Bank parking lot. The pony rides start at Gallagher's Auto Service on King Street.
The Phoenixville Candlelight Holiday Tour (https://phoenixvillechamber.org) is scheduled for December 5 from 3-7 p.m. Tickets, which are $25, can be purchased  the day of the tour beginning at 2:30 p.m.at the tour starting point — St. Peters Episcopal Church at 121 Church Street.
The tour features beautifully decorated homes, houses of worship, and adaptive re-use.  There will be several homes near downtown for those who wish to make this part of the tour a walking tour.
Special attractions include a violinist featured at one of the homes, original art work done by another home owner and another home which was a stop on the Underground Railroad. Also featured will be model trains, holiday collectibles, and decorations.
Proceeds from this year's tour will benefit children and the arts — The Firebird Children's Theatre and the Phoenix Village Art Center Youth Scholarship programs.
"A Brandywine Christmas" features thousands of natural "critter" ornaments on holiday trees. The "critter" ornaments are used to decorate holiday trees, wreaths and diorama settings throughout the museum. The intricately designed ornaments are made from all-natural materials by museum volunteers and have found homes on trees at the White House and the Smithsonian Institution.
 One weekend each year features the annual Critter ornament sale. Visitors to the museum will be able to select and make purchases from a huge array of handcrafted "critter" ornaments that are on sale in the museum's lecture room. Admission to the "Critter Sale" is free.
Video link for the "Critter Sale" — https://www.youtube.com/watch?feature=player_embedded&v=xRTzjfoM55U.
If your list of holiday gift recipients includes someone who collects sports cards or sports-related memorabilia, then you should definitely check out this weekend's Philadelphia Sportscard & Memorabilia Show, which is running December 5-7 at the Valley Forge Casino Resort (First Avenue, King of Prussia, 610-524-0822, http://www.phillyshow.com).
The show will feature dealers from all over the country who will be selling a wide array of sports-related items such as game-used equipment, autographed balls, posters, magazine, game programs and autographed pictures. Visitors can also find a huge selection of collectors' supplies including protective sheets, binders, ball protectors and display cases.
A major focus of the show will be trading cards — especially baseball cards. Show attendees will be able to find everything from ultra-rare vintage Babe Ruth and Mickey Mantle cards to the latest releases. All sports will be represented, including football, soccer, ice hockey, basketball, wrestling, Olympics and UFC.
The show will also have a large number of live guests who will partake in autograph sessions including Paul Hornung, Curt Schilling, Rickey Henderson, Steve Carlton, Heather Mitts, Donovan McNabb, Rudy Ruettiger, John LeClair, Todd Pratt, Milt Thompson, Charlie Manuel and Jimmy Williams.
Admission to the show is $8 per day or $21 for a weekend pass.
Last year, the Valley Forge Beer Festival added a few new features — cider and mead. This year, the event is back with beer, mead and cider and a new name.
Now known as the Valley Forge Beer & Cider Festival, the event will be held on December 5 and 6 at the Greater Philadelphia Expo Center (100 Station Road, Oaks, 484- 754-3976, www.valleyforgebeerfest.com).
This thirst-quenching pay-one-price tasting experience will be fun-filled day for all — the beer lover and the cider drinker.  The event will break all records with more than 150 beers and ciders for sampling. The list of exhibitors includes not only the most popular local breweries and cideries but also some of the top producers from across the country and around the world.
There will be two separate sessions — 12:30- 4 p.m. and 5:30-9 p.m. Tickets, which are $40 online in advance and $60 at the door on event day, include a 5 oz. tasting glass with a 2 oz. pour line and access to walk the festival and sample beer and cider from participating companies. Tickets are $10 for "Designated Drivers."
Food is not included in the ticket price, but will be available for purchase during each session from the on-site concession stands. The event will help support the local Committee to Benefit the Children (CBC) at St. Christopher's Hospital in their efforts to improve the quality of life for children and families who face cancer, leukemia and serious blood disorders.  
The Historic Village of Yellow Springs (Yellow Springs Road, Chester Springs, 610-827-7414, http://yellowsprings.org) will host its annual Holiday Stroll on December 4 from 5:30-8 p.m.
The event will begin with a "Community Tree Lighting" at 5:30 p.m. at the Township Building. From 6-8 p.m., the building will have ornament craft, games, face painting, music and refreshments.
At the Washington Building, there will be a performance by Chester Valley Dance Academy at 6 p.m. followed by Santa's arrival at 6:30 p.m. The Lincoln Building will be the site of the Yellow Springs Art Show Poster Competition, a robotics demonstration, refreshments and Chester Springs Library's "Holiday Story Time."
If you want to see a holiday show that's a little different, you should check out the Barley Sheaf Players' (810 North Whitford Road, Lionville, 610-363-7075, www.barleysheaf.org) production of "Inspecting Carol," which is running now through December 13.
A small, professional theater somewhere in the Midwest is facing a crisis. While rehearsing for their annual production of Charles Dickens' "Christmas Carol," they discover that their subscriptions have dropped to half the amount that they had in previous years, and their grant from the National Endowment for the Arts is going to be canceled.
When an untalented stranger comes to the theater to audition, he is given short shrift by the company, until they learn that the NEA is sending an inspector to observe their play and they suspect that the untalented stranger may be the inspector. They cast him in the show, and take all of his suggestions very seriously. Needless to say, things go downhill rapidly and the outcome is absolutely hilarious.
The production, which is directed by Stevie Tagye, has performances scheduled for December 4, 5, 11 and 12 at 8 p.m. and December 6 and 13 at 2 p.m. Tickets are $17 for adults and $13 for students (18 and under) and seniors (60 and over).
From December 4-6, visitors to Joanna Furnace (1250 Furnace Road, Geigertown, 610-286-0388, www.haycreek.org) will be transported back to the Christmas season of 150 years ago — back to the joyous celebration of the Christmas of 1865.
This was an indescribably happy time for the ironmaster's family and the village inhabitants at Joanna Furnace. The War was over. After more than four years of a wartime existence, the rugged iron community of Joanna Furnace had become free to celebrate the end of the conflict.
The villagers' exuberance is shown by the thousands of candles, bonfires, carols and merriment not seen for some time. The ironmaster invites visitors from all over to join the Smith family and the community to welcome Christmas.
Over the 26 acres of the furnace site, a large portion will be illuminated by candlelight and bonfires. More than 1,000 glowing luminaries will illuminate various furnace walkways. Visitors are encouraged to explore the furnace complex by following these clearly defined pathways.
Attendees will be able to browse among holiday crafts items sold by dozens of vendors in the annual Christmas Craft Market. Guests will find one of-a-kind gifts such as hand-carved items, various handcrafted fiber and woven items, unique Christmas craft items, baked goods, cookies, candy and additional sought-after food gift items.
Live entertainment will be provided throughout the weekend by the Lukens Band of Coatesville, the Joanna Furnace Carolers and singing students from the High Point Academy of Geigertown.
Strolling carolers will entertain and keep the spirit of Christmas alive throughout the historic site. Kris Kringle will make a special appearance each night near the main bonfire as will the switch-carrying Belsnickle.
Other special attractions will be a live Nativity nightly from 6-8 p.m. and an old-fashioned wagon ride with the tractor slowly weaving through the light-painted historic site along the luminary-lit pathways.
The "Deck the Alley Open House" could only take place at one location — Elfreth's Alley (Elfreth's Alley and Elfreth's Alley Museum, 126 Elfreth's Alley,
Elfreth's Alley is America's oldest continuously occupied residential street. On December 5 from 3-7 p.m., its residents will once open their doors and welcome holiday visitors.
The small alley was a nice place to live in 18th-century colonial Philadelphia. It is still a nice place with preserved architectural details such as bond brickwork and cedar shingle roofs. The homes also have impressive interiors, which are open to the public only twice a year.
Admission to "Deck the Alley" is $25 for adults, $10 for children (under 16) and $60 for families. All proceeds support the education and preservation programs of the Elfreth's Alley Museum.
Included with admission are seasonal refreshments, a display of a Pennsylvania Dutch upside-down Christmas tree, performances by colonial carolers, an appearance by Belsnickel and visits from Benjamin Franklin and Dolly Madison.
This weekend is also time for several similar theatrical presentations — not on stages but rather in churches and in a museum. Every year, this is the weekend that Saint Lucia Day festivities begin.
Philadelphia has two sites which stage impressive Lucia Fest pageants — the American Swedish Historical Museum (1900 Pattison Avenue, Philadelphia, 215-389-1776, www.americanswedish.org) and Gloria Dei Old Swedes' Church (Delaware Avenue and Christian Street, Philadelphia, 215- 389-1513, www.Old-Swedes.org). Another top-flight celebration is staged in Wilmington, Delaware.
Lucia is a Swedish festival that began in 17th century Sweden as a festival of light in the midst of the darkest days of winter. In America's Swedish communities, the popular annual event features a Lucia procession with traditional songs and dances. Lucia, wearing a white gown and a crown of candles, leads the procession, followed by girls dressed in gowns who act as her attendants. Boys also join the festivities as starboys.
The American Swedish Historical Museum will present its Lucia Celebration and Julmarknad (Christmas Bazaar) on December 5 from 11:30 a.m.-4:30 p.m. The Lucia Processions will begin at 1 and 3 p.m. Swedish needlecrafts, pastries and other delicacies will be for sale in the Julmarknad, while imported gifts, crafts and Christmas decorations will be featured in the Museum Gift Shop.
Admission is $10 for adults, $4 for children (ages 4-12) and free for children (under 4).
Reservations are not required, but tickets may be purchased online in advance.
At Gloria Dei Old Swedes' Church in Philadelphia, the 2015 Lucia Fest will be held on December 11and 12. At Gloria Dei Old Swedes' Church in Wilmington, the Sankta Lucia Celebration is scheduled for December 13.
On December 7, the Gershman Y (401 South Broad Street, Philadelphia, 215-545-4400, http://www.gershmany.org) is presenting its 12th Annual Latkepalooza from 2-4 p.m.
This nationally-renowned blend of culture and cuisine has become a much-loved annual tradition and one of the Gershman Y's signature events. Hundreds of foodies of all ages bask in potato paradise as chefs from Philadelphia's top restaurants offer their own creative take on the latke (potato pancake).
This year, we proudly present latkes by Aldine, Ostia, Frankford Hall, Imli Indian Kitchen, Jones, Sabrina's Café, Tria Taproom, and Whetstone Tavern, with sufganiyot (donuts) by Federal Donuts and ice cream by Ben & Jerry's.
Other special attractions include live music by Kids Corner favorites The Plants and magic demonstrations by Ari Paul along with children's crafts, face-painting, and balloon artistry.
Admission is $20 for adults and $12 for children (ages 2-12).
Longwood Gardens (Route 1, Kennett Square, 610-388-1000, www.longwoodgardens.org) has shifted into holiday mode with the arrival of "A Longwood Gardens Christmas."
The festive holiday display at Longwood Gardens, which is running now through January 10, features spectacular lights, lavish decorations, holiday music and colorful displays featuring thousands of brilliant poinsettias, brightly decorated trees and fragrant flowers — all inside the heated Conservatory.
The colorful annual event, which appeals to the entire family, also has a lot of outdoor attractions such as fountain shows and nighttime light displays. Longwood's Christmas celebration also includes a wide array of seasonal music — holiday concerts, organ sing-alongs and carillon performances.
When darkness arrives at Longwood, a night-blooming garden of more than a half-million lights strung on close to 100 trees with approximately 40 miles of wire comes to life. A carillon with 62 cast bells plays holiday music every half hour during daylight hours. Longwood's Open Air Theatre fountains dance to holiday music each half hour — temperature permitting.
As always, admission by "Timed Ticket" — tickets issued for specific dates and times. Timed ticketing limits the number of people in the Gardens at any given time and allows guests to enjoy minimal lines and a better viewing experience. There are different prices for "Peak" and "Off Peak" times.
Visitors to "A Longwood Gardens Christmas" can also check out Longwood's Garden Railway — a whimsical display set into motion with G-scale model trains. This is the 14th year that the railway has delighted visitors with special water features and custom trains traveling in and out of bridges and tunnels.
Admission to Longwood Gardens is $20 (non-peak), $27 (peak) for adults, $17/$24 for seniors (ages 62 and older) and $10/$13; students (ages 5-18).
One of the best holiday events in the area is the annual "Yuletide at Winterthur." This year's 37th annual staging of the event, which runs now through January 3 at Winterthur Museum, Garden & Library (Route 52, Wilmington, Delaware,800-448-3883, www.winterthur.org).
Awe-inspiring trees are a signature part of every Yuletide and pattern holds true this year. In celebration of 30 years of Winterthur's famous dried-flower tree, the site is showcasing this annual favorite in the Conservatory, where it will be surrounded by a living tribute of flowers and blooming plants.
In honor of another exhibition — "A Colorful Folk" — there are displays that explore holiday practices of the Pennsylvania Germans, who introduced Americans to such seasonal standards as the Christmas tree, the charity bazaar, and the tradition of the gift giver. Another tree seen in Pennsylvania German homes in the 1800s was a laurel tree stripped of its leaves and wrapped in cotton batting to form a snowy backdrop for a display of colorful ornaments.
Winterthur's cotton tree adorns the scene in one room where the early Germanic gift giver called Belsnickle is just arriving to surprise the children with his rewards for good behavior. Also featured will be a mid-19th-century holiday bazaar.
Special family activities include "Glass Matters Wine Seminar and Tasting" (December 16), "Family Workshops" (December 6 and 13), "Brunch with Santa" (December 12, 13, 19 and 20) and the "Yuletide Touch-It Room" (Monday–Friday, 2:30-4:30 p.m.; weekends, 12:30-4:30 p.m.).
There will also be "Yuletide Jazz & Wine Concerts" with Sharon & Shawn (December 9) and Tony Smith Trio (December 16). Another special attraction will be a theatrical presentation of Charles Dickens' "A Christmas Carol" on December 10 at 1 and 6 p.m.
Timed Yuletide Tour reservations are required. Admission to Yuletide at Winterthur is $20.
"Holidays at Hagley" is an event that is always one of the most eagerly anticipated holiday attractions in this area every year. The popular Brandywine Valley exhibit, which is included with regular admission, is running now through January 3 at Hagley Museum and Library (Route 141, Wilmington, Delaware, 302-658-2400, www.hagley.org).
This year's edition of "Holidays at Hagley" features tours of Eleutherian Mills, which is the first du Pont family home built in America. The tours, which will be presented each day from 10a.m.-4:30 p.m., feature decorations in a combination of styles from both the 19th and 20th centuries.
Lace decorations add to the ambiance of Hagley's annual holiday exhibition. The theme this year at Eleutherian Mills residence is "A Feminine Touch."
For centuries, girls and women have handmade lace and whitework embroidered items for clothing and other household uses. All Christmas trees on display feature lace decorations, including the Terrace Room tree with ornaments made from dried Queen Anne's lace. Featured throughout the house is a small display of Hagley's historic du Pont family whitework and lace collections.
Well-loved displays returning include the elaborate Twelfth Night celebration in the dining room and the Victorian library's Christmas for children with its table-top tree surrounded by toys and games. Of course, there will be warm glowing lights and poinsettias.
Admission is $14 for adults, $10 for seniors and students and $5 for children (ages 6-14).
Nemours Mansion & Gardens (Route 141 South, Alapocas Drive, Wilmington, Delaware, 302-651-6912, www.nemoursmansion.org) is welcoming visitors for the Christmas holidays with special holiday-themed tours. The three-hour tours are held Tuesdays through Sundays and run now through January 3.
Originally constructed in 1910, Nemours Mansion is one of Delaware's grandest buildings and includes the largest formal French garden in North America.
During the holiday period, the guided tours will include several stories of the house and part of the gardens. Many of the rooms featured in the tour will be decorated as they would have been when DuPont resided there in the early 1900s while some will retain their traditional period decorations.
Tickets for the tour at Nemours are $15.
The Historic Odessa Foundation's 2015 Christmas Holiday Tour is one that is guaranteed to appeal to kids of all ages. The tours will be presented now through December 31 in Odessa's historic district (Main Street, Odessa, Delaware, 302-378-4119, www.historicodessa.org). The Historic Houses of Odessa's National Historic Register Wilson-Warner House has been transformed into vignettes inspired by Lewis Carroll's famous book, "Alice's Adventures in Wonderland."
This year marks the 150th anniversary of "Alice's Adventures in Wonderland," which was published in time for Christmas in 1865. Visitors to the Historic Houses of Odessa will be transported into Alice's dream through each of the period rooms of the foundation's 246-year-old Wilson-Warner House made.
Another popular attraction is the "Storybook Trees Exhibit," which is a festive display of Christmas trees that reflect books and works of children's literature. The trees have been decorated by local families, schools and organizations.
All of the Historic Odessa Foundation's properties will be open and on display for the holiday season. A special feature will be the "Holiday Highlights from Christmas Past Photography Exhibit."
Special events and tours will be held throughout the holiday season including Candlelight Tours" on December 10, the "Mad Hatter Tea Party" on December 13 and "Festive Foods/Hearth Cooking Demonstration" on December 12 and 19.
All throughout Europe, it is common to see Christmas villages erected in downtown locations of big cities. These villages are temporary sites that feature live music, a variety of holiday attractions and a large number of specialized vendors.
Philadelphia is keeping pace with the European cities with a Christmas village of its own — a special site that will be open until until December 27.
 "Christmas Village in Philadelphia" (Broad and Market streets, Philadelphia, 215-391-3017, www.philachristmas.com) is set up each holiday season in Love Park, which is located on the west side of City Hall. The free outdoor holiday market eventis modeled after the traditional Christmas Markets in Germany.
Vendors selling traditional European food, sweets and drinks are set up in 60 wooden booths and timber houses that form a medieval village. They will also offer a unique shopping experience with international holiday gifts, ornaments, jewelry and high-quality arts and crafts.
Bethlehem, which is known as the "Christmas City," presents Christkindlmarkt Bethlehem (PNC Plaza at SteelStacks, 645 East First Street, Bethlehem, 610-332-1300, http://www.christmascity.org) every Thursday, Friday, Saturday and Sunday now through December 20.
Christkindlmarkt Bethlehem showcases aisles of exquisite handmade works by the nation's finest artisans. The market also features live performances of Christmas music and vendors with an amazing variety of tasty food items.
Two of Montgomery County's scenic historic sites are ready to begin celebrating the 2014 Christmas holiday season this weekend.
Pennypacker Mills (3 Haldeman Road, Perkiomenville, 610- 287-9349, www.historicsites.montcopa.org) is hosting "Victorian Holiday Tours" now through January 10 while "Twelfth Night Tours at Pottsgrove Manor" (100 West King Street, Pottstown, 610-326-4014, www.historicsites.montcopa.org) are running from November 27- January 10.
For the next seven weeks, Pennypacker Mills will offer free tours of the 18-century mansion used by General George Washington as temporary headquarters during the Revolutionary War. The event at Pottsgrove Manor features guided tours through an elegant 18th-century Georgian mansion that is decked out in period holiday decorations.
Trains — especially old time steam trains — appeal to almost everyone…including Santa Claus. This year, Santa will be visiting a number of the areas tourist railroads to take special rides with his friends.
One of the best train rides with Santa Claus is the one presented by the West Chester Railroad (Market Street Station, West Chester, 610-430-2233 or www.westchesterrr.net).
The special "Santa's Express" trains (which feature heated cars decorated for the holidays) will run on December 5, 6, 12, 13, 19 and 20 at 11 a.m., 1 and 3 p.m. There will be additional departures at 5 p.m. on December 12, 13, 19 and 20.
Adult fare for the West Chester Railroad trips is $22. Tickets for children (ages 2-12) are $16 while toddlers (ages 9-23 months) get to ride for $6.
The Wilmington & Western Railroad (2201 Newport Gap Pike, Wilmington, Delaware, 302-998-193, www.wwrr.com) will run its "Santa Claus Express" on Saturdays and Sundays between Thanksgiving and Christmas. Tickets are $18 for adults, $17 for senior citizens and $16 for children (ages 2-12).
The tourist rail line will also be running special "Holiday Night Express Trains", featuring a peaceful evening ride in the railroad's 1929 Doodlebug rail car. Tickets for these trains, which run from December 11-30, are $12 for adults, $11 for senior citizens and $10 for children.
The Strasburg Rail Road (Route 741, Strasburg, 717-687-7522, www.strasburgrailroad.com) is running its "Santa's Paradise Express" now through December 19. The Strasburg Railroad will also be running its "Night Before Christmas" train on November 27 and December 4, 11 and 18.
Tickets for rides on the Strasburg Railroad are $17 for adults, $11 for children (ages 3-11) and $3 for toddlers (under age 3).
The New Hope & Ivyland Railroad (32 Bridge Street, New Hope, 215-862-2332, www.newhoperailroad.com) is operating its "North Pole Express" now through January 3. Tickets are $48.95 for adults, $46.95 for children (ages 2-11) and $14.95 for toddlers.
Christmas trains also come in a smaller variety. Model railroad displays and the Christmas holiday season have been linked together since a time before even your parents were even kids.
One of the most elaborate model train layouts in the Delaware Valley can be found at the Morris Arboretum (100 Northwestern Avenue, Chestnut Hill, 215-247-5777, www.business-services.upenn.edu/arboretum/index.html).
The display, which is open to the public now through January 3 in the winter garden of the Morris Arboretum, has a quarter-mile of track featuring seven loops and tunnels with 15 different rail lines and two cable cars, nine bridges (including a trestle bridge you can walk under) and bustling model trains.
Admission to the Morris Arboretum is $16 for adults, $14 for seniors (65 and older) and $8 for students and military.
Many of the local amusement parks are fun places to visit in November and December because of their special holiday attractions.
Now through December 31, "A Very Furry Christmas" will be presented by Sesame Place (100 Sesame Place, Langhorne, 215-752-7070, www.sesameplace.com). The event is a one-of-a-kind family-friendly celebration with everyone's favorite furry friends — Grover, Oscar and the rest of the gang from Sesame Street. Admission is $25 online and $30 at the gate.
"Christmas Candylane," which is the annual holiday event at Hersheypark (100 West Hersheypark Drive, Hershey, 800-HERSHEY, www.hersheypark.com), is running now through December 31. Tickets are $18 per person.
Visitors to Hershey can also experience the winter wonderland called "Hershey Sweet Lights, A Holiday Drive-Thru Spectacular." The attraction, which has an admission fee of $24.15 on Fridays and Saturdays and $19.15 the rest of the week, is a two-mile drive through wooded trails featuring approximately 600 illuminated, animated displays.
Dutch Wonderland Family Amusement Park (2249 Route 30 East, Lancaster, 866-386-2389, www.dutchwonderland.com) is hosting its "Dutch Winter Wonderland" from Now through December 30 on Saturdays, Sundays and select weekdays. Tickets are $11.99 in advance and $13.99 at the gate.
Koziar's Christmas Village (782 Christmas Village Road, Bernville, 610-488-1110, www.koziarschristmasvillage.com) has started its 68th annual season and it will remain open every night through January 2 — including Christmas Eve, Christmas Night, New Year's Eve and New Year's Night.
The village is a visual wonderland with a large amount of holiday displays and special attractions including "Santa's Post Office," "Christmas in the Jungle," "Toy Maker and his Toy Shop" and "Christmas in Other Lands. Other attractions are a huge model train display, a toy shop, a country kitchen, indoor and outdoor Christmas displays. Admission to Christmas Village is $10 for adults, $9 for seniors (65 and older) and $8 for children (ages 4-10).
The American Music Theatre (2425 Lincoln Highway East, Lancaster, 800-0 648-4102, www.AMTshows.com) has its holiday show "Deck the Halls" running now through December 30. The show features spectacular vocal harmonies, elaborate scenery, lively musical arrangements, impressive dancing, the music of the AMT Orchestra, elegant costumes and a theater decked out with holiday decorations.
The Rainbow Dinner Theatre (3065 Lincoln Highway East, Paradise, 800-292-4301, www.rainbowcomedy.com) is presenting its holiday production now through December 27.