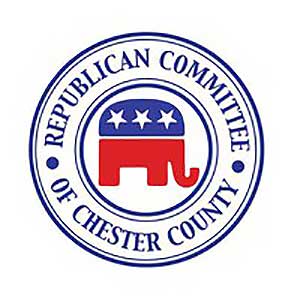 The county's Republicans gathered Thursday night to endorse a wide slate of candidates — with little in the way of drama, as the vast majority of candidates were incumbents running without primary opposition.
The one in-county race that was contested — the three-way fight for the 158th State House District endorsement — went to Kennett Square attorney Lenny Rivera, who seeks to face off against Democrat Susan Rzucidlo for the seat previously held by State Rep. Chris Ross (R) who is retiring.
In another closely watched race — that for the open 16th District U.S. House seat of retiring U.S. Rep. Joe Pitts, the party could not muster the votes for an endorsement. State Sen. Lloyd Smucker edged Lancaster businessman Chet Beiler, 26-23, in the vote, but did not win by enough to earn the endorsement but did get a "recommended" nod — continuing what appears to be a close primary battle for the nomination.
"I am thankful for the support that I received last evening in Chester County, which comprises 12% of the Republican electorate in the 16th Congressional District. Republican voters should know that I am the only endorsed candidate in this race and I am grateful to be a recommended candidate by the Chester County Republican Committee," Smucker said in a statement Friday.  "With 67% of district-wide committee members casting their vote in support of my campaign and with the endorsement of Lancaster County Republicans, there is strong grassroots support of my message and candidacy.  I look forward to earning the support of voters from across the 16th District and will fight to make the American Dream achievable for all, while defending our conservative values in Washington."
A highlight of  Thursday night's event were brief remarks by U.S. Sen. Pat Toomey — who faces a reelection battle in November — including praise for county party chair Val DiGiorgio. 
"I know how crucial Chester County is to winning Pennsylvania and I thank you for the hard work you've done, and plan to do, on my behalf," Toomey said. "I plan to win Chester County and I need your help. Toomey concluded his speech by saying, "Val DiGiorgio is one of the best leaders in the state and we are lucky to have him."
For his part, DiGiorgio expressed excitement over his party's slate of endorsed candidates and expects a spirited election season.
"Once again, I am thrilled to present our strong slate of good, qualified Republican candidates to the voters. I appreciate Senator Toomey's support." DiGiorgio said. "We will fight hard for his re-election, as we will the rest of our candidates, and present a united front to defeat the Democrats." 
The county's only other open seat — the 9th Senate District with the resignation of Dominic Pileggi to take his seat on the Delaware Court of Common Pleas — was a no-drama affair, with the committee backing State Rep. Tom Killion.
"I greatly appreciate the outpouring of support my campaign has received in a few short weeks and the strong backing that I have received from the Republican committee people of both Delaware and Chester Counties," Killion said.  "If elected, I will continue to fight Governor Wolf's proposed sales tax increase, which would hurt local businesses and jeopardize employment for thousands of retail employees in our region. We need representation in the Senate that will fairly evaluate the impacts of Governor Wolf's proposals and fight for the best interests of local residents."
With 354 committee members present in person or by proxy, the Republican Committee voted to endorse the following state house candidates for elective office:
• Representative John Lawrence for the 13th Legislative District
• Representative Tim Hennessey for the 26th Legislative District
• Representative Harry Lewis for the 74th Legislative District
• Representative Becky Corbin for the 155th Legislative District
• Representative Dan Truitt for the 156th Legislative District
• Representative Warren Kampf for the 157th Legislative District
• Leonard Rivera for the 158th Legislative District
• Representative Stephen Barrar for the 160th Legislative District
• Representative Duane Milne for the 167th Legislative District
The county committee also endorsed the following delegates to Republican National Convention in Cleveland in July:
• Congressman Ryan Costello and County Commissioner Michelle Kichline for 6th Congressional Delegates to the National Convention with Doug Hager from Montgomery County
• Gwenne Alexander and Neill Kling as 6th Congressional Alternate Delegates to the National Convention, and Tom Neafcy from Montgomery County
• Colin Hanna for 7th Congressional Alternate Delegate, with Michael Puppio, Robert Willer, and Joan Miller from Delaware County as Delegates and Nick DeBenedictis as the Alternate.
• Thomas Chiomento for 16th Congressional Delegate to the National Convention, with Rick Loughery as the 16th Congressional Alternate Delegate, with David Dumeyer and Gordon Denlinger from Lancaster County as Delegates and Dick Shellenberger and Tom Jones as the Alternates. 
All of the candidates will seek to gain the party endorsement nomination on Primary Election Day, Tuesday, April 26th, 2016.  Polls are open 7:00am to 8:00pm.