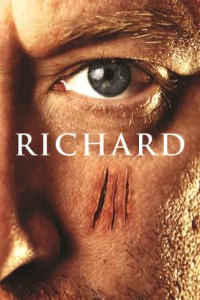 Crack open the chronicle of Shakespeare's infamous Richard III in an intense, visceral production at People's Light from March 16-April 24, 2016. People's Light is located at 39 Conestoga Road, Malvern, PA 19355. For tickets, call 610.644.3500 or visit peopleslight.org. People's Light's production of Richard III is part of Shakespeare in American Communities, a program of the National Endowment for the Arts in partnership with Arts Midwest.
Director Samantha Reading and acclaimed actor Pete Pryor pull you inside the head of the charismatic master manipulator as he tricks, seduces, and murders his way to the throne of England. Take the exhilarating ride from underling to king with the most beguiling madman ever made, staged with 9 actors in the intimate Steinbright Theatre.
"This story is immediate and relevant," says director Samantha Reading. "Right now, if you turn on the news, what do you see? Politicians manipulate the public to gain power. One dictator replaces another. Frightened refugees flee for safety," she observes. "It's a harsh, dangerous time: resources are stripped bare, buildings crumble, land decays. Violence and murder seem ordinary, and death is ubiquitous. This is the world we live in.
"This is also the world of Richard III," Reading notes.
Reading points out that Richard  implicates his  audience in  everything  he does, including  his  most gruesome and pitiless actions. "He thrills our  minds, shocks our  spirits and  commands our  hearts because there's a part of all of us that can relate to him," she asserts. "Haven't you ever wished you could change your reality? Haven't you  ever asked yourself  what you  could accomplish  without a conscience?
"We can live out those fantasies with Richard because he does what we, in our darkest moments, dream of doing," Reading says.
Pete Pryor, Associate Artistic Director and People's Light resident artist, leads the cast as Richard, the twisted Duke of Gloucester. The eight remaining ensemble members play multiple roles. Company actors include Alda Cortese as Margaret, Peter DeLaurier as Hastings, Christopher Patrick Mullen as Buckingham, Stephen Novelli as Stanley, and Mary Elizabeth Scallen as Elizabeth. Guest artist Margaret Ivey, last seen in Malvern as Ann Deever in All My Sons, returns to play Lady Anne. First-time guest Christopher R. Brown appears as York. Carl Clemons-Hopkins makes his People's Light debut as Richmond.
Resident artist Samantha Reading (Pride & Prejudice, Biloxi Blues) directs the production. Returning guest Jorge Cousineau designs both set and sound. Newcomer Maria Shaplin serves as lighting designer, while company member Rosemarie McKelvey creates costumes. Resident Dramaturg Gina Pisasale shares dramaturgy duties with guest Geoff Proehl. People's Light first-timer Jason Pizzi stage manages the production.