The Easter Bunny is pretty much everywhere this weekend
By Denny Dyroff, Staff Writer, The Times
Easter Weekend has arrived and that means that the Easter Bunny's daily schedule is shifting into overdrive. He will be at "Easter Egg Hunts" all around the area and he will be participating in a variety of special events.
One activity that is always a hit with youngsters is a ride on an excursion train with the Easter Bunny.
The West Chester Railroad (Market Street, West Chester, 610-430-2233, www.westchesterrr.net) is running a special Easter Bunny Express on March 26. Trains will depart from the Market Street Station at noon and 2 p.m. and from the Glen Mills station at 12:45 p.m.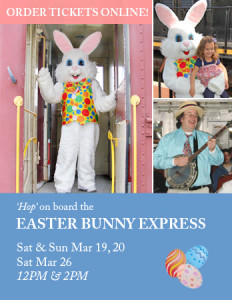 Entertainment on the trains will be provided by banjoist Greg Wright and Friends along with the Easter Bunny, who will be giving treats to all the kids. Adult fare is $22 while children (ages 2-12) get to ride for $17 and toddlers (ages 9-23 months) ride for $7.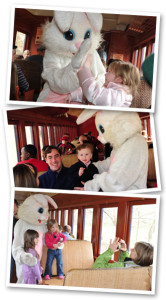 The Easter Bunny will also be down in Delaware for trips on the Wilmington and Western Railroad (Greenbank Station, 2201 Newport-Gap Pike, Wilmington, Delaware, 302-998-1930, www.wwrr.com) on March 25 and 26. On the special trains, the big bunny with the big ears will visit with all passengers and pose for pictures.
Departure times are 12:30 and 2:30 p.m. and fares are $18 for adults, $17 for seniors (ages 60 and older) and $16 for children (ages 2-12). As an added attraction, every child on the excursion trains will receive a special treat from the Easter Bunny.
The New Hope and Ivyland Railroad (32 West Bridge Street, New Hope, 215-862-2332, www.newhoperailroad.com) is running its annual Easter Bunny Express on March 25, 26 and 27 with departures at 11 a.m., noon, 1,2,3 and 4 p.m. each day.
The Easter Bunny is going to ride onboard the train where he will visit with each child, hand out special treats and pose for pictures. Coach tickets are $28.95 for adults, $26.95 for children (ages 2-11) and $11.95 for toddlers (under 2).
At the Strasburg Rail Road (Rt. 741 East, Strasburg, 717-687-7522, www.strasburgrailroad.com), the special Easter Bunny Train will be running on March 25, 26 and 27with departures starting at 11 a.m. each day.
The Easter Bunny will meet and greet all the kids on each train and have a special treat for all of them. Coach fares are $18 for adults, $11 for children (ages 3-11) and $3 for toddlers (under 3).
Video for Strasburg Railroad's Easter Bunny Train — https://www.youtube.com/watch?feature=player_embedded&v=pu1iz-wsAHc.
The Middletown & Hummelstown Railroad (717-944-4435, www.mhrailroad.com) will be running its Easter Bunny Express on March 25 and 26 at 1:30 p.m. each day.
Fares for the ride are $17 (ages 12 and older), $14 (ages 2-11) and $4 (under age 2 and on lap). The Easter Bunny will have a sweet treat for every child. Reservations are recommended.
Highland Orchards (1000 Marshallton-Thorndale Road, West Chester) is presenting "Hayrides to Easter Bunny" on March 25 and 26 from 11 a.m.-3 p.m. each day.
Participants can purchase tokens in the Farm Market, enjoy a leisurely hayride to visit the Easter Bunny, hear a story about spring and receive an egg with a coupon for a treat to be redeemed back in the Market.
The event takes about half an hour and wagons leave about every half hour. No reservation is required and tokens can be purchased in the Farm Market on the day or in advance. The cost is $7 per person.
On March 25 and 26, there will be a special event called "Hayrides to Bunnyland" at Linvilla Orchards (137 West Knowlton Road, Media, 610-876-7116, www.linvilla.com).
The hayride to Bunny's House features a ride in a hay-filled trailer that travels around Linvilla's grounds and eventually arrives at the house of Linvilla's Easter Bunny.
Upon arrival, the big, happy rabbit emerges from his house to pose for pictures with his guests. There is a storytelling session, tours of the bunny's home and seasonal treats for all visitors. Other special activities include pony rides, train rides and face painting
"Hayrides to Bunnyland" run every 15 minutes from 11 a.m.-4 p.m. from March 28 until April 4. Tickets, which are $9 per person, can be purchased in the Garden Center.
Linvilla Orchard's "Fore! The Planet" is a highly interactive and playful museum exhibit created by the Academy of Natural Sciences in Philadelphia. This exhibition, which is open until April 4, pairs important environmental issues with the fun of miniature golf. 
It features 18 unique educational holes on a variety of topics — butterfly metamorphosis, a tropical rainforest, evolution, dinosaur extinction, food chains and more. Kids of all ages can enjoy playing miniature golf while learning about our environment on every hole.
The mini-course is open daily from 9 a.m. -6 p.m. Tickets are $6.95 (ages 11 and over) and $4.95 (ages 10 and under).
An always-popular annual Easter tradition is the Easter Parade on South Street in Philadelphia (www.southstreet.com).  This year, the 85th Annual Philadelphia Easter Promenade will be held on March 27 from 12:30-2 p.m.
The event will feature Mr. and Mrs. Peter Cottontail, the Easter Bunny and the Philadelphia Freedom band as well as contests for best-dressed children and adults and best Easter bonnet.
This Easter would have marked the 11th anniversary of the Philly Zombie Crawl, which has been staged every year on South Street by Philly Zombie. But, nothing last forever (except maybe zombies).
Fortunately, there still will be a special zombie event in Philly on Easter Sunday.
On its website, Philly Zombie (http://phillyzombie.com) posted this mesage —
"Since last Easter, things have changed — not so much with us, but with South Street. We lost two of our most loyal watering holes (Dobbs and Lickety Split) and our zombie liaison within the District office.
So — instead of trying to create a half-assed Crawl to just wither on the vine, we've decided, now that we're entering our second decade of zombie love, to return to our roots.
Join us Easter Sunday, March 27 at our original home for zombies all year long — Tattooed Mom (530 South Street) as we launch the Philly Zombie Party!
We'll have makeup artists on hand for those who want to leave the painting to the professionals – plus both floors will be open starting 4 p.m. with zombie drink and food specials all night.
We'll be awarding prizes to some of the most creative zombies of the night. We'll award two rounds of prizes: one at 6 p.m. and one at 10 p.m. We look forward to continuing the undead celebration this Easter — and we hope you'll join us."
It seems like it's hard to keep a good zombie down.
There are several top-caliber "Easter Brunches" in the area including ones at Winterthur and Longwood Gardens.
Winterthur Museum, Garden & Library (Route 52 just south of the Pennsylvania state line, Wilmington, Delaware, 800-448-3883, http://www.winterthur.org) will host "Easter Brunch with the Bunny" on March 27 from 9 a.m.-2 p.m. and the Easter Bunny will make several appearances starting at 9 a.m.
Some of the featured menu items are House-Smoked Filet of Beef, Strawberry, Red Quinoa & Baby Kale Salad, Caramel-Banana Waffles, Bacon-Broccoli Crunch Salad, Farro Salad, Four-Cheese Tortellini with Locatelli Cream, Peas, Prosciutto & Broccoli Rabe, Chocolate French Toast, House-Smoked Salmon, Roasted Asparagus Bouquet, Lychee-Lime Fruit Salad with Vanilla Yogurt & Toasted Coconut, and "Assorted Breakfast Breads, Pastries, Bagels & Spreads."
Tickets are $34.95 for adults and $17.50 for children. Reservations are required.
The Easter Buffet at Longwood Gardens (Route 1, Kennett Square, 610-388-1000, www.longwoodgardens.org) will be held on March 26 and 27 with seatings every half hour from 1-5 p.m. on Saturday and 10 a.m.-5 p.m. on Sunday.
The cost is $62 for adults, $32 for children (ages 5-11) and $23 for children (ages 4 and under). Ticket price includes Gardens Admission and reservations are required.
The Main Buffet Menu includes Longwood Gardens Signature Mushroom Soup; Local Spinach Salad, Dates, Gorgonzola, Hazelnuts, Citrus; Artichoke Risotto Cakes; Roasted Baby Vegetables; Herb Roasted Potatoes; Roasted Salmon; Slow Roasted Leg of Lamb; Rosemary Demi-Glace; and Dijon Maple Glazed Ham.
The Brunch Selection includes French Toast Bread Pudding, Blueberry Compote; Asparagus, Smoked Ham & Gruyere Cheese Frittata; Bacon; Sausage Patties; Home Fries and Tropical Fruit Salad.
There will also be an Omelet Station, a Southern Grit Station, a Kids Station, a Dessert Station, a Beverage Station and a Candy Station with a variety of candies for guests to enjoy there and take home.
The "Orchid Extravaganza," which is running now through March 27 at Longwood, features approximately 5,000 orchids in bloom along with a variety of displays and special exhibits throughout its four-acre conservatory.
The orchid is one of the most beautiful, delicate and graceful flowers in the world. And, the orchid family is the largest family of the flowering plants. The Royal Botanical Gardens of Kew list over 20,000 accepted species with about 800 new species added each year. There are displays of orchids in planting beds, containers and innovative exhibits.
Early spring flowers have arrived just in time for the holiday weekend. Visitors can wander around the Outdoor Gardens and discover flowering trees, early bulbs peeking through the grass, and vibrant pansies.
Inside Longwood's four-acre Conservatory, visitors will be greeted by bursts of color with Easter lilies, pink foxgloves, blue hydrangeas, and pink tower of jewels all in spectacular bloom.
Easter at Longwood will also include live entertainment from noon-3 p.m. both days. Music will be performed by Ann Fontanella on violin, Charles dePasquale on cello and Ardath Belczer on viola.
Admission to Longwood Gardens is $20 for adults, $17 for seniors and $10 for students.
Now that spring and mild weather have arrived, Mother Nature is starting to awaken and show her colors. Flowers in all shapes and colors are beginning to brighten up landscapes.
This is a great time to visit gardens and there are quite a few great gardens to visit in the area. The list includes Tyler Arboretum in Media, Chanticleer in Wayne, Morris Arboretum in Chestnut Hill, Bartram Gardens in West Philadelphia and Jenkins Arboretum in Devon just to name a few.
For the next five weeks, there is also another special garden that you should check out — "The Secret Garden."
The Candlelight Theater (2208 Millers Road, Arden, Delaware, 302- 475-2313, www.candlelighttheatredelaware.org) is presenting "The Secret Garden" now through April 24. The show, which retells Frances Hodgson Burnett's beloved Victorian classic, won three Tony Awards in 1991 — including "Best Musical."
"The Secret Garden" features book and lyrics by Marsha Norman and music by Lucy Simon. Most of the action takes place at Misselthwaite Manor in North Yorkshire, England.
Orphaned in India, 11-year-old Mary Lennox is sent to Yorkshire to live with her embittered, reclusive uncle and his invalid son. Misselthwaite Manor, a cold and bleak estate haunted by spirits and secrets of the past, is far from a comfortable place for a little girl to live.
Mary has a brave heart and a strong will — and is too spirited to let the circumstances defeat her. She finds spiritual comfort in a locked-up, hidden garden, and shows hope that love can bloom in even the darkest places. Mary discovers renewed purposes for herself, bringing her sickly cousin, her uncle, and a long-forgotten secret garden back to life.
As always, the production at Candlelight features a stellar cast of actors — young and old. The role of Colin, the sickly boy, is shared by Luke Plunkett and Scott Angelides. The role of Mary Lennox is shared by two very talented young actresses — Katelyn Gallo and Samantha Deutsch.
The role of Mary is the major role in the show. In every production of "The Secret Garden," a young actress is put in a position of having to carry the show. At Candlelight, both Deutsch and Gallo are proving to be equal to the task.
Gallo, a middle school student making her Candlelight Theater debut, has played in 19 musicals since she began at age eight. She has performed a number of key roles, including Little Cosette in "Les Miserables," Jane in "Mary Poppins," Sally Brown in "Peanuts" and Little Red in "Into the Woods." This time, Gallo was more than ready to take on the role of Mary Lennox.
"Mary Lennox is a big part but I wasn't intimidated by the role," said Gallo, during a phone interview Wednesday from her home in Pittsgrove, New Jersey. "I do think she carries the show but it wasn't really a challenge for me to play the role.
"This is my first show at Candlelight. One of my directors from Wilmington Drama League knows Bob (the show's director Bob Kelly). Bob told him about the show so I came and auditioned about three months ago.
"I had never seen the show but I had read the book. I like reading a lot. Once I got the role, I watched videos about the show on YouTube."
Gallo obviously has discovered who Mary Lennox is, how to portray her onstage and how to add some of her own personality to the role.
"I like Mary because she's strong and independent," said Gallo. "In the beginning, she is really strict. But, by the end of the show, she's making friends. It is easy for me to make the transition from strict to friendly. My favorite scene is when Mary meets Mrs. Winthrop, the headmistress of the Aberdeen School, and throws a tantrum.
"The cast of this show is amazing. They're all really good actors and they're really supportive of me. They help me with lines and blocking. Everyone works together really well.
"I think audiences like 'The Secret Garden' because it teaches them a lesson about how to welcome strangers and be respectful. And, they like the way the play shows how spirits do live on."
Performances are Friday and Saturday evenings (doors 6 p.m./show, 8 p.m.) and Sunday afternoons (doors, 1 p.m./show, 3 p.m.). Tickets, which include dinner and show, are $59 for adults and $33 for children (ages 4-12).
This is the last opportunity to check out the March event of the Brandywine Artisan Wine Trail (http://www.brandywineartisanwinetrail.com). All through March, the trail's wineries have been celebrating "The Art of Photography" with photography art shows.
Galer Estate Vineyard and Winery is showcasing the work of Antelo Devereux who has created photography books on Philadelphia and Chester County.
Robert Lott is the exhibiting photographer at Ten Gallon Hat Winery. Lott is displaying many of his images from Philadelphia, Chester County and the Eastern Shore.
Flickerwood Winery has been featuring the work of two photography artists — Linda Amonitti and Andrew DiMaio.
Stargazer's Vineyard and Winery is featuring Karl Weygandt, whose expertise is photographing the natural wonders of our local Chester County in close-up images and in aerial views.
Kreutz Creek Vineyards has its spotlight on Liz Crowthers, who is a well-respected Local portrait and fine arts photographer
The Chaddsford Winery (632 Baltimore Pike, Chadds Ford, 610-388-6221, www.chaddsford.com) will host an "Adult Easter Egg Hunt" on March 26 with sessions at 10 a.m., noon, 2 and 4 p.m.
Participants can scour the Winery's property to find hidden Easter eggs containing tons of great surprises, including candies that are perfect for wine pairing, tickets to future Winery events, vouchers for Chaddsford gear (tee shirts, hats, corkscrews, and more), coupons towards wine purchases and free wine tastings, glasses of wine, and bottles of wine.
All participants are guaranteed to win at least one prize. Pizzaria Pronto will have a food truck at the event and live music will be provided by Larry Roney from noon-3 p.m. and McChords from 3:30-6 p.m.
Tickets, which are $15, include participation in one of four timed hunts and one glass of wine from the winery's traditional tasting menu.
Philadelphia's Cherry Blossom Festival may still be a few weeks away but cherry blossoms are already starting their 2016.
You can get a good look at cherry blossom trees right before they are in full bloom by visiting Japanese House and Garden (Lansdowne Drive and Horticultural Drive, Philadelphia, 215-878-5097, http://www.japanesehouse.org).
Shofuso is a 1.2 acre Japanese garden listed as the third best Japanese garden in North America by Sukiya Living, and named the "Best Hidden Tourist Attraction" by Philadelphia Magazine.
The site features a viewing garden with koi pond and island, a tea garden, and a courtyard garden located inside the 17th century-style Japanese walled and fenced garden of this historic museum. The newly-restored, historic 1876 Sakura Pavilion is year-round space for programming, classes, meetings, events, and exhibitions.
Visiting hours now through October are 10 a.m.-4 p.m. Wednesday through Friday and 11 a.m.-5 p.m. on Saturday and Sunday. Admission is $8 for adults, $5 for senior citizens, children (ages 3-17) and students.
The 40th Annual Gap Fire Company Mud Sale & Auction will be held on March 25 and 26 at the Gap Fire Company (802 Pequea Avenue, Gap, 610-593-2480, http://www.gapfire.org).
The Gap Fire Company's annual spring "Mud Sale" auction will be held on the fire company grounds on March 25 — starting at 5 p.m. for crafts and 6:30 p.m. for shrubbery and flowers. The auctions on March 26 will start at 8 a.m.
The list of items that will be on the auction block includes antiques, nursery stock, lawn furniture, quilts, wall hangings, crafts, needlework, farm machinery and more.
For shoppers who get hungry, there will be Chicken Bar-B-Q, homemade soft pretzels, ice cream, strawberry pie, baked goods and other homemade food on sale both days on the fire company's grounds.