Roe appears to have won write-in for 158th State House GOP nomination
By Mike McGann, Editor, The Times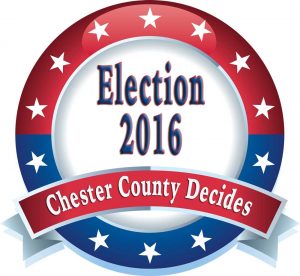 The voters of Chester County spoke loud and clear — and picked Donald J. Trump as the Republican nominee, Hillary Clinton as the Democratic nominee for president as both won statewide, Tuesday.
Turnout was very strong for a primary election, with nearly 52% of registered Republicans casting ballots and nearly 47% of registered Democrats making their way to the polls — but few independents voted, just 5.88%.
And in a deeply fought write-in race in the 158th District, it appears that Eric Roe won a fairly large margin write-in win to be the Republican nominee for State Representative.
It appears that Roe won by a fairly large margin over fellow Republican Perry Bentley and Democrat Susan Rzucidlo, based on an examination of the write-in tally sheets from the election. The final numbers and official certification are not expected until some time in May, but it appears Roe, the executive assistant to County Commissioner Michelle Kichline, will face Rzucidlo in the fall election.
Although there were a number of hotly contested primary battles for statewide, congressional and legislative seats, only one election from Tuesday will actually seat a candidate: the special election for the 9th state Senatoral District, won by Republican Tom Killion, the current State Representative in the 168th District, who beat Democrat Marty Malloy by a 58.8% to 41.1% margin. The two will face a rematch in the fall.
In contested statewide races, Katie McGinty defeated Joe Sestak for the Democratic U.S. Senate nomination, Josh Shapiro won the Democratic nod for Attorney General, as state Sen. John Rafferty won the GOP nomination for Attorney General.
In locally contested Congressional races, state Sen. Lloyd Smucker won his battle over Chet Beiler for the Republican nomination for the 16th District (Beiler did win the Chester County portion of the district, though, by 17%) and will face Democrat Christina Hartman in November. In the 7th Congressional District, U.S. Rep. Pat Meehan easily defeated a challenge from Stan Casacio to win the GOP nod, while Mary Ellen Balchunis defeated Bill Golderer for the Democratic nod, setting up a rematch of the 2014 race.
Smucker, after a hard-fought nominating race, expressed thanks.
"I want to thank my family, supporters, volunteers and most of all the voters of the 16th Congressional District for the confidence they have placed in me to serve as the Republican nominee for this important office," Smucker said in a statement.  "Our nation is at a crossroads and we need to elect strong conservative leaders to go to Washington, D.C. to fight against the liberal tax-and-spend culture, strengthen our military and national security, repeal and replace Obamacare and reduce government spending and over regulation."
In the state's Attorney General race, the fall campaign will pit two candidates familar to Chester County, Rafferty, a current state Senator, and Shapiro, currently a Montgomery County Commissioner and former State Representative.
"I am extremely honored and excited to be the Republican nominee for the Office of Attorney General," Rafferty said.  "I want to thank my voters and supporters for the work they did to help me win the nomination and ensure our Party is set up to win this race in November."
Shapiro pledged to fight for reform if elected.
"I'm honored to have earned the support of voters from every corner of our Commonwealth and to be the Democratic nominee for Attorney General," Shapiro said. "Throughout this campaign, I've pledged to reform our system, take on the status quo and fight for our values. Too many people today feel the deck is stacked against them and they can't get a fair shake. Pennsylvanians want an Attorney General who will restore fairness, clean up a mess and do more to protect the safety, the health and the rights of everyone in our Commonwealth. That's the kind of Attorney General I'll be. I promise today that I will lead with integrity and stand up to the powerful interests to fight for you."
In other non-contested races, the Democrats renominated Eugene DePasquale for Auditor General, while Republicans nominated John Brown. Democrats backed Joe Torsella for State Treasurer, while Otto Voit won the GOP nomination. 
Democrat Mike Parrish will face incumbent U.S. Rep. Ryan Costello in the fall election in the 6th Congressional District.
In the 19th state Senate race, Sen. Andrew Dinniman will face Republican Jack London.
In state house races, Democrat Nancy Dean will challenge State Rep. John Lawrence in the 13th District. In the 26th District, no candidate was on the ballot for the Democrats — but there were some 278 write-in votes — to challenge State Rep. Tim Hennessey.
In the 74th, Downingtown Mayor Josh Maxwell, a Democrat, will again challenge State Rep. Harry Lewis Jr. In the 155th, Democrat James Burns will take on State Rep. Becky Corbin. In the 156th, West Chester Mayor Carolyn Comitta, a Democrat, will take on State Rep. Dan Truitt.
In the 157th District, Democrat Hans Vol Mol will challenge State Rep. Warren Kampf in November, while in the 160th, State Rep. Steve Barrar had no Democratic opposition on the ballot, although 132 write-in votes were cast in the county for a potential Democratic nominee.
In the 167th, Democrat Joe Denham will take on State Rep. Duane Milne in the fall election.