Multiple shows and exhibitions this month at CCAA
By Lele Galer, Columnist, The Times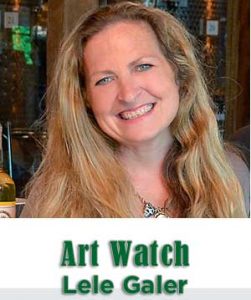 A lot is going on at The Chester County Art Association this weekend, and throughout the month of May. The Art Association is located at 100 North Bradford Avenue in West Chester, and has exhibition galleries on site as well as in neighboring locations and offers art classes and instruction throughout the year.
This Thursday May 12, 5-8pm, is the opening reception for artist Joshua Ruggeri in the Allison Gallery, and "Art is a Gas" in the Huston Gallery. Joshua Ruggeri 's paintings use familiar cultural imagery and words to create narratives about popular culture and contemporary life. HIs brightly colored paintings are sometimes referred to as "Popoganda" and provide for a fun and evocative exhibition. Interestingly Joshua's took many classes at Chester County Art Association when he was a young student, so it must be a delight for them to showcase his mature work in the gallery.
"Art is a Gas" is a juried exhibition of 1960's inspired artworks that is exhibited in conjunction with the Chester County Historical Society's current exhibition: "The Sixties! The Age of Aquarius in Chester County" which runs through August 27. You might get into the 60's spirit and put on those pair of bell bottoms, platform heels and the macramé vest that are hiding in your closet…and enjoy all the 60's fun.
This Saturday, at Chester County Art Association, you can check out the two exhibitions, and also enjoy their one-day Plant Sale and art exhibition "Flowers in Soil & Oil" 9:30am – 4:30pm. What a terrific way to celebrate the Spring! 17wonderful local artists will display their flower paintings and photographs for sale, including Diane Cannon, Andre Van As, Luo Hong, David Oleski and Doris Davis-Glackin.
While in West Chester on Saturday, make sure to stop into The Church Street Gallery's new exhibition of works by architect and artist Brad Earl. His paintings in this exhibition "Retrovision" merge various imagery from city scenes and signage to create vividly colored, imagined scenes. A terrific show. Also around the corner at the Meridian Bank, see The Art Trust's new show "VIEW" which offers a selection of artworks form the 127 artists participating in the Chester County Studio Tour May 21 and 22. You can pick up the Studio Tour catalogues and maps too, while supplies last; otherwise, download a app from their website www.countystudiotour.com
For several months now, Street Road Artists Space has been working on an exhibition of the history of their township, Londonderry Township for their exhibition entitled "7000 Acres". With the help of Londonderry Historic Committee, they have been collecting photographs, personal records, letters and stories to present this unique exhibition. Street Road Artists Space is located at 725 Street Road in Cochranville, and it is open to the public Thursday, Friday and Saturday 11am-4pm during the Summer. The opening reception for the show is May 21st from 3-8pm, and the show will continue through July 15th.
Always exploratory and thought provoking, Street Road Artists Space is providing a twist on the traditional historical exhibit by merging contemporary social media platforms with the historical artifacts. They explain that " The project thus examines social media's potential for being a collaborative take on traditional archival methods, and a unique tool for expanding the definition and influence of community and regional identity in the 21st century." The artists invite everyone to attend, for free, and to continue contributing their artifacts to the exhibition throughout the length of the show! 
In Cochranville, the Art Partner's Studio celebrates art in downtown Coatesville with an exhibition of paintings by artist Dane Tilghman at their gallery location at the Coatesville Savings Bank, May through July 15th. Tilghman's paintings depict subjects of jazz and blues music, and he says that by "Using paint and pencil I create full color narratives celebrating the common moments of humanity chronicled through nostalgic black and white photography." Art Partners Studio has studio programs that partner artists with neighbors through classes, exhibitions, hands-on activities and community art projects. For more information, check out their website at www.artpartnersstudio.org. Also showing throughout Coatesville are 9 high quality reproductions of artwork from The Philadelphia Museum of Art, from their outreach exhibit entitled "Inside Out". What a wonderful way to get the word out about the outstanding collection of art at the Philadelphia Museum of Art, while also beautifying a city's downtown environment!
At The Oxford Arts Alliance at 38 Third Street in Oxford, "Four Maryland Artists. Plein Air-ism, a Responsive Echo" is currently showing in their main gallery through May 24. Four painters show their very different painterly responses to the art of painting outdoors. Images with light filled landscapes and colorful natural vistas abound and inspire us all to get outside and start painting. The Oxford Arts Alliance offers art and music classes throughout the year, as well as pottery painting fun in their new ceramics studio. Check out what is going on in Oxford at www.oxfordart.org.
All over Chester County, wineries along the Brandywine Artisan Wine Trail are having art shows in their tasting rooms during the month of May. This weekend artist C.C. Czerwinski exhibits "Everything and Nothing at All" paintings at Galer Estate Winery in Kennett Square on Friday 3-7pm, and artist Cheryl Schlenker exhibits her paintings at Galer Estate from 3-6pm. Ten Gallon Hat Winery in Chadds Ford exhibits work from the Visual Expansion Gallery in their tasting room, and clay artist Mitch Lyons exhibits vases and monoprints at Borderland Vineyard in Landenberg. For more information on the many art shows along the wine trail, go to www.brandywineartisanwinetrail.com.