The Chester County Studio Tour is here!
By Lele Galer, Columnist, The Times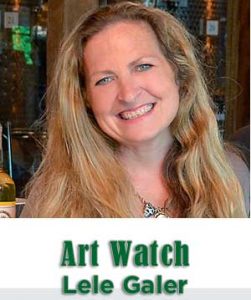 No art show this year matches the excitement and breadth of this year's Chester County Studio Tour this weekend May 21 and May 22. With 127 artists showing and selling their work at 53 art studios spread across Chester County, this is the largest Studio Tour to date. The Studio Tour offers a thrilling opportunity to meet artists in their studio, ask questions face to face, and enjoy a broad selection of an artist's work to choose from.
Unlike most galleries, here the artists are free to show whatever they want to show, old or new work, drafts or sketches, experimental pieces or very large works that can't fit into small galleries. Some artists exhibit at their own studio, while others show at an artist friend's studio, which makes for an entertaining weekend for the artists, and provides more choices for the visitor. Food and drinks are offered throughout the days at most locations, as well as Tour maps and guidebooks in case you get lost.
Several studio locations have as many as five artists showing at one location, including Teresa Haag's studio in Phoenixville, Stan Smokler's sculpture studio in Kennett Square, and Studio Tour founder Jeff Schaller's studio in Downingtown.
Jeff Schaller is thrilled about this year's huge art event, "I am very excited about this year's tour because we have truly made it county-wide! We have 53 studios that spread north, south, east and west showing that creativity and the arts are alive in well  in Chester County."
An added exciting element to the Chester County Studio Tour is "The County Collectors Club" where every artist has created one special artwork 10″ x 10″ at a cost of $75 each. One artist last year had customers lined up for over four hours to buy his Collectors Club piece! This is a great opportunity to own a work of art from an artist who normally sells at a much higher price point. Check-out the County Collectors photo gallery at the Studio Tour website, created by photographer Timlyn Vaughn, choose which one you would like, and try to get to that studio location as soon as it opens on May 21. They all sell out very quickly.
Oxford art studios and The Oxford Arts Alliance are new to the tour this year, and there are two studios with single art medium shows. At Pam McKee's studio location in Hoffman Circle in Downingtown, each of the 5 exhibiting artists are renown watercolor artists, which is unusual as most studios present artists who work in all different mediums. Also, at Stan Smokler's sculpture studio on Marshall Bridge Road in Kennett Square, each of the five artists are well known sculpture artists, including Helen Mason who has sculptural jewelry pieces made from rubber tire.
At the Roach-Bailey Studio location on Peaceful Lane in West Chester, there are three artists all from the same Bailey family, exhibiting in painting, sculpture and paper weaving. For those of you who have taken art classes at The Willowdale Art Academy in Kennett Square, on May 21 and 22 it will be the studio location for teacher and artist Karen D'Allaird.
Hand crafted fine wood furniture is also on the trail, with Doug Mooberry's Kinloch studio location in Unionville, and Larry Crosson's studio in Lyndell. Stopping by Erica Brown's encaustic studio in West Chester is a must-see. Erica's artwork is mesmerizing, and so is her studio covered with thick encaustic wax drippings. Every art studio is an experience, whether it is meeting the artist, being moved by art, inspired to create, buying that perfect art piece for your home, or just enjoying the adventure. It is no wonder that The Chester County Studio Tour bring tens of thousands of art lovers to Chester County every year for these two days!
For a preview, sneak peek to many of the Studio Tour artists, go to The Art Trust Gallery at Meridian Bank, 16 West Market Street in West Chester and check out "VIEW". It is a wonderful small show that that will be in the gallery through July 8th
Each of the artists on the tour have been hand-selected by the event jurors, so visitors to the studio tour should expect professional quality at every studio. The entirety of Chester County is quite vast, so the managers of the tour have created extremely helpful maps of the Southern and Northern Chester County Studio locations that you can download off the website (www.countystudiotour.com). You can also pick up a tour map at any of the site locations May 21 and 22, while supplies last. Maps also include local galleries along the route, and have maps that are arranged by artistic medium.
So, if you want to just buy sculpture, you can download a sculpture map, or do the same for a painting or ceramic map. It is recommended that you keep to one half of Chester County for each day (Southern or Northern Chester County) and perhaps check out some of the restaurant tour sponsors for lunch or dinner, or one of the local wineries for a break.