Also: Food truck fest in Kennett Square, Sunday
By Denny Dyroff, Staff Writer, The Times
With a weather forecast that indicates a very good chance for conditions ranging from unpleasant to downright dismal (high of 57 degrees and 100 per cent chance of rain), it might not be such a good idea to have outdoor events near or at the top of your list of potential weekend activities.
There is one event that should allow you to stay relatively dry — even though there are a number of separate destinations.
The annual Chester County Studio Tour (chestercountystudiotour.com) will be held on May 21 and 22. The tour, which has continued to get bigger and better each year, is a showcase for 100 different artists whose work will be displayed approximately 50 studios in the area.
Some of the artists whose work will be on display at 206 edition of the event are Lele Galer, Darcie Goldberg, Marie Wolfington Jones, John Pompeo, Susan Yoder, David Oleski, Steve Oliver, Bobby Lewis, April D'Angelo, Denise Vitollo, Diane Cirafesi and Ellie Byrom-Haley.
The list of participating artists also includes Joe Grubb, Christy Maurer, Lin Webber, Timlyn Vaughan, Annie Strack, David Katz, Christine Oddo, Madeleine Kelly, Robert Lott, Sarah Yeoman, Mary Roach-Bailey, Theresa Haag and Erica Brown.
Tour hours are 10 a.m.-6 p.m. on May 21 and 10 a.m.-5 p.m. on May 22. The event is free and open to the public.
The East Coast Reptile Super Expo, which is always a well-attended event, will run from 9 a.m.-4:30 p.m. on May 21 at the Philadelphia Expo Center (100 Station Avenue, Oaks, 484-754-EXPO, http://www.phillyexpocenter.com).
If you think snakes and lizards are interesting creatures and maybe even fun pets to own, you should check out the show on Saturday. A wide array of reptiles will be on display as part of the popular exhibition.
One of the show's main attractions is a sales exhibit area featuring a large number of vendors with live reptiles, amphibians and arachnids as well as food items, supplies, books, cages, and related accessories.
The roster of very diverse vendors includes DHA Pythons, Gecko Haven, Skins and Scales, Hunger Reptiles, Jungle Emporium, RKZ Rodents, Monstar Reptiles, Turtle to Turtle, Delaware Valley Herpetarium,  Blake's Exotic Reptiles, Dower Reptiles & Rodents, Reptile Kingdom, Serpents Plus, Heath's Frog Farm, Corralus Creations, Rogue Reptiles LLC, Garden State Tortoise LLC, Reptile Addicts, Bob's Critters, Franken Chams, MCO Reptiles and Fins, Feathers, Paws & Claws.
Other featured vendors will be Delaware Turtle, Harris in Wonderland, Just Lizards, AZO Reptiles, Rose's Reptiles, Livecargo Pets & Supplies, Dale's Bearded Dragons, Jason R Bartolett Captive Bred Reptiles, Fowler Reptiles, Dragon Fortress, Turtle Towns, Newville Dragons, PM Herps, Jay Jacoby Serpent Propagation, Black Jungle Terrarium Supply, VSCV Ventures LLC, Outback Reptiles, Dachiu Dragons, Tom Rogan Reptiles, Native Exotics, Jon & Wess Reptiles.
Tickets are $8 with children (under five) admitted free.
On May 22, Victory Brewing is presenting its inaugural Food Truck Festival from noon-4 p.m. at Kennett Square Brewpub (650 West Cypress Street, Kennett Square, http://www.victorybeer.com).
The Food Truck Festival will feature local food trucks, live music, a kids' zone and a Biergarten. As an added highlight, Bavarian Motorsport will be hosting a car show featuring Porsche. This event will benefit Historic Kennett Square and is free to attend.
The list of participating vendors includes Nomadic Pies, Punk'd Pineapple, Urban's Wood Fired Pizza, Nick's Roast Beef, The Cow and the Curd, Hood's BBQ, Crossan Kettle Korn, Unique Greek, Lil' Pop Shop, Dia Doce, Kona Ice and Victory's Brew Pub on Wheels. Flickerwood Wine will also be selling its wine.
For three-quarters of a century, LuLu's Shriners have been sponsoring an annual circus performance at various locations in the Delaware Valley. This weekend, the 75th Annual LuLu Shrine Circus will be held at LuLu Temple (5140 Butler Pike, Plymouth Meeting, 800- 898-LULU, http://lulushrinecircus.com).
Now through May 22, the Temple grounds will be alive with the sights, sounds and smells of a live circus with performances at 7 p.m. on Friday; 11 a.m., 3 and 7 p.m. on Saturday; and noon and 4 p.m. on Sunday.
The performances feature complete "Three Ring Circus" shows on the LuLu Temple's grounds in an outdoor facility that can accommodate 4,000 spectators. This is a traditional old-time circus — the kind that used to travel the country and set up "Big Top" performance tents wherever it stopped.
There will be trapeze artists, a magic show, a high-wire hula hoop performer, jugglers and an aerial rings act. And, there will be a variety of circus animals including tigers, elephants, ponies and even an acrobatic dog act. As an added attraction, elephant rides and pony rides will be available before and after the performances.
As always, a popular feature at every show is the zany activity by the LuLu Temple's "Klownz" which is a group of more than 50 members who not only do the skits for the Circus each year but also perform at Shriners Hospital for Children each month.
Tickets are $24 for adults and $21 for children.
On May 22, the Schuylkill Canal Association will present a special "Wildflower Walk" from 1-4 p.m. at Lock 60 at Schuylkill Canal Park (400 Towpath Road, Mont Clare, 610-917-8030, www.schuylkillcanal.org).
Visitors are invited to join the Schuylkill Canal Association's Dave Williams for a guided walk to view wildflowers along the Schuylkill River and ravines.
Weather permitting, this is a moderately-difficult 1.5- hour hike up the first ravine, up a steep hill, along the bluffs, then down a narrow trail, and back to Lock 60 along the Schuylkill River.
The activity is open to adults and children (8 and older) with an adult. Pre-registration is requested. Participants are asked to meet at the Locktender's House, which is located at Lock 60, the only operating lock of the historic Schuylkill Navigation.
Music fans know that when warm weather arrives, the advent of outdoor music concerts cannot be far behind — especially outdoor, multi-day festivals. One of the earliest festivals on the annual calendar is the Spring Gulch Folk Festival.
From May 20-22, the Spring Gulch Folk Festival will return for another year at Spring Gulch Resort Campground (475 Lynch Road, New Holland, 717-354-3100, www.springgulch.com).
The festival's host is a top-flight campground which features Olympic size pools and spa, tennis and shuffleboard courts, mini golf, a dance barn, wooded sites, a laundromat, a state-of-the-art playground, an arcade, a fishing lake, a country store and an ongoing variety of children's activities.
The Spring Gulch Folk Festival is a family festival in a beautiful camp resort setting — a weekend event featuring live music by top-name folk musicians, sing-a-long campfires, workshops, dancing, and crafts.
The May 20 concert, which starts at 8 p.m., features Kim and Reggie Haris, Irish Mythen, Rachel Kilgour and The Seldom Scene.
The matinee performance on May 21 begins at 12:15 p.m. and features Jesse Terry, Ladybird, David Massengill, Savoy-Doucet Band, Caveman Dave and Ben Arnold.
The evening concert, which runs from 7-11 p.m., will showcase Susan Werner, Teeny Tucker Blues Band, Ten Strings and a Goat Skin, Jack Murray and Radney Foster.
On May 22, the matinee session, which is scheduled to start at 12:15 p.m., will feature David Massengill, SONiA disappear fear, De Temps Antan, and Lindsay Lou & the FlatBellys.
Spring Gulch also offers Amish buggy rides, games, tennis clinics, campfires and many more related activities. As an added attraction, there will be a wide array of organized children's activities throughout the weekend.
Ticket prices are: Friday, $22 (adults) and $10 (children); Saturday, $48 (adults) and $20 (children); Sunday, $22 (adults) and $10 (children).
For many people in this area, if you're talking about "birds," you're talking about Eagles — the Philadelphia Eagles. If your appreciation of birds extends to the feathered kind, then you might want to check out this weekend's event at the Lancaster Host Resort (2300 Lincoln Highway East, Lancaster) — the Lancaster Bird Expo on May 21.
The Lancaster Bird Expo (http://www.lancasterbirdexpo.com), which is billed as "Pennsylvania's largest bird expo," will feature more than 35 vendors specializing in bird supplies, novelty items, toys, cages, play stands, and bird food. Additionally, there will be breeders and local rescues with birds up for adoption.
The show for bird lovers will have a number of special guests.
Patricia Sund will be doing a great "Chop Challenge" and looking for teams to go head to head. Sund was a columnist and feature writer for Bird Talk Magazine and has a popular blog called "Parrot Nation," where she writes and produces video about birds, parrot care and her adventures in the world of aviculture.  
Jesse "The Bird Whisperer" James is coming down from Canada to help work with birds with behavior problems. James is an "Avian Behavioral Consultant" who specializes in educating parrot owners and their parrots on ways to achieve an "enhanced lifestyle and more loving relationship."
Laura Ford will be doing a workshop on "Fun with Foraging" — explaining why foraging
is important for companion parrots, and offering some easy steps to teach foraging to parrots and their people.
As an added attraction, the expo will have a special presentation by Mark Kocher and his Birds Of Prey. He will be doing a presentation about characteristics and adaptations of hawks and owls.  Guests will be able to see these beautiful birds up close and personal.
The Lancaster Bird Expo will be open from 9 a.m-5 p.m. Admission is $7 for adults and $2 for children (ages 7-12). Children (6 and under) will be admitted free.
On May21 and 22, downtown Lancaster will be the site of a "WWII Encampment" presented by LancasterHistory.org (230 North President Avenue, Lancaster, 717-392-4633, lancasterhistory.org).
Held to mark the 71st anniversary of the end of World War II, the free event will feature WWII tanks, trucks and equipment demonstrations. The encampment will feature more than 40 re-enactors who are ready and eager to discuss this pivotal era in America's history.
On both Saturday and Sunday, visitors will be able to explore vintage military vehicles, inspect tents, and tour the "Homefront Trailer." Hours are 10 a.m.-10 p.m. on May 21 and 10 a.m.-4 p.m. on May 22.
When evening arrives on May 21, it will be time for "Celebrate the USO at LHO!," the USO Big Band Dance. The show, which gets underway at 7 p.m., features entertainment by Jeremy "Bob Hope" Kendall and Robert "Bing Crosby" Bigley, the Prima Sisters, Second Hand Suits and Temple Avenue.
Visitors are invited to come early and enjoy a picnic on the lawn before the show. Burgers, hot dogs, and ice cream vendors will be onsite. Tellus 360's cash bar opens at 7 p.m. 
Tickets for the show are $10 per person. Children 10 and under are free to the show.
If you 're looking for something to do this weekend that's a bit out of the mainstream, consider attending a festival celebrating rhubarb or a kinetic structure derby.
On May 21 and 22, the 2016 Rhubarb Festival will be held at Kitchen Kettle Village (3529 Old Philadelphia Pike, Intercourse, 800-732-3538, www.kitchenkettle.com).
In the heart of Lancaster County, people have been celebrating rhubarb for over 30 years. This is the time of year when Kitchen Kettle Village comes alive with the sweet aroma of rhubarb jam bubbling in its kettles.
Rhubarb is the harbinger of spring in Pennsylvania Dutch Country, and every year Kitchen Kettle Village pays tribute with a two-day food festival filled with delicious and sometimes zany events.
The not-your-everyday annual event will feature attractions and activities for people of all ages, including a rhubarb racecar derby, homemade desserts, the "Rhubarb Stroll" mini-parade, a "Rhubarb Whoopie Pie Filling Contest" and more.
The free, family-oriented event will also feature a wide array of homemade rhubarb foods, including rhubarb dips, rhubarb sauces, rhubarb pies (obviously) and delectable (?) rhubarb drinks.
One of the Delaware Valley's strangest spring events is the Kensington Kinetic Sculpture Derby and Arts Festival (http://kensingtonkineticarts.org/).
The annual celebration, which is scheduled for May 21 from 11 a.m.-6 p.m., showcases human-powered, handmade floats on parade and highlights the neighborhood's creative spirit and community pride.
Just as wacky, artsy, and Kensington as ever, the "best day in the neighborhood" is now known as the Philadelphia Federal Credit Union Kensington Kinetic Sculpture Derby & Arts Festival. There will be more than 200 local arts and food vendors, alongside a parade of human-powered sculptural floats.
The Kinetic Sculpture Derby parades mobile sculptures along a three-mile, urban obstacle course through the Kensington and Fishtown neighborhoods, finishing with a messy splashdown in a mud pit.
No stored energy, motors, electricity, pushing, pulling or walking is permitted in order to move the human-powered floats throughout the course. Instead, participants must devise unique, human-generated ways to keep "vehicles" – defined as a device that has wheels or moveable legs – moving at a pace of at least three miles-per-hour.
The friendly, juried competition features six awards: Best Art, Best Costume, Best Engineering, People's Choice, Best Breakdown and the highly coveted Judge's Choice Award.
The festival, which raises money for projects in the area while exposing people to an off-the-beaten-path neighborhood, is located on five blocks along Trenton Avenue from Norris Street to Frankford Avenue.
On May 22, it will be time for the 38th Annual Society Hill Open House and Garden Tour. Society Hill's annual open house and garden tour will be held Sunday from 1-5 p.m.
Visitors can partake in a self-guided tour of 10 homes and gardens throughout the neighborhood and get a peek inside of some of the neighborhood's most impressive homes.
People taking the tour will be able to walk the same streets as Benjamin Franklin and George Washington. All of the houses' architectural and interior styles range from the 18th and 19th Century to the most contemporary. And, there is an all-new selection of houses each year.
Tickets for the tour are $30 in advance and $35 at the door. Tickets may be purchased on the day of the tour at Old Pine Community Center, which is located at 401 Lombard Street (corner of Fourth and Lombard streets).

Craft Phila (Market and Chestnut streets between Sixth and Seventh streets, Philadelphia, http://www.craftphila.org/) presents two-day events each year — one in the spring and one in the fall. The 2016 spring edition of the crafts far is scheduled for May 21 and 22.
This weekend, the sidewalks surrounding Independence Mall will be transformed into a craft market featuring handmade designs in a large array of categories. In addition to shopping, the festival promises music, crafts, food trucks and more.
Handcrafted specialties will be offered in a wide range of prices and styles, including ceramics, fiber, leather, glass, wood, metal, jewelry, accessories, basketry, mixed media, photography, prints, fine art, graphics, paper, soaps, candles and artisanal edibles.
The popular annual event, which runs from 10 a./m.-7 p.m. on May 21 and 10 a.m.-5 p.m. on May 22, features free admission. The outdoor fair will be held rain or shine.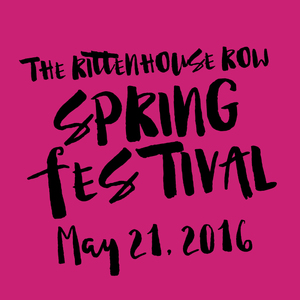 The Rittenhouse Row Spring Festival (Rittenhouse Square, Philadelphia, http://www.rittenhouserow.org), which is one of Philadelphia's most popular spring festivals, will be held on May 21 from noon-5 p.m. –rain or shine.
Staged annually on Walnut Street from Broad Street to 19th Street, the well-attended annual event showcases Philadelphia's finest fashions, cuisine and entertainment and attracts more than 50,000 people to enjoy the best of Rittenhouse Row.
Dozens of restaurants will set up shop along the sidewalks of Walnut Street to serve up samples of spring fare. In addition to the tasty food attractions, there are a variety of enticing activities including live music, free wine tastings, fashionable shopping and more.
South Philadelphia has long been a stronghold of the City's Italian-American population and nowhere is it evidenced more that at the South Ninth Street Italian Market (Ninth Street and Washington Avenue vicinity, Philadelphia, 215-278-2903, www.italianmarketfestival.com).
On May 21 and 22, it will be time once again for the annual "South Ninth Street Italian Market Festival." The festival's focus will center on specialty food shops, restaurants, taverns and stores.
The festival, which is free, features the annual "Procession of Saints," along with live entertainment, family events, crafts vendors and food booths. It will run from 11 a.m-6 p.m. both days and will be held rain or shine.
Saturday's entertainment schedule features the 1910 Fruitgum Company, Jerry Blavat and DL Donny Chiro. Sunday's line-up includes the City Rhythm Orchestra and DJ Perry Angelozzi.
The Family Fun Zone is located at the Pat's King of Steaks Block Party Area at Federal Street. There will be arts and crafts, music, story times, bouncies and more. The festival's car show will be held on May 22 on Washington Avenue at Eighth Street. The CK Auto Image's Third Annual All-Make/All-Model Car Show will run from 11 a.m.6 p.m.
One of the festival's most popular attractions is "Albero della Cuccagna" — the "Grease Pole."  It is a 30-foot high pole greased with lard that is located at the Ninth and Montrose Piazza. Teams will compete on both days for prizes of meats, cheeses, gift cards and money — prizes that are hanging from the top of the pole. 
On May 21, you can take a trip back to a different era in America's history by attending the 92nd annual "A Day in Old New Castle" in Historic New Castle (off Route 141, New Castle, Delaware, 302-322-5774, http://www.historicnewcastle.com).
The event, which will be held from 10 a.m.-5p.m., is a special activity that not only celebrates history but also has a lot of history of its own. It is a tradition of home and garden tours in New Castle that dates back almost 100 years — in a town that was founded 350 years ago.
Billed as the oldest home and garden tour in the United States, "A Day in Old New Castle" provides visitors with the opportunity to see what life was like during the historic era when New Castle served as the capital of the fledgling colony of Delaware.
New Castle was where William Penn first set foot in North America in 1682. New Castle was also the home to two of Delaware's three signers of the Declaration of Independence. This weekend's event will commemorate the 150th anniversary of the year of "Union and Freedom."
Visitors will be able to tour the many homes, gardens and public buildings that witnessed the rebirth of America at the conclusion of the Civil War. The cobblestone streets of Old New Castle will be alive with activities.
There will be confederate and union encampments by Union Patriotic League, Garrison of New Amstel and 1st Delaware Regiment. Live entertainment will be provided by Serenata Strings, Immanuel Church Change Bell Ringers, Ft. Delaware Coronet Band, and Suzuki Violins.
There will be a number of churches open for tours including New Castle United Methodist, Immanuel Episcopal, New Castle Presbyterian and Mt. Salem.
Other attractions includes blacksmith, historic caricatures, a Colonial brewer, children's games, bell ringers, a maypole, "Bones & Stones Tour," carriage rides, beer garden, tours of historic Buttonwood School.
Tickets for "A Day in Old New Castle" are $20 for adults and $5 for children (ages 6-12).
This is a nice time of year to take a drive through central Bucks County to enjoy the spring colors. This weekend, it's an even better time because it's the weekend of Peddler's Village's 38th Annual Strawberry Festival (Routes 202 and 263, Lahaska, 215-794-4000, www.peddlersvillage.com).
The 2016 edition of the popular annual event will be held May 21 and 22 at the Peddler's Village complex and will feature a variety of artisans who will be demonstrating and selling their crafts.
As expected, the free festival will be a showcase for strawberries served in all sorts of tasty ways.
The Lucky Cupcake Company's Village Bakery will offer outdoor booths with strawberry shortcakes, strawberry crumb pies, strawberry rhubarb pies, strawberry cheesecakes and tarts, strawberry cupcakes, donuts, muffins, cookies and chocolate strawberry bombs.  
Peddler's Village Strawberry Tents will have fresh strawberries, freshly baked strawberry pies, and Pennsylvania Dutch strawberry butters. The Ruby Boyd tent will offer Strawberry Smoothies, Fruit Smoothies and fresh fruit cups.
The Cock 'n Bull Restaurant Booth will serve crisply strawberry fritters prepared in a vintage iron kettle and sprinkled with powdered sugar. Skip's Candy Corner will be selling freshly-dipped chocolate strawberries. Fromage Deux will be serving its seasonal Strawberry Festival crepes.
More than 75 of the region's finest artisans will exhibit and sell unique handcrafted works on the Street Road Green. Click here to view our Featured Artisans.
Strawberry Fields Fun Area for Kids will feature live musical entertainment, sand art, face painting, kids' crafts and picnic area. Each afternoon at 3 p.m., people gather on the Main Green to cheer on their favorite contestants in the Strawberry Pie Eating Contests. 
The festival will be held from 10 a.m.-6 p.m. both days. Admission and parking are free and the festival is held rain or shine.
The Bucks County Wine Trail hosts several seasonal events each year — including a pair of "Spring Winery Tours." The Fifth Annual Spring Winery Tour has the second installment scheduled for May 22. The two-part self-guided tour showcases nine unique family-owned wineries along the Bucks County Wine Trail.
The Southern Tour was held last week. The Northern Tour will be held from noon to 5 p.m. on May 22. Cost is $30. Tickets are available at any of the wineries. Quantities are limited.
The North Tour on May 22 will include New Hope Winery (123 Route 202, New Hope, 215- 794-2331, www.newhopewinery.com), Peace Valley Winery (300 Old Limekiln Road, Chalfont, 215-249-9058, www.peacevalleywinery.com), Sand Castle Winery (755 River Road, Erwinna, 800-722-9463, www.sandcastlewinery.com) and Unami Ridge Winery (2144 Kumry Road, Quakertown, 215- 804-5445, www.unamiridge.com).
The "Third Saturday Morning" at Joanna Furnace (Route 10, Morgantown, 610-286-0388, www.haycreek.org) will feature themes of interest for the entire family that can found in a diverse line-up of activities.
The "Hay Creek Buffet" from 7-11 a.m. is a scrumptious breakfast buffet which includes ham, country sausage, bacon, chipped creamed beef, scrapple, scrambled eggs, pancakes, waffles, country fries, fruit, juice, hot coffee and tea.  The cost for the buffet is $9 for adults and $4.50 for children (ages 5-11).
Beginning at 9 a.m., guests can explore the iron-making complex in two ways. One way is by self-guided tour. There will also be free on-going tours which form at the Blowing Engine House.
Guests will be able to meet the garbed iron community interpreters in the historic buildings and learn about the 200-year-old iron making community that once consisted of the furnace complex, 17 tenant houses, a school, church, store/post office,  grist mill and numerous nearby farms.
The Blacksmith Shop will be open and one of the Hay Creek Blacksmiths will have his hearth ablaze. From hundreds of feet away, visitors can hear the ring of his hammer as he strikes the red-hot iron on his anvil. People can watch him as he hammers out a new iron object. The blacksmith will also answer questions about his ancient art form and the important part he plays within the Joanna Furnace Community.
Guests can also visit the restored Joanna Furnace Casting House and discover how iron products were produced at a 19th-century charcoal-fired iron furnace.  Skilled interpreters demonstrate how sand molds were prepared to accept the molten metal that was poured into to them to make the countless cast products Joanna Furnace manufactured between 1791 and 1898.
Another of the event's featured attractions is the annual "May Hay Creek Plant Sale." The wide array of available plants includes perennials, herbs and much more. Additionally, the Hay Creek Flea Market offers a huge array of antiques and vintage items, crafts, household items, tools, books, and kids' clothing. 
The Historic Joanna Furnace site is located three miles north of Morgantown, on Route 10. Admission and parking are free for the monthly Third Saturday events.
Anytime there is an event celebrating a 150th anniversary, it is worth taking notice.
On May 21, there will be a "150th Anniversary Parade and Block Party" (http://boyertown150.com) to mark Boyertown's century-and-a-half of being an incorporated town.
Boyertown will be celebrating its 150th anniversary with a parade starting at 1 p.m. on Saturday. There will be a block party at the railroad yard following the parade. The party is scheduled to get underway at 3 p.m. and run until 9 p.m.
Just prior to the parade, there will be a special activity for athletes — the 150th Anniversary Fun Run.
Downtown Boyertown will also host a street fair featuring old-time crafters and vendors, a beer tent, presentation booths by local wineries, a cidery and a steam engine running all day.