Also: Pa. Ballet wraps 2015-16 season with two premieres
By Denny Dyroff, Staff Writer, The Times
Peter Frampton has such a long history in rock music that he is now able to exist and tour in two very different modes — as a classic rocker playing a string of hits with a full band and as a solo musician presenting the same songs in a very intimate manner.
On June 11, he will visit Philly for a show at the Mann Music Center (Mann Center, 5201 N. Parkside Avenue, Philadelphia, 215-566-7900, http://manncenter.org) for a full band show with Lynyrd Skynyrd. Frampton will also play a full band show on June 14 at the Sands Bethlehem Event Center (77 Sands Boulevard, Bethlehem, 610-297-7400, http://sandseventcenter.com).
The veteran English rocker will be sharing a bill with Gregg Allman in early July and then will hook up again with Lynyrd Skynyrd for shows in late July and early August.
The full band shows and the acoustic shows are very different.
For Frampton, the unplugged shows provided a challenge — and an opportunity to feel re-invigorated. The last time he played this area was in October when he brought the "Peter Frampton Raw, An Acoustic Tour" to the Scottish Rites Theatre in Collingswood, New Jersey
"I wanted something different to do and I had never done a fully acoustic tour," said Frampton, during a recent phone interview last week from his home in Nashville. "I can get up with myself and another guitar player and go all around the world. On most of my tours with my band, I'd do a 15-minute solo portion.
"A full show solo was something I was very anxious about having never done it before. Now, I love these shows. It's so different than playing with a band. I didn't really have any expectations. I was anxious because I didn't know if I could keep an audience's attention that long with just acoustic music.
"It was like 'Storytellers' meets 'Unplugged.' Audiences really liked my stories when I told them. You could hear a pin drop. I realized that when you just tell the stories, this will happen. I add humor and that goes over very well. The most surprising thing was the attentiveness of the audience."
The new direction for Frampton hasn't been limited to his live performances. It has extended to his new album, "Acoustic Classics." For the first time ever, Frampton presents stripped-down versions of his classic hits including "Baby, I Love Your Way," "Lines On My Face," "Do You Feel Like I Do," "Show Me The Way" and more.
"Acoustic Classics" includes one new song, "All Down to Me," which was co-written by Gordon Kennedy, the co-producer of Frampton's Grammy Award-winning album Fingerprints. "All Down to Me" is the only track on the record featuring a guest musician.
"The new CD is acoustic re-dos of earlier stuff," said Frampton. "I'm doing the hits and some of the deeper tracks. It wasn't as easy as I expected it would be. The first tracks I did sounded like me without a band. I realized that the performance was too forceful.
"Some of these songs, I've done for so long that they've evolved. I wanted to return — to go back to how they sounded when I wrote them. 'Show Me The Way' and 'Baby, I Love Your Way' were most difficult because I had done them so many times with a band. Performance is always about the vibe you play with — putting the songs across with emotion. If it's a good song, it will work with anything."
Frampton knows that there are some songs he must play — no matter if he's performing solo or with a band.
"'Do You Feel Like We Do,' 'Show Me The Way' and 'Baby, I Love Your Way' are must-plays," said Frampton, whose musical resume also includes stints with Humble Pie and The Herd.
"I didn't play 'I'm In You' for years and now I'm doing it again. There are times when I wish we could just stop doing this song or that song. Then, the thing I remember is that without those songs, the audiences wouldn't be sitting out there night after night. If I didn't do 'Do You Feel Like We Do,' I'd be lynched before I left the building.
Video link for Peter Frampton —https://youtu.be/Dxytw1Ct4RI.
The show at the Mann Center will get underway at 6:50 p.m. Ticket prices range from $39.50-$125. The show at Sands Bethlehem will start at 7 p.m. Tickets are $35, $45 and $55.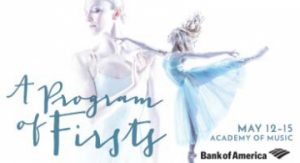 The Pennsylvania Ballet will close out its 2015-2016 season this weekend with a program that features two company premieres — Including the first ever performance by an American ballet company of the work of modern master Trisha Brown. The program "Balanchine and Beyond" opens June 9 and runs through June 12 at the Merriam Theater (250 South Broad Street, Philadelphia, 215-893-1999, paballet.org).
The evening features four works — Hans Van Manen's "Adagio Hammerklavier," Trisha Brown's "O zlozony/ O composite," Jean-Pierre Frohlich's "Varied Trio (in four)," and George Balanchine's "The Four Temperaments."
 Van Manen's "Adagio Hammerklavier" is set to one of Beethoven's sparest piano concertos — Op 106.
"It's a piano solo that is very peaceful — very calm,," said Artistic Director Angel Corella, during a phone interview Wednesday morning from his office in Center City Philadelphia.
"There are three principal couples and they have to move very slow. Parts are in slow motion — including very slow lifts. There are three movements. It's an exposition of lines. Every position is really clean."
In this piece three couples enact a series of encounters which seem to never quite achieve resolution. Tension builds as the flow of choreography is constantly disrupted in beautiful manner until Van Manen allows the choreography to release and flow, pinning it back to the melodic line of the score, moving above the notes in its own parallel pattern.
"The mood of this piece is serene and beautiful," said Corella. "It's a very unusual way to open a program — to open it with a calm piece. The music is one of my favorite Beethoven pieces and Hans Van Manen is one of the best choreographers in the world."
"Trisha Brown is an American choreographer living in Europe. It's a new era of modern choreography and she was one of the first to do something outside the box. We're the first company in America to perform one of her works. We're very lucky to be able to do it.
"It was created for Paris Opera Ballet and features an original score from Grammy-nominated composer Laurie Anderson. "
In "O zlozony/O composite," Trisha Brown brings two poems to life — Edna St. Vincent Millay's "Renascence" and Czeslaw and Milosz's "Ode to a Bird." This piece combines the richness of Brown's most complex movement and the refined action of classical dance. In an investigation into the visualization of poetry, the choreography interweaves movement with verses by the poet as the dancers perform with a beautiful, dream-like quality.
"The third piece — 'Varied Trio (in four)' — was created by Jean-Pierre Frohlich, who works with the New York City Ballet," said Corella, a native of Barcelona, Spain. "He made this pas de deux for the New York City Ballet."
The piece features a collection of short dances with movement that resonates with the dissonant, contemporary score of Lou Harrison. First premiered in 2013 by New York City Ballet MOVES, "Varied Trio (in four)" is also Pennsylvania Ballet company premiere.
"It's a very creative piece," said Corella. "It's a very unusual piece. It's going to be a great add to the program. The fourth piece — 'The Four Temperaments' — is one of my favorite ballets by Balanchine. It's one of our strengths as a Balanchine company."
"The Four Temperaments" is a ballet inspired by the medieval belief that human beings are made up of four different humors that determine a person's temperament. Each temperament associated with one of the four classical elements — earth, air, water and fire, which were in turn the basis for the four humors.
The four humors are reflected in the ballet's four movements, "Melancholic," "Sanguinic," "Phlegmatic," and "Choleric." Set to the score by Paul Hindemith, "The Four Temperaments" is one of Balanchine's earliest experimental works, fusing classical steps with a lean and angular style.
"Each temperament is completely different from the others," said Corella. "The music fits the moods. It has sharp edges. Balanchine makes the music visual. It's a perfect way to finish the program — and finish the season."
Video link for the Pennsylvania Ballet — https://youtu.be/ubKX_6yT6Dw.
The performances at The Merriam Theater will take place on June 9 at 7:30 p.m., June 10 at 7:30 p.m., Saturday, June 11 at 2 and 8 p.m. and June 12 at 2 p.m. Ticket prices range from $29-$125.
Fans of blues music will be in for a real treat if they attend the 16th Annual State Street Blues Stroll (www.statestreetblues.com). The event, which will be held along State Street in Media on June 11 from 6 p.m.-1 a.m., will feature Shemekia Copeland as a headline act.
Copeland is touring in support of her new album "Outskirts of Love," which was just released in September 2015 on Alligator Records. Her previous album was "33 1/3" in 2012.
"I feel like I've had this album made forever," said Copeland, during a phone interview this week from a tour stop in Davenport, Iowa. "I started making it a year ago. We did it in pieces. I like working on it, stopping and reflecting and then going back.
"It was recorded at two studios — Southern Ground and Sound Emporium. I used the same producer at both — Oliver Wood. He's a genius. I love working with him. Oliver makes the calls and he's usually right. I trust him to make the right decision.
"The album is doing well. The music has been received very well — especially in Europe. I've been going to Europe for years. I don't have a huge presence there — but it's getting better. I just played some shows in Europe in March. France, Norway and Switzerland have been good countries for me and my music. We're foreigners there. We come across the ocean to perform for them and they're very appreciative.
Copeland was born in Harlem, New York on April 10, 1979, and came to her singing career naturally. Her bluesman father (the late Johnny Clyde Copeland) recognized his daughter's talent early on. He always encouraged her to sing at home and even brought her on stage to sing at Harlem's famed Cotton Club when she was just eight. At that time Copeland's embarrassment outweighed her desire to sing.
But when she was 15, and her father's health began to slow him down, she received the calling. At 16, Copeland joined her father on his tours after he was diagnosed with a degenerative heart condition. Soon enough Copeland was opening, and sometimes even stealing her father's shows.
Copeland stepped out of her father's shadow in 1998 with her groundbreaking debut CD "Turn The Heat Up," which was recorded when she was only 18.  Since then, she has recorded seven more albums — including "Outskirts of Love."
"With the new album, the choice of songs took forever," said Copeland. "Songs are so important. If you're putting something out in the universe, you have to do it right. On my last three albums, I've started doing some songs that are a little more political— topics like religious hypocrisy and domestic abuse.
"On this tour, I'm doing a lot of songs from the new album. And, I'm doing songs from all my previous albums. But, I'm not doing any covers. I have enough of my own to draw from."
Copeland plans on working the new album for awhile.
"I've not gone back in the studio at all since I made the new record," said Copeland. "I'm not a serial recorder. What I put out in the universe is really important to me. When I make an album, I want to have something to say. People who make an album every year usually have nothing to say.
"I already have a big repertoire of songs to draw from for my live shows. And, I have a great band that's been with me a long time. Our guitarist Arthur Nielsen is in his 18th year. Our bassist Kevin Jenkins is in his 12th year and guitarist Willie Scanlon is in his seventh year. Our drummer Robin Gould is the new guy at three years."
Video link for Shemekia Copeland — https://youtu.be/2Ap1b7jsBrA.
Some of the headline acts at the 2016 State Street Blues Stroll will be Danielle Miraglia, the Lonnie Shields Band, Blues Stroll All-Stars, Norman Taylor, Georgie Bonds Band, Steve Guyger & The Excellos,  Blues Brothers & A Sister, Dave Coppa, Daryl Davis, Roger Girke Band, James Day & The Fish Fry,  Randy Lippincott Trio, Sister Blue Duo, Johnny Never, Ben Tinsley & Dimitri Papadopoulos, Bruce Anthony, Brian Kors, Mike Mettalia & Midnight Shift,  Kim Trusty, Fred Miller Band, and Sister Blue.
The annual Blues Stroll will be held along State Street in Media on June 11 from 6 p.m.-1 a.m. Tickets for the State Street Blues Stroll are $30. For additional information, call (610) 566-5039 or visit www.statestreetblues.com.
In 1987, pop singer Tiffany and her manager came up with a new idea to push the 16-year-old singer's career to a new level.
Teenagers accounted for the majority of the audience for pop music. And, teenagers liked to hang out at malls. So, Tiffany was booked to perform a series of short shows at malls around the country.
Tiffany's "Beautiful You: Celebrating the Good Life Shopping Mall Tour '87" was a huge success and her eponymous debut album became a quadruple-Platinum best seller.
In the three decades since, many artists have boosted their careers by performing free shows at malls. The latest singer to follow this trail is Isac Elliot, who will bring his mall show to the area this weekend.
On June 11, FYE and the Oxford Valley Mall (2300 East Lincoln Highway, Langhorne, 215-752-0845, http://www.simon.com/mall/oxford-valley-mall) will present a special event featuring two popular teen artists — Isac Elliot and Jessica Jarrell.
Elliot and Jarrell will perform three songs each and then participate in a meet-and-greet. Fans will be able to purchase a tee-shirt and get it signed by the artists.
"I'll be touring t he states for two weeks on this mall tour," said Elliot, during a phone interview Wednesday afternoon from a tour stop in Daytona Beach, Florida.
Elliot, who is a native of Helsinki, Finland, is a pop singer, songwriter, dancer and actor. He is best known for his song "New Way Home" and his debut album "Wake Up World" — both of which were successes in Finland and Norway. His sophomore album "Follow Me," which was released in 2014, also did well in those countries.
Elliot performed on the "Today Show" as Elvis Duran's Artist of the Month on May 23. He also premiered his video for "No One Elise" on iHeart Radio around the same time.
"I did the 'Today Show' two weeks ago and now I'm off on the mall tour," said Elliot. "We have 10 stops in two weeks."
Elliot is already making people take notice. His single "No One Else' was Number 1 at NRJ (largest radio station in Scandinavia) and was featured in EA's latest "The Sims" video game. His multi-platinum debut album has been one of Spotify's most-streamed Nordic albums of all time and was awarded Spotify Nordic "Innovator of the Year."
The young artist has been involved in show business for a long time. Elliot was a member of the boy choir Cantores Minores and appeared in the Svenska Teatern musicals "Cabaret" and "Kristina från Duvemåla."
"I've been a fan of music since I was two," said Elliot. "I got into the boys' choir when I was six. After that, I did some musicals at the National Theater of Finland. I was also writing music and posting videos on YouTube.
"I wrote the song 'My Favorite Girl' and we sent it to all the record labels. We didn't expect much but then all the labels called back within 24 hours. I was 11 then. I signed with Sony to release my music in Europe.
"Now, we're looking for a label to release my music in America. I've released two albums in Europe — with all original songs.
"I've been working on my third album — which will actually be my first album with an American release. We're almost done with making the album. I recorded most of it in L.A. and some in Finland. Now, I'm just waiting for a label here."
Video link for Isac Elliot — https://youtu.be/O2_A7WVlZoM.
The free event at the Oxford Valley Mall will start at 2 p.m. on June 11.
It took seven years from the time Matt Corby put out his first EP to when he released his first album. For the fans, it was worth the wait.
The Australian singer-songwriter's first recording was an EP titled "Song For…". The record came out in June 2009 and then Corby moved from his home in Sydney, Australia to London, England.
In 2010, the talented singer with a soulful voice issued two more EPs — "My False" and "Transition to Colour."
In September 2011, Corby released his fourth EP, "Into the Flame," a record that saw him move more from singer-songwriter roots to a soulful vibe. By December 2012, "Into the Flame" reached '6× platinum" certification by ARIA (Australian Recording Industry Association).
By this time, Corby was well on his way to establishing himself as one of Australia's top new talents.
In May 2013, his single "Resolution" hit Number 3 on the ARIA Charts under the category of the top 50 Australian artist singles of 2013 and also charted in New Zealand and the United Kingdom. Two months later, his "Resolution" EP was released.
Corby spent the next two years working on a variety of projects. Eight months ago, he put out a single titled "Monday" and followed with another single, "Knife Edge" in February. Both tracks can be found on his debut album "Telluric," which debuted at number one in Australia.
Now, Corby is in North America for a month-long stateside tour with his band. The tour touched down in the area on June 14 for a show at Union Transfer (1026 Spring Garden Street, Philadelphia, 215-232-2100, www.utphilly.com).
"This is my second tour of the states," said Corby, during a phone interview Wednesday afternoon from a tour stop in Dallas, Texas. "I was here in the fall of 2015 for a number of shows.
"The album just had its worldwide release recently. I recorded it in Australia. I did all the demos myself in a little house on a mountain and then took all the parts to a studio in Melbourne and re-recorded them there with a band. When it was time to decide which songs to use on the album, I went back and picked songs from both."
Although he is only 25 years old, Corby has been making music for a long time.
"I've been singing since I was five," said Corby. "It's one of those things you just fall into. When people know you can sing, they ask you to sing all the time. And, singing is all I know how to do. I left school at 13 and joined a band."
Corby's first brush with "fame" came in 2007 when Corby was 16. He competed in the fifth season of "Australian Idol" and finished in the runner-up position. He does not consider this as a major part of his musical resume.
"The show 'Australian Idol' is like glorified karaoke," said Corby. "You're more like an accessory on television — especially as a teen prodigy.
"A year later, I started working on my 'Song For…' EP. I just wanted to get used to putting music out and getting O.K. with it. I made five EPs before I made the album. They showed incremental growth stages. I wasn't ready to commit to a full record."
When Corby did make the commitment to record an LP, he was ready.
"It took me two months to write the album." said Corby. "I just start by creating the instrumental track. But, it isn't a real song until the last line is done. It only took three weeks to record it but the mixing took a long time. When we were at songs 25 and 26, I was digging out old ideas from years ago. It was like a catharsis.
"In our live show, most of the songs are from the album.  I do play a few songs from the EPs — maybe four or five old ones. I'd love to re-record some of the old stuff as a 25-year-old version of myself.
"I've had this band together for awhile. My bassist has been with me for 12 years and I've known my guitarist since I was three years old. We were all friends before we became a band. It's a tight little family."
Video link for Matt Corby — https://youtu.be/pPnA-Vs5ATU.
The show at Union Transfer, which also features Overcoats, will start at 8:30 p.m. Tickets are $25.
Other upcoming shows at Union Transfer are Yoni & Geti (WHY? + Serengeti), Tall Tall Trees and Geology on June 10, Aesop Rock with Rob Sonic & DJ Zone, Homeboy Sandman, and Grimace Federation on June 11, Pity Sex, PWR BTTM, and Petal on June 12 and Hinds, Sun Club, and Joy Again on June 13.
The Broadcast is a band that started as a concept in 2009 and turned into a reality in 2012 — a band with two albums to its credit will make its Philadelphia debut on June 15. Amazingly, when the Broadcast plays at MilkBoy Philly (1100 Chestnut Street, Philadelphia, 215- 925-6455, www.milkboyphilly.com) on June 15, it will be its Philadelphia debut.
The group has gone through some major changes in its short existence. Originally known as Caitlin Krisko and The Broadcast, the band was a New York-based musical outfit that was described a few years ago as a modern day "Grace Slick meets Led Zeppelin."
Now known simply as The Broadcast, the band is based in Ashville, North Carolina with a line-up featuring Aaron Austin on guitar, E'Lon Jordan-Dunlap on bass, Tyler Housholder on percussion, Jaze Uries on drums and Krisko on vocals.
The band's music is now firmly entrenched in the Americana camp. Proof of this can be found on The Broadcast's forthcoming album, "From The Horizon," which will come out on June 17.
"Where we're living has been an influence on the band," said Krisko, during a phone interview Monday from her home in Asheville. "Our first album 'Dodge the Arrow' was recorded when we lived in New York. The new album was recorded here in North Carolina.
"I put the band together in the Village (New York's Greenwich Village). I lived on Sullivan Street in the heart of the Village. The idea for The Broadcast started in 2009. What it is now is very different. After we recorded our first studio album, we relocated to Asheville in 2010. New York had just gotten too expensive — to live and to tour out of."
So, Krisko and Housholder packed their bags and opted for the pleasant living in the clean mountain air of Asheville. It was in Carolina that Austin joined The Broadcast as lead guitarist.
"Living in a place as nice as Asheville has definitely been an influence on the band," said Krisko. "And, the addition of Aaron has also been a big influence in the band's direction. I'm a Detroit girl who grew up in the South Williamsburg area of Brooklyn. Aaron is a Carolina boy who grew up in Pollocksville, which is about an hour from the coast."
Pollocksville is a quiet little town of 325 located in the northeast portion of Jones County in North Carolina — just a little bit different than Brooklyn.
"The music we're making now really shows these different influences," said Krisko. "And, it shows the growth we've had as a band.
"We spent the first half of 2015 working on the new songs. Aaron and I wrote the album together. We were sending demos back-and-forth to each other. Then, when we had all the songs ready, we went into the studio."
Produced and engineered by multi-Grammy award winner Jim Scott (Johnny Cash, Sting, Tedeschi Trucks Band), "From The Horizon" stays true to The Broadcast's roots, while also showcasing an evolving maturity.
According to Scott, "This record is very brave in the fact that it doesn't follow a pattern or trend. It's classically good music based on the music that we've all listened to since the '50s until today," says Scott. "It's got soul, and vibrancy, and life. Caitlin is such a great singer."
The Broadcast made the new album with Scott at PLYRZ Studio — Scott's studio in Valencia, a town in California's High Desert.
"We flew out to the desert and recorded it over the course of two weeks," said Krisko. "Jim is very much an advocate of the classic way of recording — which was new for us. After working with Jim, I'll never overdub again. He told us — you're a band…you play as a band…you should record as a band.
"So, we recorded the album live in the studio. We did not use a click track for any of it. We wanted this album to be a very different record than our last one. We wanted to go to the desert and capture the experience we were having. We knew that the setting would influence the vibe."
The vibe may lean in the direction of Americana but, at the same time, it encompasses a lot of genres.
According to Krisko, "Some of our favorite artists like Tedeschi Trucks Band, Grace Potter, Chris Stapleton, Jason Isbell, Chis Robinson, Sturgill Simpson have created an authentic music community, one that embraces soul, rock, Americana, country and blues.
"Because of these musicians, bands like The Broadcast can aspire to a scene bigger than ourselves. It feels incredible knowing there's a renewed desire from people for this style of music. As a front woman I am honored to be a part of the younger generation of bands who are able to thrive within this foundation that's been laid."
Video link for The Broadcast — https://youtu.be/p3tqkBoQ35c.
The show at MilkBoy, which also features CBDB, will start at 7 p.m. Tickets are $10.
Other upcoming shows at MilkBoy Philadelphia are Communion Philadelphia, Matt Haeson and Imagined Herbal on June 9, American Dinosaur, Stone Cold Fox and Hey Anna on June 10, and The Skulx (members of Foxy Shazam & Cadaver Dogs) and Moonstriker on June 12.
Kennett Flash (102 Sycamore Alley, Kennett Square, 484-732-8295, http://www.kennettflash.org) will host Better Than Bacon – 5th Anniversary Show on June 9, The Big Jangle – A Tribute to Tom Petty on June 10, Jeffrey Gaines
Amy Faden on June 11 and Rusty Blue, Blues Reincarnation Project, Kiera Sanky, and Jonathan Gibson on June 12.
Chaplin's (66 North Main Street, Spring City, 610-792-4110, http://chaplinslive.com)  will present Iceman on June 10.
The Ardmore Music Hall (23 East Lancaster Avenue, Ardmore, 610-649-8389, www.ardmoremusic.com) will have McLovins, Brothers & Sisters and The Clock Reads on June 10, Wavy Gravy's 80th Birthday Celebration (with Wavy in attendance), John Kadlecik & The Terrapin All-Stars, feat. Grahame Lesh & many more on June 11, School of Rock "Best of" Show on June 12, and Go Go Gadjet and Burnt Sienna on June 14.
Doc Watson's Public House (150 North Pottstown Pike, Exton, 610-524-2424, docwatsonspublichouse.com) will present Chatterband on June 10 and scarlet sometimes on June 11.
Valley Forge Casino (1160 First Avenue, King Of Prussia, 610-354-8118, www.vfcasino.com) will host Flip Like Wilson on June 11.
The Keswick Theater (291 N. Keswick Avenue, Glenside, 215-572-7650, www.keswicktheatre.com) presents "Girls Night Out — The Musical" on June 10 and Matty B on June 12.
The Sellersville Theater (24 West Temple Avenue, Sellersville, 215-257-5808, www.st94.com) will present Carolyn Wonderland and Tas Cru on June 9, Rubix Kube (80s Tribute) on June 10,  Kick It Out (The Ultimate Heart Tribute) on June 11, ST94's The Local Connection: Glim Dropper and Dirty Purple on June 12.
The Candlelight Theater (2208 Millers Road, Arden, Delaware, 302- 475-2313, www.candlelighttheatredelaware.org) .
The Candlelight Theater (2208 Millers Road, Arden, Delaware, 302- 475-2313, www.candlelighttheatredelaware.org) is presenting the hilarious comedy "Arsenic and Old Lace" now through June 19. Performances are Friday and Saturday evenings (doors 6 p.m./show, 8 p.m.) and Sunday afternoons (doors, 1 p.m./show, 3 p.m.). Tickets, which include dinner and show, are $59 for adults and $33 for children (ages 4-12).