By Denny Dyroff, Staff Writer, The Times
There will be plenty of activity in Downingtown on September 25 when the Victory Brewing Company, the Downingtown-Thorndale Regional Chamber of Commerce and the Borough of Downingtown team up to present the 10th Annual Downingtown Fall Fest (East Lancaster Avenue between Wallace Avenue and Green Street, Downingtown, 610-514-7000, http://downingtownfallfest.com). The all-ages event that is free and open to the public.
The popular street festival, which runs from noon-4 p.m. and will be held rain or shine, will feature live music, a wide assortment of vendors, a BMX aerial show and the Victory Beer Garden.
The Victory Beer Garden featuring the Brewpub on Wheels will be located in the parking lot next to Minquas Fire Department. There is no cost to enter the beer garden. Food and beer will be available for purchase the beer garden. Children are permitted inside the fenced area but must be supervised by an adult at all times.
Live entertainment will be provided by the Downingtown School of Rock House Band at 11 a.m., the Walton Marquette Project at 12:15 p.m., Gina Miller & Division Highway at 1:30 p.m. and the Punk Junkies at 2:45 p.m.
The roster of food and beverage providers includes Amani's, PJ Whelihan's Pub, Righteous Felon Beef Jerky, Victory Brewing Company, Bakers of Buffington, Mid-Atlantic Food Service, Crossan Concessions, Dia Doce, St. Anthony's Restaurant, J-Dogs Catering, The Whirly Pig, Gigi's & Big R Soul Food, Dos Hermanos Tacos, Jillybeans Cookies, Kono Pizza, Shripman Inc., The Cow and The Curd, Waffatopia, Blazing Swine BBQ, JR's Soda Shoppe, Katja's, Nick Merlino Pig Roast, Rita's Italian Ice, The Happy Pita and MoJo's Popcorn.
Additionally, more than 120 vendor and display booths will be set up at the festival covering a wide range of interests.
Hadley Presents, a cultural organization based in Kennett Square is now in its 54th season of bringing topical lectures, music events and cultural activities to Chester County.
A very special event is slated for September 25 when Hadley Presents hosts a live performance by Mariachi Flores at 10 a.m. at Anson B. Nixon Park (North Walnut Road, Kennett Square, www.hadleypresents.org)
Mariachi Flores is a Philadelphia-based Mexican folklorico band known for its expertise at creating authentic Mexican folk music. Last summer, the band performed for the Pope when he visited Philadelphia.
On September 24 and 25, the Chaddsford Winery (632 Baltimore Pike, Chadds Ford, 610-388-6221, http://www.chaddsford.com) is hosting a special event called Bacon Fest.Visitors are invited to experience what is being billed as "an unrivaled bounty of bacon & wine!"
The festival will feature an abundance of pork-centric culinary creations, prepared by some of the best food trucks in the bacon business.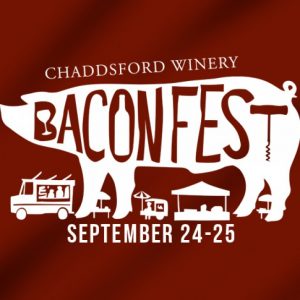 The Food Truck lineup features Oink & Moo (Chipotle Honey Bacon), Pbon's Fresh Phood Philly, The Chesapeake Chicken (Grilled Chicken Cheesesteak, Maryland Crab Meat and Bacon Pieces), Waffles and Wedges (The Sweet & Salty – Liege waffle topped with bacon pieces, Hershey's Syrup & Reese's PB), The Plum Pit, The Polish Connection (Pierogi Melt with sautéed onions, cheese and bacon), Pizzaria Pronto, The Meat House (Bourbon Steak Tip Sandwich, Southwest Bacon Cornbread with Pulled Pork, Caramel Bacon Brownie), Punk'd Pineapple, The Pretzelria (Jalapeño Popper stuffed pretzel with cream cheese, sharp cheddar, and bacon; Chicken Bacon Ranch stuffed pretzel; Cheesy Mac and Cheese with bacon stuffed pretzel), and Baby Blues BBQ Philly (Bespoke Bacon).
The live music schedule features Roger Girke from noon-3 p.m. and Alex & Shiloh from 3:30-6 p.m. on Saturday and McChords from noon-3 p.m. and Live Wire from 3-6 p.m. on Sunday.
On September 25, "Yoga in the Vineyard: Wine, Body, and Soul 2016" will be presented by Penns Woods Winery (124 Beaver Valley Rd, Chadds Ford, 610-459-0808, www.pennswoodswinery.com) at 11 a.m.
According to Penns Woods people, the aging of wine is a noble process that can serve as a metaphor for healthy aging of a human being. As a result, they are inviting visitors to enjoy a 60-minute gentle yoga class with MERRYoga in their vineyard followed by a wine tasting and local light bites farmers plate. The experience will emphasize youth, not as skin and muscle tone, but as "the vibrancy of spirit when balance is practiced."
Each class is $35 and includes the yoga class; wine tasting of five wines with plate including a selection of fresh and local veggies, cheeses, and crackers; a Penns Woods Winery souvenir wine glass; and 10% off all wine purchases after the class. Participants are instructed to wear comfortable clothing, dress for the weather and bring a yoga mat.
Winterthur Museum, Garden and Library (Route 52, Wilmington, Delaware, 302-888-4600, www.winterthur.org) is presenting a very special exhibition now through January 8, 2017 – "Lasting Impressions: The Artists of Currier & Ives."
"Lasting Impressions: The Artists of Currier & Ives" is an exhibition of some of today's most sought-after works that explores the role of Frances ("Fanny") Bond Palmer and Arthur Fitzwilliam Tait, two of the most prolific artists for the iconic publisher of Christmas cards and Americana.
Perhaps best known today for their enchanting Christmas cards, Currier & Ives became synonymous with idealized images of 19th-century American home life after opening in 1834.
They created and mass distributed for the first time colorful lithographs that ordinary citizens could display in their homes, eventually producing more than 1 million lithographs with 7,500 titles. Their work is widely regarded as one of the greatest pictorial recordings of 19th-century America.
Through the more than 40 selected works of art along with multimedia installations, "Lasting Impressions" looks at the work of Palmer and Tait in an art world where both artist and publisher invited Americans to reconsider their notions of artistic creation. Among the many recognizable works that will be on display are "The Champions of the Mississippi," "A Race for the Buckhorns," "The "Lightning Express" Trains," and "Life on the Prairie: The Buffalo Hunt."
In addition to the collection of Palmer and Tait's prints, the exhibition will feature several multimedia installations, including a video documenting the history of Currier & Ives, and interactive touch-screens encouraging the viewer to explore conservation findings and physical evidence of the artistic process.
As visitors compare their reactions to the exhibition prints and the images on the touch-screens, they will be able to identify traces of the lithographic process and exercise their judgment as instant "connoisseurs" of Currier & Ives prints.
The annual Dressage at Devon (Devon Horse Show grounds, Lancaster Avenue, Devon, 484-358-5510, http://dressageatdevon.org), which is recognized as one of America's premier equestrian events, began in the early 1970s as a small dressage event at a farm in Glen Mills.
In 1975, it moved to its current home at the Devon Horse Show grounds and officially became known as Dressage at Devon. It combines world class dressage competition and the world's largest open breed show. The six-day event attracts hundreds of horses from around the world and thousands of spectators.
This year, the event, which also includes the Fall Festival at Dressage at Devon, will open on September 27 at the facility on Lancaster Avenue in Devon and continue through October 2. The competition featuring world-class horses will take place in a variety of divisions and classes, including a full range of Individual Breed classes.
The annual event is a family-friendly festival that offers much more than just equestrian competitions. The Fall Festival features a large selection of vendors and an equally large number of specialty boutiques where visitors can shop for arts and crafts, clothing, horse-related items and gourmet food. Tickets are $10 for adults and $5 for children (ages 3-12).
The Malvern Harvest Octoberfest and Bark in the Park (King Street between Bridge Street and Warren Avenue, Malvern, 484-321-3235, www.malvernbusiness.com) will be held on September 25 in downtown Malvern.
The Malvern Professional Business Association is the proud sponsor of the annual Malvern festivals, including Malvern Blooms and Malvern Harvest. The Malvern Festivals are held outdoors in the quaint borough of Malvern, on King Street, Warren Avenue, Channing Avenue (roads closed to traffic for the event),and in Burke Park.
This weekend's free event, which runs from 11 a.m.-4 p.m., will feature a wide array of crafters and artists, food and beverage vendors, children's rides, pumpkin decorating, balloon art and face painting. Most importantly, there will be booths by local animal rescue agencies – some of which will have animals available for adoption.
The Greater Philadelphia Expo Center (100 Station Avenue, Oaks, 484-754-EXPO, http://www.phillyexpocenter.com) is hosting three events this weekend — the Americana Indian Art & Jewelry Show from September 23-25, the East Coast Reptile Super Expo on September 24 and the Retro Con 2016 Toy & Gaming Show on September 24 and 25.
American Indian art has become a popular motif for home decorating — especially artwork produced in the American Southwest. This weekend, you can find a lot of examples of this art style at the show in Oaks.
This show provides visitors with an excellent opportunity to get a look at artifacts and other items related to the history of Native Americans. The show is presented by Americana Indian and Western Shows and admission is free.
The Americana Indian and Western Gallery had its beginning in 1947 when its founder Lee Anderson attended school on a Navajo reservation and worked after school for his uncle in the trading post. The family collected American Indian art such as Navajo rugs, pottery, baskets, and other Indian and western items.
Anderson's sells Navajo, Hopi, Zuni, and Santo Domingo jewelry, as well as Navajo rugs, Hopi and Zuni kachinas, baskets, pottery, art and collectibles. One of the most respected Native American art dealers in the United States, Americana Indian Shows brings thousands of items direct from the Southwest to the show attendees.
Show hours are 11 a.m.-8 p.m. on Friday, 10 a.m.-8 p.m. on Saturday and 10 a.m.-7 p.m. on Sunday and admission is free.
The other show this weekend at the center in Oaks is definitely a not for anyone suffering from herpetophobia ("the fear of reptiles") or ophidiophobia ("the fear of snakes").
The East Coast Reptile Super Expo, which is always a well-attended event, will run from 9 a.m.-4:30 p.m. this Saturday. Tickets are $8 with children (under five) admitted free.
If you think snakes and lizards are interesting creatures and maybe even fun pets to own, you should check out the show on Saturday. A wide array of reptiles will be on display as part of the popular exhibition.
One of the show's main attractions is a sales exhibit area featuring a large number of vendors with live reptiles, amphibians and arachnids as well as food items, supplies, books, cages, and related accessories.
The roster of very diverse vendors includes Corralus Creations, Rogue Reptiles LLC, Garden State Tortoise LLC, Reptile Addicts, Bob's Critters, Franken Chams, MCO Reptiles and Fins, Feathers, Paws & Claws, Delaware Turtle, Harris in Wonderland, Just Lizards, AZO Reptiles, Rose's Reptiles, Livecargo Pets & Supplies, Dale's Bearded Dragons, Jason R Bartolett Captive Bred Reptiles, Fowler Reptiles, Dragon Fortress and Turtle Towns.
Other featured vendors will be DHA Pythons, Gecko Haven, Skins and Scales, Hunger Reptiles, Jungle Emporium, RKZ Rodents, Monstar Reptiles, Turtle to Turtle, Delaware Valley Herpetarium, Blake's Exotic Reptiles, Dower Reptiles & Rodents, Reptile Kingdom, Serpents Plus, Heath's Frog Farm, Newville Dragons, PM Herps, Jay Jacoby Serpent Propagation, Black Jungle Terrarium Supply, VSCV Ventures LLC, Outback Reptiles, Dachiu Dragons, Tom Rogan Reptiles, Native Exotics, Jon & Wess Reptiles.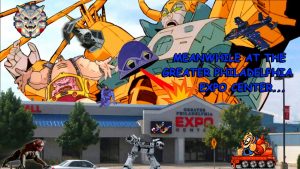 The Retro Con 2016 Toy & Gaming Show is a show that is dedicated to all things retro.
It features the toys from the 60's, 70's, 80's and 90's.
And, there is more than just toys. The show will have gaming systems – such as the classic NES & Saga – set up for fans to play.
The show will have more than 220 tables of collectibles for sale, along with video games, contests, raffles, giveaways, panels, and replica movie cars & props. There will also be appearances by Skeletor, Krang, Falkor, Leonardo, BraveStarr, The Million Dollar Man Ted DiBiase, and a wide array of other pop culture characters.
Show hours are 9 a.m.-5 p.m.on Saturday and 9 a.m.-4 p.m. on Sunday. Admission is $18 on saturday and $15 on Sunday.
Another dismal season by the Phillies is drawing to a close but the playoffs and the World Series are just around the corner so the interest in baseball is still running high for sports fans.
It's a perfect time for collectors of sports memorabilia, trading cards, comic books and action figures to take a break from watching games and head out to a collectors' event. One of the top annual events — the Philadelphia Baseball Card and Sports Memorabilia Show at the Valley Forge Casino Resort (First Avenue, King of Prussia, 610-524-0822, www.phillyshow.com) — is running now through September 27.
Eagles fans will be attracted by the show's roster of autograph guests which includes Dorial Beckham-Green, and Beau Allen. The list also includes Mookie Wilson, Bill Buckner, Bob Boone, Wilbert Montgomery, Ron Jaworski, Dwight Gooden, Von Hayes, Lonnie Smith, Pete Incaviglia and Gary Matthews.
Dealers from around the country recognize this show as an event where they can find a market for their highly specialized goods. Similarly, collectors know that if what they're looking for is out there, it will be there at the Philadelphia show. Collectors also know they will find excellent selections and competitive prices.
This weekend's event, which runs from 3-8 p.m. today, 9 a.m.-5 p.m. on Saturday and 10 a.m.-4 p.m. on Sunday, also features former professional sports stars as autograph guests.
Admission to the show is $8 per day or $21 for a three-day pass.
The show will feature more than 250 vendor booths with a huge array of sports memorabilia — ranging from highly collectible items from a century ago to the latest sports card issues featuring today's stars.
This weekend, there will be special events at three Montgomery County historical sites – Pennypacker Mills (5 Haldeman Road, Schwenksville, 610-489-9732, www.friendsppm.org), Green Lane Park (2144 Snyder Road, Green Lane, 215-234-4528) and Norristown Farm Park (West Germantown Pike and Barley Sheaf Drive, 2500 Upper Farm Road, Norristown, 610-270-0215).
On September 24 from 11 a.m.-3 p.m., Green Lane Park will host the Sixth Annual Upper Perkiomen Bird & Wildlife Festival. The event focuses on nature education, live entertainment and a variety of family fun.
There will be a feature presentation by the Lehigh Valley Zoo, which will be bringing an array of live animals. There will also be food and craft vendors will be on hand and plenty of activities for the kids. The festival, which will be held in and around the Amphitheater, is free.
On September 25 from 11 a.m.-3 p.m., Norristown Farm Park will present Native American Day. Lee Hallman, president of the Indian Artifact Collectors Association of the Northeast, will display many artifacts. Visitors are invited to bring their own artifacts for free appraisals. Other presenters will be featuring demonstrations and displays of Lenape culture — including flint knapping, jewelry, clothing, tools, and foods.
The free event will also feature children's games and crafts. The activities will take place at the picnic pavilions near Parking Lot 3.
Also on September 25, Pennypacker Mills will host a "Victorian Tea" from 2-5 p.m. The theme of the tea will be "P.T. Barnum: The Master Showman."
Barnum, a brilliant and shameless promoter, gave the public of the 19th century shameless hucksterism and everything in between — including "The Greatest Show on Earth!"
Tea, sandwiches and desserts will be served by living historians at tables on the site's wrap-round porch. Admission to the all-ages event is $40.
Fans of polka music, Polish beer and Eastern European cuisine that features fresh and smoked kielbasa should head to the St. Hedwig's Polish Festival (Frawley Stadium parking lot, Wilmington Riverfront, Wilmington, Delaware, 302-594-1400, www.polishfestival.net) which is running now through September 24.
The 60th annual staging of the festival offers a variety of Polish treats including placki (potato pancakes), pierogis (dough filled with cheese and/or potato, holubki (stuffed cabbage), kielbasa (sausage) and chruschicki (bow cookies).
The free festival will feature a full slate of live entertainment featuring Melody Sounds III Band and P.K.M. Polish Folk Dancers on September 23 and the Golden Tones and the Janosik Folk Dancers on September 24.
Dinner will be served Friday from 5-10 p.m. and Saturday from 3-10 p.m. The Midway, which is a large midway with over 20 rides along with a variety of amusement games, will open at 6 p.m. each night.
The Marshall Steam Museum at Auburn Heights Preserve (3000 Creek Road, Yorklyn, Delaware, 302-239-2385, http://auburnheights.org) will stage one of its major annual events on September 25 when it hosts Auburn Heights Invitational Historic Auto Display.
The annual Auburn Heights Invitational features an exceptional array of historic automobiles from the classic era. This year's fundraiser event includes a spotlight display on roadsters and runabouts, alongside a broad representation of high-end motor cars from the dawn of the automotive age through 1942.
Selection is based on significance of the marque, authenticity, presentation and the history of the vehicle. Limited to approximately 20-25 autos, the Auburn Heights Invitational offers a rare opportunity to compare and contrast early and later classic-era vehicles — all at the elegant Auburn Heights estate.
­More than just a car show at a classy venue, attendees enjoy delicious fare by the Country Butcher Fine Foods Inc., wine and beer tastings, ice cream from Woodside Farm Creamery, rides on the Auburn Valley Railroad and tours of the Auburn Heights Mansion, plus special exhibits and presentations, a silent auction, raffle and more.
Some of the featured vintage automobiles will be 1910 Packard Model 30 Runabout, 1910 Hupmobile Runabout, 1912 Franklin Series 1 Torpedo Roadster, 1912 Stanley Special 30-HP Roadster, 1913 Stanley Model 78 Roadster, 1928 Packard Roadster and 1932 Ford V-8 Roadster.
The event will get underway at 12:30 p.m. and admission is $24.
It's time to welcome autumn and one of the best ways to do this is by checking out the corn mazes at Ramsey's Farm (Ramsey Road, Wilmington, Delaware, 302-477-1499, www.ramseysfarm.com). The farm's event season lists September 24 as 2016's "Opening Day."
Corn mazes, along with hayrides, a pumpkin patch and scarecrows, will be featured at Ramsey's Farm, which is located in northern Delaware on Route 92 just south of the Pennsylvania-Delaware state line. The new season runs on weekends now through October 30.
Ramsey's "Pumpkin Patch" has been in operation since 1995 and the farm's varied mazes have been delighting and baffling visitors who return each year for the popular annual event. The owners of Ramsey's Farm raise pumpkins, gourds, ornamental corn, popcorn, feed corn and hay.
The farm's pumpkin field stretches over 12 acres and yields approximately 20,000 pumpkins each season. Hayrides around the farm will be offered from 11 a.m.-5 p.m. each day. Visitors will be able to shop for pumpkins and other items at the farm store. There will also be hot food and beverages available for purchase.
Tickets are $7 for the corn maze, $4 for the sorghum maze, $3 for the hay maze, $2 for pumpkin painting and $3 for a hayride.
This is the time of the year when farms in the area become a bustle activity — a time for harvest. But, it is not harvest matters that are causing a bustle of activity at Cherry Crest Adventure Farm in Ronks (150 Cherry Hill Road, Ronks, 717-687-6843, www.cherrycrestfarm.com).
The farm's popular annual "Flashlight Maze" is now underway and will continue every Friday and Saturday night through November 5. Cherry Crest Adventure Farm has reserved several weekends during the autumn months for Flashlight Maze.
This special activity allows visitors to experience the Amazing Maize Maze in total darkness. All you need are flashlights and a few friends.
The Flashlight Maze is a nice, non-scary, Halloween alternative that has appeal for people of all ages. The Flashlight Maze, which has a $12 admission fee, is open from 6:30-10 p.m. with the last entrance into the Maze at 9 p.m.
The main attraction is Cherry Crest's "Amazing Maize Maze," which is billed as "the world's most dynamic and interactive corn maze." It is a five-acre corn maze with over two-and-one-half miles of paths, scenic bridges, and clues.
Participants can walk at their own pace as they encounter the "Kernels of Knowledge" along with a variety of clues, tunnel slides, and watering stations. They can also check out a bird's eye view from the two bridges and watch everyone's flags waving high above the corn.
The average time to complete the "Amazing Maize Maze" course is one hour. Tickets are $17 on Thursday and Fridays and $20 on Saturdays.
There is a very good reason why collectors of antiques from all around the country will be heading to Pennsylvania's Amish region this weekend.
Renningers "Antiques & Collectors Extravaganza" (740 Noble Street, Kutztown, 570-385-0104,www.renningers.net) now through September 24 and "Special Sunday at Renninger's Adamstown" (Route 272, Adamstown) on September 25.
The Extravaganza features hundreds of antiques dealers from up and down the East Coast. Since 1975, Renningers Antiques & Collectors Extravaganzas have been a meeting place for dealers and collectors from a variety of locales. The dealers buy and sell among themselves and offer vintage items for sale to the general public.
Many exhibitors set up shop outdoors — under tents and in the two large pavilions (each of which cover over 2,000 square feet). Also open is the Indoor Antiques Market and the Indoor Farmers Market. Tickets are $6 on Friday and $4 on Saturday.
The outdoor market will begin at 5 am on Saturday for some exhibitors who make a two day event out it. The indoor market is not open Saturdays. The main show however is Sunday, when the majority of dealers set up their booths and the indoor market is open.
The Ratha Yatra Festival (Benjamin Franklin Parkway in front of the Museum of Art, Philadelphia, 215- 247-4601, http://iskconphiladelphia.com), which is scheduled for September 24, is one of the oldest continually celebrated spiritual festivals in the world.
It is celebrated by devotees of Lord Krishna all over the world.
Ratha Yatra, the festival of the chariots, is a procession of Lord Krishna in his form of Jagannatha, Lord of the Universe. Traditionally held in Puri, eastern India, where hundreds of thousands of pilgrims sing and dance in the procession, the festival now takes place in cities globally.
Every year in September, their Lordships Sri Sri Jagannath, Baladeva and Subhadra Devi grace the streets of Philadelphia in a Parade of Chariots beginning from Love Park and ending at Eakin's Oval, in front of the Philadelphia Museum of Art. Following the parade, a grand festival is held at Eakin's Oval, complete with music, workshops on yoga and meditation, dance performances, exhibits, gift shops, and a spectacular vegetarian and vegan feast.
On September 25, visitors to the Great Plaza at Penn's Landing (Delaware Avenue, Philadelphia, www.delawareriverwaterfront.com) will be able to celebrate Brazilian Independence Day during Brazilian Day Philadelphia.
With dancing, music, food and souvenirs, this free, family-oriented event will focus on the best of Brazilian culture. From noon-6 p.m., the Great Plaza at Penn's Landing will be transformed into a Brazilian street fair. The annual festival showcases Brazilian dance and music styles such as samba, capoeira, forro, pagode and samba-reggae. There will also be a wide array of vendors will be selling Brazilian merchandise and traditional cuisine such as Feijoada and Polenta.
Brazilian Day Philadelphia is the celebration of the Brazilian Independence Day — the day that Brazil formally withdrew from Portugal just under two centuries ago. The mission of Brazilian Day Philadelphia is to celebrate the wonderful culture and traditions of Brazil and to share with the public the diverse ethnic heritage that makes Brazil unique and rich in cultural pride.
The Reading Terminal Market OysterFest at the Reading Terminal Market (51 North 12th Street, Philadelphia) will be held on September 23 from 7-9 p.m. Visitors will be able to feast on more than 12 different kinds of fresh oysters while sipping local beer at Reading Terminal Market's OysterFest.
Pearl's Oyster Bar and Molly Malloy's will be presenting a dozen different varieties of raw oysters including Cape Shore Salt oysters, Cape May Salt oysters, Sweet Amalia oysters, and Forty North oysters. There will also be samplings of 12 craft beers from local breweries such as Evil Genius, Philadelphia Brewing Co., and Yards.
Tickets are $50 per person.
Other special events in Philadelphia this weekend include 21st Annual Chinatown Mid-Autumn Festival (10th and Arch streets, aaunited.org) on September 24 from 11:45 a.m.-6 p.m.; Philly Free Streets (Front & South Streets to West Fairmount Park, www.phillyfreestreets.com) on September 24 from 8 a.m.-1 p.m.; Fairmount Park In A New Light Festival (Fish Ladder on Martin Luther King Drive, https://myphillypark.org/event/fairmount-park-in-a-new-light) on September 24 from 5-10 p.m.; Uhuru Book Fair and Flea Market (Clark Park, 43000 Baltimore Avenue) on September 24 from 9 a.m.-5 p.m.; Puerto Rican Day Parade (16th and Benjamin Franklin Parkway, elconcilio.net) on September 25 from 10 a.m.-2 p.m.; and Chestnut Hill Fall for the Arts Festival (Germantown Avenue between Willow Grove and Rex avenues, www.chestnuthillpa.com) on September 25 from 11 a.m.-5 p.m.