Lies, 'Fake news' can't become the new normal
By Mike McGann, Editor, The Times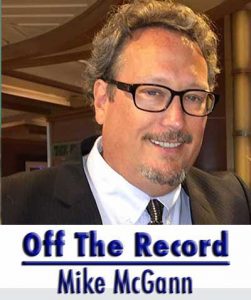 Friday night, I had honor of gathering to mourn the virtual death of a small town newspaper — The Suburban Trends — after its purchase by Gannett and subsequent layoff of the vast majority of its staff.
We met in a small place in Bloomingdale, N.J., hometown to current GOP power player Mike DuHaime — as a cub reporter, I often came under the wrath of his father, Passaic County Freeholder Richard DuHaime — to say goodbye to The Trends, which will sort of continue to publish but essentially be a newspaper zombie, staggering to a sure death in a year or two, robbed of soul, staff and sense of mission.
From the day I walked into the newsroom as a 19-year old idiot — Sept. 13, 1983 — through three separate times during a decade of writing for and ultimately editing the twice-weekly, paid-circulation newspaper, I was guided by lessons taught to me from pros who learned their craft in the 1950s: tell good stories and get them right. I worked at much bigger, daily newspapers and was lucky enough to move on to edit some fairly large magazines, but those basic lessons stuck and always informed my decisions as a journalist.
It's no secret that our business is broken — newsrooms are getting gutted, ad revenue is a disaster and even those able to hire are having trouble finding motivated young people who want to keep the flame alive. Hint: we really need three or four more news and sports correspondents but can't find anyone to take the gig.
Worse, we've come under attack — not just from the likes of Donald J. Trump – but all those who want to blame the media for everything.
Sure, a lot of the media has pandered to get ratings and eyeballs — again, see Trump, who it is estimated to have gotten something like $2 billion in "earned media" during his campaign, well above what any candidate has ever seen — but most of that is driven by you, the consumer. The suits making those decisions, and I've been one of them in large corporate environments, have to weigh paying the staff and keeping the company afloat and run what you want to see, even if it turns their stomach at times.
Few of us have the luxury of trying to just tell the story, revenue be damned.
Worse, we have seen this cycle how "fake news" poisoned the conversation, as Facebook-promoted and Google-funded fake news sites (as an example, a pair of brothers in Macedonia ran more than 100 sites full of completely made-up anti-Clinton stories — and yes, there were likely just as many fake anti-Trump sites out there). Facebook founder Mark Zuckerberg claimed this week that Facebook's conduct didn't affect the outcome of the election. I will politely point out that he is full of crap, as I continually saw these fake stories in my newsfeed pushed along by friends and family, unable to discern the difference between fake news and real news.
That is, by the way, what real journalists and editors do, every day. Years of training, experience and so on, guide us in, hopefully, figuring out what is legitimate news and what the facts are in any given situation. And even with all of that experience, we get it wrong sometimes. Worse, with dwindling resources, most of us do the jobs of four or five people now — rushing around continually putting fingers in the dam to plug leaks.
So, it really hurts when local news gets twisted for political purposes, as happened in a number of local state legislative races.
I'll focus on the worst example: the 158th District State House Race won by Eric Roe.
The House Democratic Campaign Committee sent out a number of mailers late in the race cycle quoting this publication with deceptive snippets of a story we wrote about Democratic claims over whether Roe was eligible to run based on whether he had lived in the state long enough.
Let me be blunt: if the state house Democratic Caucus had any sense of ethics or morals, it would clean house at the HDCC, both for stunts like this and its utter failure this past cycle. I plan to write a letter to every Democratic member of the house calling for this. It won't happen, which tells you all you need to know about the folks making decisions there.
But don't think for a second that Republicans are without blame here. Chester County Republican Committee Chair Val DiGiorgio and Roe both were on the record, willfully misrepresenting (political speak for lying) the record of Susan Rzucidlo, the Democrat running for the seat. In this case, the issue was over Gov. Tom Wolf's budget proposal — which Rzucidlo was on the record as opposing, quoted as such in The Daily Local News, and in interviews with me in April of this year.
Again, here and in other races this cycle, both parties went beyond playing fast and loose with the truth — they lied and lied repeatedly, about candidates in the other party. And it was our job to point that out, which we tried to do as much as possible, despite the hurricane wind of cable TV commercials and mailers trying to drown out the simple reporting of the facts.
The last six weeks haven't been much fun, but we hunkered down and did the best we could, trying to stay in the middle and separate fact from fiction.
The worry is that lying is easier than trying to make the argument based on facts (and it's lousy, lazy politics, too, as the truth always becomes evident eventually). But if no one calls the parties in question on it, the lies become "facts" like those fake stories from Macedonia.
The bottom line is this: without a vibrant, healthy media, we become nation of people without a shared reality. Facts stop mattering.
So what can you do about it? Support your local media — read it here, buy it from others on the newsstand and if you own a local business, buy ads. Not only do the ads help your marketing, they help us to have the resources to do our job, keep elected officials from looting, and shine a needed spotlight on issues from schools to local sports. It's a way to do yourself good and do good for the greater community.
Don't do it for me — frankly, I'm not here to get rich (not that it would happen in media these days) but because I saw a real need to improve the local news coverage in Chester County — but do it for yourselves. I can't tell you how many times a public body was going to do something shady that stopped in its tracks because me or one of my reporters showed up at the meeting.
Without a healthy, engaged media, no one is watching out for you.
Help us, help you.