A batch of events this weekend to keep your mind off the holidays
By Denny Dyroff, Staff Writer, The Times
Thanksgiving is just around the corner and that means a huge amount of Christmas-related events will be filling the event calendar over the next few weeks.
Fortunately for those not quite ready to jump into the holiday season with both feet, there are several special events around the area this weekend that are not holiday events.
This weekend, the Greater Philadelphia Expo Center (100 Station Ave., Oaks, 484-754-3976, http://www.phillyexpocenter.com) is going to the dogs.
On November 18 and 19, the National Dog Show will be held at the Greater Philadelphia Expo Center – from 8 a.m.-6 p.m. on Saturday and 8:30 a.m. -5 p.m. on Sunday.
The show's sponsor – the Kennel Club of Philadelphia – will host two all-breed dog shows with totally separate competitions each day. The annual event is one of only a handful of "benched" events in the United States.
Many who are not familiar with competitive dog shows may find themselves wondering what the difference is between a benched dog show and a non-benched dog show.
A benched show is where the participating dogs are required to be on assigned benches when they are not being shown in competition. This allows for all interested spectators, breeders, handlers and attendees to meet all the participating dogs, interact, ask questions, and share information about the various breeds present at the show. A non-benched dog show does not require all dogs to remain "benched" throughout the competition. The National Dog Show is one of the few remaining and oldest benched dog shows in the United States, held annually since 1933.
Visitors to the show will be able to check out more than 2,000 of the top American Kennel Club sanctioned dogs from across the country. Over 150 different breeds and varieties compete for best of Breed, First in Group and the coveted title of Best in Show. Each day brings different competitions and attractions.
Saturday is The National Dog Show Presented by Purina, taped for telecast nationwide on Thanksgiving Day by NBC. It is the most widely viewed dog show in America. Sunday's show offers more canine competitions, enhanced athletic dog exhibitions plus family-friendly activities and hands-on fun.
There will be a full schedule of events each day, including breed judging and demonstration events. The exhibitors at the show will be competing for prizes in categories featuring more than 160 different canine breeds in seven main groups — terrier, toy, working, sporting, hound, non-sporting and herding.
From 1-6 p.m. on November 18, NBC-TV will film the "Group" and "Best in Show" competitions for "The National Dog Show Presented by Purina" show which will air on Thanksgiving Day at noon immediately following the Macy's Thanksgiving Parade.
On November 19, there will be three special canine-based presentations in Hall D's Family Fun Zone — "Diving Dogs," "Freestyle Flying Disc," and "Agility Dogs." The area will also feature dog-themed face painting, caricatures and more.
Admission either day is $16 for adults, $7 for children (ages 4-12) and free for children (3 and under).
On November 19, Media will host the 14th Anniversary Jazz by Night Celebration (State Street, Media, 610-566-5039, www.mediajazzbynight.com) from 6 p.m.-1 a.m. The music will be performed on 19 indoor stages around the downtown area.
The roster of top-flight jazz acts performing at the Celebration includes Bootsie Barnes B-3 Quartet, Hot Club of Philadelphia and Phyllis Chapell.
The following is the schedule for the 2016 celebration — Bootsie Barnes B-3 Quartet with John Swana and Lucas Brown at Azie (10:00); Bobby Zankel and Wonderful Sound 5 at Sher-E-Punjab (9:30); Pasquale Grasso Quartet at Ariano (10:00); Wojamm and Shiron Denise at Stephen's on State (9:00); Hot Club of Philadelphia at FMFCU Coffee Beanery (7:30); Phyllis Chapell with Dave Posmontier at Margaret Kuo's (9:00); and An Evening with Marty Grosz at 7 Stones Cafe (8:00).
The schedule also features Budesa Brothers at Sligo (9:30); Reverend Chris and The High Rollers at Sterling Pig Brewery (10:00); Chameleon at John's Grille (8:00); Kendrah Butler Trio at Spasso Italian Grille (10:00); Alan Lewine Xtet at Desert Rose (6:00); Alan Lewine Xtet at Diego's (9:30); Joe Kenney Band at Joclyn's (9:15); M'Balia at La Belle Epoque (10:00); Ben Tinsley and Dimitri Papadopoulos at Double Decker Pizza (8:00); Jim Hensley at Temaki Sushi Bar (7:00); Sycamore Muse at House (6:00); and Andrea Carlson Duo at Lotus (6:00).
Tickets are $15 in advance and $20 day of show.
The 41st Annual Unionville Art Gala, which will be held on November 18 and 19 at Unionville High School (750 Unionville Road, Kennett Square, 610-347-1600, ucfsd.org), is the largest group art show of the season. It features 70 professional and 50 student artists with works in a wide array of styles and types, including painting, photography, sculpture, jewelry, wood carving and ceramics.
There will also be an art silent auction with proceeds from all activities benefiting the education programs at Unionville High School.
The featured artist is Lele Galer, a local artist who specializes in large welded metal sculptures and heavily textured and brightly colored paintings.
Live music and light appetizers will be part of the opening night reception on Friday from 6-8 p.m. The show continues Saturday from 11 a.m.-4 p.m. with live music and access to view the art.
Admission is free and 30 per cent of all sales are tax deductible.
The Strasburg Railroad (Route 741, Strasburg, 717-687-7522, www.strasburgrailroad.com) is gearing up for the Christmas holiday attractions but has one more special event to offer before then.
One of the most popular special events each year at the Strasburg Railroad is "Day Out With Thomas." Kids and Thomas the Tank Engine have a mutual love affair and it's in full bloom when Thomas encounters his fans up-close during his visits to the Strasburg Railroad.
Every year, the steam locomotive named Thomas makes several visits to Lancaster County where he entertains enthusiastic children and their parents. The locomotive, which has its own PBS television series, will be in Strasburg now through November 20 to participate in "Day Out With Thomas."
For more than 50 years, Thomas the Tank Engine and his Island of Sodor friends have been favorites of preschoolers and their parents. Based on "The Railway Series" (classic stories authored by a father who loved trains and wanted a shared experience with his son), "Thomas & Friends" has evolved into a rite of passage that inspires imagination.
America's favorite little blue engine will bring along a special guest for his stay in Lancaster County — his pal Percy. The locomotive named Percy has travelled from the Island of Sodor made his national debut in Strasburg last year.
Tickets for "Day Out With Thomas," which are $21, include the train ride with Thomas the Tank Engine, the opportunity to meet Percy and a bonus train ride aboard Strasburg Railroad's miniature steam train "The Pint-Sized Pufferbelly."  For an additional $6, a trip with Percy can be added to the package.
If your holiday shopping list includes friends or family who are collectors of antiques — or if you just like to shop for antiques for yourself — there is a special event this weekend that you should check out.
The Antiques at Kimberton Show will be held at the Kimberton Fire Company (61 Fire House Lane (off Kimberton Road), Kimberton, http://antiquesatkimberton.com) on November 19 and 20. The popular annual event will run from 9 a.m.-5 p.m. on Saturday and 11 a.m.-4 p.m. on Sunday with a $7 admission fee and free parking.
The well-attended annual event will feature more than 65 dealers whose booths will occupy over 10,000 square feet of exhibition space. Visitors will be able to shop for items from a wide variety of antiques categories, including furniture, paintings, jewelry, books and historical items. Additionally, dealers will be on hand to discuss their items and chat about antiques-related topics.
Another good option for gift hunting is the Pennsylvania German Folk Art Sale which is presented each year by the Lancaster Mennonite Historical Society (2215 Millstream Road, Lancaster, 717- 393-9745, www.lmhs.org). The event will open this weekend and run through December 31.
The annual sale kicks off on Friday with an opening reception from 6-8:30 p.m. The reception features craft demonstrations, live music, a variety of refreshments and displays of the work of more than 20 Pennsylvania artists.
The local artists will display their wares, covering a broad swath of traditional art forms originating in the communities of Swiss and German immigrants to Pennsylvania. This includes fraktur, a "broken" method of lettering originally developed to illuminate manuscripts; redware, low-fired ceramics made with red clay; and scherenschnitte, intricate patterns and scenes cut out of paper.
There will also be painted boxes, including traditional patterns and those featuring false graining; hand-woven textiles; and hand-quilted wall hangings. In addition to utilitarian offerings, some have a touch of whimsy, such as hand-carved wooden birds.
During the opening reception, there will be demonstrations of fraktur by Emily Smucker Beidler, spinning by Willa Beidler, tufted-wool embroidery by Ann Hermes, and wood graining by Jim King.

The Lehigh Valley Wine Trail (http://lehighvalleywinetrail.com) is presenting its annual "Nouveau Weekend" on November 19 and 20. "Nouveau Weekend" is a free event but some of the wineries charge for wine tastings. Event hours at all the wineries are Saturday from 11 a.m.-5 p.m. and Sunday from noon-5 p.m.
The nine wineries of the Lehigh Valley Wine Trail will debut the first wines from the new vintage during Nouveau Weekend. Wineries will also feature food and wine pairings for visitors to sample. Nouveau wines are bottled very young without barrel aging and, as a result, exhibit lots of fruitiness. These selections are light and fruity red wines that range from semi-dry to dry.
Participating wineries are Amore, Big Creek, Blue Mountain, Clover Hill, Franklin Hill, Galen Glen, Tolino, Vynecrest and Pinnacle Ridge.
Amore will have a new wine release called Cabaret Dolce paired with chocolate brownies and Big Creek will release Joi, a semi-dry Moscato.
Clover Hill celebrates Nouveau Weekend with the release of its newest dessert wine. This year it is Strawberry Pinot Grigio, a sweet but light and fruity dessert wine. This wine is a limited release.
Blue Mountain Vineyards is releasing its  2016 Nouveau Beaujolais, produced from Gamay grapes grown in their vineyards. They are pairing their Nouveau with a ham and green bean soup from The Culinary Experience. In addition, they are offering complimentary live entertainment on Saturday with the Angela Evans Duo from 1-5 p.m. On Sunday, Christine & Company is performing live for Sunday Blues from 2-5 p.m. $5 admission includes wine tasting. Reservations are preferred and can be made online – http://www.bluemountainwine.com/sunday.html.
Franklin Hill's 2016 Seyval Blanc will be released for Nouveau Weekend. Its subtle hint of honey and crisp taste will be paired with butternut squash soup prepared by Social Still. Hayrides through the vineyard will be offered at 1 and 2 p.m. Tickets for the hayrides are $15 and include a mug of mulled wine or a mug of Pumpkin Spice Hot Toddy (the mug is yours to keep). Kids ride free. Several local vendors including Kendra's Buttercup Bakery, McCollians Honey and Mystic Gourmet Mustards will be onsite as well.
Galen Glen is offering a taste of turkey taco soup with one of the winery's aromatic white wines. Tolino will release new vintages of Papa's Red, Vidal Blanc, and Cabernet Franc. There will be live music by Matt Wheeler on Saturday and Erin McClelland on Sunday. The Aioli Food Truck on Saturday and Blendlife Food Truck on Sunday will be onsite selling food to pair with wine. Walking tours of the vineyard will be offered at 2 and 4 p.m.
Pinnacle Ridge will have "Growlers of Gruner and Gemutlichkeit!" The winery will convert its barn into a rustic Alpine restaurant where Kornfeind's will supply the platters of Bratwurst and Knackwurst, and the winery will sell 32 oz. growlers of Gruner Veltliner – a citrusy, Austrian-style white wine. This wine, made from the fall harvest, comes straight from the tank. It is young, spritzy, and a good harbinger of what the rest of the vintage will soon bring. Free pairings will be available, as well as full-sized platters for sale.
Vynecrest Winery will partner with Cibo food truck all weekend and will offer complementary tastings of the 2016 Nouveau Beaujolais — the first wine to be released from the 2016 vintage — with bite-sized slices of homemade white pizza with fresh spinach, ricotta cheese, sliced tomatoes and fresh mozzarella by Domenico Buonsante.
November 24 is Thanksgiving – a day known for lavish dining feasts and non-stop football games on television. It is also a holiday known for its parades and one of the best parades in the country is Philadelphia's annual Thanksgiving Day Parade, which is celebrating its 97th anniversary this year.
The parade, which traverses a 1.4-mile route along the Benjamin Franklin Parkway is the oldest Thanksgiving Day Parade in the country. As always,
Guests making special appearances this year will Mickey and Minnie, Disney's newest princess Elena of Avalor, several members of the "Toy Story" cast from "Disney on Ice," characters from "Mamma Mia!," "The King and I" and "Dirty Dancing" at the Kimmel Center, "Wizard of Oz" characters from the Walnut Street Theatre performance and Ginger Zee from "Good Morning America."
It is an event that should definitely be experienced live – at least once.
Spectators can head down to the Center City Philadelphia on Thanksgiving and watch the parade from any number of good vantage points. The parade starts at 20th and Market streets at 8:30 a.m. It then moves toward 16th Street, where it turns left before turning left again onto Benjamin Franklin Parkway. It then follows the Parkway all the way to its conclusion at the Philadelphia Museum of Art.
The UniverSoul Circus (52nd Street and Parkside Avenue, Philadelphia, 800-345-7000, www.universoulcircus.com), which opened on November 3 and will run through November 27, is offering something different for circus fans. The performances, which will be held in the UniverSoul Big Top next to the Mann Music Center, blend traditional circus attractions with urban culture, hip hop tunes and world beat music.
Celebrating its 20th Anniversary in Philadelphia, UniverSoul Circus has come full circle in its influence in the international entertainment marketplace — garnering the distinction of being known as a one-of-a-kind, must see attraction. Since its first performance in 1994, UniverSoul Circus has presented more than 10,000 performances to live audiences and has been seen in more than 60 million households on both local and national television networks.
UniverSoul Circus connects with progressive, upwardly mobile, urban pop cultures from around the world. Celebrating more than two decades under the big top, UniverSoul Circus features music, theatrical performances and incredible circus acts including a comedy dog act from Chile, "Caribbean Dynasty" from Trinidad and Tobago, contortionists from Ethiopia, and magical tigers and disco dancing elephants from the United States.
New acts to Philadelphia this year will include Russian Bar from Cuba, Aerial Duet from Colombia, Pagoda Bowl Acrobats from China and Airborne Motorcycles from California. The entire line-up will help this tour de force of circus artistry bridge cultures from around the world.
The circus will be in town from November 3-27 at its site in Fairmount Park. Ticket prices range from $19-$35.
The special events at Longwood Gardens (Route 1, Kennett Square, 610-388-1000, www.longwoodgardens.org) are getting ready to change seasons.
The 35th Annual Mum Fest, a top-flight exhibit featuring more than 20,000 colorful, blooming chrysanthemums in Longwood's huge conservatory, is running now through November 20. So, if you want to check it out, you have just a few days left.
The horticulturalists at Longwood Gardens have grown and developed the mums into a variety of unusual forms. They have groomed chrysanthemums to resemble clouds, torches, spirals, fans, 13-foot arches and more. The stars of the show are Longwood Gardens' "Thousand Bloom" mums.
Next on the agenda for the popular tourist attraction in Kennett Square is "A Longwood Gardens Christmas."
The festive holiday display at Longwood Gardens, which opens on Thanksgiving Day (November 24) and continues through January 8, features spectacular lights, lavish decorations, holiday music and colorful displays featuring thousands of brilliant poinsettias, brightly decorated trees and fragrant flowers — all inside the heated Conservatory.
The colorful annual event, which appeals to the entire family, also has a lot of outdoor attractions such as fountain shows and nighttime light displays. Longwood's Christmas celebration also includes a wide array of seasonal music — holiday concerts, organ sing-alongs and carillon performances.
The organ sing-alongs will be featured in the Ballroom either three or six times a day. There will also be performances by choirs and musicians almost every evening throughout December 20.
When darkness arrives at Longwood, a night-blooming garden of more than a half-million lights strung on close to 100 trees with approximately 40 miles of wire comes to life. A carillon with 62 cast bells plays holiday music every half hour during daylight hours. Longwood's Open Air Theatre fountains dance to holiday music each half hour — temperature permitting.
As always, admission by "Timed Ticket" — tickets issued for specific dates and times. Timed ticketing limits the number of people in the Gardens at any given time and allows guests to enjoy minimal lines and a better viewing experience. There are different prices for "Peak" and "Off Peak" times.
Visitors to "A Longwood Gardens Christmas" can also check out Longwood's Garden Railway — a whimsical display set into motion with G-scale model trains. This is the 15th year that the railway has delighted visitors with special water features and custom trains traveling in and out of bridges and tunnels.
Admission to Longwood Gardens is $23 (non-peak), $30 (peak) for adults, $20/$27 for seniors (ages 62 and older) and $12/$16 for students (ages 5-18).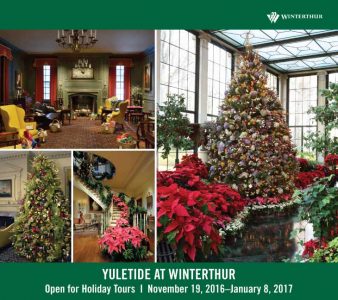 One of the best holiday events in the area is the annual "Yuletide at Winterthur." This year's 38th annual staging of the event, which runs from November 19 through January 8 at Winterthur Museum, Garden & Library (Route 52, Wilmington, Delaware,800-448-3883, www.winterthur.org).
In celebration of the extraordinary dollhouse recently gifted to Winterthur by the McDaniel family, Yuletide at Winterthur 2016 will highlight the holidays through a child's eyes in the 19th and 20th centuries and feature the exquisite house-in-miniature as a central attraction.
The late Nancy McDaniel was an interior decorator who operated her own home decorating and holiday design company. During a family trip to England, she was captivated by Queen Mary's dollhouse at Windsor Castle and inspired to have her own. The dollhouse, custom built in England in 1985 to McDaniel's specifications, is impressive: 6'4" x 3'9", slate-roofed, and fully electrified. It houses over 1,000 objects lovingly assembled by creator McDaniel over 30 years. These include over 100 pieces of sterling silver, and a rug in each room that McDaniel needlepointed herself. Just in time for the holidays, the 18-room house is fully decorated with wreaths, candles, trees, and more miniature delights.
In celebration of the house's debut, Yuletide at Winterthur will highlight the holidays as experienced by children from 1850-1950 and feature museum room displays that include Winterthur's own collections of miniature objects. As an added attraction, Winterthur's current exhibition "Lasting Impressions: The Artists of Currier & Ives, Yuletide" will explore why a "Currier & Ives Christmas" is so beloved and still resonates with people today. 
When visitors take the "Yuletide at Winterthur" tour, they will experience how the rising popularity of the Christmas tree resulted in a new industry of commercially made ornaments and discover a new way of distributing gifts via a giant "spider's web," with packages caught in its gleaming tangle of ribbons. A very special Christmas in the White House in the early 1900s saw the President's son decorating a Christmas tree in secret to surprise his family.
Several displays focus on holiday festivities enjoyed by children at Winterthur in the first half of the 20th century. These include H.F. du Pont's classic 1930's Christmas tree with its colorful lights and glittering glass ornaments. Baskets under the tree, one for each person, held a personal treasure trove of gifts.
Christmas Eve brought "Mr. Harry's Party," the holiday event the du Ponts hosted for their staff, with a Christmas tree, professional entertainers, ice cream made from the rich milk of the Winterthur dairy herd, and gifts personally selected by H.F. du Pont for all the children of Winterthur's estate workers. Christmas dinner shows us a table specially decorated with miniature trees, reindeer, and paper doll Santas – clearly designed with children in mind. 
Leaving Christmas behind, Yuletide will showcase a holiday celebration very special to the du Pont family — the annual New Year's Calling. This yearly visitation found the ladies gathering in family homes to await the gentlemen who spent the day making the rounds, bestowing small gifts in exchange for the hospitality the ladies offered in punch cups and wine glasses. Little girls learned to be gracious hostesses while receiving with their mothers, while the little boys in the du Pont family gallantly made the rounds with their fathers.
As always, the rooms will be enhanced with the floral displays so essential to du Pont's decorating, and with special Christmas trees inspired by the beauty of the Winterthur garden – including the popular Dried Flower Tree in the Conservatory.
Special family activities include "Glass Matters Wine Seminar and Tasting" (December 14), "Family Workshops" (December 2 and 3), "Brunch with Santa" (December 12, 13, 19 and 20) and the "Yuletide Touch-It Room" (Monday–Friday, 2:30-4:30 p.m.; weekends, 12:30-4:30 p.m.).
There will also be a series of four "Yuletide Jazz & Wine Concerts" — Cartoon Christmas Trio (November 23), Ron Cole Trio (November 30), Sharon & Shawn (December 7), Rob Zinn Quartet (December 14) and Bruce Anthony Collective (December 14). Another special attraction will be a theatrical presentation of Charles Dickens' "A Christmas Carol" on December 7 and 8.
Timed Yuletide Tour reservations are required. Admission to Yuletide at Winterthur is $20 for adults, $18 for seniors (age 62 and older) and $2 for children (ages 2-11).
Nemours Mansion & Gardens (Route 141 South, Alapocas Drive, Wilmington, Delaware, 302-651-6912, www.nemoursmansion.org) is welcoming visitors for the Christmas holidays with special holiday-themed tours. The three-hour tours are held Tuesdays through Sundays and run now through January 3.
Originally constructed in 1910, Nemours Mansion is one of Delaware's grandest buildings and includes the largest formal French garden in North America.
During the holiday period, the guided tours will include several stories of the house and part of the gardens. Many of the rooms featured in the tour will be decorated as they would have been when DuPont resided there in the early 1900s while some will retain their traditional period decorations.
Tickets for the tour at Nemours are $17 for adults, $15 for seniors and $7 for children (under 16).
The Historic Odessa Foundation's 2016 Christmas Holiday Tour will be presented now through December 31 in Odessa's historic district (Main Street, Odessa, Delaware, 302-378-4119, www.historicodessa.org). The Historic Houses of Odessa's National Historic Register Wilson-Warner House has been transformed into vignettes inspired by E.T.A. Hoffmann's "The Nutcracker and The Mouse King."
Historic Odessa will celebrate the bicentennial of this classic tale as the National Historic Register Wilson-Warner House is transformed into the home of the Stahlbaums on Christmas Eve. There will also be story vignettes beautifully recreated throughout the 247-year old Wilson-Warner's period rooms.
Another popular attraction is the "Storybook Trees Exhibit," which is a festive display of Christmas trees that reflect books and works of children's literature. The trees have been decorated by local families, schools and organizations. All the Historic Odessa Foundation's museum properties, collectively known as the Historic Houses of Odessa, are open and on display for the 2016 holiday season.
Special events and tours will be held throughout the holiday season including "Families Cook Series: Holiday Delights" on November 12; "Public Wreath Workshop" on November 20 and 30; "Candlelight Tours" on December 1, 6, 8, 13, 15 and 20; "Children's Holiday Program" on December 4; "Festive Foods/Hearth Cooking Demonstration" on December 10 and 17; "Paint Your Own Nutcracker" on December 10 and "Curator Candlelight Tour" on December 22.
The Historic Houses of Odessa are open Tuesday through Saturday, from 10 a.m. to 4:30 p.m., and Sunday from 1 to 4:30 p.m. The last full tour of the Historic Houses starts at 3 p.m. The Houses will be closed on December 24 and 25. Admission to the Historic Odessa Foundation holiday tour is $10 for adults, $8 for seniors, and students and free for children (under 6).
Two of Montgomery County's scenic historic sites are ready to begin celebrating the 2014 Christmas holiday season this weekend.
Pennypacker Mills (3 Haldeman Road, Perkiomenville, 610- 287-9349, www.historicsites.montcopa.org) is hosting "Victorian Holiday Tours" from November 22-January 8 while "Twelfth Night Tours at Pottsgrove Manor" (100 West King Street, Pottstown, 610-326-4014, www.historicsites.montcopa.org) are running from November 27- January 8.
For the next seven weeks, Pennypacker Mills will offer free tours of the 18-century mansion used by General George Washington as temporary headquarters during the Revolutionary War. The home will be decorated for an old-fashioned Victorian Christmas and will feature the warm glow of oil lamps, festive decorations and a candy-making demonstration.
The event at Pottsgrove Manor features guided tours through an elegant 18th-century Georgian mansion that is decked out in period holiday decorations. Tour guides will discuss Twelfth Night celebrations and Christmastide traditions.
Visitors will be able to view the parlor and kitchen as it would have been during colonial times when the Potts family prepared for their holiday guests. They will also be able to check out the servants' quarters and see the rustic holiday celebrations as enjoyed by the household staff.
Visitors to Peddler's Village (Routes 202 and 263, Lahaska, 215-794-4000, http://peddlersvillage.com) can get in the holiday spirit at the Village-wide Grand Illumination Celebration on November 18. Village shops will be open until 9 p.m. with a distinctive assortment of merchandise, special promotions and refreshments.
The Grand Illumination Celebration, which officially arrives with a burst of color at 6:15 p.m., will showcase thousands of tiny white lights outlining the Village's buildings, colorful lights with less-than-common colors (teal, peach, and fuscia) adorning the trees and shrubs and a landscaped backdrop featuring a group of reindeer glowing in white light.
Santa will arrive to turn on the lights and officially mark the beginning of the event. After the lights go on, visitors will be treated to free cider and toasted marshmallows.
After the Grand Illumination Switch-on, families are invited bring the kids to Giggleberry Fair for "Photos with Santa." The Giggleberry Fair will be open through December 23.
November 20 also marks the start of Peddler's Village "Gingerbread House Competition and Display." Slated to run through January 2, the "Gingerbread House Competition" features over $2,000 in cash prizes in such categories as Traditional and Authentic Reproduction of a Significant Building.
Koziar's Christmas Village (782 Christmas Village Road, Bernville, 610-488-1110, www.koziarschristmasvillage.com) has started its 68th annual season and it will remain open every night through January 2 — including Christmas Eve, Christmas Night, New Year's Eve and New Year's Night.
The village is a visual wonderland with a large amount of holiday displays and special attractions including "Santa's Post Office," "Christmas in the Jungle," "Toy Maker and his Toy Shop" and "Christmas in Other Lands. Other attractions are a huge model train display, a toy shop, a country kitchen, indoor and outdoor Christmas displays. Admission to Christmas Village is $10 for adults, $9 for seniors (65 and older) and $8 for children (ages 4-10).
From a theatrical standpoint, the holiday season has definitely arrived in the area.
The New Candlelight Theater (2208 Millers Road, Arden, Delaware, 302- 475-2313, www.candlelighttheatredelaware.org) is presenting its special holiday show "Christmas by Candlelight" from November 19-December 23.
Performances are Thursday, Friday and Saturday evenings (doors 6 p.m./show, 8 p.m.), Sunday afternoons (doors, 1 p.m./show, 3 p.m.) and Wednesday matinees (doors, 11 a.m./show, 1 p.m.). Tickets, which include dinner and show, are $59 for adults and $33 for children (ages 4-12).
The American Music Theatre (2425 Lincoln Highway East, Lancaster, 800-0 648-4102, www.AMTshows.com) has its holiday show running now through December 30.
The AMT's 2016 show "Winter Wonderland" is an all-new presentation of favorite sacred and secular holiday songs performed by professional artists from across the country. The show will feature spectacular vocal harmonies, lively musical arrangements, impressive dancing and the music of the AMT Orchestra.
Also featured will be elaborate scenery, elegant costumes and a theater decked out with holiday decorations.
The show will have both matinee and evening performances each week with the addition of 10:30 a.m. performances on Saturdays throughout December. Show length is two hours and 15 minutes with a short intermission. Tickets are $42.
The Rainbow Comedy Playhouse (3065 Lincoln Highway East, Paradise, 800-292-4301, www.Rainbowcomedy.com) is presenting its holiday production "Green Holly & Gray Potatoes" now through December 28.
Matinee performances are every Tuesday, Wednesday, Thursday and selected Saturdays with an 11:30 a.m. lunch and a 1 p.m. curtain. Evening performances are every Friday, Saturday and selected Thursdays with dinner at 6:30 p.m. and the show following at 8 p.m. There will also be "Twilight Performances" on selected Sundays with dinner at 2:30 p.m. and the show at 4 p.m. Ticket prices range from $25-$56.
The American Music Theatre (2425 Lincoln Highway East, Lancaster, 800-0 648-4102, www.AMTshows.com) has its holiday show running now through December 30 and the Rainbow Dinner Theatre (3065 Lincoln Highway East, Paradise, 800-292-4301, www.rainbowcomedy.com) is presenting its holiday production now through December 27.
The AMT's 2015 show "Deck the Halls" is an all-new presentation of favorite sacred and secular holiday songs performed by professional artists from across the country. The show will feature spectacular vocal harmonies, elaborate scenery, lively musical arrangements, impressive dancing, the music of the AMT Orchestra, elegant costumes and a theater decked out with holiday decorations.