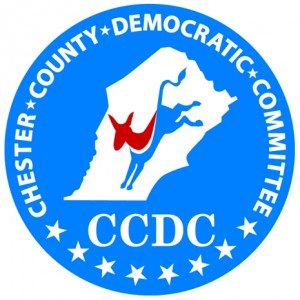 WEST GOSHEN — The Chester County Democratic Committee will be sponsoring a panel discussion with election campaign experts on Thursday, January 19th, 2017 from 7-9 pm at the West Goshen Township Building. Those interested in or considering running for office will hear from three nationally known election campaign experts, a successful Chester County campaign manager, and a recent candidate for office.
Over 90 Chester County residents have already expressed interest in attending this event, and space is limited. RSVP by calling (610) 692-5811 or e-mailing office@chescodems.org. Speakers include:
Scott Remley, Principal with Vaquero Blue LLC:
Remley has over 15 years of experience in domestic and international campaigns at every level, from volunteer canvasser to general consultant, including a statewide campaign manager of two different multi-million dollar campaigns in two of the largest states in the country. Scott's portfolio includes political clients ranging from municipal to multi-national, including work for municipal leaders, state legislators, members of Congress, the UK Labour Party and President Barack Obama, organizations like SEIU, the Audubon Society, Google.org and the Brookings Institution, and corporate clients ranging from Fortune 500 firms to start-ups. He's worked with state Democratic parties in every region of the country, from California to New York, Utah to Florida, Texas to Indiana and more.
Marty Santalucia – Principal, MFStrategies:
West Chester native Santalucia is a respected Pennsylvania political operative with nearly a decade of professional campaign experience. During the 2012 cycle, Marty served as the Deputy Executive Director of the Pennsylvania House Democratic Campaign Committee. During his time at the HDCC, he built the largest state legislative field program in the country. Two years later, he was hired as the state-wide field director and senior staff for Tom Wolf's successful upset gubernatorial campaign in Pennsylvania. Marty was named to PoliticsPA's "30 Under 30" list in 2014.
Erica Prosser – Vice President, Wildfire Contact:
Scranton native Prosser is a nationally renowned progressive communications consultant. For over 15 years as a polling, direct mail, and media consultant, she has developed successful strategies for advocacy groups, political committees, ballot initiatives, labor organizations and for candidates at every level across the country. She has appeared on expert panels at Netroots Nation, and worked on the account team that produced the mail for Sen. Andy Dinniman's re-election campaign in 2012.
Lani Frank, Vice Chair, CCDC:
Just off a winning campaign for State Representative Carolyn Comitta, Frank has served in numerous political positions after joining the Chester County Democratic party in 2002. On the job training as a volunteer for Dan Wofford, Ed Rendell, Andy Dinniman, and local school board races, Lani served twice as Campaign Manager for State Representative Barbara McIlvaine Smith, whose winning election in 2006 gave control of the State House to the Democrats. She served as Independent Outreach Coordinator for the special election of State Senator Andy Dinniman.
Hans van Mol, 2016 candidate for PA House:
In 2016, van Mol was the youngest candidate in Pennsylvania as he sought to represent the 157th District in the PA House of Representatives. His political involvement first began as an advocate for music and arts education programs across Pennsylvania, which led him to pursue his passion of serving his community by seeking elected office. von Mol previously ran for County Recorder of Deeds in 2015, represents Tredyffrin Township as a Committeeperson, and serves as the Chester County Democratic Committee's Parliamentarian.