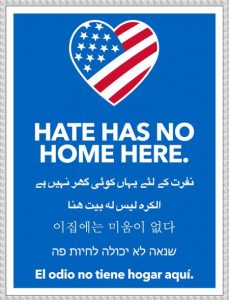 While some (although based on problematic ticket sales, less than usual) local folks will be in Washington D.C. celebrating the inauguration of Donald Trump as the nation's 45th president, other local residents will be expressing an affirmation against hatred in our community on Friday — an event that started as a local one, but is now spreading county-wide.
According to Kennett Square Borough Council member Wayne Braffman — he's also the Vice Chair of the Kennett Area Democrats — he and his colleagues rethought plans to protest Trump's inauguration after President Barack Obama's farewell speech last week.
"After watching President Obama's farewell address, though, I re-evaluated its purpose,' Braffman said. "He asked us to go outside of our bubbles and find common ground with others with whom we disagree. What I realized was that this action is not really a protest at all. Instead, I now see it as an affirmation of a fundamental American principle that we all share: Hate has no home here in the United States of America."
Braffman shared the following message — and it has garnered attention from around the nation:
We invite you to join with us on this Inauguration Day to affirm one of our nation's most fundamental values that is universally embraced by all freedom-loving Americans:

HATE HAS NO HOME HERE!

Today, let it not be about politics.

Today, let it be about national unity and who we are as a people.

Here are some things you can do:

Make the 'Hate Has No Home Here' poster your profile picture
Post status updates throughout the day using the poster
Post a selfie, create your own meme, or use the memes below.
Use the hashtag #HateHasNoHomeHere in all of your posts
Share this post to invite your friends to join us.

BE RESPECTFUL! Post and comment in the way you would want folks to comment on your timeline.

When you post, you will be telling the world that:

#HateHasNoHomeHere in my heart.

#HateHasNoHomeHere in my home.

#HateHasNoHomeHere in my neighborhood.

#HateHasNoHomeHere in my town.

#HateHasNoHomeHere in my state.

#HateHasNoHomeHere in my country.

Thank you so much for participating and spreading the word!
The Kennett Democrats have a link to download materials and are now coordinating with the Chester County Democratic Committee as the event has grown. More than 200 signs have been distributed around the county, with donations coming from as far away as Florida, Minnesota, Colorado, New Jersey, Pittsburgh and Harrisburg, as well as neighboring Maryland and Delaware.