By Denny Dyroff, Staff Writer, The Times
Children of all ages can benefit from being introduced to the joy of listening to classical music. The Kennett Symphony of Chester County (610-444-6363, www.kennettsymphony.org) supports this premise by presenting its "Annual Children's Concert & Post-Concert Instrument Zoo" every spring to give young children exposure to live classical music.
This year's show will take place on March 12 at 2 p.m. in the auditorium at West Chester Henderson High School (400 Montgomery Avenue, West Chester).
The Kennett Symphony's concerts are designed for the whole family — with an emphasis on stirring the imagination of the younger ones. The annual performance is a perfect concert for parents to introduce their kids to the joy and communicative power of classical music.
The 2017 concert is called "Music From The Inside Out." The fun — and educational — concert examines the power of music to affect us all. Kids also get the opportunity to meet the musicians of the Kennett Symphony and try out the instruments of the orchestra. The event provides a wonderful experience for the whole family.
The program for Sunday's concert features Danny Elfman's "Spiderman," Leonard Bernstein's "Mambo," Sergei Rachmaninoff 's "Vocalise," Jean Sibelius' "At the Castle Gate," Pyotr Ilyich Tchaikovsky's "Symphony No. 4, Movement 3," Hector Berlioz's "Rakoczy March," Edgar Elgar's "Nimrod" and Georges Bizet's "Farandole."
The event has another attractive family-oriented feature — all tickets are priced at $5.
Anyone who loves flowers – especially the flowers that bloom in spring and provide the year's initial bursts of color – needs to visit Holland in the spring at least once.
The spectacle provide by the tulips is breathtaking and unforgettable. And that's only the beginning. Holland's gardens and parks, which seem to be everywhere, explode with color from April through September.
If you can't make a trip to Amsterdam or Rotterdam this spring, you can still experience the vibe of springtime in the Netherlands by attending this year's Philadelphia Flower Show at the Pennsylvania Convention Center (12th and Arch streets, Philadelphia, 215-988-8899, www.theflowershow.com).
The festive event, which opens on March 11 and runs through March 10 this year, has "Holland: Flowering the World" as its theme for 2017.
"Holland: Flowering the World" serves as inspiration to the show's floral designers and explores the country's eco-design, modern greening and traditional windmills, wooden shoes and tulips. Visitors will be greeted by an extravagant entrance garden with more than 30,000 blooms and a dazzling overhead flower canopy.
The show will feature 10 acres of exhibition halls with floral displays celebrating the history and culture of the Netherlands as well as Dutch garden innovations – including a futuristic eco-dome. It will mark the first time the dome has been exhibited outside of Holland.
Floral competition is always a major drawing card at the annual show. The 2017 Flower Show will feature a large number of garden displays and thousands of plants and floral designs entered in various competitions. These entries will be reviewed and rated by a staff featuring over 200 expert judges from across the nation.
The show's biggest attraction each year is the massive "Marketplace" featuring over 150 vendors from all over America and several European nations. They will be selling flowers, orchids, floral-inspired furniture, sheds, artwork and unique garden-related crafts and supplies.
Throughout the week, hundreds of gardening experts will provide learning opportunities in the Lecture Series.
Be prepared for large crowds during the weekend hours. If you want a more leisurely visit, plan to visit the show during the week. Also, take public transportation if possible. Vehicular traffic in the area is frequently a nightmare and parking lots tend to fill up early even though they are charging exorbitant fees.
Video for the Flower Show– https://youtu.be/NEbGv_em8y8.
Tickets for the Philadelphia Flower Show are available online in advance for $28 and at the door for $35.  Tickets are $20 in advance and $22 at the door for students with valid ID and $15 ($17 at the door) for children ages 2-16.
Another indoor attraction of a horticultural nature is the "Orchid Extravaganza," which is running now through March 31 at Longwood Gardens (Route 1, Kennett Square, 610-388-1000, www.longwoodgardens.org).
The celebration of the orchid species features approximately 4,500 orchids in bloom along with a variety of displays and special exhibits throughout its four-acre conservatory. There are displays of orchids in planting beds, containers and innovative exhibits.
As one of the first plant collections at Longwood, orchids have held a place of distinction since 1922. Longwood's talented horticulturists celebrate the beauty and variety of orchids with an artful display that includes a towering 12-foot-tall archway, a spectacular orchid curtain, and hundreds of vibrant Vanda orchids in the Silver Garden.
Admission to Longwood Gardens is $23 for adults, $20 for seniors and $12 for students.
Even though next Friday (March 17) is officially St. Patrick's Day, this weekend is St. Patty's Day Weekend for many area residents — a weekend when everyone's nationality is Irish and green is the preferred color for everything (clothes, food, hair, milkshakes, decorations and even beer and wine).
On March 11, there will be an event with an ambitious schedule — the Phoenixville Pre-St. Patty's Pub Crawl. Main Street Phoenixville's restaurants and bars are pooling their efforts to host a one-day "Pub Crawl" event.
From noon-6 p.m., participants can sample beer and enjoy love music at the following Bridge Street establishments — Molly Maguire's Irish Restaurant, PJ Ryan's, Sips Bistro & Bar, Franco Ristortante, Bistro on Bridge, Pepeproncini Sotto, Great American Pub and the Pickering Creek Inn.
Dating back to 1771, the Philadelphia St. Patrick's Day Parade (www.philadelphiastpatsparade.com) is one of the city's longest-running traditional events. It is also one of the oldest parades of any kind in the nation.
A procession of drummers, dancers, various performers and Irish bands will move down JFK Boulevard alongside floats decorated in honor of St. Patrick, Ireland's patron saint.
The parade will originate at 16th Street and JFK Boulevard.  The highly-entertaining annual event is scheduled to get underway at noon and continue through 3 p.m. There is no fee for spectators.
The Parade takes place every year—rain or shine. Unless there is a blizzard, it does not get cancelled. Once again, the Philadelphia St. Patrick's Day Parade will air LIVE on Fox 29.
The Irish Culture Club of Delaware (302-454-7474, www.irishde.org) will stage its 42nd Annual St. Patrick's Day Parade on March 11 at noon on King Street in downtown Wilmington.
The Parade starts at noon at Fourth and King streets. It will move up King Street and pause briefly at the Grandstand located at Rodney Square. The Parade will continue on King Street and will conclude near 14th Street where the Post-Parade Hooley is located.
As always, the post-Parade Hooley (festive party) will be held in a parking lot at 14th & King streets inside a large tent.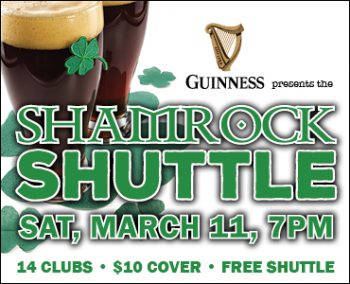 Commemorative mugs will be sold for $20 each and "unlimited beer mug refills" will be available throughout the afternoon until 6 p.m. All beer and celebrating must stay within the enclosed area of the parking lot.
Later that day, the Shamrock Shuttle/St. Paddy's Loop (302-655-6483) will keep the festivities going. The complimentary Loop shuttle ser­vice begins at 7 p.m. and runs until 1 a.m. with buses stopping at 12 bars in the city throughout the night.
There is a $10 cover for a wristband which gives patrons access to all the clubs, including Catherine Rooney's, Kelly's Logan House, Timothy's Riverfront Grill, Dead Presidents Pub & Restaurant, 8th & Union Kitchen, Chelsea Tavern, Ernest & Scott Taproom, FireStone Roasting House, The Original Gallucio's, Lavish, Grotto's Pizza Pennsylvania Avenue and Trolley Square Oyster House.
Another post-parade party will he presented by the New Castle County Irish Society (1301 South Rodney Street, Wilmington, 302-658-8288, http://www.nccirishsociety.org) from 1-6 p.m.
Everyone is welcome to continue the festivities at the society's hall. Live music by John Kelly will be featured. Admission is $10 for adults and free for children (12 and under). Cash bar and food will be available.
Additionally, the Society will hold its "St. Patrick's Day Ham & Cabbage Meal" on March 17 from 11 a.m.-7 p.m. The adult platter is $9 and includes coffee or tea and dessert. The platter for children (ages 8 and under) is $4 and includes dessert but not coffee or tea.
As an added attraction at the holiday meal event, there will be an Irish Dance Program performed by the McAleer School of Dance at 4:30 p.m. 
On March 12 and 13, Greater Philadelphia Expo Center (100 Station Avenue, Oaks, 484-754-EXPO, http://www.phillyexpocenter.com) will host the Greater Philadelphia Boat Show (http://www.phillyboatshow.com). The show opens March 10 and runs through March 12 at the huge expo hall in Montgomery County.
The boat show allows visitors to shop and compare without having to travel all around the area to visit a variety of different dealers. It provides an excellent learning experience for those who are not already boating families, but would like to know more about boating and related activities.
Special show prices from most of the dealers also make this event a good shopping opportunity for those people who already own boats and are ready to trade in and move up.
Types of boats offered at the show will include ski boats, saltwater boats, pontoons, bass boats, motor yachts, jet boats, PWCs, runabouts and deck boats. Other displays will present information on marinas, parts, accessories and boating safety.
The show will offer a wide array of products for boating enthusiasts including boating supplies, books, clothing, marine financial and insurance services, electronic navigational devices and engines.
A special attraction this year will be performances by Twiggy the Water-Skiing Squirrel – a talented and athletic little squirrel who skis around a pool. The act began in 1979 by Chuck and Lou Ann Best and started with an appearance on Real People.
Recently, Twiggy has been featured in "Dodgeball: A True Underdog Story," "Anchorman: The Legend of Ron Burgundy" and in the music video for Brad Paisley's "River Bank." Twiggy's performance times are 4 and 65 p.m. on Friday; noon, 2, 4 and 6 p.m. on Saturday; and noon, 2 and 4 p.m. on Sunday.
Show hours are March 10 from 1-8 p.m., March 11 from 10 a.m.-7 p.m. and March 12 from 11 a.m.-5 p.m. Admission is $8 for adults and free for children (16 and under).
Charter Day, which is celebrated on March 12, recognizes the day William Penn received his land grant for Pennsylvania from King Charles II of England in 1681.
In observance of Pennsylvania's founding, some of the region's historic sites host special activities — all of which are free and open to the public.
Brandywine Battlefield Park, Chadds Ford (Route 1, Chadds Ford, http://brandywinebattlefield.org, 610-459-3342) will celebrate Charter Day with the re-opening of the Gideon Gilpin House and a variety of history-themed activities.
The event will feature Continental soldiers, period interpreters, historical demonstrations, tours of the Benjamin Ring House and the Gideon Gilpin House and a talk by Alexander Hamilton.
The Daniel Boone Homestead (400 Daniel Boone Road, Birdsboro, 610-582-4900, www.danielboonehomestead.org) will offer an exciting open house and living history event featuring a variety of 18th-century demonstrations and hands-on activities on March 12 from noon-4 p.m.
The site will be open free in celebration of King Charles II granting the land which would become Pennsylvania to William Penn. Many 18th-century demonstrations will be occurring throughout the afternoon and period music will be performed in the parlor at the Boone House. 
Smells of meat and vegetables cooking over an open hearth will greet the visitor at the Boone House and the Bertolet Log House.  Bread will be baking in the Bertolet bake oven and meat will be smoking in the Boone smoke house.
The Amity Colonial Dancers will perform 18th-century dances in the Wayside Lodge.  The Bertolet sawmill will run several times throughout the event and broom making and textile production will be shown.  The Visitor Center Gift Shop will feature many new items representing the life and times at the Boone Homestead. 
On March 12 from noon-4 p.m., the Conrad Weiser Homestead (28 Weiser Lane, Womelsdorf, 610-589-2934, www.conradweiserhomestead.org) will host military units, both British and French, who will be demonstrating 18th-century drill. There will be a Native American on site to answer visitor questions. There will also be an exhibit displaying 18th century reproduction folk art.
Other area sites that will have Charter Day celebrations this weekend are Landis Valley Museum (2451 Kissel Hill Road, Lancaster, 717-569-0401, www.landisvalleymuseum.org), Railroad Museum of Pennsylvania (300 Gap Road, Ronks, 717-687-8628, www.rrmuseumpa.org), Cornwall Iron Furnace (Rexmont at Boyd Street, Cornwall, 717-272-9711, www.cornwallironfurnace.org) and Ephrata Cloister (632 West Main Street, Ephrata, 717-733-6600, www.ephratacloister.org).
The list also includes several sites in Montgomery and Bucks counties — Graeme Park (859 County Line Road, Horsham, 215-343-0965,www.graemepark.org), Hope Lodge (553 South Bethlehem Pike, Fort Washington, 215-343-0965, http://www.ushistory.org/hope/) and Pennsbury Manor (400 Pennsbury Memorial Road, Morrisville, 215-946-0400, www.pennsburymanor.org).
If as predicted, the temperature really dips this weekend, you should consider indoor events such as theatrical shows.
This weekend, there are two shows in the area that combine traditional storytelling with non-tradition circus performances.
Cirque du Soleil's "TORUK – The First Flight" will be running now through March 12 at the Wells Fargo Center, Broad Street below Pattison Avenue, Philadelphia, https://www.cirquedusoleil.com/usa/philadelphia/toruk/buy-tickets/).
The Playhouse on Rodney Square (10th and Market streets, Wilmington, Delaware, 302-888-0200, www. duponttheatre.com) will present the national tour of the hit musical "Pippin" now through March 12.
The Chaddsford Winery (632 Baltimore Pike, Chadds Ford, 610-388-6221, www.chaddsford.com) will present an event called "Wine and Cheese Pairings" every Saturday and Sunday in March from noon-5 p.m. each day. Participants will be able to experiment with food-friendly wines and delicious cheeses at six stations.
Some of the pairings are 2015 Artisan Series Dry Rosé and Sunset Blush paired with Italian La Tur Soft Cheese with freshly-baked baguette, Chaddsford White paired with creamy, soft Delic de Bourgogne with papaya, and 2015 Proprietors Reserve Red paired with Creamy Cheesecake topped with Amarena Wild Cherries and Cinnful Coca Pecan crumbles
The food truck schedule is:; March 11: Brazbq; March 12: Dos Gringos; March 18-19: Mara-Leo; and March 25-26: Phyllodelphia Food Truck. The live music schedule is: March 11: Bruce & Sam; March 12: Mike Hauer; March 18: Colin & Drew; March 19: Ryan Schubert; March 25: Bruce & Sam and March 26: Mike Hauer.
The General Warren Inne (9 Old Lancaster Road, Malvern, 610-296-3637, www.generalwarren.com) is an historic site — a site with a lot of history and a site that is still involved in history of the area.
Since 1745, the Historic General Warren Inne has been center stage for American history and a premier carriage stop for hungry travelers. The Inne was initially called the Admiral Vernon Inne and was changed to the Admiral Warren after the famed Admiral Peter Warren, a hero who defended the American colony at Louisburg, Nova Scotia during the French and Indian War.
During the time of the American Revolution, the Inne was owned by John Penn of Philadelphia, who was a loyalist and the grandson of William Penn. Situated on the main highway between Philadelphia and Lancaster, it became a popular stage stop during the Revolutionary War era — and a Tory stronghold.
The Paoli Massacre was planned and launched from the Admiral Warren Inne in September 1777. In 1825, the Admiral Warren was renamed the General Warren, to honor the American hero of Bunker Hill.
Now, the General Warren Inne annually presents a series of lectures about America's war for independence. On the second Monday of each month now through May, the Inne will host "Paoli Battlefield Lecture Series" presented by the Paoli Battlefield Preservation Fund.
On March 13, Laurie Hull, who is the director and founding member of Tri County Paranormal, will discuss her results of paranormal investigations of the Paoli Battlefield that took place in May and October 2016. These tours showed that there was a tremendous amount of paranormal activity all around the battlefield.
Hull will present photos, recordings, and personal experiences submitted by her team and those who attended. These tours and descriptions of actual events have demonstrated that the site has definitely been a location for paranormal activity.
The next two installments of the lecture series will be "Fort Mifflin: The Fort That Saved America" by Elizabeth Beatty on April 10 and "Soldiers Stories: Letters from the Valley Forge Encampment" by Dr. Nancy K. Loane on May 8.
Seating is limited so it advisable to make advance reservations. Admission, which is $49 per person, includes lecture, buffet, family style sweets, taxes, gratuities and all non-alcoholic beverages. Alcoholic beverages are available at an additional cost.
There is another event sure to be of interest to history buffs this weekend in Delaware.
On March 4, the Historic Houses of Odessa (Main Street, Odessa, Delaware, 302-378-4119, www.historicodessa.org) will have a special celebration of Harriet Tubman Day on March 11.
The event, which runs from 10 a.m.-4 p.m., focuses on the site's National Park Service Network to Freedom exhibit, "Freedom Seekers: the Odessa Story."
Visitors are invited to join the Historic Houses of Odessa docents as they follow in the footsteps of Sam, a fugitive slave from Maryland who was given refuge in the Corbit-Sharp House.
Another event which looks back to a different era will also take place in Delaware this weekend.
There will be a lot of model trains and a lot of toys on display and for sale when Greenberg's Train & Toy Show visits the area for a two-day stop at the Chase Center on the Riverfront (815 Justison Street, Wilmington, Delaware, 630- 279-4087, www.greenbergshows.com).
The show, which is scheduled for March 11 and 12 from 10 a.m.-4 p.m. both days, will have a wide variety of toys for sale — space toys, Thomas the Tank Engine items, dolls, collectible bears, Barbie, Matchbox, action figures, die-cast models, wrestling stars, Pokemon figures and much more.
And, there will be an amazing array of toy trains including more than 300 tables of trains for sale. The show will feature more than 70 exhibitors.
The event will feature a diverse array of operating train displays, including Strasburg Model Railroad Club – 20′ x 44′ HO Scale Layout; East Penn Traction Club – 25′ x 35′ O and HO Scale Traction Layout; New Jersey Southern N-Trak – 18′ x 34′ N Scale Layout; and Northern Delaware Model Railroad Club – 8′ x 13′ HO Scale Layout.
There will also be free workshops and demonstrations including: :Designing a Traction Module," "DCC Operation Using Your iPhone," "How to Make Cornfields," "Building a Traction Module," "Prototype Modeling" and "Wiring & Automatic Block Control."
Other special attractions will be the "Roaming Railroad", which is a riding train for kids and adults, Roaming Raceway's "Interactive R/C Car Racetrack", which is one of the country's most advanced model racing tracks.
Other features include hourly door prizes. Tickets for adults are $10 on Saturday and $9 on Sunday. Children (12 and under) are admitted free.
If you get an irresistible urge to look to the heavens when there is a full moon, there is an event this weekend that you'll probably like.
If you like wolves and are fascinated by their lifestyle, there is an event this weekend that you'll probably like.
And, it's the same event – the "Full Moon Tour" at the Wolf Sanctuary of Pennsylvania (465 Speedwell Forge Road, Lititz, 717-626-4617, http://wolfsanctuarypa.org).
The Sanctuary offers this tour once a month on the closest Saturday to the full moon. This month, the date is March 11 and the full moon is known as the Worm Moon. This is an event in which participants are invited to create their own experiences.
Instead of following a tour guide from pack to pack at a regulated pace that fits within a 45-minute time line, you get to go at your own pace from pack to pack. There is also the option of talking to a tour guide who is stationed at each pack. You can listen to what they have to say about the wolves when stopping at a station – and you have the option to ask questions. 
With this tour, you move at whatever speed you find comfortable. If you get tired, you can go over and sit next to a roaring bond fire (weather permitting) and just relax. Visitors are requested to bring a blanket, a flashlight, a chair and maybe some hot dogs and marshmallows.
The tour starts at 7:30 p.m. Tickets are $20 and no reservations are required.
The line-up for the remainder of this year's "Full Moon Tours" features Pink Moon on April 8, Flower Moon on May 13, Strawberry Moon on June 10, Buck Moon on July 8, Sturgeon Moon on August 5, Corn Moon on September 9, Harvest Moon on October 7, Beaver Moon on November 4 and Cold Moon on December 2.
Another event with an outdoor vibe will be "From Sap to Syrup" at Bellevue State Park (800 Carr Road, Wilmington, Delaware, 302-761-6963, http://www.destateparks.com).
Visitors to the park will be able to learn when sap flows, find out what trees are used for making maple syrup, and observe the process of making syrup.
Additionally, participants will have the opportunity to tap a tree and enjoy a special syrup-tasting with pancakes. The program will be presented from 10 a.m.-noon and again from 1-3 p.m.
Tickets for the event are $8 for adults and $5 for children (under 12).
This historic site will also present "Bellevue State Park Full Moon Hike" on March 12 from 7-8 p.m.
Visitors can enjoy Bellevue at night when the park is illuminated by the full moon. They will be able to explore the woods and other areas of Bellevue to look for signs of nocturnal life.
The "Full Moon Hike" lasts approximately one hour. Participants are ad vised ot wear comfortable shoes and dress warmly. Tickets for the event are $4 per person.