Snow totals lower than forecast in some areas, but ice remains a concern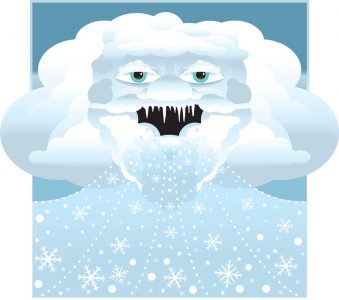 Old Man Winter is throwing a mix of just about everything at Chester County in a late season storm that has paralyzed local roadways and left virtually all local schools and government offices closed — along with a large number of local businesses.
It appears the snowfall amounts may end up a bit lower than advertised — the rain/snow line moved a bit more to the west than expected — particularly in the southern and eastern portions of the county. But the dangerous combination of ice, rain and snow that is falling all around the county arguably may be making for more dangerous roadways and hazards from falling tree limbs.
The National Weather Service is forecasting that the ice should move out of Chester County by around 11 a.m. and be replaced by intermittent snow, which could fall into Wednesday morning. Right now, total additional accumulations may amount to as much as five inches of snow in some parts of the county by Wednesday, once the ice/sleet/rain combo switches over to all snow. Snowfall amounts will be highest in the northern and western portions of Chester County.
Chester County Emergency Services is advising anyone who does not have to be out and about to stay home — roads around the county are slick at best, and crews continue to work to clear roads around the county.
The big concern is the combination of ice and wind — and the impact of downed trees and branches on roadways, homes and power lines. But as of 9:30 a.m. PECO was reporting less than 500 homes without power in Chester County, most in the southern portion of the county where there has been more ice and freezing rain. Crews are working to restore power, with most of the currently impacted customers expected to see power back on by mid-afternoon at the latest.
Virtually every school and county office is closed — SEPTA is running on a Saturday schedule and the SCOOT & Coatesville Link buses have been suspended through noon. PennDOT has speed restrictions on The Pa. Turnpike, I-76, I-476 and similar highways.
We'll continue to offer updates as the day evolves. Please stay safe and if possible — stay home.
If you have news, send it to us at mike@chescotimes.com