By Denny Dyroff, Staff Writer, The Times
Earth Day has been becoming more necessary every year. Now, because of the political turn of events in last November, efforts to protect the earth are crucial.
Earth Day has been featuring celebrations all around the world for more than 40 years.
There are a number of special Earth Day festivities in the area this weekend, including the "Earth Day Walk & Talk 2017" and Spring Mix- An Earth Day Music Eventin Kennett Square (http://historickennettsquare.com), the  "28th Annual Berks County Earth Day Celebration" at Riverfront Park (Riverfront Drive, Reading,www.earthdayberks.org) and the "Earth Day — Party for the Planet" at the Brandywine Zoo (1001 North Park Drive, Wilmington, Delaware, 302-571-7747, www.brandywinezoo.org).
Earth Day, which began in 1970, was founded by Gaylord Nelson, a senator from Wisconsin. Today, Earth Day is a global celebration — an annual event that brings together people and communities for the common appreciation and understanding of the natural environment.
The theme for the "Earth Day Walk & Talk 2017," which will run from 4-6 p.m. in Anson B. Nixon Park in Kennett Square, is "Unity."
The event will get underway at 4 p.m. with a walk around the park followed by informative short speeches on community, diversity, science, the earth, and nature. It is sponsored in part by The Kennett Brewing Company.
"Spring Mix- An Earth Day Music Event" has two reasons for people to attend — it's an "Earth Day Weekend" activity and it is a benefit to help community services.
The roster of participating bands includes Jonathan Gibson and Jim McKenzie, Bella Von, BiffMcNeil and Paul Wilkinson, Rose Project, Rock-O-Jets, Wild Virtù, andPristine Raeign.
The donations — $15 donation per person (additional $10 donation for alcoholic beverages – benefit the Garage Community and Youth Center and the Anson B. Nixon Park.
A donation will be made to the Anson B. Nixon Park for the development of a Kennett Community Garden and Children's Garden area that will involve people of diverse backgrounds, cultures and generations.
A donation will also be made to the Garage Community and Youth Center, which is hosting the event. The Garage has a goal of empowering area youngsters to pursue their potential academically, socially, and spiritually.
The Berks County Earth Day Celebration will be held at Reading's Riverfront Park on April 22 from 11:30 a.m.-5 p.m. The free Earth Day event will include children activities, workshops, demonstrations, exhibits and interactive displays for all ages.
Exhibits will include information on energy and water conservation, alternative energy and alternative vehicles, land use, gardening, clean air and water, non-toxic chemicals for home and gardens, composting, recycling, sewage sludge, and environmentally aware businesses.
The Brandywine Zoo's Earth Day activity is "Spring Zoo Camp" featuring live entertainment, animal-related games, stories, crafts and live animal presentations. It is scheduled to run from 10 a.m.-3 p.m. on April 23.
The 12-acre zoo features Siberian tigers, river otters, and other animals native to the Americas and the temperate areas of Asia. In addition to the tigers and river otters, the zoo also is home to a snowy owl, Andean condors, Florida bobcats, binturongs, sandhill cranes, burrowing owls, pygmy goats, llama, rhea and the capybara (which is the world's largest rodent).
Earth Day activities are included free with zoo admission. Tickets for the Brandywine Zoo are $5 for adults, $4 for seniors and $3 for children (ages 3-17).
Other area Earth Day celebrations on April 22 are the 28th Annual NarbEarth Day at Narberth Park (80 Windsor Ave, Narberth,http://www.narberthcivic.org/narbearthday.php) and Earth Day at Newlin Grist Mill (219 Cheyney Rd, Glen Mills, www.newlingristmill.org).
NarbEarth Day, which will run from noon-4 p.m., is a fun family festival of environmentally friendly living and sustainability that has been a Narberth tradition since 1990.
The event features free admission, live music all day by Grip It & Rip It, fun activities for kids and adults – and a variety of good food.
The Earth Day event at Newlin Grist Mill will run from 10 a.m.-noon. Visitors are invited to help celebrate nature and protect the environment with this volunteer event.
Each year, diverse volunteers from the community, including individuals, families, scout troops, and youth groups join together to work on projects that improve habitat for wildlife, protect important natural resources, and preserve the park's plant and animal communities.
In celebration of Earth Day, the National Constitution Center (525 Arch Street, Philadelphia, https://constitutioncenter.org) is presenting a full day of programming on April 22.
Visitors to the museum can enjoy Earth Day-themed arts and crafts, an eco-centric game and more. Additionally, the "Everything's Gone Green: The Story of Earth Day" video will be screened from 9:30 a.m.-3 p.m. in the Main Lobby.
All activities are included in the price of general admission. The museum's admission prices are $14.50 for adults, $13 for seniors and $11 for youth (ages 6-18).
Things will be looking up for participants in a special event scheduled for April 22.
The Land Conservancy of Southern Chester County is staging a "Sky Tour" at the Bucktoe Creek Preserve (432 Sharp Road, Avondale, http://tlcforscc.org/preserves/bucktoe-creek-preserve)
Participants in the event, which is being led by the Chester County Astronomical Society, will have the opportunity to observe constellations, planets, stars and other bright, speedy, or curious looking objects in the night sky.
Tickets for the "Sky Tour," which is scheduled to run from 8-9:30 p.m., are $10 for members of The Land Conservancy, $15 for non-members and $5 for children under 12.
Doctors everywhere tout the benefits of walking — citing the positive nature of the activity.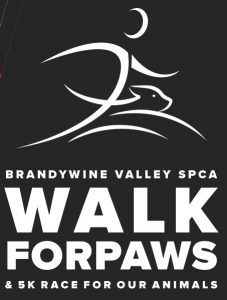 On April 22, walking can also be a good thing for the animals of the Brandywine Valley SPCA. That's because Sunday is the day for the BVSPCA's 30th Annual Walk for Paws at West Goshen Community Park (1023 Fern Hill Road, West Chester, www.ccspca.org).
The Walk for Paws is one of the local SPCA's most important fund-raising events. All proceeds benefit animals, programs and services at the Chester County SPCA. Because fund-raising is the goal, the organizers encourage everyone to gather pledges and win prizes.
This year's Walk for Paws combines the traditional walk with festival fun for everyone in the family.
Festival events include a beer garden, food trucks, local vendors, games for dogs and introductions to the SPCA's adoptable animals. Activities geared for youngsters include face painting, kids' games and live entertainment.
A 5K Run will be held at this year's Walk for Paws event, which will also include the traditional mile-long walk and family-friendly outdoor festival.
Participants can also register in person on the day of the event. Registration for the 5k run opens at 7 a.m. and the race begins at 8 a.m. Registration for the mile-long walk and festival opens at 9 a.m. and walkers depart at 10 a.m.
Video link for "Walk for Paws" — https://youtu.be/HDQcs7nwmUA.
Registration fee for the walk is $25 for adults, $15 for children (ages 6-17) and $30 for runners.
Every once in a while, parents just need a break from their kids.
The Center on Central (24 West Central Avenue, Paoli, 610-710-1487, http://thecenteroncentral.com/parents-night-out) knows this.
That's why they present a program called "Parents Night Out/Kids Night In" on selected nights throughout the year.
The event allows parents to drop off their kids at 6:30 p.m. and pick them up at 9 p.m.
Activities for the youngsters include a pizza snack, a themed arts activity and/or craft project with a different theme each time, and a movie-chill out time.
Two "Parents Night Out/Kids Night In" are scheduled for this spring – April 21 and May 19. The theme for April is "Create Tissue Paper Flowers" while May's theme is "Build a Clay Bunny."
The cost is $30 for first child and $20 for each additional sibling. Pre-registration is preferred. Drop-ins are accepted if there is space available.
The Center offers the following caveat – "Please note that we require you to pick up your child(ren) promptly by 9 p.m. In fairness to our staff and to other parents, we reserve the right to charge a late fee of $1 per minute beyond 9 p.m. when a parent arrives late for pickup."
This weekend, more than 25 artists from around the Mid-Atlantic region, will participate in the Artists Circle's "Annual Art Show and Sale" at Saint Luke Lutheran Church (203 North Valley Forge Road, Devon, 610-688-0122, www.theartistscircle.net). The event opens at 1 p.m. on April 21 and runs through 5 p.m. on April 23.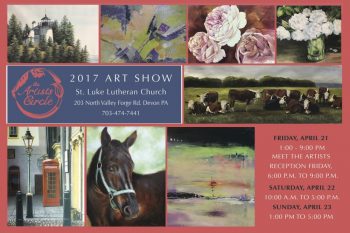 The Artists Circle, which is one of the largest professional artist collectives in the Delaware Valley, will hold a special "Meet-the-Artists" reception on April 8 from 6-9 p.m.
The popular annual show, which is free and open to the public, will showcase hundreds of original works by members. The artwork will be displayed in the church's Schlack Hall and will include ongoing demonstrations of painting styles and media.
This weekend, the Annual Philadelphia Antiques & Art Show will be held at the Philadelphia Navy Yard (5100 South Broad Street, Philadelphia,http://philadelphiaantiquesandartshow.com).
The Philadelphia Antiques & Art Show, which bills itself as "one of the best American antiques and decorative arts show in the country", will be held April 21 and 22 from 11 a.m.-8 p.m. and April 23 from 11 a.m.-5 p.m.
Founded in 1962, The Philadelphia Antiques & Art Show is one of the longest running antiques shows in the country. It premiered under the direction of its founder, Ali Brown, as the "University Hospital Antiques Show at the 33rd Street Armory in West Philadelphia."
Since the beginning, the Show's committees have worked tirelessly to organize, develop and produce one of the finest shows of Americana.
The 2017 edition of the show celebrates its 55th year as one of America's premier shows with 59 exhibitors offering a vast selection of furnishings, decorative arts, and fine art for both the period and modern American home.
This year, the show's organizers have added more Fine Art galleries to our list of dealers, offering the opportunity to see great works across a wider spectrum of decorative arts.
Admission to the show is $20.
April 22 will mark the opening of the new Bartram's Mile (West Bank of the Schuylkill River from Grays Ferry Avenue to 56th Street,https://schuylkillbanks.org/projects/bartrams-mile) — a 1.1-mile addition to Schuylkill Banks recreational trail.
The 15-foot-wide multi-use path will extend along the western bank of the Schuylkill River through the grounds of historic Bartram's Garden – a site that was frequently visited by George Washington, Thomas Jefferson and other historical figures.
Philly Brick Fest will be held April 22 and 23 at Greater Philadelphia Expo Center (100 Station Avenue, Oaks, 484-754-3976, www.phillyexpocenter.com).
The huge annual event will occupy 140,000 square feet of space, making it the largest fan-created LEGO event in North America.
LEGO builders from around the globe are invited to showcase their fan-built creations, learn building techniques from one another, interact with other fans, participate in building challenges and activities, and most of all enjoy a fun-filled weekend with like-minded LEGO Maniacs.
The Philly Brick Fest experience is open to all LEGO enthusiasts, interested in connecting with other builders and having their creations on display for the public to enjoy during the weekend public hours of Brick Fest Live.
For the first time, Beyond the Brick, the popular YouTube channel dedicated to the LEGO Fan community will be broadcasting from the event.
Special attractions include "The Brick Show Experience," "Brick Fest Derby," "Collaborative Building Activities," "Robotics," "Inspiration Stations," "Video Game Arena," and "Mini Golf."
Admission to Brick Fest is $22.
The Expo Center will also host the "Northeast Bunfest" on April 22 from 10 a.m.-5 p.m.
"Bunfest" is a fun-filled, family-friendly fundraising event presented by Luv-N-Buns Rabbit Rescue. Visitors are invited to meet the rescue bunnies from all around Pennsylvania and surrounding states.
There will be artisans and crafters selling items suitable for both bunny and human, and bunny educator seminars featuring some of Pennsylvania's best rabbit vets who will teach you all about rabbit care.
There will even be a "Bunny Spa" where experts will trim your rabbit's nails, offer grooming and massage, or just a nice place for your favorite bunny to chill for a while.
There will also be a photographer taking bunny portraits as a memento of your visit to Bunfest.
There is a big event for specialized memorabilia collectors this weekend — the Philly Non-Sports Card Show.
The event will be held on April 22 from 10 a.m.-5 p.m. and 23 from 10 a.m.-3 p.m. at Merchants Square Mall (1901 South 12th Street, Allentown, 717-238-1936,http://phillynon-sportscardshow.com). Tickets are $8 — $14 for a two-day pass.
There are two basic categories of trading cards — sports cards and non-sports cards. Sports cards depict athletes at all levels. Non-sport cards offer so much more. There are card sets dealing with music, movies, politics, nature, pop culture and history.
For more than a century, non-sport trading cards have documented trends in pop culture – providing people with history lessons provided by small, rectangular pieces of cardboard. Some of the most recent issues are "Minecraft," "Star Wars: The Force Awakens," and "Minions."
Twice each year, collectors from across the country come together in eastern Pennsylvania for this very special event. Now in its 34th year, the event is the oldest show of its kind in the country. This weekend's extravaganza, which will be held Saturday and Sunday at the Merchants Square Mall in Allentown, is the 64th edition of the show.
Many of the hobby's top manufacturers will have exhibit booths at this weekend's show and will be distributing free promo cards. There will be a huge array of non-sport cards, sets, singles, wrappers, chase cards, promos, and related memorabilia.
Visitors to Peddler's Village (Routes 202 and 263, Lahaska, 215-794-4000, http://peddlersvillage.com) can enjoy the site's annual "Spring Fling," which will be held on April 22 and 23 from 10 a.m.-6 p.m. each day.
"Spring Fling" attendees can savor local seasonal foods, check out the "Home & Garden Displays," and treasure hunt for an original handcrafted work at the Artisans Market.
Other activities include inflatables for kids, a "Musical Flash Mob," boardwalk-style food, a presentation by the Bucks County Beekeepers Association and an exhibit by the Bucks County Audubon Society Booth called "Nature's Recyclers."
Live entertainment will be provided by The Overtones, Rendition Jazz Band, Galena Brass Band, Mike Brill's Spinning Straw, Toby Mochel and a Few Good Men, Council Rock High School Musical Flash Mob, BC Discovery Dance Theater Arts Company, Tino & Ashley and Nassau Brass.
The event, which features free admission and free parking, will be held rain or shine.
The annual Reading Craft Beer Festival is scheduled for April 22 from 1-5 p.m. at the Santander Arena (700 Penn Street, Reading, http://www.readingbeerfest.com, 800-745-3000).
More than 100 beers featuring an amazing array of types, flavors and colors, will be available for unlimited tastings. There will be concessions and vendors on the concourse and arena floor.
Tickets are $45 and include a commemorative sampling glass. All attendees must be at least 21with no exceptions. VIP tickets, which include exclusive hors d'oeuvres and beer pairings in the skybox as well as special events like breakout sessions, are $65.
Tickets for designated drivers are $20 and include admission to the designated driver lounge with games, snacks and non-alcoholic beverages. If you buy four or more VIP tickets, your designated driver is free.
Gilbert & Sullivan and the Ardensingers go together like beef and beer or peanut butter and jelly — and they have the history to prove it.
The Ardensingers have been presenting the works of Gilbert & Sullivan continuously since 1948 at their historic Gild Hall (2126 The Highway, Arden, Delaware, 484-319-2350, www.ardensingers.com).
From April 22-29, the Ardensingers are performing Gilbert & Sullivan's "The Grand Duke" — one of the team's legendary musical comedies.
"The Grand Duke," which is also known as "The Statutory Duel," is the final Savoy Opera written by librettist W. S. Gilbert and composer Arthur Sullivan.
It premiered at the Savoy Theatre on March 7, 1896, and ran for 123 performances. Despite a successful opening night, the production had a relatively short run and was the partnership's only financial failure. Consequently, the two men never worked together again.
In "The Grand Duke," Gilbert and Sullivan come full circle — back to the theme of their first collaboration, "Thespis" in which a troupe of actors take political power.
The plot hinges on the misinterpretation of a 100-year-old law regarding statutory duels (decided by drawing cards). The baffled leading man of the troupe, Ludwig, spearheads the rebellion against the hypochondriac, miserly Grand Duke and becomes engaged to four different women before the plot is resolved.
The stage direction for the Ardensingers' production is being handled by Kate Neally with Music Director Alan Paller conducting the accomplished orchestra.
Performances are scheduled for April 21, 22, 28 and 29 at 8 p.m. and April 23 and 29 at 2 p.m. Tickets are $20 for adults, $17 for seniors and $7 for children.