By Nancy Plummer, Columnist, The Times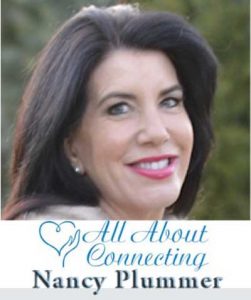 Ok…so, it's been a baffling few months weather-wise, but let me assure you now that Spring is definitely here, and love is in the air! From tulips, azaleas, and pink dogwood trees painting our landscape with such romantic colors and aromas, and seemingly every animal in the Kingdom chasing females around to procreate, it's no surprise we mere mortals are feeling a burst of romantic and sexual energy and scrutinizing everyone who walks past us as a potential mate.
So, get off your butt, preen your feathers, and get yourself a date and start enjoying life!
Seriously, Consumer Reports just put out a fascinating report on the most popular dating sites, apps and online dating in general. As we at All About Connecting have always been saying, and Consumer Reports verified, online dating really does work!
So many of our clients over 50 are fearful that there aren't enough suitable partners using online dating or apps. Yet, In fact, the most recent study by the Pew Research Center found that people over 50 are the fastest growing population to be using online dating sites and apps. Moreover, Consumer Reports surveyed approximately 115,000 online dating subscribers and verified for us that our own surveys with our clients make the same exciting conclusions; although, actually, with our revolutionary process to dating, our online dating success rates are much higher. So, what are you waiting for? Here below are three great reasons to start today!
Consumer Reports found that out of the 115,000 subscribers they asked that used online dating services, 44% are now married or in a serious long-term relationship. At All About Connecting, our statistics show about 80% success rate of marriage or long-term relationship from using online dating. For us that includes all ages from 21 to 80. Please remember, that we offer significant coaching and picture taking, that allows our clients a much better advantage at being successful. Either way, 44% is a very hopeful percentage, and certainly a great reason to invest the time and money into trying online dating either for your first time or even your fourth time. Spring time is always the best time of the year; similar to real estate.
Consumer Reports verified our findings that Match.com is the best pond to fish in because it has the most subscribers and its audience is "singles ages 30+ ready to settle down." So, unless you are devout Catholic, in which I would suggest you use Catholic Match, or are looking for only a Jewish partner, in which I would suggest both Match and JDate (since all of my Jewish clients thus far have actually met through Match even though they were both on the two sites), or if you are truly just looking for fun hookups, in which I would suggest the free app Tinder (not to say that there haven't been lots of our clients who have actually used Tinder and are now in a committed relationship.) We at All About Connecting truly believe in starting with Match.com and expanding on to other sites, as long as you can keep up with all the correspondences.
As James Taylor's (who is 69 years old btw), song "Shower the People You Love with Love" reminds us all:
"Tell me, how can you stand there with your broken heart ashamed of playing the fool?
One thing can lead to another; it doesn't take any sacrifice…
Tell me, what you plan to do with your foolish pride when you're all by yourself alone,
Once you tell somebody the way that you feel, you can feel it beginning to ease…
Make it rain, love, love, love, is sunshine…"
Most of our clients are so scared of rejection, so scared to share themselves and open up to strangers, so scared of rejection, that they would rather not even try, or very quickly give up after a few weeks and just be alone. They actually believe that love will just come along when they least expect it. But when did anyone ever get what they wanted without working for it? More importantly, when did anyone ever find love when their hearts were closed? So, let go of "your foolish pride when you're all by yourself alone," and get out in the world of dating and "tell somebody the way that you feel," and you will feel it beginning to ease."
We wish you the best of luck and beg you to have a great attitude during your dating journey. You'll be surprised how much fun you can have, especially if you just let yourself keep living out James Taylor's message: "Shower the people you love with love, show them the way that you feel. Things are going to be much better if you only will…"
*In loving memory of Winifred "Winnie" Wine who entered into rest April 22, 2017
Nancy Plummer, M.Ed
All About Connecting
Premium Dating Coach/Life Strategist
610-425-7781
allaboutconnecting@gmail.com