By Denny Dyroff, Staff Writer, The Times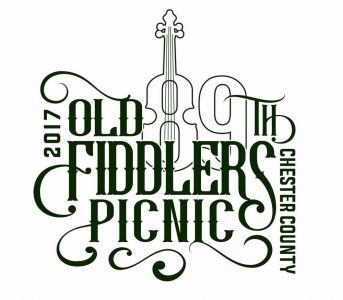 It's time for some "fiddling around" this weekend.
The Chester County Old Fiddlers' Picnic (Hibernia County Park, off Route 340, Wagontown, 610-383-2812, http://dsf.chesco.org/ccparks) is scheduled for August 12. The annual Picnic is celebrating its 89th anniversary this year.
Known originally as the "Chester and Delaware Counties' Old Fiddlers' Picnic," the event began at Crystal Springs Park outside Parkesburg and later moved to Lenape Park, which is located just south of West Chester. When Lenape Park closed in 1980, Chester County Parks and Recreation offered to sponsor the Picnic at Hibernia County Park.
This year's edition of the festival will run from 10 a.m.-4 p.m. with Open Stage registration beginning at 9:15 a.m. Remington Riders, the Old Fiddlers House Band, will kick things off with a performance from 10-11 a.m.
When Remington Riders' set concludes, a constantly changing lineup of individuals and groups will take the stage and perform for the audience. Solo acts are allotted 10 minutes on stage while groups get as much as 20 minutes to perform.
The primary source of live entertainment will be the sounds emanating from the stage but there will also be plenty of other musical offerings throughout the park — especially Fiddlers' Field.
In the wooded areas near the stage, there will be impromptu jams taking place throughout the day. Musicians of all ages are invited to stroll along the lane and join in with other musicians to make fresh, live music of their own.
The festival features a full slate of fun activities including square dancing, country line dancing, wagon rides and kids' activities. Guided tours of Hibernia Mansion, the 19th century Ironmasters' home will be available at 1, 2, 3 and 4 p.m. A donation of $3 per person is requested for the tour.
There will also be a large number of vendors with crafts, beverages and food items such as BBQ, sandwiches, ice cream, fries, funnel cakes, smoothies and more. Lawn chairs and blankets are encouraged. Tents, canopies and alcohol are prohibited.
There will be free admission but parking is $5 per car. Rain date is August 14.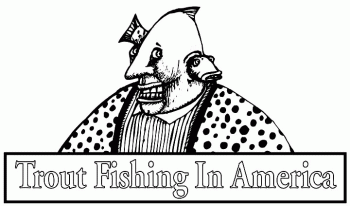 The Eagleview Summer Concerts on the Square at Eagleview Town Center (Wharton Boulevard, Exton, www.ineagleview.com) will host Trout Fishing in America and Dana Louise & The Glorious Birds on August 15; Kendal Conrad, Harrow Fair and Ian Foster oin August 22; and Southern Avenue and No Good Sister on August 29.
Another opportunity for outdoor music can be found for a few more weeks at the Shipyard Summer Concert Series (Dravo Plaza, Justison Street, Wilmington Riverfront, Wilmington, Delaware, 302-425-4890,www.riverfrontwilm.com).
This free concert series is held on Thursday evenings from 7-8:30 p.m. under the colored cranes at Dravo Plaza which is located on Justison Street next to the Shipyard Shops.
The remainer of the 2017 schedule is: August 17, Ace of Hearts (Funk, Blues & Jazz); August 24, Gerald Chavis (Contemporary Jazz, Rhythm & Blues); and August 31, The Crawdaddies (Cajun, Zydeco, Roots, Rock and Reggae).
Musikfest (downtown Bethlehem, 610-332-1300, www.musikfest.org) has established itself as one of America's top annual music festivals.
Musikfest, which is running now through August 13, is an event that offers big name headliners as well as a wide variety of folk, rock, pop and ethnic music acts. It also sports some impressive numbers.
The festival, which is celebrating its 33rd anniversary this year, features free music performances on most of its indoor and outdoor stages. Musikfest presents over 300 live musical performances and draws over one million people to the Lehigh Valley every August.
The Main Stage at PNC Plaza is the main concert stage at Musikfest and features national touring acts with tickets are required for all shows.
The lineup includes The Band Perry (August 11), Lee Brice and Justin Moore (August 12), and Jethro Tull's Ian Anderson (August 13). There will also be a multitude of free concerts all around the festival grounds.
Musikfest is much more than just festival offering a wealth of music. It also features interactive arts and theater activities for children along with a large number of concessions offering a wide array of food and beverage treats.
There is a water attraction in Philadelphia that is definitely worth checking out – Schuylkill Banks (Schuylkill Avenue and Locust Street Philadelphia,
www.schuylkillbanks.org) Riverboat rides to Bartram Gardens.
Riders can cruise to Bartram's Garden and learn how three generations of the Bartram family helped Philadelphia become a mecca of natural science, education, and government. Their explorations of the wild American frontier not only altered the horticultural landscape of a young America itself, but also Great Britain, Europe, and the rest of the world.
Participants will be able to take a quarter-mile walk up the meadow to see amazing views of the skyline and explore the garden, community farm, and recreational trail. This three-hour tour includes a two-hour stop at Bartram's Garden with guided tour of the 1731 house and Ann Bartram Carr garden.
Snacks and beverages are available for purchase on the boat, and there are picnic tables and a lawn area at Bartram's Garden for those who wish to bring a picnic lunch.
This tour involves a 10-minute walk up the Bartram's Meadow (approximately a quarter-mile) to reach the Garden. Ticket prices, which include guided house tour, are $30 for adults and $17 for children (12 and under). Tours run on select Thursdays, Saturdays, and Sundays from June through October.
If you're looking for an event you can share with your dog this weekend, you're in luck.
On August 12, Chester County Parks is presenting another installment of its "Paws on the Path" at Wolf's Hollow County Park (1399 Schoff Road, Atglen, 610-932-2589, http://chesco.org/1748/Wolfs-Hollow-Park).
The free event is held on the second Saturday of every month.
Participants will be able to take a ranger-led hike with their dogs to get a little exercise and socialization. This event is a great way to meet other dogs and dog people.
There are some rules.
Dogs must keep their humans on a leash. Participants must bring a clean-up bag. They also need to bring water for dog and human because no water is available at Wolf's Hollow.
Canines and their human partners are instructed to meet at 9 a.m. on August 12 at Wolf's Hollow County Park's parking lot off Schoff Road. The hike will get underway at 9:10 a.m.
You can get a look back at another era by attending an event called "Milling Demonstration Days" which will take place on August 12 at Mill at Anselma (1730 Conestoga Road, Chester Springs, 610-827-1906, http://anselmamill.org).
The Mill will be fully operational from 10 a.m.-4 p.m. on the second Saturday of each month.
Visitors to the Mill will be able to meet Anselma's miller and hear him talk about how the gears work and what they do. There will also be interesting technology tours that focus on how different parts of the mill work.
Additionally, there will be special interactive activities for the children — including learning how to sift flour. Kids will also have the opportunity to operate a pump on a smaller water wheel.
The event will run from 10 a.m.-4 p.m. Admission is $5 for adults, $4 for seniors (60 and older) and children (ages 4-14). Active Military and children (under 4) will be admitted free.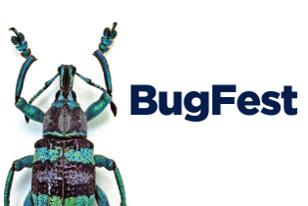 On August 12 and 13, the Academy of Natural Sciences (1900 Benjamin Franklin Parkway, Philadelphia, 215- 299-1000, www.ansp.org) is hosting an annual event that promises to be a lot of fun — unless you suffer from entomophobia (fear of insects).
The Academy's 10th Annual "Bug Fest" features live insects representing 60 different species along with a large and impressive sampling of specimens from the Academy's world-renowned Entomology Collection — a collection that features more than four million insects.
Hundreds of live invertebrates will be on display throughout the museum. — beetles, true bugs, millipedes, centipedes, scorpions, stick insects, cockroaches, caterpillars, tarantulas and other spiders, and more.
Visitors can check out live invertebrates' "gross factors" as they examine blister beetles, venomous spiders and scorpions, millipedes, grasshoppers, and stinkbugs.
Some insects do bad things. There are those who spread diseases such as Zika. And, some insects — like the emerald ash borer — damage plants.
Entomologists from the Academy and the American Entomological Society will be on hand to answer questions about these topics and also to give walking tours outside the museum in search of bugs. Some live invaders and also specimens from the Academy's research collection of more than 4 million insects will be on display.
"Bug Fest," which is free with museum admission, will be open from 10 a.m. until 5 p.m. both days. Museum admission is $17.95 for adults, $14.95 for seniors and $13.95 for children (ages 3-12).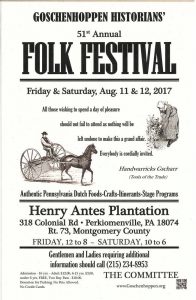 The Goschenhoppen Folk Festival (Henry Antes Plantation, Colonial Road, Upper Frederick Township, 215-234-8953, www.goschenhoppen.org) visits the past but also has a long history of its own. This year, the popular annual event celebrates its 51st anniversary.
Attending the Goschenhoppen Folk Festival is like taking a trip way back in time — back to the 18th and 19th centuries.
The Goschenhoppen Historians presented the inaugural Goschenhoppen Folk Festival in East Greenville 50 years ago and it has steadily evolved into a cherished summer tradition in eastern Pennsylvania.
The festival, which honors the oldest existing Pennsylvania German community in the United States, maintains a strictly traditional atmosphere. There are no amusement games or rides, no commemorative t-shirts or beer mugs, no modern snacks, no ATM machines and no Wi-Fi.
This year's festival, which is being held August 11 and 12, will feature several hundred craftsmen presenting live demonstrations of more than 150 skills of the 18th and 19th centuries.
Dressed in authentic costumes of the periods (many of which are loaned from the Historians' extensive wardrobe), the participating artisans use authentic tools in recreating traditional home skills, trades, pastimes, foods and folk music.
The Historians also display the area's largest collection of traditional foods, crafts, trades, music and folk itinerants.
There will be a variety of old-fashioned foods and Pennsylvania Dutch meals available for purchase at the festival — everything from full dinners to chow-chow and from red-beet eggs to faschnachts (doughnuts served with molasses). The list of tasty beverages for sale includes raspberry shrub, lemonade and birch beer.
The 2017 Goschenhoppen Folk Festival, which has been honored as one of the premier noncommercial folk festivals in the country, will be staged on Friday from noon-8 p.m. and Saturday from 10 a.m.-6 p.m. at the Henry Antes Plantation.
Admission is a $12 donation for adults ($18 for a two-day pass) and a $3 donation for children (ages 6-15).
On August 12, Linvilla Orchards (137 W. Knowlton Road, Media, 610-876-7116, www.linvilla.com) will host its annual Peach Festival from 8 a.m.-7 p.m.
There will be live music provided by Makin' Music. There will also be special appearances by Traveling Train, Honey Bear and Mystery Dog
Additionally, Roasty Toasty will be doing his thing from 11 a.m.-4 p.m. – serving up fresh-roasted corn on the cob brushed with butter and sprinkled with your choice of seven different seasonings.
The schedule features a full slate of family-oriented activities throughout the day including appearances by costumed characters, pony rides, face painting and a crafts area. And, visitors can pick their own peaches starting at 8 a.m.
The theme for 2017 is Campfire Jambore. Linvilla will have a Bean Bag Toss, a Balloon Relay, an Egg Toss and the newest game to its collection, the Donut Game using Linvilla's Own Apple Cider Donuts.
This weekend, Peddler's Village (Routes 202 and 263, Lahaska, 215-794-4000, www.peddlersvillage.com) will be hosting its annual Peach Festival and Summer Sidewalk Sale
Peddler's Village's 2017 Peach Festival will feature a sidewalk art show as well as live music, a stilt walker and the always-entertaining pie-eating contests. As usual, there will be peaches served in all sorts of tasty variations, including peach pies, peach butters and artisanal jams.
Live entertainment on Saturday will be presented by Spinning Straw, Stereofonic, Trinidelphia, Tino & Ashley, and Give & Take Jugglers. Sunday's schedule features The Overtones, Rendition Jazz Band, Give & Take Jugglers, Toby Mochel & A Few Good Men, and The Mango Men.
The site's annual Peach Festival and Sidewalk Sale, which is a celebration of National Peach Month will run from 10 a.m.-6 p.m. on August 12 and 13.
Admission and parking are free. Rain date is August 13.
If you're making the trip to Lahaska in central Bucks County for Peddler's Village's Peach Festival, you might want to also check out the annual New Hope Car Show (New Hope-Solebury High School, Bridge Street, New Hope, 215-862-5665, www.newhopeautoshow.com) on August 13.
In the past, the well-attended annual show features a different lineup of automobile categories on display on Saturday and Sunday. This year, you'll see every marque on Sunday, August 13.
Featured vehicles include Senior Cars, Vintage Antique, Cars of the 20s-30s, Cars of the 40s-50s, Cars of the 60s, Cars of the 70s, Cars of the 80s, Alfa Romeo, Antique Motorcycles, Antique Trucks, Auburn/Cord/Duesenberg/Pierce-Arrow/Packard, Austin Healey,
BMW, Corvair, Corvette, Datsun/Nissan, DeLorean, Foreign Exotic, French Connection, High Performance Production, Historically Preserved Original, Jaguar, Lincoln Continental: Lincoln, Continental, Zephyr, and Lotus.
The huge line-up also includes Mercedes Benz, MG, Military Vehicles, Model   "A" Fords, Model "T" Fords, Morgan, Mustang, Porsche, Professional Specialty Cars, Racing Cars-Domestic, Racing Cars-Foreign, Rolls-Royce/Bentley, Shelby, Specialty Class Cars, Studebaker, Thunderbird, Triumph, TVR, Viper, Volkswagen, and Woodies.
Because the show is conducted on school grounds, consumption of alcoholic beverages and the use of tobacco products in any form are strictly prohibited at all times.
Admission to the show is $10 for adults and $5 for seniors (age 62 and older). Children under 12 accompanied by an adult are free as are active duty military and their dependents. Parking is free.
On August 12, Beech Community Services will present the 11th Annual Jazz on the Ave Music Festival (Broad Street and Cecil B. Moore Avenue, Philadelphia, 215-763-8868, www.jazzontheavephilly.com) from noon-8:30 p.m. Patty Jackson and Dyana Williams will host the event.
The main stage lineup will include, Jeff Bradshaw & Friends with Eric Roberson, Frank McComb, Glenn Lewis and Tony Rich, along with Philly's own, Mozaic Flow and Suzann Christine. The Philly Soul Stock stage will feature seasoned and up-and-coming, young artists.
The free festival will take place along a four-block stretch on Cecil B. Moore Avenue from Broad to 17th streets. The festival will feature health and wellness screenings, HIV/AIDS testing, moon bounce, clay sculpting, mechanical bull riding, vendors, food, giveaways and live music on two stages.
On August 12, Laurel Hill Cemetery (3822 Ridge Avenue, Philadelphia, 215-228-8200, www.thelaurelhillcemetery.org) will host its Ninth Annual Service Car and Hearse Show.
Mohnton Professional Car Club welcomes owners of any and all hearses, ambulances, flower cars, limousines and other service vehicles to participate in the show that will take place on the grounds of Laurel Hill Cemetery. Featured will be an eclectic collection of rare cars that include FYNLRYD, a 1947 modified Pontiac Superior, which is believed to be one of just two known street rod hearses on the East Coast.
Punk/Goth bands The Undead and Night Gallery will provide festive entertainment throughout the afternoon.
The Hearse and Professional Vehicle Show, which is free and open to the public, will take place on Saturday, August 12 from 10 a.m.-4 p.m. — rain or shine. Refreshments will be available for purchase.
Visitors can enter through Laurel Hill's Gatehouse at 3822 Ridge Avenue, Philadelphia. Free parking is located in the lot across the street from the Gatehouse.
There will be an attractive ethnic festival this weekend at Penn's Landing (Delaware Avenue, Philadelphia, 215-922-2FUN, www.delawareriverevents.com). On August 12, Penn's Landing will host the 23rd annual Festival of India.
The Festival of India, which is sponsored by the Council of Indian Organizations of Greater Philadelphia, is a festive event that features a day full of food, music, dancing and crafts.
The event, which runs from 1-6 p.m., will host a variety of vendors who will be selling a wide array of traditional Indian arts and crafts including clothes, jewelry, music, and other cultural items.
Traditional Mahandi work (artistic design) will be available to be done on both hands and feet. Mahandi or hands painting is an old Indian custom still have been practiced by most of the Indian women.
A wide selection of food items from both North and South India will be available for purchase, including such taste treats as tandoori chicken, tikka masala, kolkata rasgulla, gujarati dohkla, chennai idli, korma and an array of Indian breads including chapatti, poori and nan.
On August 12, it's time for Second Saturday in Historic Germantown (www.freedomsbackyard.com).
The 16 sites and museums of Historic Germantown will open their doors on Saturday for the neighborhood's seasonal Second Saturday event.
Visitors can enjoy self-guided tours of the area's historic places including Johnson House Historic Site (a stop on the Underground Railroad), Cliveden (the location of the Battle of Germantown), Wyck (a beautiful garden) and more.
The event will run from noon-4 p.m. on August 12 at various locations around the 6300 block of Germantown Avenue.
If you're a beer drinker, there is nothing better than a frosty mug of malt beverage on a hot summer afternoon. That's why there is a proliferation of brew festivals every summer.
Beer aficionados can quench their thirst for fresh suds this weekend at two brew fests in the area.
Brooklyn Brewery's Beer Mansion will set up at The Woodlands Mansion & Cemetery (4000 Woodland Avenue, Philadelphia, www.brooklynbrewerymash.com) on August 11 and12.
Throughout the mansion, guests can visit five tasting rooms with themes like Tart of the Tropics and The Forest. Participants can enjoy live entertainment, games, and local food delicacies.
Tickets, which are $65 per person, include unlimited tastings from Brooklyn Brewery (of course), as well as local Philadelphia-area breweries like Saint Benjamin Brewing Company, Evil Genius Beer Company, Free Will Brewing Co., Levante Brewing Company and Kurant Cider.
In Wilmington, the inaugural Downtown Brew Fest will be held on August 12 at the Chelsea Tavern (821 North Market Street, Wilmington, Delaware, www.chelseatavern.com).
The event, which will run from 1:30-7:30 p.m. on the 800 block of North Market Street, will feature a wide variety of beers on tap, including Delaware breweries such as Big Oyster, Dogfish Head and Twin Lakes.
Live musical entertainment will be provided by the Spinto Band, D. Corridori and Groove Brothers Inc. Tickets are $35.