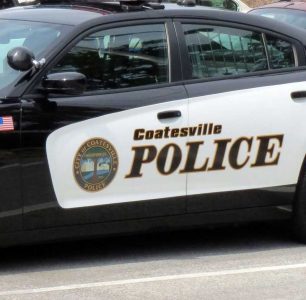 COATESVILLE – City police say they've arrested a city man in connection with a series of Neo-Nazi inspired hate graffiti incidents in the city and in neighboring Valley.
George F. Rissell, 24, was taken into custody after police received an anonymous tip via a smart phone app, combined with images from various surveillance cameras near where the incidents took place. With that information, police were able to zero in on the suspect's vehicle and his identity.
The accused was arrested and charged with multiple counts of ethnic intimidation and criminal mischief, and arraigned before Magistrate Gill at 2140 hours. The accused was remanded to Chester County Prison in lieu of $150,000.00 cash bail.
Police said that Rissell has claimed past association with with supremacy and hate groups.
Various locations — including a car — were vandalized with hate messages and various White Supremacist/Neo-Nazi codes late Tuesday night, bringing widespread condemnation.
In a somewhat unusual step — police releases tend to only include the facts of an incident — police, City Council and the city Administration condemned the incidents:
"The City of Coatesville Council, Administration, and Police Department would again like to declare our disgust with the racially insensitive nature of the graffiti that the accused placed around the City and Valley Township," the release said. "These beliefs are not held by the concerned citizens of both municipalities, and (alleged) conduct such as that displayed by accused Rissell, will always be met with immediate public condemnation, and aggressive investigation by the City of Coatesville Police Department, followed by prosecution to the fullest extent of the law in partnership with the Chester County District Attorney's Office."
Officials also wanted to remind residents how important — as was with this case — it is for citizens to step up and offer information on possible criminal activities. As a reminder, anonymous tips can be submitted via text message to TIP411 (847411) with key word "Coatesville" or b  downloadin  the Coatesville Police Mobile Phone App.