By Dr. Stephanie McGann, DMD FAGD, Columnist, The Times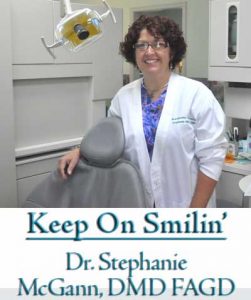 Spend time on Facebook or any other website for that matter and you will see advertisements for do-it-yourself dentistry. Just today I was solicited for mail-order orthodontics and do-it-yourself veneers. No dentist needed.  These might seem like a great way to save money and get a nicer smile – but there are plenty of pitfalls.
Some of the companies that are advertising these services expect the patient to take their own impressions at home.
As a veteran of taking tens of thousands of impressions I can say that very few people could get a good impression on their own.  I have tried to take one on myself, and to be honest I struggled plenty.  All of these services are being offered without any concern for the patient well being. No exam means there is no chance to identify contra-indications. So those great aligners that you bought mail order to straighten your teeth can cause problems if a tooth has had a root canal, has a cavity, has underlying gum disease is ankylosed or supported by an implant, just to name a few. Not every orthodontic problem can be addressed with aligner treatment.
Because of the dangers of some of these mail order dental therapies our state is looking strongly at new regulations to protect the public from potentially harmful products.
The do –it –yourself veneers are really scary.
The first option is really called a Snap-on smile, Secret Veneers, Press on smile or even Perfect Smile veneers sold on Amazon. These are not veneers although that is how they are advertised. They are a removable one piece press or glue on covering to make teeth look better. However, they are for show. You cannot eat with them in place. While someone suggested they were great for those wedding day photos, I would not be surprised if they came loose during the infamous kiss-the-bride moment. Would you want to risk having your teeth fall out? Not to mention that they make your teeth look fatter, longer and bulkier.
The second option is a bag of tooth shaped plastic coverings, shipped directly from China – that look suspiciously like cheap fake fingernails sold to 12 year old girls. The DIY You-Tube video shows you how to file them with a nail file and superglue them to your teeth.
Folks, this is a waste of money. Superglue is not meant for your teeth. In some cases the application of superglue to a tooth with a cavity or large chip the result could be a raging toothache followed by a root canal. Superglue veneers may glue teeth together making flossing impossible these will not make teeth look straighter, just thicker and fatter. Super Glue injuries are bound to happen. I can only imagine what will happen when all these plastic tooth pieces are swallowed; just thinking this is a very poor idea.
I know we all want to look great and stay on a budget but making your smile a DIY project is not a healthy plan. Dentists and Physicians spend years training and learning how to provide the appropriate and ethical care to patients. YouTube is not a substitute for a trained licensed professional.
When it comes to your health be smart and use licensed professional services.
Dr. Stephanie McGann, who has more than two decades of dental practice experience, is a resident of the Unionville area and along with her partner, Dr. Marie Scott, operates The Brandywine Smile Center, a family-friendly dental practice in Concordville. Dr. McGann has opened a new practice in Valley Township, Rainbow Valley Dental. She is the current President of the Chester/Delaware Dental Society and she is a Fellow of the Academy of General Dentistry.