By Denny Dyroff, Staff Writer, The Times
The Coatesville Christmas Parade, a holiday classic that is Chester County's largest hometown parade, will be held on December 2 in downtown Coatesville.
The festive annual parade will get underway at 10 a.m. with Strode Avenue and Lincoln Highway as its starting point. The parade will conclude at the performing and judging area at 11th Avenue and Lincoln Highway.
Originally a community project in the 1960s, the parade was taken up by the Jaycees back in the 1970s. Its popularity started to wane in the 1980s but then the community parade experienced a resurgence in interest in the 1990s. It has been going strong ever since.
This year, more than over 125 entries will entertain spectators along the Lincoln Highway. Featured attractions will include everything from dancers swirling their batons to local contractors showing off their custom-crafted floats.
Honored this year will be the 2017 inductees to the Coatesville High Sports Hall of Fame, along with recently retired educators from the Coatesville Area School District. Churches will participate by marching in the parade and by singing Christmas carols on Lincoln Highway prior to the start of the parade. There will also be dance academies, cheerleading groups, hip-hop dancers, baton twirlers and larger-than-life cartoon characters.
An automotive competition featuring Antique, Classic and Modified autos will be competing for prizes. Other competitions will include Best Appearing Fire Apparatus, Best Appearing Police Vehicle, Best Appearing Float sponsored by a non-profit organization,
Best Appearing Float sponsored by a for-profit organization and Best Appearing Group.
The Best Appearing Personality always goes to Santa Claus. At this year's parade, Santa will bring up the rear – waving to the crowd while riding on a Coatesville Fire Department truck.
Kennett Square (historickennettsquare.com) will swing into full holiday mode with a variety of activities this weekend.
The 2017 Kennett Square Holiday Village Market will be held at The Creamery of Kennett Square (401 Birch Street, Kennett Square) on December 2, 3, 9 and 10 from 11 a.m.-6 p.m. each day.
Visitors will be able to shop from 80 artisan and vintage vendors at the market. In addition to finding gifts for the holiday, they also can make a Christmas tree purchase from fresh tree vendors at the market. And, they can quench their thirst with mulled wine and hot cider as well as enjoy food from three participating food trucks.
Other special activities include an ice sculptor on Saturdays, photos with Santa on Sundays, wreath-making workshops, live reindeer on Sundays and live music by 12 different bands over the four-day run.
The Kennett Holiday Village Market was initiated by Kennett Township supervisor Whitney Hoffman who wanted to bring the essence of vibrant European Christmas Market to the Kennett area.  The goal of the Holiday Village Market to give local and regional artisans an opportunity to sell their wares, to provide visitors another great reason to visit Kennett Square and to highlight the revitalization of the Birch Street corridor.
Another way to get in the holiday spirit in Kennett Square is by taking a special seasonal ride. Horse-drawn carriage rides will be offered in downtown Kennett Square on December 3, 10 and 17 from noon to 3 p.m. The rides begin on State Street at Union Street and tickets are $5.
On December 2, the Kennett Symphony (http://kennettsymphony.org/) is presenting "Pops Goes the Holiday with Special Guest Philadanco" at 7:30 p.m. at Unionville High School (750 Unionville Road, Kennett Square).
Under the guidance of Conductor and Music Director Michael Hall, the talented symphony from Chester County will perform a program of seasonal songs that will fill the air with the magic of the holidays. Special guests Philadanco and the Kennett Symphony Children's Chorus will join the Symphony for this holiday concert.
Tickets are $58, $50, and $35 with student tickets available at $10.
Also on Friday, Kennett Square is presenting its First Friday Art Stroll.
The Art Stroll is a monthly celebration of the local art scene as it is showcased in the galleries, shops and restaurants throughout town.  Residents and visitors alike are encouraged to stroll the tree-lined streets and browse the many businesses that stay open late.  Most every store in Kennett Square will highlight the work of a local artist, with food, wine and music.
The Art Stroll runs from 6-9 p.m. After 5 p.m., visitors to Kennett Square can enjoy free parking anywhere in the parking garage and at any street meter.
The City of Lancaster will also celebrate First Friday from 5-9 p.m. at a variety of venues in the center of town.
One of the highlight's of this month's "First Friday" celebration will take place at t (42 North Prince Street, Lancaster).
"We The People" is the Ware Center's First Friday program in which local artists representing the great mosaic of the community offer presentations of their work in performance genres as diverse as our nation. Twelve five-minute mini-performances build on a single theme captured in Gray's paintings that will be on exhibit through January. Performance begins at 7 p.m.
Longwood Gardens (Route 1, Kennett Square, 610-388-1000, www.longwoodgardens.org) is in full holiday mode with its 2017 edition of "A Longwood Gardens Christmas."
The festive holiday display at Longwood Gardens, which opened on Thanksgiving Day and is continuing through January 7, features spectacular lights, lavish decorations, holiday music and colorful displays featuring thousands of brilliant poinsettias, brightly-decorated trees and fragrant flowers — all inside the heated Conservatory.
The colorful annual event, which appeals to the entire family, also has a lot of outdoor attractions such as fountain shows and nighttime light displays. Longwood's Christmas celebration also includes a wide array of seasonal music — holiday concerts, organ sing-alongs and carillon performances.
The organ sing-alongs will be featured in the Ballroom either three or six times a day. There will also be performances by choirs and musicians almost every evening throughout December.
When darkness arrives at Longwood, a night-blooming garden of more than a half-million lights strung on close to 100 trees with approximately 40 miles of wire comes to life. A carillon with 62 cast bells plays holiday music every half hour during daylight hours. Longwood's Open Air Theatre fountains dance to holiday music each half hour — temperature permitting.
As always, admission by "Timed Ticket" — tickets issued for specific dates and times. Timed ticketing limits the number of people in the Gardens at any given time and allows guests to enjoy minimal lines and a better viewing experience. There are different prices for "Peak" and "Off Peak" times.
Visitors to "A Longwood Gardens Christmas" can also check out Longwood's Garden Railway — a whimsical display set into motion with G-scale model trains. This is the 16th year that the railway has delighted visitors with special water features and custom trains traveling in and out of bridges and tunnels.
Admission to Longwood Gardens is $23 (non-peak), $30 (peak) for adults, $20/$27 for seniors (ages 62 and older) and $12/$16 for students (ages 5-18).
For years, a popular traditional holiday event has been Candlelight Christmas in Chadds Ford presented by the Chadds Ford Historical Society (www.chaddsfordhistory.org). For more than three decades, it has been one of the area's highly anticipated holiday events.
But, nothing lasts forever.
This year, the Chadds Ford Historical Society is introducing a new event for the holiday season, "Twilight Tidings at the Tavern," which is scheduled for December 2 the Society's Barns-Brinton House (630 Baltimore Pike, Chadds Ford).
Guests are invited to celebrate the season with a historic look at the four major holidays of the 18th century winter season — Christmas, New Year's, Twelfth Night and Candlemas.
"Twilight Tidings at the Tavern" will be a 90-minute open house where visitors can explore the 1714 tavern at their own pace, meet guides in authentic colonial clothing, learn about holiday celebrations of the 18th century, and enjoy samples of historic holiday foods and complimentary beverages like wassail, mulled wine and punch.
Winter in colonial America gave people a chance to relax and unwind following the harvest and butchering seasons. People often took time to travel and visit friends and relations during the winter months.
Unlike the 21st century, the winter calendar of the 18th century was not dominated by the celebration of Christmas. New Year's and Twelfth Night were often more festive, and raucous, holiday celebrations that may last for days. "Twilight Tidings at the Taverns" is a unique historic experience featuring the recreation of four distinct 18th century holiday celebrations.
There are two tour times available – 4 and 6 p.m. Tickets are $20 for either.
"A Brandywine Christmas", which runs now through January 7 at the Brandywine River Museum (Route 1, Chadds Ford 610-388-2700, www.brandywinemuseum.org), is an annual event that is fun for the entire family.
The museum's ever-popular "critter" ornaments will be used to decorate holiday trees, wreaths and diorama settings throughout the museum. The intricately designed ornaments are made from all-natural materials by museum volunteers and have found homes on trees at the White House and the Smithsonian Institution.
The well-attended annual "Critter Sale" is scheduled for December 1-3 from 9:30 a.m.-5 p.m. each day.
"A Brandywine Christmas" also features an extensive O-gauge model. Five moving trains operate at all times and include a 60-car freight train winding past a village, stone quarry, oil refinery, mountains, Herr Foods plant, running waterfall and animated skating scene.
Special events include "Carols Concerts" throughout December, "Children's Christmas Party" on December 6, "Breakfast with the Trains" on December 9 and 16, "19th Century Christmastide" on December 9, and "Terrific Trains Family Program" on January 6.
Admission is $18 for adults, $15 for seniors (65 and older) and $6 for children.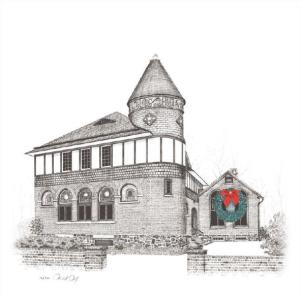 On December 2, the West Chester Public Library will hold its Seventh Annual Holiday Home Tour, featuring 10 homes in the southwest quadrant of the borough, along with a special addition. These homes, all new to the tour, will be beautifully decorated for the holidays.
The tour will run from 11 a.m.-3 p.m. Tickets are $30. All proceeds benefit the West Chester Public Library.
On December 1, it will be time for the QVC West Chester Christmas Parade on Market Street (610- 696-4046, http://www.downtownwestchester.com).
The 38th Annual Christmas Parade which is scheduled to get underway at 7:15 p.m. with the lighting of the borough's Christmas tree. Runners in the Jingle Elf Run will take off at 6:30 p.m. The parade will highlight the arrival of Santa in his sleigh.
As an added attraction, there will be a "Holiday Village" from 5-9 p.m. on High Street between Gay and Market streets.
The Greater West Chester Chamber of Commerce's 38th Annual Christmas Parade is presented by QVC and will be televised on Christmas Day.
Claymont Christmas Parade and Holiday Happenings (www.claymontchristmasparade.com) are slated for December 2 in nearby Claymont, Delaware from 10 a.m.-2 p.m.
Visitors can see Santa arrive on a fire truck, hear high school bands, see Mounted Police horses, and look at lots of fire trucks, floats and more. And, they are invited to help decorate the infamous "Claymont Christmas Weed."
The parade route is along Philadelphia Pike from Maple Lane to Darley Road in Claymont.
Ascension Church (3717 Philadelphia Pike, Claymont) will host "The Christmas Weed Ceremony" after the parade.
Hot chocolate and cookies will be served and craft items will be for sale. From 11 a.m-12:30 p.m., the 11th annual Gingerbread House Contest will be held at Claymont Stone School (3611 Philadelphia Pike, Claymont).
The "Post Parade Celebration" will be held from noon-2 p.m. at Claymont Library (400 Lenape Way, Claymont). After watching the Claymont Christmas Parade, guests can cast their votes for the Stone School Gingerbread House Contest and enjoy light refreshments, a visit from Santa and the festive holiday sounds of the Sinerjé Clarinet Quartet.
The Phoenixville Holiday Parade (https://phoenixvillechamber.org) is set for December 1 with a scheduled 7 p.m. starting time
The parade will take place between the 100 and 300 blocks of Bridge Street. It will start at Borough Hall and conclude on the 100 Block of Bridge Street.
The tree lighting is directly after the Holiday Parade at Renaissance Park (Corner of Bridge St. & Main St.)
610-933-3070
The Phoenixville Candlelight Holiday Tour will be conducted on December 2 from 3-7 p.m.
Tickets, which are $25, can be purchased the day of the tour beginning at 2:30 p.m. Patrons may pick up their programs day of tour at Sts Peter and Paul Ukranian Catholic Church (301 Fairview Street, Phoenixville)
The tour features beautifully decorated homes, houses of worship, and adaptive re-use.  There will be several homes near downtown for those who wish to make this part of the tour a walking tour.
From December 1-3, Hibernia Mansion (Hibernia County Park, off route 340, Wagontown, 610-383-3812, http://dsf.chesco.org/ccparks) will host its annual Candlelight Tours. The tours will be presented from 6:30-9 p.m. on Friday and Saturday and 2-4 p.m. on Sunday.
The event at Hibernia Mansion features costumed tour guides portraying former mansion owners and their families. The 19th-century mansion will be decked out for the holidays. Live music will be performed in the Ballroom and Santa will entertaining friends each day.
The mansion, as seen today, reflects the changes of lifestyle and social status of its various owners over the past two hundred years. At the turn of the 20th century, Hibernia became the country estate of Colonel Franklin Swayne, a wealthy Philadelphia lawyer, who added extensive renovations and lavish entertainment for his personal pleasure. Among those pleasures was his love of fox hunting.
This year's theme is "Christmas Sweets and Good Things to Eat."
The tour includes a stop in the Mansion's Ballroom, where the Friends of Hibernia will provide holiday cheer and refreshments. Admission is $5 per person with children under 12 admitted free.
If you're looking for a holiday event with an old-time vibe, then Malvern's Victorian Christmas (610- 296-9096, www.malvernsvictorianchristmas.org), which will be held this weekend in several locations around downtown Malvern, is something you should check out. The 2017 edition of Malvern's annual "Victorian Christmas" will be held December 1 from 5:30-8:30 p.m. and December 2 from 10 a.m.-2 p.m.
The festive, family-oriented event will begin with the Christmas tree lighting at 6 p.m. in Burke Park and continue through 9 p.m. at sites all around downtown Malvern. There will be a variety of shows and performances on Friday evening along with several "Open Houses" by area merchants in the downtown area of the borough.
There will be special musical performances throughout town, strolling street performers, children's shows, horse and carriage rides and hayrides. As an added attraction Friday night, Santa Claus will be available to hear children's gift wishes under the pavilion at Burke Park.
Saturday's schedule includes "Photo with Santa & Mrs. Claus" (Malvern Federal Savings Bank), a performance by the Villa Maria Academy Carolers (King Street), and "Make a Gingerbread House" (Malvern Bible Chapel).
Additionally, there will be free horse and carriage rides (10:30 a.m.-1:30 p.m.), pony rides (11 a.m.-2 p.m.) and hayrides (11 a.m.-3 p.m.) The carriage rides board on King Street while the hayride takes place at Malvern Federal Savings Bank. The pony rides start at Gallagher's Auto Service on King Street.
Kimberton Waldorf's 41st Annual Craft Show, which features sales booths and other family activities, will be held December 1 and 2 at Kimberton Waldorf School (410 West Seven Stars Road, Phoenixville, 610-933-3635).
The show will include more than 70 top-flight artisans presenting textiles, jewelry, pottery, woodwork, handmade toys, and gourmet foods.
The gala opening on Friday evening attracts many eager shoppers. Events on Saturday include lunch, an elegant tearoom with musical entertainment, and a number of children's activities.
Tickets for the 'Preview Night," which runs from 6-10 p.m., are $10. Saturday's activities run from 9 a.m.-4 p.m. and admission is $5.
If your list of holiday gift recipients includes someone who collects sports cards or sports-related memorabilia, then you should definitely check out this weekend's Philadelphia Sportscard & Memorabilia Show, which is running December 1-3 at the Valley Forge Casino Resort (First Avenue, King of Prussia, 610-524-0822,http://www.phillyshow.com).
The show will feature dealers from all over the country who will be selling a wide array of sports-related items such as game-used equipment, autographed balls, posters, magazine, game programs and autographed pictures. Visitors can also find a huge selection of collectors' supplies including protective sheets, binders, ball protectors and display cases.
A major focus of the show will be trading cards — especially baseball cards. Show attendees will be able to find everything from ultra-rare vintage Babe Ruth and Mickey Mantle cards to the latest releases. All sports will be represented, including football, soccer, ice hockey, basketball, wrestling, Olympics and UFC.
The show will also have a large number of live guests — autograph-signing guests — including Mike Schmidt, Steve Carlton, Lenny Dykstra and Pete Retzlaff.
Admission to the show is $8 per day or $18 for a weekend pass.
Bitter is not better. No matter how hard some national coffee shop chains try to convince you otherwise, there is no truth to the statement "bitter is better" when referring to fresh-brewed coffee. Bitter coffee is the result of a pot of coffee sitting on a burner too long, brewing the coffee using beans that are too finely ground or making the brew with oil-covered, dark-roasted beans.
When beans are roasted dark, oils rise to the surface. The taste gets bitter and the true flavor of the beans used is no longer in play. It's like taking a prime piece of filet mignon and cooking it to a charred, well-done state. No matter how good the cut of beef was, all you taste is dry, overcooked meat.
If you want to experience good coffee brewed from properly-roasted, freshly-ground beans, there is an event this weekend that you should check out. On December 2 and 3, the Fifth Annual Coffee & Tea Festival Philly will be held at the Greater Philadelphia Expo Center (100 Station Avenue, Oaks, 631-940-7290, http://www.coffeeandteafestival.com).
More than 50 exhibitors from around the country will be offering tastings of their finest coffees and teas and introducing visitors to new products. Industry professionals will talk about the coffees and discuss pairings with food. The exhibit hall will feature a wide array of sweet and savory foods to compliment the spectacular collection of local and national coffees and teas.
As an added attraction, the first 500 attendees to walk through the doors each day will be handed a free gift bag. The festival will be open from 10 a.m.-5 p.m. on Saturday and 10 a.m.-4 p.m. on Sunday. Admission is $20.
On December 2, Fort Mifflin (Fort Mifflin and Hog Island roads, Philadelphia, 215-685-4167, www.fortmifflin.us) will host a special event called "World War II: The Battle for Schmidt At the Fort."
The special one-day event will explore the Western Front of World War II and visit with Axis and Allied armies.
Activities through the day include two exciting battles, living history, vintage gear, live medical demonstrations on "wounded" soldiers at the Red Cross Field Hospital, weapons and vehicles.
Fort Mifflin, which was originally called Fort Island Battery, was commissioned in 1771. It was also known as Mud Island Fort because it sits on Mud Island (also known as Deep Water Island) on the Delaware River near the Philadelphia International Airport. During the American Revolutionary War, the British Army bombarded and captured the fort as part of their conquest of Philadelphia in autumn 1777.
During the siege, 400 American soldiers held off more than 2,000 British troops and over 250 ships that had been responsible for launching an endless barrage of cannonballs into the fort. After five days of holding off the British, the American troops evacuated the fort after having successfully denied the British Navy free use of the Delaware River.
"World War II: The Battle for Schmidt At the Fort" will run from 10 a.m.-4 p.m. Admission is $10 for adults, $8 for seniors and veterans and $6 for children (ages 6-12).
If you want to see a holiday show on stage, consider attending out the Barley Sheaf Players' (810 North Whitford Road, Lionville, 610-363-7075, www.barleysheaf.org) production of "A Year with Frog and Toad," which is running now through December 10.
Waking from hibernation in the Spring, Frog and Toad plant gardens, swim, rake leaves, go sledding, and learn life lessons along the way. The two best friends celebrate and rejoice in the differences that make them unique and special. Part vaudeville and part make believe, "A Year with Frog and Toad" tells the story of a friendship that endures throughout the seasons.
The production, which is directed by Deborah Young, has performances scheduled for December 1, 2, 8 and 9 at 8 p.m. and December 3 and 10 at 2 p.m. Tickets are $17 for adults and $13 for students (18 and under) and seniors (60 and over). Tickets sell out quickly so check with website before making plans.
From December 1-3, visitors to Joanna Furnace (1250 Furnace Road, Geigertown, 610-286-0388, www.haycreek.org) will be transported back to the Christmas season of 150 years ago — back to the joyous celebration of the Christmas of 1866 with the iron master's family and village residents.
1866 was a great year at Joanna Furnace, Ironmaster Levi Bull Smith's sons and other village young men have returned home from the War and have had almost a year to renew their lives. Joanna Furnace Iron Works is running at full capacity and producing almost 1400 tons of iron. And, there is talk that a new railroad is going to be built and bring even more prosperity through the area. Times are great at Joanna Furnace and the villagers want to share their excitement.
Visitors are invited to join with the village residents as they prepare for their Christmas.   Live music and Christmas carols will be heard throughout the village to delight the guests. A reverent look at 19th-century Christmas spirit, bonfires, caroling, food, gift ideas, post-Civil War dancing, a salute to Civil War veterans make your family's visit a memorable experience.
The iron works village has been decked out with greenery and period decorations to capture the mid-19th century holiday spirit. Actoivity will take place all around the 26 acres of the furnace site and a large portion will be illuminated by candlelight and bonfires. More than 1,000 glowing luminaries will illuminate various furnace walkways. Visitors are encouraged to explore the furnace complex by following these clearly defined pathways.
Attendees will be able to browse among holiday crafts items sold by dozens of vendors in the annual Christmas Craft Market. Guests will find one of-a-kind gifts such as hand-carved items, various handcrafted fiber and woven items, unique Christmas craft items, baked goods, cookies, candy and additional sought-after food gift items.
Live entertainment will be provided throughout the weekend by the Joanna Furnace Carolers. Another special attraction will be an old-fashioned wagon ride with the tractor slowly weaving through the light-painted historic site along the luminary-lit pathways.
Admission is $7 with children (under 12) admitted free.
The "Deck the Alley Open House" could only take place at one location — Elfreth's Alley (Elfreth's Alley and Elfreth's Alley Museum, 126 Elfreth's Alley,http://www.elfrethsalley.org).
Elfreth's Alley is America's oldest continuously occupied residential street. On December 2 from 3-7 p.m., its residents will once open their doors and welcome holiday visitors.
The small alley was a nice place to live in 18th-century colonial Philadelphia. It is still a nice place with preserved architectural details such as bond brickwork and cedar shingle roofs. The homes also have impressive interiors, which are open to the public only twice a year.
Admission to "Deck the Alley" is $25 for adults, $10 for children (under 16) and $60 for families. All proceeds support the education and preservation programs of the Elfreth's Alley Museum.
Included with admission are seasonal refreshments, a display of a Pennsylvania Dutch upside-down Christmas tree, performances by colonial carolers, an appearance by Belsnickel and visits from Benjamin Franklin and Dolly Madison.
This weekend is also time for several similar theatrical presentations — not on stages but rather in churches and in a museum. Every year, this is the weekend that Saint Lucia Day festivities begin.
Philadelphia has two sites which stage impressive Lucia Fest pageants — the American Swedish Historical Museum (1900 Pattison Avenue, Philadelphia, 215-389-1776,www.americanswedish.org) and Gloria Dei Old Swedes' Church (Delaware Avenue and Christian Street, Philadelphia, 215- 389-1513, www.Old-Swedes.org). Another top-flight celebration is staged in Wilmington, Delaware.
Lucia is a Swedish festival that began in 17th century Sweden as a festival of light in the midst of the darkest days of winter. In America's Swedish communities, the popular annual event features a Lucia procession with traditional songs and dances. Lucia, wearing a white gown and a crown of candles, leads the procession, followed by girls dressed in gowns who act as her attendants. Boys also join the festivities as starboys.
The American Swedish Historical Museum will present its Lucia Celebration and Julmarknad (Christmas Bazaar) on December 2 from 11:30 a.m.-4:30 p.m. The Lucia Processions will begin at 1 and 3:15 p.m. Swedish needlecrafts, pastries and other delicacies will be for sale in the Julmarknad, while imported gifts, crafts and Christmas decorations will be featured in the Museum Gift Shop.
Admission is $12 for adults, $4 for children (ages 4-12) and free for children (under 4).
Reservations are not required, but tickets may be purchased online in advance.
At Gloria Dei Old Swedes' Church in Philadelphia, the 2017 Lucia Fest will be held from December 8-10. At Gloria Dei Old Swedes' Church in Wilmington, the Sankta Lucia Celebration is scheduled for December 10.
The primary travel plans for Santa Claus include riding in parades and traveling by sleigh. But, these are far from the jolly old guy's only means of transportation. He also makes visits using a variety of modes such as helicopters, horse-drawn carriages, fire trucks, open-air convertibles, speed boats, hot air balloons and trains.
There is something special about riding on a train that is being pulled by a steam locomotive. Almost everyone enjoys the experience — even Santa Claus. This year, Santa will be visiting several of the area's tourist railroads to take special rides with his friends.
One of the best train rides with Santa Claus is the one presented by the West Chester Railroad (Market Street Station, West Chester, 610-430-2233 orwww.westchesterrr.net).
The special "Santa's Express" trains (which feature heated cars decorated for the holidays) will run on December 2, 3, 9, 10, 16, 17 and 23 at 11 a.m., 1 and 3 p.m. There will be additional departures at 5 p.m. on December 3, 4, 10, 11, 17 and 18.
The 90-minute journey on the trail line's heated decorated train travels through the Chester Creek Valley. Santa Claus will be greeting everyone at Market Street Station and then going along for the ride to Glen Mills. Once at Glen Mills, passengers can disembark, explore the historic station and take advantage of photo opportunities on Santa's lap inside the station. Live music will be provided by Greg Wright.
Adult fare for the West Chester Railroad trips is $24. Tickets for children (ages 2-12) are $17 while toddlers (ages 9-23 months) get to ride for $7.
The Wilmington & Western Railroad (2201 Newport Gap Pike, Wilmington, Delaware, 302-998-193, www.wwrr.com) will run its "Santa Claus Express" on Saturdays and Sundays between Thanksgiving and Christmas.
Santa and Mrs. Claus will be riding along with passengers on the steam-powered 90-minute round trip to Ashland Station. They will be greeting everyone on board and offering chocolate treats to the youngsters. Santa will also be posing for pictures with his fans.
Steam locomotion will return to the Wilmington & Western for its annual Santa Claus Express. The rail line's 0-6-0 switcher No. 58 has returned to service after a multi-year restoration and will power Santa's train through the Red Clay Valley this season.
Tickets for these trains, which run now through December 24, are $19 for adults, $18 for senior citizens and $17 for children.
The tourist rail line will also be running special "Holiday Night Express Trains," featuring a peaceful evening ride in the railroad's 1929 Doodlebug rail car. Tickets for these trains, which are running now through December 30, are $13 for adults, $12 for senior citizens and $11 for children.
The Strasburg Rail Road (Route 741, Strasburg, 717-687-7522, www.strasburgrailroad.com) is running its "Santa's Paradise Express" from November 24 until December 17. Santa will be the featured guest on each ride from Strasburg to Paradise and back.
The rotund guy in the red suit will be greeting passengers, shaking hands, posing for photos and giving a treat to each child. After the train ride, children are treated to storybook readings of holiday classics. Visitors of all ages can also enjoy a ride aboard the Tinsel Trolley, a self-propelled motor car.
The Strasburg Railroad will also be running its "Night Before Christmas" train on December 1, 7, 8, 14, 15, 21 and 22.
This very special train recreates the excitement and anticipation of Christmas Eve. A reader dressed in a Victorian nightshirt and cap will read Clement Clarke Moore's classic poem "The Night Before Christmas" as the train rolls along. After the poem is read, passengers can enjoy a treat of milk and cookies.
Children are also treated to storybook readings of holiday classics aboard the stationary heated caboose and visitors of all ages can enjoy a ride aboard the Tinsel Trolley, a self-propelled motor car. In the spirit of the season, kids may come dressed in pajamas.
Tickets for rides on the Strasburg Railroad are $19 for adults, $13 for children (ages 3-11) and $4 for toddlers (under age 3).
The New Hope & Ivyland Railroad (32 Bridge Street, New Hope, 215-862-2332, www.newhoperailroad.com) is operating its "North Pole Express" now through December 31. Tickets are $49.95 for adults, $39.95 for children (ages 2-11) and $12.95 for toddlers.
Passengers can ride the rails with Santa, Mrs. Claus and a group of holiday revelers. Children and adults of all ages can sip hot cocoa and enjoy cookies while Santa visits with each child and presents them with a special gift. Local musicians will be on board to play and sing Christmas carols. Additionally, children are encouraged to come dressed in the pajamas.
The Colebrookdale Railroad (Washington and Third Streets, Boyertown, www.colebrookdalerailroad.com) has several options for holiday-related excursion rides.
The "Santa Claus Polar Express Train," the "'Twas The Night Before Christmas Train" and the "Winter Starlight Express Train."
It is approximately a two-hour round trip for any of the train excursions. Tickets are $50 for adults, $45 for children (ages 2-12), $40 for seniors (65 and older) and $6 for toddlers (under 2; must be held; no seat).
The Middletown & Hummelstown Railroad (136 Brown Street, Middletown, 717-944-4435, www.mhrailroad.com) will be running its "Santa Surprise Trains" on December 9, 10, 16, 17 and 23 and its "Polar Bear Express" on December 10, 15, 16, 17, 22 and 23.
Santa Claus will have a special present for all kid riders. Fares for the ride are $17 (ages 12 and older), $13 (ages 2-11) and $4 (under age 2 and on lap).
Christmas trains also come in a smaller variety. Model railroad displays and the Christmas holiday season have been linked together since a time before even your parents were even kids.
One of the most elaborate model train layouts in the Delaware Valley can be found at the Morris Arboretum (100 Northwestern Avenue, Chestnut Hill, 215-247-5777,www.business-services.upenn.edu/arboretum/index.html). The popular Garden Railway Display that has become a summer fixture at The Gardens at Morris Arboretum returns again for a special holiday display.
The display, which is open to the public now through December 31 in the winter garden of the Morris Arboretum, has a quarter-mile of track featuring seven loops and tunnels with 15 different rail lines and two cable cars, nine bridges (including a trestle bridge you can walk under) and bustling model trains.
The buildings and the display are all made of natural materials — bark, leaves, twigs, hollow logs, mosses, acorns, dried flowers, seeds and stones — to form a perfectly proportioned miniature landscape complete with miniature rivers. Philadelphia-area landmarks are all meticulously decorated for the holidays with lights that twinkle.
Admission to the Morris Arboretum is $17 for adults, $15 for seniors (65 and older) and $9 for students and military.
There are plenty of reasons to take the short drive to Delaware this holiday season with tax-free shopping on everything at the top of the list. Other activities also serve as lures to "The First State."
On December 1 and 2, Rockwood Park (4651 Washington Street Extension, North Wilmington) is hosting its 17th annual Holiday Open House with live entertainment, fun festive children's crafts, costumed characters, refreshments, food trucks and free photos with Santa.
The free event, which runs from 5-9 p.m. both nights, also includes the site's Youth Entrepreneur's Secret Santa Shoppe selling gifts for the whole family, tours of the holiday display in the museum and a joyous light display in the gardens surrounding the Mansion and Carriage House.
This year's performers include Delaware Arts Conservatory performing excerpts from their production of "The Snow Queen," First State Ballet Theater performing an excerpt from the "Nutcracker," Imagination Players, Kathryn Ciminello Dance Troupe, Pieces of a Dream, Dance Jhankaar Bollywood, Fierce Dance Academy, Mount Pleasant Choir, UD Children's Choir, and Citlali De Mexico.
Another major reason to visit Delaware is the annual staging of "Holidays at Hagley" — an event that is always one of the most eagerly anticipated holiday attractions in this area every year.
The popular Brandywine Valley exhibit, which is included with regular admission, opens today and continues through January 1 at Hagley Museum and Library (Route 141, Wilmington, Delaware, 302-658-2400, www.hagley.org).
This year's edition of "Holidays at Hagley" features tours of Eleutherian Mills, which is the first du Pont family home built in America. The tours, which will be presented each day from 10a.m.-4:30 p.m., feature decorations in a combination of styles from both the 19th and 20th centuries.
During the Victorian years when candle-lit tabletop Christmas trees were the norm, hand-made gifts were attached to tree branches, and winter scenes were displayed underneath the tree. The upstairs Victorian Library shows how magical that looked with its mid- to late-nineteenth-century toys, games and dolls. The upstairs Parlor features a case filled with small ceramic animals well-loved by some of the du Pont family children.
Early du Pont family French holiday traditions are remembered with a display of gifts that were given to E. I. du Pont's children on New Year's Day as well as the Twelfth Night party illustrated by the ornate French dessert service in the Dining Room.
Well-loved displays returning include the elaborate Twelfth Night celebration in the dining room and the Victorian library's Christmas for children with its table-top tree surrounded by toys and games. Of course, there will be warm glowing lights and poinsettias.
Admission is $14 for adults, $10 for seniors and students and $5 for children (ages 6-14).
One of the best holiday events in the area is the annual "Yuletide at Winterthur." This year's 39th annual staging of the event, which runs now through January 7 at Winterthur Museum, Garden & Library (Route 52, Wilmington, Delaware,800-448-3883, www.winterthur.org).
Revel in the beauty and warmth of the holidays as we explore treasures of Christmases past with displays of holiday traditions from the 1800s to the early 20th century, including displays of: the earliest types of colorful lights decorating house exteriors; a full-room scene of Clement Moore's Christmas classic A Visit from St. Nicholas; the du Pont family holiday celebrations; and the evolution of Christmas trees over the decades from the 1880s to 1960s.
In celebration of the exhibit Royal Splendor: The Coronation Gown from The Crown, which showcases the magnificent coronation gown worn on the popular Netflix seriesThe Crown, the Yuletide Tour will re-create trees enjoyed by Queen Victoria's family at Windsor Castle, inspired by a painting depicting the queen's celebration in 1851.
One of visitors' favorites every year is the 18-room dollhouse mansion created by designer and philanthropist Nancy McDaniel over a period of 30 years. It features amazing intricate details in each room and is even decorated for the holidays! A tree decorated with 458 needlework ornaments, all crafted by Nancy McDaniel will also be on display.
In addition, two of Winterthur's own iconic rooms designed by H. F. du Pont will be on display in miniature form—the Cecil Bedroom and the Queen Anne Dining Room. These rooms were created by the renowned miniature artists Eugene J. Kupjack.
As always, the rooms will be enhanced with the floral displays so essential to du Pont's decorating, and with special Christmas trees inspired by the beauty of the Winterthur garden – including the popular Dried Flower Tree in the Conservatory.
Special family activities include "Glass Matters Wine Seminar and Tasting" (December 13), "Brunch with Santa" (December 16, 17 and 23)
"Yuletide Jazz & Wine Concerts" (December 6, 13 and 20), theatrical presentation of Charles Dickens' "A Christmas Carol" (December 6 and 7), University of Delaware Chorale performs Carols by Candlelight (December 10), and Special Charles Dickens Reading (December 6).
Timed Yuletide Tour reservations are required. Admission to Yuletide at Winterthur is $22 for adults, $20 for seniors (age 62 and older) and $5 for children (ages 2-11).
Nemours Mansion & Gardens (Route 141 South, Alapocas Drive, Wilmington, Delaware, 302-651-6912, www.nemoursmansion.org) is welcoming visitors for the Christmas holidays with special holiday-themed tours. The three-hour tours are held Tuesdays through Sundays and run now through January 3.
Originally constructed in 1910, Nemours Mansion is one of Delaware's grandest buildings and includes the largest formal French garden in North America.
During the holiday period, the guided tours will include several stories of the house and part of the gardens. Many of the rooms featured in the tour will be decorated as they would have been when DuPont resided there in the early 1900s while some will retain their traditional period decorations.
Tickets for the tour at Nemours are $17 for adults, $15 for seniors and $7 for children (under 16).
The Historic Odessa Foundation's 2017 Christmas Holiday Tour is an event with an appeal that spans generations. The tours will be presented now through December 31 in Odessa's historic district (Main Street, Odessa, Delaware, 302-378-4119, www.historicodessa.org).
This holiday season the Historic Odessa Foundation (HOF) is celebrating the 30th anniversary of the Historic Houses of Odessa's annual Christmas Holiday Tours and Exhibits inspired by works of classic children's literature.
To commemorate three decades of recreating scenes from classic literature through interpretive vignettes and displays, Historic Odessa will recreate its very first 1987 exhibit "A Visit From St. Nicholas," also known as "Twas The Night Before Christmas." It will open on November 14 and run through New3 Year's Eve day in the National Historic Register Wilson-Warner House (c. 1769).
This iconic Christmas poem, attributed to Clement Clark Moore and first published anonymously in 1822, will once again be presented through historically-detailed holiday vignettes throughout the 248-year old National Historic Register Wilson-Warner House. Guests will be invited to recite the classic poem as they tour the displays.
Another popular attraction is the "Storybook Trees Exhibit," which is a festive display of Christmas trees that reflect books and works of children's literature. The trees have been decorated by local families, schools and organizations
All of the Historic Odessa Foundation's museum properties, collectively known as the Historic Houses of Odessa, are open and on display for the 2016 holiday season.
Special events and tours will be held throughout the holiday season including "Candlelight Tours" at 7 p.m. on December 5, 7, 12, 14, 19, 26, and 28; "Christmas in Odessa" on December 2 from 10 a.m.-5 p.m.; "Storybook Time" on December 6 at noon and 4:30 p.m.; "Festive Foods/Hearth Cooking Demonstration" on December 9, 16, and 23 from 10 a.m.-3 p.m.; "Children's Holiday Tea Party" on December 10 at 2 p.m.; and "Curator Candlelight Tour" on December 21 at 7 p.m.
The Historic Houses of Odessa are open Tuesday through Saturday, from 10 a.m. to 4:30 p.m., and Sunday from 1 to 4:30 p.m. The last full tour of the Historic Houses starts at 3 p.m. The Houses will be closed on December 24 and 25. Admission to the Historic Odessa Foundation holiday tour is $10 for adults, $8 for seniors, and students and free for children (under 6).
Just north of Chester County, several of Montgomery County's scenic historic sites are already celebrating the 2017 Christmas holiday season.
Pennypacker Mills (3 Haldeman Road, Perkiomenville, 610- 287-9349, www.historicsites.montcopa.org) is hosting "Victorian Holiday Tours" now through January 7 while "Twelfth Night Tours at Pottsgrove Manor" (100 West King Street, Pottstown, 610-326-4014, www.historicsites.montcopa.org) is also running now through January 7.
For the next six weeks, Pennypacker Mills will offer free tours of the 18-century mansion used by General George Washington as temporary headquarters during the Revolutionary War. The home will be decorated for an old-fashioned Victorian Christmas and will feature the warm glow of oil lamps, festive decorations and a candy-making demonstration.
The event at Pottsgrove Manor features guided tours through an elegant 18th-century Georgian mansion that is decked out in period holiday decorations. Tour guides will discuss Twelfth Night celebrations and Christmastide traditions.
Visitors will be able to view the parlor and kitchen as it would have been during colonial times when the Potts family prepared for their holiday guests. They will also be able to check out the servants' quarters and see the rustic holiday celebrations as enjoyed by the household staff.
Suggested donations for these events is $2.
On December 2, Peter Wentz Farmstead (2030 Shearer Road, Lansdale) will offer a Candlelight Tour from 3-9 p.m.
The soft glow of candles will guide visitors throughout the Farmstead for tours showcasing colonial music, seasonal entertaining, and a visit from Belsnickel, a Pennsylvania German St. Nicholas in furs.
The Last tour begins at 8:30 p.m. This is an all-ages event with a suggested donation of $2 per person.
On December 3 from 1-4 p.m., there will be a "Holiday Open House" at John James Audubon Center at Mill Grove (1201 Pawlings Road, Audubon). The event is a celebration of John James Audubon's love of nature.
Mill Grove will be decorated for the holidays — both inside and out. Visitors can enjoy light refreshments, activities, and crafts in our historic barn. There will also be owl presentations with the site's own Mill Grove owls, and the traditional cookies and cider.
The all-ages event is free.
Also on December 3, there will be a "Full Moon Hike" at Norristown Farm Park (2500 Upper Farm Road, Norristown) at 5 p.m.
Early winter is a special time of the year in the park. Visibility in the woods is better once the leaves have been shed. Participants will join the park naturalist on an evening walk that will be illuminated by the full moon. The hike will be between two and three miles.
November's edition of the "Full Moon Tour" at the Wolf Sanctuary of Pennsylvania (465 Speedwell Forge Road, Lititz, 717-626-4617, http://wolfsanctuarypa.org) is scheduled for December 2.
The Sanctuary offers this tour once a month on the closest Saturday to the full moon. This month, it's slated for this Saturday and the full moon is known as Cold Moon.
This event allows participants to create their own experiences. Instead of following a tour guide from pack to pack at a regulated pace that fits within a 45-minute time line, you get to go at your own pace from pack to pack.
There is also the option of talking to tour guides who are stationed at each pack. You can listen to what they have to say about the wolves when stopping at a station – and you have the option to ask questions.
With this tour, you move at whatever speed you find comfortable. If you get tired, you can go over and sit next to a roaring bond fire (weather permitting) and just relax.
Visitors are requested to bring a blanket, a flashlight, a chair and maybe some hot dogs and marshmallows.
The tour starts at 7:30 p.m. Tickets are $20 and no reservations are required.
Another special hike will take place on December 2 at The Nature Place (575 St. Bernardine Street, Reading, 610-372-4992, www.berksnature.org).
From 9 a.m-1 p.m., Berks Nature will offer a special "Nature Hike" geared for youngsters.
Parents can drop off their kids and embark on holiday shopping elsewhere. Meanwhile, their kids will enjoy a nature hike through Angelica Park, nature-based holiday crafts and snacks with our Berks Nature team.
The event is open to children ages 3 (must be potty-trained) through 12. Cost for the event is $15 per child.
Visitors to Peddler's Village (Routes 202 and 263, Lahaska, 215-794-4000, http://peddlersvillage.com) can get in the holiday spirit at the Village-wide Grand Illumination Celebration. Village shops will be open until 9 p.m. with a distinctive assortment of merchandise, special promotions and refreshments.
The Grand Illumination Celebration showcases thousands of tiny white lights outlining the Village's buildings, colorful lights with less-than-common colors (teal, peach, and fuscia) adorning the trees and shrubs and a landscaped backdrop featuring a group of reindeer glowing in white light.
This weekend's featured activity is the Christmas Festival, which will be held on December 2 and 3.
Guests can catch the Santa Parade through the Village on both Saturday and Sunday at 1:30 p.m. The parade starts at Earl's New American and ends at Giggleberry Fair.
By evening, one million twinkling lights will transform the Village into a winter wonderland. The Village is beautifully decorated, Victorian-style, with fruit wreaths and greenery, and there's lots of live entertainment. Shops are open 10 a.m.-9 p.m. on Saturday and 10 a.m.-7 p.m. on Sunday.
Another holiday attraction at Peddler's Village is the family-oriented Giggleberry Fair. The fair, which is a kid favorite, will be open through December 23.
November 20 was the start of Peddler's Village "Gingerbread House Competition and Display." Slated to run through January 2, the "Gingerbread House Competition" features over $2,000 in cash prizes in such categories as Traditional and Authentic Reproduction of a Significant Building.
When the Christmas season arrives in Europe, it is common to see Christmas villages erected in downtown locations of big cities. These villages are temporary sites that feature live music, a variety of holiday attractions and a large number of specialized vendors.
Philadelphia is keeping pace with the European cities with a Christmas village of its own — a special site that will be open until December 24.
"Christmas Village in Philadelphia" (Love Park, 1400 JFJ Boulevard, Philadelphia, 215-391-3017, www.philachristmas.com) is a free outdoor holiday market event that captures the vibe of the traditional European Christmas markets.
Christmas Village in Philadelphia is modeled after traditional German Christmas Markets. The history of Christmas markets in Germany dates to the late Middle Ages. One of the oldest and most famous ones is held each year in Nuremberg in the state of Bavaria.
It has been passed down from generation-to-generation ever since the area's farmers started selling their crops in a farmers' market during the Advent time in the mid-16th century. The goods presented in wooden booths include a rich variety of holiday gifts including Christmas ornaments, arts and crafts, toys, sweets, as well as German food and drinks. People stroll around, meet friends, and enjoy live performances of Christmas music.
At the Village in Philadelphia, vendors selling traditional European food, sweets and drinks are set up in 80 wooden booths and timber houses that form a medieval village. They will also offer a unique shopping experience with international holiday gifts, ornaments, jewelry and high-quality arts and crafts.
The Village will feature the sights and sounds of the holidays with thousands of twinkling lights, giant glowing stars, festive decorations, a musical stage and children's activities. All the event's annual fan favorites will be back, including Photos with Santa, Käthe Wohlfahrt, Herrnhuter Stars, the German Grill and the event's main stage.
At the center of the market, an ornate and grand old-time carousel will be operating to give children of all ages a new holiday tradition while visiting the authentic German Christmas Market. The carousel features 20 wood-carved horses that will twirl around for an unforgettable view of the new market inside City Hall's courtyard.
A popular holiday attraction is America's Garden Capital Maze at Dilworth Park (1 South 15th Street, Philadelphia, http://ccdparks.org/dilworth-park), a holiday-inspired Garden that was created in partnership with Greater Philadelphia Gardens and is part of the Center City Parks District.
Located on the Greenfield Lawn, the maze features vibrant plantings, topiaries, twinkling lights, and décor that showcases all of the public gardens, arboreta, and historic landscapes that are located within 30 miles of Philadelphia. A "Welcoming gazebo" will be at the center of the maze.
The Wintergarden and Maze is billed as "a way to celebrate in William Penn's original center square and the 32 regional gardens and arboreta that make this region America's Garden Capital."
Dilworth Park Wintergarden participants are Shofuso Japanese House & Garden, Stoneleigh: A Natural Garden, The Barton Arboretum & Nature Preserve of Medford Leas, The Gardens at Mill Fleurs, The Highlands Mansion & Garden, The Philadelphia Zoo, The Woodlands, Tyler Arboretum, Tyler Formal Gardens at Bucks County Community College, Welkinweir, Winterthur, and Wyck.
The roster also includes Ambler Arboretum, Arboretum at the Barnes Foundation, Awbury Arboretum, Bartram's Garden, Bowman's Hill Wildflower Preserve, Brandywine River Museum of Art, Camden Children's Garden, Chanticleer, Hagley Museum and Library, Haverford College Arboretum, Henry Botanic Garden, Henry Schmieder Arboretum, Hortulus Farm Garden & Nursery, Jenkins Arboretum & Gardens, Longwood Gardens, Morris Arboretum of the University of Pennsylvania, Mount Cuba Center, Nemours Estate, PHS Meadowbrook Farm, and Scott Arboretum of Swarthmore College.
America's Garden Capital Maze will be open now through February 25 – 9 a.m.-9 p.m., Monday-Thursday; 9 a.m.-11 p.m., Fridays and Saturday; 9 a.m.-8 p.m. Sunday.
Another attraction is the Center City Parks District's Rothman Institute Ice Rink at Dilworth Park along with the Rothman Institute Cabin.
The Rothman Institute Ice Rink at Dilworth Park is an unparalleled entertainment experience on Philadelphia's center stage in a wonderfully urban and unique setting. Open seven days a week, the rink offers wintry fun for all ages, with a full slate of programs.
The 2017 Franklin Square Holiday Festival (200 North Sixth Street, Philadelphia, http://www.historicphiladelphia.org/franklin-square/holidays-in-franklin-square/) opened its season a few weeks ago and will run until December 31.
The Electrical Spectacle Holiday Light Show will be open from 4-8 p.m. daily and 4-9 p.m. on Saturdays and Sundays and will be closed on Thanksgiving and Christmas Day.
Visitors are invited to experience the magic of the holidays and celebrate traditions new and old at the Franklin Square Holiday Festival.
Inspired by Benjamin Franklin's electrifying genius, the free Electrical Spectacle Holiday Light Show presented by PECO is the key to holiday fun in Franklin Square.
Attendees can marvel at more than 50,000 lights as they shimmer, dance, and illuminate the Square to a soundtrack of holiday classics, some of which are performed by The Philly POPS in two alternating shows every 30 minutes. Every evening, one lucky audience member will be selected to "ignite' the 4:30 p.m. show.
Additionally, visitors can enjoy comfort foods, seasonal snacks, and hot beverages at Ben's Sweets & Treats and SquareBurger, festive beers and cocktails presented by Cooperage at the Winter Beer Garden, special holiday events on #FranklinSquareFridays, Santa Saturdays, and Seasonal Sounds on Sundays.
If you want to really get in full-scale Christmas mood, visit Koziar's Christmas Village (782 Christmas Village Road, Bernville, 610-488-1110,www.koziarschristmasvillage.com) which began its 70th season on November 4.
Koziar's Christmas Village is truly a holiday wonderland — a wintertime spectacle that delights young and old alike with a huge amount of holiday displays and special attractions. It will remain open every night through January 1 — including Christmas Eve, Christmas Night, New Year's Eve and New Year's Night.
The tours of "Christmas Village" feature visits to a variety of displays and exhibits, including "Santa's Post Office," "Christmas in the Jungle," "Manger Scene," "Christmas Beneath the Sea," "'Twas the Night Before Christmas," "Olde Fashioned Bakery Shop," "Toy Maker and his Toy Shop," "Christmas in Other Lands" and "The Olde Church".
Other attractions at Koziar's Christmas Village include a huge model train display, a toy shop, a country kitchen, indoor and outdoor Christmas displays and a place to visit with Santa and even get pictures taken with the old guy in the red suit. Admission to Christmas Village is $10 for adults, $9 for seniors (65 and older) and $8 for children (ages 4-10).
Another "Totally Christmas" destination for families is the National Christmas Center (3427 Lincoln Highway, Paradise, 717-442-7950,http://www.nationalchristmascenter.com).
Nestled in the heart of Pennsylvania Dutch Country, National Christmas Center Family Attraction & Museum takes visitors on a journey through wonderful memories of Christmases past and present, near and far.
The attraction features 20,000 square feet of life-sized, walk-through, indoor exhibits that bring the holiday to life for all ages. It features 15 main galleries and numerous, ever-changing smaller exhibits.
Admission is $12.50 for adults and seniors and $5 for children.
Visitors to the Center can also buy combination tickets for the "Christmas Magic Lantern Show" at the Plain & Fancy Theater on Route 340 (www.magiclanterntheater.com).
Here, they can enjoy a Victorian Magic Lantern Show with live Showman and their favorite Christmas stories projected onto the big screen with an authentic 1890 magic lantern.
Attendees can step back in time and become part of a Victorian family's traditional Christmas Eve celebration. The family is very excited as Grandpa tells fabulous Christmas stories with the help of the amazing Magic Lantern.
The Showman presents iconic stories and poems like "The Night Before Christmas," with stunning visual images, heartfelt music and legendary storytelling. And the power of the Ghosts of Christmas Past, Present and Future will come alive as he uses his spellbinding talents to weave the story of Scrooge's miraculous transformation in Charles Dickens' classic tale "A Christmas Carol".
Tickets are $16.96 for adults and $11.95 for children.
The American Music Theatre (2425 Lincoln Highway East, Lancaster, 800-648-4102, www.AMTshows.com) has its holiday show running now through December 30.
The AMT's 2017 show "Home for the Holidays" is an all-new presentation of favorite sacred and secular holiday songs performed by professional artists from across the country. The show will feature spectacular vocal harmonies, lively musical arrangements, impressive dancing and the music of the AMT Orchestra.
Also featured will be elaborate scenery, elegant costumes and a theater decked out with holiday decorations.
The show will have both matinee and evening performances each week with the addition of 10:30 a.m. performances on Saturdays throughout December. Show length is two hours and 15 minutes with a short intermission. Tickets are $42 for adults and $21 for children.
The Rainbow Comedy Playhouse (3065 Lincoln Highway East, Paradise, 800-292-4301, www.Rainbowcomedy.com) is presenting its holiday production "Guess Who's Coming to Christmas?"
now through December 30.
Matinee performances are every Tuesday, Wednesday, Thursday and selected Saturdays with an 11:30 a.m. lunch and a 1 p.m. curtain. Evening performances are every Friday, Saturday and selected Thursdays with dinner at 6
"Christmas Candylane," which is the annual holiday event at Hersheypark (100 West Hersheypark Drive, Hershey, 800-HERSHEY, www.hersheypark.com), is running now through December 31. Tickets are $24 per person. Children age two and under are admitted free.
Visitors to Hershey can also experience the winter wonderland called "Hershey Sweet Lights, A Holiday Drive-Thru Spectacular." The attraction is a two-mile drive through wooded trails featuring approximately 600 illuminated, animated displays.
Admission is $26.15 on Fridays and Saturdays and $19.15 the rest of the week.
"A Very Furry Christmas at Sesame Place" (100 Sesame Road, Langhorne, www.sesameplace.com) is a festive, family-friendly celebration with everyone's favorite Sesame Street friends live and in-person at the amusement park in Langhorne.
The annual event, which runs through December 31, offers a wide array of family holiday activities.
Visitors to the park can sing along at three special Christmas shows and a spectacular music and light show at our giant 1-2-3 Christmas Tree, take a train ride tour through the Twiddlebugs' Gingerbread Cookie Factory on the Sesame Place Furry Express, take part in the Neighborhood Street Party Christmas Parade, and have the opportunity to meet Lightning, the adorable reindeer from the movie "Elmo Saves Christmas."
As an added attraction this year, Rudolph the Red-Nosed Reindeer is spending the holiday season at Sesame Place. The lovable reindeer along with his friends Clarice and Bumble, will be available for photos with guests.
Tickets for "A Very Furry Christmas" are $32.
Dutch Wonderland Family Amusement Park (2249 Route 30 East, Lancaster, 866-386-2389, www.dutchwonderland.com) is hosting its "Dutch Winter Wonderland" from Now through December 30 on Saturdays, Sundays and select weekdays.
Visitors are invited to celebrate the magic of the season at Dutch Winter Wonderland with rides, entertainment, and the Royal Light Show, a spectacular display of thousands of twinkling lights dancing to music.
Tickets are $11.99 in advance and $13.99 at the gate. Children age two and under are admitted free.
Bethlehem, which is known as the "Christmas City," presents Christkindlmarkt Bethlehem (PNC Plaza at SteelStacks, 645 East First Street, Bethlehem, 610-332-1300,http://www.christmascity.org) every Thursday, Friday, Saturday and Sunday now through December 18.
Christkindlmarkt Bethlehem showcases aisles of exquisite handmade works by the nation's finest artisans. The market also features live performances of Christmas music and vendors with an amazing variety of tasty food items.