By Denny Dyroff, Staff Writer, The Times
Jesse Terry is more than just a talented singer-songwriter with two first names – he is a talented singer-songwriter with two new albums that were recorded at the same time.
On his current tour, which brings him to the area for a show on February 17, Terry is coming back to Burlap & Bean Coffeehouse (204 South Newtown Street Road, Newtown Square, 484-427-4547, www.burlapandbean.com) to open for Craig & Aislinn Bickhardt at a special "Valentine's Day" day (even if it is a few days after Valentine's Day).
"The 'Valentine's Day' show at Burlap & Bean is a tradition that Craig has been doing for a long time," said Terry, during a phone interview Tuesday afternoon from his home in Connecticut. "I'm lucky to be able to be part of it.
"I've gotten the call from Craig the last few years. Those guys are like family to me. We're really good friends Craig and his daughter sing together. They have a certain family harmony with their voices that you can't replicate if you're not family."
But, neither act will stick to a set list of romantic songs at Saturday's show.
"I might do a little more of my songs that are love-themed," said Terry. "It will be more like a regular show. But, I think that love is a wonderful thing to celebrate."
Love is also a description of Terry's attitude toward the comfortable venue in central Delaware County.
"I love playing Burlap and Bean," said Terry. "It's one of my favorite listening rooms in the world.
"It's a super special venue for me. Tara Endicott, who runs Burlap and Bean, gave me my first start years ago for my shows in Philly. My first show in this area was an opening spot at the Burlap and Bean. It's such an artist-friendly room. There are a lot of great venues in the Philly area but Burlap and Bean means the most to me. I've probably played there at least 15 times."
Terry is an internationally touring, award-winning singer-songwriter whose intimacy with audiences, sincerity, and approachability has solidified him as a favorite at festivals and live venues nationwide.  He has five full-length albums – "The Runner," "Empty Seat on A Plane," "Stay Here With Me" and the recently-released "Stargazer" and "Natural" LPs.
"We released 'Stargazer' in September 2017," said Terry. "The release date for 'Natural' is coming up – March 30."
"Stargazer" was a defining record in Jesse's career, unencumbered by the need to fit into a specific genre while emulating instead the artists and recordings that formed such an indelible impression on him as he was finding his own way early on.
"Stargazer" is an aural spectacle of sorts — filled with rich arrangements and a genuine sense of celebration.
"'Stargazer' came out on September 15," said Terry. "It's been doing great. It's my first international release and now I'm getting press and radio play around the world. I was on the tour of the U.K. a few weeks ago and heard one of my songs on BBC Radio. That was really exciting.
"I've been really busy trying to finish these albums. I was making two at the same time. 'Stargazer" is a full band album. It's more of a rocking, 'Abbey Road'-inspired production with a lot of guitars and a string section. It's much more rock-and-roll.
"Stargazer" is Terry's most ambitious album to date, a lushly orchestrated collection of timely new songs centered around finding hope in a seemingly hopeless time, picking resilience over recrimination, and optimism over oblivion.
"Stargazer" was produced with multi-instrumentalist collaborator Josh Kaler in Nashville's EastSide Manor Studios with renowned composer Danny Mitchell adding string arrangements.
"This album is a bit of a departure for me," said Terry, who was the Grand Prize winner of The John Lennon Songwriting Contest and the CMT/NSAI Song Contest.
"Having a string arrangement is really exciting. It's always the music I've loved most – Beatles, Jeff Lynne, ELO, Brian Wilson. I wanted to make an album that took me back to the music I loved when I was young.
"I didn't want to make a sleepy songwriter record. I just wanted to make a rock and roll record – a big record. I wanted to do something different from what I had done before.
"I write on acoustic guitar. So, to have a symphony behind the songs is really fun. And, performing live, it's always fun to take the songs back to their acoustic form. These songs can be played solo, as a duo or with a band. It all works.
"We enjoyed using the studio as an instrument. Watching Nashville session players do their parts was so amazing – so beautiful. I did the whole album in Nashville from January to May. It took a while We spent a lot of time on it – a lot of 12-14-hour days.
"The theme of the album is that you can pick your own universe and the effect you have on the world. This record is a deeply personal record – very vulnerable. But, it's not as introspective as my previous records."
"Natural" has a different vibe,
"'Natural' is like the title – more down-to-earth," said Terry. "There are dueling ukuleles and a standup bass – and gorgeous female voices.
"I actually recorded 'Natural' first. Then, I went to New Zealand to visit my family. After that, I came back and recorded 'Stargazer.' Both records were made with pretty intense pressure and very long hours."
Terry spends much of his time on the road — playing shows for his fans. When he's touring in the states, he almost always is accompanied by Jess, his wife, and, until recently, Jackson Browne, his border collie. Unfortunately, Jackson passed to the other side. But, his spirit is being carried on by the couple's new canine family member Harrison (named after the Beatles' great).
Video link for Jesse Terry – https://youtu.be/MGW9irhdZUQ.
The show at Burlap and Bean will start at 8 p.m. Tickets are $25.
Two of New York's most talented jazz and cabaret acts are coming together for a special show at the RRazz Room New Hope, 6426 Lower York Road, New Hope,www.TheRRazzRoom.com, 888-596-1027) on February 17. Gabrielle Stravelli and Billy Stritch are teaming up to make their first appearance together at The RRazz Room in a performance titled "Down For Double."
The pair met at the Birdland Jazz Club Cast Party in 2012 and have since collaborated on two shows at the 92nd Street Y, headlined a concert with the Santa Rosa Symphony and spent many spontaneous Monday evenings making music together in the "jazz capital of the world".
For "Down For Double," Stravelli and Stritch have mined the Great American Songbook for beloved classics like "I Wish I Were in Love Again" and "Goody Goody" and more than a few lesser-known gems. The show features the pair's seamless vocal blend, tight harmonies, scat singing and playful banter and promises to be an unforgettable musical evening.
Stravelli has garnered critical acclaim and a loyal following through her original songs and her unique take on material from the new American songbook as well as classic standards. Most recently, Gabrielle toured Pakistan and Azerbaijan as a United States Department of State "Jazz Ambassador."
She has also been touring in the states to promote her new album, "Dream Ago," which received rave reviews from Downbeat Magazine, The Huffington Post and LA Jazz Scene among others. She headlined the 2016 Eleuthera Jazz Festival, a four-country US State Department-sponsored international tour in the American Music Abroad Program and premiered "Rooms of Light," a new song cycle by renowned jazz pianist Fred Hersch.
Stravelli has toured the US with the Jazz at Lincoln Center Orchestra performing Wynton Marsalis's "Abyssinian: A Gospel Celebration." She also has been featured in 92Y's Lyrics and Lyricists Series, at the Caramoor Festival, with the Nelson Riddle Orchestra and the Cincinnati Pops.
Stritch is one of the premier singer-pianists on the New York and national jazz and cabaret scenes. He began his career in Houston, Texas, where he formed the vocal trio Montgomery, Plant and Stritch. The trio performed all over New York and Europe from 1983 until they disbanded in 1990.
A chance meeting with Liza Minnelli in March of 1991 resulted in her asking him to create vocal arrangements for the record-breaking extravaganza "Liza Stepping Out at Radio City Music Hall." In addition to his 25-year collaboration with Minelli, Stritch has served as musical director for Marilyn Maye, Christine Ebersole and Linda Lavin. Stritch recently completed a year on the road as pianist for the legendary Tony Bennett.
A solo entertainer in his own right, Stritch has performed his own shows (including tributes to Mel Tormé and Cy Coleman) in concert halls and nightclubs across the country and in the UK. When he's not on the road, he is the pianist for Jim Caruso's Cast Party open mic variety show every Monday at Birdland and with Caruso on Sunday nights at Bemelmans Bar in Manhattan's fabled Carlyle Hotel.
"This is the first show together for Gabrielle and me," said Stritch, during a phone interview from Manhattan on Wednesday afternoon.
"We worked together before on a couple things, including 92Y's Lyrics and Lyricists Series. Whenever we get a chance to work together is something I jump at. She's musically talented and a lot of fun to be with. I'm excited to be doing our first musical show together."
Stravelli said, "We did a Santa Rosa Symphony videotaping two years ago. I was aware of him before that. I first met him at Jim Caruso's show at Birdland. He's a true collaborative. One night, we just spontaneously sung together."
"Dream Ago," which is Stravelli's third solo album, was released early last year.
"I'm still out touring that album," said Stravelli. "I've played all over the East Coast. In March, I'll be heading to the West Coast for a series of concerts."
Stritch and Stravelli is another of the pianist's impressive duets with stellar female singers – a list that includes Marilyn Maye, Christine Ebersole and Linda Lavin….in addition to Liza Minelli.
"Working with female artists – it just happens to work out that way," said Stritch. "I really jive with the ladies – voices really merge together in a lovely way. With ladies, the joy of performance is just so much fun. I like to let the singer shine."
Stravelli and Stritch had no problem finding common ground for their show this weekend.
"The show runs the gamut of nice tunes – including hidden gems from well-known composers," said Stravelli. "It's a nice mix of tunes from different decades. I'm even doing one song from 'Dream Ago' called 'Cake of My Childhood.' It's an accessible show."
Video link for Gabrielle Stravelli — https://youtu.be/isg7EPymIhc.
Video link for Billy Stritch – https://youtu.be/ZXAD-e1thTA.
The show at the RRazz Room New Hope will start at 8 p.m. Tickets are $30.
Other upcoming shows at the RRazz Room are Constantine Maroulis on March 10, Carson Kressley and Kristine W on March 17,
Teyd Jamison "A Celebration of the Musical Theater" on March 18, and Sharon McNight on March 24.
There will be another interesting show on Saturday night – same time, same town.
On February 17, Griffin House will be heading a show at the New Hope Winery (6123 Lower York Road, New Hope, www.newhopewinery.com, 215-794-2331). The talented singer-songwriter is touring in support of his most recent album "So On and So Forth."
When Griffin House began making albums in the early 2000s, the singer-songwriter from Ohio quickly built a solid fan base in the Delaware Valley.
He performed a number of times at the dearly-departed Main Line venue The Point and also had gigs at the World Café Live, the Colonial Theatre and the Theater of the Living Arts.
His fan base in the Philly area has continued to grow – but his fans do have to make a trek to Bucks County this weekend to hear him perform.
House's discography has also continued to grow over the last one-and-one-half decades. He has recorded more than a dozen full-lengths and several EPs with the releases coming on a fairly regular basis – most of which have been on his imprint label, Evening Records. House's most recent album is "So On and So Forth."
"'So On and So Forth' came out about a year ago," said House, during a phone interview Wednesday afternoon as he drove from New York to a gig in Boston. "That's my latest. I'm working on a new one. I have all the writing done. Soon, I'll be going in a studio in Nashville to get some recording done."
When House was in high school, athletics were his main focus – golf specifically. Then, things changed direction.
When he was in high school, the talented golf prospect landed a role in a musical and was surprised to learn that he had a natural talent for singing. House bought his first guitar for $100 from a friend, turned down a golf scholarship to Ohio University and instead went to Miami University in Oxford, Ohio and started to teach himself how to play the guitar and write songs.
After graduating, House moved to Nashville and independently released his first album "Upland" in 2003. He signed with Vancouver- based label, Nettwerk, and he released "Lost & Found" in 2004.
In 2007, House put out "Flying Upside Down," which was produced by Jeff Trott and featuring Mike Campbell and Benmont Tench. That disc lifted him to headliner status and garnering commercial and critical acclaim with his intelligent, heart-felt lyrics and melodies.
"I started Evening Records a few years back," said House. "I have about 11 or 12 albums on my very own label. Mostly everything now is distributed digitally through Tune Corps and One RPM. Physical distribution has gotten more irrelevant. Most people stream music now. Touring is my way to sell physical copies of my albums.
"I think that people who come to my shows are with me no matter what. That comes from travelling a lot – and playing a lot of shows. I only do about 90 shows a year now. I try to take some time off to be with my family because I 've got two little girls. And, I do projects around the house."
It's been almost two years since House cut "So On and So Forth."
"The record cycle is about three years if you're going to work it," said House. "I recorded the album in Asbury Park in summer 2016. I have good memories of Asbury Park. When I was first getting started with music, I made a record there that was picked up for U.S. and Canada release."
On this tour, House is performing solo.
"For my live shows, I have three guitars with me," said House. "I have two acoustic guitars with different tunings and a 1967 electric Chet Atkins Gretsch. The set list is a combination of all my records put together – and three or four new ones.
"I'll be playing some songs that I have planned for the next album. I like to road test songs. I like to let them breathe a little bit before I record them."
Video link for Griffin House – https://youtu.be/xvzeat-VFEE.
The show at the New Hope Winery will start at 8 p.m. Tickets are $25.
Brian Quinn is a busy musician.
The King of Prussia resident is a talented guitarist who performs solo and duet shows locally on a regular basis – and he is a member of the veteran Seattle-based rock band Candlebox.
On February 18, Quinn will be a very busy musician with performances at two charity music events in the Delaware Valley – "Mission: Possible" and "Ribstock 2018."
On February 18 from noon-10 p.m., XFINITY Live! (1100 Pattison Avenue, Philadelphia, 267-443-6415, http://www.xfinitylive.com) will host "Mission: Possible," which will benefit The Cancer Support Community Greater Philadelphia.
Top bands and artists in Philadelphia are banding together for one of the largest cancer benefits to date with only one mission in mind – to make hope possible for the countless people affected by cancer. "Mission: Possible" is a 10-hour event that will feature six live performances, a special "All Star Acoustic Jam," open bar and buffet with ticket and exclusive raffle and auction items.
Kicking off the event will be the "All Star Acoustic Jam," starring Steve Turner and Cara Lynne (Late Last Night), Ray Ray (Split Decision), Michael Anthony Thompson (Deez2Guyz; Masquerade), Richie Yusko (Lima Bean Riot) and more.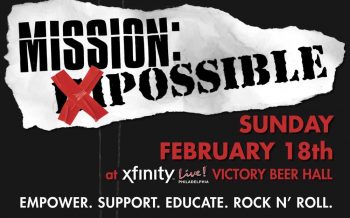 Following the "jam," the day's musical lineup will begin with a variety of artists taking the stage, some even pulling double-duty and performing with multiple bands. Scheduled to appear are Featherborn (featuring Danny Beissel and Charlie Colin founding member/former bassist from Train), Bonehead, Bryen O'Boyle (Mr. Greengenes), Gypsy Wisdom, and LauraLea & Tripp Fabulous. Quinn will perform with his former band Octane.
In addition to entertainment and drink and food specials, "Mission: Possible" will also offer exclusive raffle and auction items including autographed Philadelphia 76ers jerseys, autographed Philadelphia Phillies gear, an autographed Philadelphia Eagles jersey, a Philadelphia Union VIP Experience with autographed soccer ball, tickets to tour the Battleship New Jersey Museum & Memorial, Criss Angel (Mindfreak) VIP Experience with Meet & Greet after the show at the Luxor in Vegas (hotel and airfare not included), G Love & Special Sauce autographed CD, poster and t-shirts, vouchers for tattoo sessions at True Hand and Olde City Tattoo ($150 value each), Gift baskets (Wawa, Mission BBQ, Yuengling, Carlino's Market, etc.), a Corona Beach Cruiser and much more.
Tickets to the event are $50 and include: All day access to Victory Beer Hall; live musical entertainment; three-hour open bar (3-6 p.m.); two-hour open buffet (4-6 p.m.); drink specials; and free parking in Lots T & S. Admission fee after 6 p.m.is $20.
The proceeds from our tickets sales, merchandise sales, raffles and auction items will go directly to the Cancer Support Community Greater Philadelphia to support local Philadelphia families living with cancer. The CSCGP is so dedicated to providing their services that they are offered at no cost to avoid any impediments to receiving care.
CSCGP groups and resources include support and networking groups, lectures and workshops, nutrition programs, mind-body wellness programs, creative expression programs and special programs for kids and teens. They have a mission is to ensure that "No one should have to face cancer alone."
On February 18, "Ribstock 2018," an all-day music event to benefit Little League and middle school music programs, will be held at Bridgeport Ribhouse (1049 Ford Street, Bridgeport, 610-278-8066, http://ribhouse.net/).
The festivities kick off at 2 p.m. and will feature performances by some of the top local artists along with headliner Brian Quinn, who is doing his own thing while Candlebox is on a short break.
This popular event was created by the Bridgeport Ribhouse staff, Philadelphia musicians Kevin Burk, Brian Quinn and Paul Hammond, sound engineer Dave Anderson, and DMK Publicity owner Denise Kovalevich as a way to give back to the community.
A $10 entry fee is required for the event and specials will be offered throughout the day and evening.
A few months ago, the Sellersville Theater hosted a show by Candlebox Acoustic, featuring Quinn, a guitarist originally from Pennsylvania's Anthracite region, and Kevin Martin, lead vocalist and only remaining founding member of Candlebox.
Candlebox Acoustic does not mean that Candlebox is breaking up – or even slowing down slightly.
"Candlebox has a run of shows later this month in Florida," said Quinn, during a phone interview Thursday afternoon from his home in Upper Merion.
"This is the 25th anniversary of Candlebox's debut album. So, the band is leaning heavy on that first album in the live set. We're also throwing in stuff from the latest album and some older songs. The band is also reuniting with its original members for special anniversary reunion shows in Seattle on July 21 and 22."
In the late 1990s, Quinn moved from his hometown of Pittston (PA) to Philadelphia. Soon after arriving, he co-founded the Philadelphia-based rock band Octane (2000-2005). During this time, Quinn was named "Best Guitarist" in the Philadelphia region by the Philadelphia Music Awards in 2001 and 2004.
After five successful years with Octane, Quinn left the band to form a blues-based hard rock band that would later become known as Fosterchild. Then, Quinn joined Candlebox a few years ago when the band needed to replace its guitarist.
"Kevin (Martin) and I were labelmates when I was with Fosterchild," said Quinn, who now lives in the Philly suburbs. "We met at a label showcase and stayed in touch after that. I played on two tunes with his side project Le Projet. When personnel changes started with Candlebox, he asked me to join the band.
"I've been with the band since 2015 but I'm still the hired gun. We're all good friends and I've always been made to feel a member of the band. Kevin is such a good guy – and a good friend."
Quinn will also be performing solo shows locally on February 17 at the Westover Golf Club (401 South Schuylkill Avenue, Norristown, February 23 at Screwballs Sports Bar & Grille (216 West Beidler Road, Upper Merion) and February 21 and 25 at
Bridgeport Ribhouse (1049 Ford Street, Bridgeport).
Video link for Brian Quinn – https://youtu.be/V4BEe_AEXmY?list=PLq09L–FTDXNzsWzL_Hp-mTdxbM6BzyYx.
Video link for Octane — https://youtu.be/Iw7w6SQTQBU?list=PLq09L–FTDXO4jNGRXLQlfc5IcEdX_nl6.