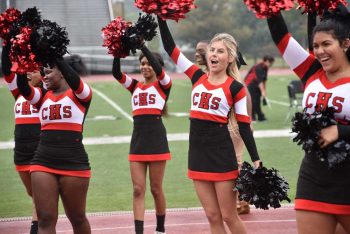 Families with students looking to transition out of a charter or faith-based school are invited to attend an experiential and informational presentation hosted by the Coatesville Area School District aimed at highlighting the wide-ranging opportunities that await them within the District. The Rediscover Coatesville 2018 Charter School Summit will be held April 7, 2018 from 10 a.m. to 2 p.m. at Coatesville Area Senior High School, 1445 Lincoln Highway, Coatesville, PA 19320.
The free program, open to the public, will showcase the comprehensive educational opportunities offered in the District, and provide an interactive experience for all those who attend. Those interested in participating in the event can register at http://bit.ly/2D4d0fG.
Following a brief welcome inside the high school auditorium, the program will include over 20 breakout sessions families can pick and choose to attend featuring clubs, sports, activities and organizations for students in elementary, middle and high school. Among the breakout sessions include a football clinic with the varsity football team, Air Force JROTC, woodshop, National Honor Society and National Junior Honor Society, elementary school clubs, theater, Parent Teacher Organization and Booster Club, musical performances, demonstrations of solar cars, the computer science program, sports teams at the middle and high school and much more. Full details of the event can be viewed via the official 2018 Charter School Summit electronic flip book here: http://bit.ly/rediscovercoatesville.
"We are so excited to welcome families interested in learning more about the great things happening every day in Coatesville schools," said Jason Palaia, director of elementary and secondary education. "From challenging and college preparatory academics, to breathtaking musical performances, to championship level sports, our students, faculty and staff are ready to show perspective families what's in store for them."
"This is a great opportunity for the District to showcase the new opportunities in and out of the classroom," said Dr. Cathy Taschner, superintendent of schools. "We are a District of proud traditions. Those traditions, coupled with progressive and challenging learning opportunities will certainly lead to bright futures for our students."
Translators will be available throughout the day. Child care will be provided for children ages two to five. To sign up for child care, visit http://bit.ly/2D4ZlVw. Registration information for breakout sessions and other program details are available here http://bit.ly/2D4d0fG.