By Denny Dyroff, Entertainment Editor, The Times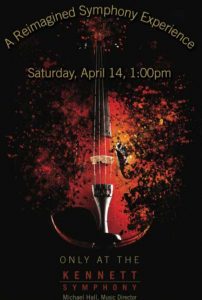 If you're a fan of classical music – or if you'd like to get some exposure to it to see if you like it – you're in luck this weekend.
On April 14, the Serafin String Quartet is performing a show in Philadelphia that is both interesting and educational. On August 14, the Kennett Symphony is performing a show in Kennett Square that is both interesting and educational. And, on August 15, the Kennett Symphony is presenting a pure concert performance in Kennett Square.
On Saturday at 1 p.m. in the Grand Ballroom at the Mendenhall Inn (323 Kennett Pike/Route 52, Kennett Square, kennettsymphony.org), the Kennett Symphony will present "Beethoven and Bellinis," which is billed as "a re-imagined symphony experience: Beethoven and Bellinis."
Last year's inaugural reimaged concert experience was a great success for the Kennett Symphony.
This year, the company is continuing this extraordinary project with a musical encounter with Beethoven's bacchanalian "Symphony No. 7," complete with fascinating musical insights presented by Music Director, Michael Hall.
With the orchestra in the round, and food and drink available throughout the performance, this is a completely unique experience. This event is described as "perfect for people wanting a more relaxed and intimate relationship to the music."
Tickets are $40 for adults and $10 for students (age 18 and under). Ticket price includes the concert, your first bellini and hors d'oeuvres. The Bellini cocktail, which originated in Venice, Italy, is a mixture of Prosecco sparkling wine and peach purée or nectar. A cash bar is also available on site.
On April 15 at 7:30 p.m. in the Exhibition Hall of Longwood Gardens (1001 Longwood Road, Kennett Square), the Kennett Symphony will present "Romance & Revelry" featuring Michael Hall, Conductor and Music Director, and Eliezer Gutman, Violin.
The program will include Juan Crisóstomo Jacobo Antonio de Arriaga y Balzola's "Los Esclavos Felices: Overture," Antonín Leopold Dvořák's "Romance," Camille Saint-Saëns' "Introduction & Rondo Capriccioso," and Beethoven's "Symphony No. 7."
Tickets are $50 for adults and $10 for students (age 18 and under).
Video link for Kennett Symphony — https://youtu.be/iaXDpMYky-4.
At 5:30 p.m. on Saturday at the World Café Live Upstairs Stage (3025 Walnut Street, Philadelphia, 215-222-1400, www.worldcafelive.com), the Serafin String Quartet will present a program titled "Journeys from Old to New, East to West."
The SSQ will be joined by narrator Philip Gentry to present an interactive program featuring four pairings of works around the following themes: "The Father of the Quartet and his student, works by Haydn and Beethoven," "The Romantics, works by Mendelssohn and Puccini," "Looking to the East, works by Dohnanyi and Shostakovich," and "Welcome to America!, works by Higdon and Still."
Dr. Gentry will intersperse readings throughout the program offering historical insights into the works and composers.
"This is my first tine to work with the Serafin String Quartet," said Gentry, during a phone interview Thursday afternoon from his home in Philadelphia. "I've been a fan of them for a long time – and I've heard them play a lot."
The Serafin String Quartet includes Kate Ransom and Lisa Vaupel (violins), Sheila Browne (viola) and Lawrence Stomberg (cello) — all of whom are current or former professors at the University of Delaware. The foursome is UD's "Quartet in Residence." Gentry is also on the faculty at the University of Delaware as an "Assistant Professor, Music History and Literature."
"They approached me," said Gentry. "They had already come up with the project. They wanted to do a concert that was a little more informal. Instead of a pre-concert lecture, my talks are woven in between the four segments.
"The first segment features early works by Haydn, who is considered the father of the string quartet. Haydn really invented the genre. The piece they're doing – 'The Haydn Rider Quartet' – has beautiful classical counterpoints and is very well-balanced. The Beethoven piece is one of his early works where he was trying to emulate Haydn's style."
"The Romantics" features music by Felix Mendelssohn and Giacomo Puccini.
"This section has Mendelssohn's 'Opus 44' string quartet. The Puccini piece is "Chrysanthemums' – an elegy piece that is unusual.
"'Looking to the East' has Shostakovich's 'String Quartet No. 7,' which came from his middle period. The other number is 'Serenade,' a work by Ernő Dohnányi, a 20th-century Hungarian composer.
"'Welcome to America!,' has works by Higdon and Still. The Serafin String Quarter has worked very closely with Jennifer Higdon. They have a long-standing collaboration."
Video link for the Serafin String Quartet – https://youtu.be/ZMSfU0GXbEU.
The show at the World Café Live will start at 5:30 p.m. Tickets are $15 in advance and $17 at the door.
A few hours later, there will be a show of an entirely different nature on the same stage.
At 9:30 p.m. at the World Café Live's Upstairs Stage, there will be a concert by Caitlyn Smith – a Nashville artist who is on the brink of breaking through big-time.
Smith is like the Nashville Music scene's equivalent of the Philadelphia Eagles' Nick Foles.
Smith has been active in the Nashville music scene for a long time – but always in the background. She's been one of Music City's top songwriters for well over a decade.
Smith, a native of Cannon Falls, Minnesota, has passed the "halfway-to-1,000 mark" in the songs written category and has penned hits for a wide range of country and country rock artists, including Dolly Parton, Lady Antebellum, Jason Aldean, Garth Brooks and Meghan Trainor with John Legend.
For years, she tried to get record labels interested in signing her as a recording artist. But, her continued attempts were abortive. The music biz "suits" in Nashville viewed the music she was making on her own as "too pop for country and too country for pop."
Like Foles, who appeared destined to be a journeyman quarterback in the NFL, Smith persevered, never gave up hope and then made her mark when the time was right.
A little while ago, Smith released her debut album "Starfire" on Monument Records. The album garnered great reviews for Smith, who was named one of Rolling Stone Magazine's "10 New Artists You Need To Know" in 2017.
"I first made my way to Nashville when I was 16," said Smith, during a phone interview Friday morning on her way to New York City for a gig at the Mercury Lounge.
"In Nashville, I found an incredible songwriting community that I fell in love with. I saw that you could have the nest voice in the world but, without a song, you won't get very far. I realized you could make a lot of money writing for other people.
"I went back-and-forth between Minnesota and Tennessee for years and then moved to Nashville full-time eight years ago. I signed a publishing contract. When I first moved to town, it was a five-day-a-week scenario – either at an office on Music Row or at someone's studio."
Smith found the "9-to-5" songwriting experience to be somewhat restrictive.
"Working under those conditions was a little much for me to retain inspiration," said Smith, who has a singing voice that is powerful and soulful – and smooth at the same time.
"I've found that some of my best songs are written late at night with a bottle of wine or when I'm out on the road. Songwriting is like a muscle. It's a muscle you need to use and work. You just need to do it and do it – over and over again.
"Moving to Music City definitely changed my writing. In Minnesota, I was mostly writing by myself. In writing for country acts, you learn boundaries – what works and what doesn't."
Establishing herself as a singer who was a recording artist fell into the "what doesn't work" category. Fortunately, that has all changed now.
"In Nashville, I spent years trying to figure out what I wanted to do as an artist," said Smith, whose husband songwriter Rollie Gaalswyk is a member of her touring band.
"I even tried to make a country album – but that wasn't me. 'Starfire' came when I stepped back. I learned how to craft a song and didn't care about other things. I just wanted to make my own music – to dig a little deeper and learn who I was as an artist.
"So many times in the last 15 years, I wanted to give up. My husband and friends reminded me to keep going. It's all about perseverance.
"I definitely had optimism about his record. I didn't want to make a country record or a pop album. I just wanted to make music I loved."
Video link for Caitlyn Smith – https://youtu.be/yhMZ6ADitjM.
The show, which has Andre Davidson as the opening act, will start at 9:30 p.m. Tickets are $15.
Other upcoming shows at the World Café Live are Rita Coolidge on April 15 and Tyrell Wells on April 18.
The Brazilian city Curitiba has a lot going for it. It is the third-most popular city in Brazil behind Rio de Janeiro and is the capital and largest city of the state of Parana.
It has a strong presence in the world of international football (soccer) having been a host city in the 1950 and 2014 World Cup competitions. It is also home to one of Brazil's top teams — Atlético Paranaense.
It is also a cultural center with theaters, museums, botanical gardens, and the world-famous Wire Opera House, which was built on the site of an abandoned quarry.
In the world of rock music, Curitiba is a special place because it is the home of the internationally-acclaimed Brazilian ska-punk band Abraskadabra.
Arising in mid-2003, Abraskadabra is a seven-piece band from southern Brazil. The group's influences are diverse with an emphasis on melodic hardcore and third wave ska – and, most important, on melody.
Having played for more than 10 years now, the energetic septet has established itself as Brazil's top ska/punk/skacore band.
From 2003-2014, the band's discography included "Destroying Your Mother on The Bed" EP (2008), "Grandma Nancy's Old School Garden" LP (2012), "Not Your Savior (No Use For A Name Cover)" single (2013), and "Fun as in Fungus" EP (2014).
Recently, the band released its sophomore album "Welcome" and this week arrived in the states to start a tour supporting the new disc. The tour will touch down locally on April 15 at Kung Fu Necktie (1248 North Front Street, Philadelphia, 215-291-4919, kungfunecktie.com).
The band's current members are Buga – guitar, vocals; Dub – guitar, vocals; Japa — bass; JP — trumpet; Maka — drums; Papaya — trombone; and Trosso – saxophone, vocals.
"Me and Buga have been playing together for 16 years," said Trosso, during a phone interview Friday afternoon from a tour stop in Boston. "In high school, we had the same tastes – always taking about punk rock. We went to the same shows. When we started listening to ska and punk, we said – this is what we want to do.
"Our first concert was in 2003 at one of our high school events. Right now, there are seven in the band. We've been in the last formation for five or six years. The horn players come and go. The nucleus is me, Buga and Maka, our drummer. Japa, our bass player, joined after 10 years.
"I used to play guitar and sing. I switched to sax but also still do vocals. We have four lead singers throughout the whole new album."
Abraskadabra toured the states after the release of its first album and now is repeating the process for "Welcome."
"We released 'Welcome' two months ago," said Trosso. "When we made the album, we brought my recording equipment to a house we rented on the outskirts of Curtiba.
"We recorded everything ourselves. We lived in the house for three weeks – living like a family and searching for the perfect sound. I've been living in London, England for last two years and I finished tracking the album at my studio there.
"In our live shows on this tour, we're trying to just promote the new album. Most of the set will be songs from the album and maybe one or two from earlier in our career."
Video link for Abraskadabra — https://youtu.be/wHjjee9leq8.
The show at Kung Fu Necktie, which has Fink's Constant, Joker's Republic, and The Creds as opening acts, will start at 7 p.m. Tickets are $10.