By Caroline Roosevelt, Columnist, The Times
This weekend marks the kick-off of the County Open Studio Tours starting with Chester County. You have plenty of ways to curate your schedule, plenty of conduits to take, with 154 artists spread over 64 studios. Not even the most diligent of art walkers could make it to every site location so I recommend choosing either a theme, or geographical location to so that you can really enjoy art at your leisure.
First off, Art Trust Gallery in West Chester is currently hosting a Chester County Studio Tour preview exhibition. This would be a great way to dip your toe in the pool, or decide how you want to set up your Studio Tour weekend. This exhibition runs through June 1st, so if you miss the tour, you can also catch up on some of the art here.
Chester County Studio Tours will be operating on Saturday, May 19 from 10 a.m. – 6 p.m. and Sunday, May 20 from 11 a.m. – 5 p.m. The brochure, which is available online, kindly breaks up the locations by: Northern Chester County, Southern Chester County, into West Chester borough, and differentiates between private studios and public galleries and establishments.
There are several of our regularly covered establishments featured along the way. In Northern Chester County, check out Chester Springs Studios and Gallery 222. In Southern Chester County, pop by Chester County Art Alliance, Street Road Gallery, Square Pear Gallery and Oxford Art Alliance. These all have my stamp of approval, which is why I single them out.
Artist Rachel Romano will be featuring her studio along the walk. I intend to make this a stop on my tour. I have run into Rachel at a few recent art events including PA Made of Steel at The Hill School, and her recently curated successful show at Oxford Art Alliance – Imaginari, which brought together two dimensional, three dimensional artists and poets for a beautifully collaborated exhibition.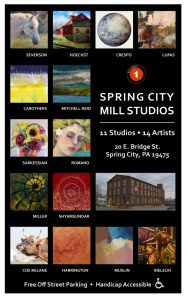 She will be showing off her new studio digs as stop #1 on the tour at Spring City Mill Studios. This location hosts 11 studios with 14 artists. Stop by to view abstract painting,  sculpture, celestial watercolors, tapestry weaver, photography and more. Also sign up for a FREE ART RAFFLE- which includes a chance to win 28 artworks/prints (2 from each artist) if you come both days.
If you have yet to check out Phoenixville, this is a perfect opportunity to do so. Take in six different studios of the following contributing artists: Teresa Haag, Thomas Ransom, Siobhan Bedford, Heather Pasqualino, Nell Hasinksi, and Gretchen McGinnis. You may recognize the name Teresa Haag from her recent exhibition at Church Street Gallery in West Chester. Beyond Phoenixville, other destination towns in Northern Chester County are Chester Springs, Malvern and Downingtown (check out Lynette Shelley at Ivystone Studios!)
Moving down to Southern Chester County, the participating towns include West Chester, Kennett Square, Oxford, Cochranville, Chadds Ford, West Grove, Landenberg and Hockessin, Delaware. Kennett Square, my stomping grounds, features the Square Pear Gallery, Neilson Carlin's studio, and Annie Stracks' studio.
I have long admired Neilson Carlin's work, and had the honor of interviewing him on Art Watch Radio last year, but I have yet to visit his studio space where he has also established the Carlin Academy of Fine Art which focuses on teaching realistic drawing and traditional oil painting techniques of the masters.
As I mentioned in an earlier column and promised to revisit, Street Road Gallery in Cochranville, will be unveiling their new mural by acclaimed illustrator Luyi Wang. Fingers crossed, the weather will behave. I know our weather app is currently promising rain for the next week, but as has been shown this week, that "rain" may be scattered and hopefully we'll get a break in the clouds to view this piece!
Take part in the interactive online element of the Chester County Studio Tour. After your tour, vote for your favorite artist on the Chester County Studio Tour online. Chester County Studio Tour will give $500 to the winning artist.
If you happen to take photos along your way and want to share them in next weeks' column, please email me at caroosevelt@gmail.com. I look forward to running into you at a few of the stops and chatting art.
Speaking of art talk, tune into Art Watch Radio WCHE  1520AM next week when Andrew Snyder, artist and West Chester University Professor, hosts – Nancy Campbell, Wayne Art Center Executive Director. Until next week!