By Caroline Roosevelt, Columnist, The Times
I hope no one wound up trespassing on Scarlett Thicket Farm last Saturday because of my article! The show has been rescheduled for this Saturday, June 9, due to last weeks' inclimate weather. We will see what happens THIS Saturday, as this spring has been a real nail-biter when it comes to the fruition of weather predictions. At any rate, check out Abstractions at Scarlett Thicket Farm show from 2 – 7 this Saturday.
Last week, the Expanded First Friday in Kennett Square took up a large portion of this writers time. The town hosted several well attended events including but not limited to the Evening of The Arts at the Genesis Building, Square Pear hosted "Opposite Visions," Meredith Langer put on another successful Flea Market alongside the established State St Farmers Market, and PopUpArtKSQ (my baby) put on the Pop Up Art Walk down on Union and Magnolia Streets.
I love the new Expanded Art Walks that Kennett Square puts on. Last June marked their inaugural event. They occur every June and November. The town simmers with energy and people take advantage of the under appreciated walkability of the town. This was one of the goals of the PopUpArtKSQ projects; to get people walking and appreciating Kennett Square for more than just State Street (not to knock State Street, it's adorable and Philter is my home.)
The weather held out Friday night, which was fantastic because in planning the pop up art walk, our committee refused to entertain any other option (didn't want to hex it, you know). Several musicians played out on porches or lawns, as visitors scoped out art installed in local residences and tried some bites from local purveyors like Brewers Hideaway Farm and Harvest Market. Some children along Magnolia Street created their own collages, framed them, and attached them to the fences along the street; a pleasant addition to the festivities and a visual representation of the enthusiastic community Kennett Square fosters. I'll keep you updated as PopUpArtKSQ updates their 2018/2019 programming. (Some insider info: expect it to expand beyond the borough with their next event!)
This Sunday, visit Kennett again for the return of the popular Clover Market in the Genesis Parking Lot on Broad Street from 10 – 4pm. This event is free to the public and you can take a shuttle from State and Union down to Genesis (but if the weather is nice, it's also a lovely and relatively short walk.) Enjoy a bite from a variety of food trucks. Local band, Couple Days, will be providing the soundtrack, and there will be kids crafts for your little ones to enjoy! (A suggestion: remember sunscreen! Last year I attended, and bought some adorable "gifts for other people, not for me," and was burnt to a crisp by the end of the afternoon.)
Moving on to other locations! Pop over to Station Gallery anytime this month to check out their group show featuring Rachel Altschuler's technical, beautiful, and at times cheeky, bird paintings as well as the post impressionist/fauvist paintings of Jim Barwick, and Mary Ann Weselyk's still lifes. The exhibition will be up through the end of the month.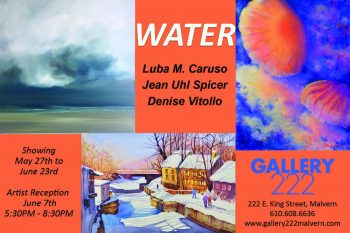 Gallery 222 will be hosting a wine and cheese reception tonight, Thursday June 7, from 5:30pm – 8:30pm for their exhibition "Water," featuring artwork by Luba M Caruso, Jean Uhl Spicer, and Denise Vitollo.
Tonight, Mainline Arts Center unveils a poignant exhibition, "Souls Shot: Portraits of Victims of Gun Violence." This is a group show in which artists met with families and friends of victims of gun violence and then created portraits to commemorate their lives and bring awareness of the gun violence epidemic. This exhibition is put on by Souls Shot: Portrait Project and will be on display until July 16.
Next week tune into WCHE 1520AM for Art Watch from 1 – 1:30. Next episode Andrew Snyder, artist and West Chester University Professor hosts – Maggie Creshkoff. Until next time!