By Denny Dyroff, Entertainment Editor, The Times
For sports fans, Appalachian State University is known for producing what has been called "one of the greatest upsets in college football history."
For music fans, Appalachian State University is known for giving the world one of the best American folk/rock bands in the past decade – River Whyless.
The sports world was stunned in 2007 when Appalachian State, an NCAA Division II school, upset Michigan, a Division I school that was ranked fifth in the nation. Michigan was such a favorite that Las Vegas sportsbooks did not give a betting line. The final score showed ASU on top 34-32.
The emergence of River Whyless didn't register as highly on the Richter Scale but was still important – especially for fans of folk/rock, Americana and indie rock.
On June 8, River Whyless –  Ryan O'Keefe: vocals, guitar; Halli Anderson: vocals, violin; Daniel Shearin: vocals, bass, harmonium; Alex McWalters: drums — released its third studio album "Kindness, A Rebel" via Roll Call Records.
The band has embarked on a tour to support the new disc and will arrive in Philadelphia on June 12 for a show at Johnny Brenda's (1201 North Frankford Avenue, Philadelphia, 215-739-9684,
"We all met at Appalachian State, which is located in Boone, North Carolina," said O'Keefe, during a recent phone interview from his home in Asheville, North Carolina.
"Dave was a music major but not the rest of us. I came into music late in the game. I never played music until I was in college. Alex and I roomed together. He taught me how to listen to music more critically. Then, I picked up guitar and started to learn how to play.
"We played music together through college and then decided we wanted to start a band. Halli came in to play violin. Slowly, the band started to develop – basements to house parties to bars to out-of-town shows. It's been a slow build – one foot in front of the other."
The band's self-released debut album "A Stone, A Leaf, An Unfound Door" came out in 2012 and the next LP was "We All The Light," which came out on 2016 on Roll Call Records.
"We played a lot of shows on the first album," said O'Keefe. "We toured endlessly. We really spent a lot of time developing how we sound. For the second album, we had a new bass player who was also a songwriter. With three songwriters in the band, it's definitely a group effort."
When the band members finished their education at Appalachian State, it was time to relocate.
"We've been here in Asheville for eight years," said O'Keefe. "Boone is really a college town. Asheville definitely is a progressive town. It's an oasis.
"Our latest album came together pretty quickly. Little pieces came in and developed quickly. It's indie rock with a lot of folk music thrown in.
"We have band sessions here at our rehearsal space – a house in Boone. We did a lot of writing in the studio when we were recording the album. That was different from what we had done in the past. There needed to be a lot of flexibility in the studio.
"We recorded the album at Sonic Ranch Studio in El Paso, Texas – a great studio on a huge pecan farm in the middle of nowhere. We spent three weeks there. We made the album with producer Paul Butler. He's an exciting producer who is eager to let things happen.
"Now, the album has finally been released and we're out on tour. We love the new album and we're going to play every song in our live show."
Video link for River Whyless — https://youtu.be/374V10dsREs?list=PLHYawg-Kn–yhSW3YBQnBF5z4SS-ezPzY.
The show at Johnny Brenda's, which has Gracie and Rachel as the opening act, will start at 8 p.m. Tickets are $15.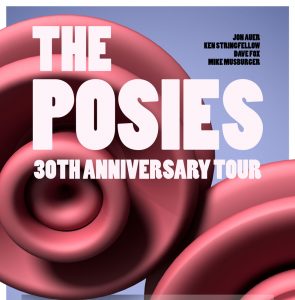 On June 13, there will be a show at the World Café Live (3025 Walnut Street, Philadelphia, 215-222-1400, www.worldcafelive.com) featuring a new act and an old act that has become new again – a show that will delight fans of both acts.
The headline act is The Posies, a veteran rock band that released its first album in 1988. The opening act will be Terra Lightfoot, a Canadian solo artist whose first album was released just a few years ago.
Two years ago, there was a shroud of mystery around The Posies' show in the Delaware Valley.
Touring in support of their eighth album — "Solid States" — The Posies hit the road with their "Secret Pop Up Show Tour."
None of the full band shows were in clubs, but rather in cool, alternative event locations in each city — with the actual address of the show being released to ticket holders not more than 24 hours in advance.
Now, The Posies are coming back – and there is no mystery why.
Celebrating their 30th anniversary this year by the reissue of three classic albums — "Dear 23," "Frosting on the Beater," and "Amazing Disgrace," The Posies have embarked on a very ambitious world tour.
The Posies have had several lineup changes over the years, but the band has always revolved around the founding duo of Jon Auer and Ken Stringfellow.
To take this celebration around the world, The Posies tour band will feature the 1992-1994 lineup that made "Frosting on the Beater" — drummer Mike Musburger and bassist Dave Fox along with Auer and Stringfellow. It's been almost a quarter century since this quartet has been on the road.
"We did over a hundred shows for 'Solid States' and almost all the shows in the states were pop-up shows," said Stringfellow, during a phone interview last week from a tour stop in Birmingham, Alabama.
"Then, we did a European tour – actually, two European tours, two American tours and then a follow-up in Spain. That tour cycle was longer than this 30th anniversary tour.
"There are two main reasons behind this tour. It's an anniversary tour. And, there is the re-issue of three of our early albums from the 90s – records that we did with Geffen Records."
Omnivore Recordings has embarked on ambitious reissue of three classic albums by The Posies. "Dear 23" will arrive June 15, 2018, while "Frosting on the Beater" will be released on August 3, 2018. Each of these titles comes as a two-CD set featuring the original album remastered from original master tapes, plus almost all previously unissued bonus tracks, and on vinyl as a two-LP set of the original album — mastered at 45 rpm.
"Amazing Disgrace" will be released October 28, 2018 as a two-CD set, also with the original album remastered from original master tapes, plus almost all previously unissued bonus tracks, and as a two-LP package — unlike the others, mastered at 33 1/3 as it was simply too long for 45 rpm.
"We've been working on the re-issues for a while," said Stringfellow. "It's been a very long process. We knew the 30th anniversary tour should reflect these re-issues.
"We got in touch with Dave and Mike and they were available and into it. So – why not?"
It was 30 years when The Posies began by releasing a home-recorded cassette called "Failure," which to their complete surprise became an instant favorite around the Northwest, earning them critical accolades, radio airplay, and major label interest all in a very short time. They were lucky to find themselves living just a few doors down the road in Seattle from Arthur "Rick" Roberts and Mike Musburger, who joined the band on bass and drums, respectively.
Signed to Geffen Records, the Posies recorded their second album, "Dear 23," and toured the U.S. Roberts left the Posies in 1991, Dave Fox joined on bass, and they made the album that put them into the international spotlight: 1993's "Frosting on the Beater."
The band changed the rhythm section yet again with Brian Young on drums and the late Joe "Bass" Skyward on bass. This is the lineup that recorded "Amazing Disgrace."
"It's been a long time since people heard this music performed by these guys," said Stringfellow. "That line-up (Musberger, Fox, Auer, Stringfellow) didn't last that long."
With major changes in the way music is consumed having largely arrived after these albums were originally released, the albums have not been regularly available — CDs out of print, inconsistent presences on streaming, LPs either long out of print or not issued at all. Omnivore Recordings is changing all that.
"Omnivore is entering into a licensing deal with Universal Music Group and it's very costly," said Stringfellow. "Universal gets money from their rights and they want their share when the record drops – on the day it comes out. So, we're in the middle of a PledgeMusic campaign. We're three-quarters of the way to the goal –and we're not going to stop pushing."
Fans of The Posies can support the band by participating in the PledgeMusic at https://www.pledgemusic.com/projects/the-posies
Video link for the Posies — https://youtu.be/U0sbmOLJUTM.
Lightfoot, who grew up in Waterdown just outside Hamilton, Ontario, is currently touring the states in support of her new album "New Mistakes."
"The new album came out in October, but it hasn't been until now that it's had its real release in the states," said Lightfoot, during a phone interview Monday morning as she travelled from Charlotte, North Carolina to a gig in Annapolis, Maryland.
"When the album came out initially, we toured Australia, Japan and Europe before we started anything in North America. Now, we're focusing on the states. We'll be out with this tour until July1.
"We recorded the album in March last year. The cool thing is that we're finding new ways to play the songs live. We're inside them now."
Not only are Lightfoot and her band more familiar with the songs now, they are using a different line-up.
"We have a new bass player," said Lightfoot. "We've been a trio since January. It's just bass and drums and me on guitar – no frills, more fun. There is improvisation happening. It's less cluttered. We cut the album on Six Nations Reserve near Hamilton."
Lightfoot and her bandmates went to the reserve and laid down the tracks at Jukasa Recording Studios in Ohsweken, Ontario.
"We went and lived there while we were recording the album," said Lightfoot, who graduated from McMaster University with a degree in anthropology.
"It was like the 70s. I started writing the songs a year before I recorded them. I was touring a lot and had all these road songs – songs about the concept of travelling and being away from home.
"I'm an honest writer. I can't write about anything that didn't happen to me or my friends and family.
"The concept of just a trio was new.  We didn't need keyboards or another guitar. As a person who plays all guitar, it made sense that I stepped out as lead player. That means there are more opportunities to improvise. Now, anything goes."
The songs keep evolving and Lightfoot is comfortable with the process.
"I sing the same words every night," said Lightfoot. "It's about me being confident enough to carry it – to realize that I can do it. But, it was difficult to restructure a lot of the songs to the new format."
Video link for Terra Lightfoot – https://youtu.be/VWjcASRTNOI.
The show at the World Café Live featuring The Posies and Terra Lightfoot will start at 8 p.m. Tickets are $22.
When a touring Broadway musical comes to Philadelphia or Wilmington, it is usually for a six-day run from Tuesday-Sunday. If a show visits the area for a longer run, it's a safe assumption that the show is something special.
"Disney's Aladdin" appears to be in the "something special" category.
Disney Theatrical Productions in conjunction with the Kimmel Center's Broadway Philadelphia will be presenting the long-awaited Philadelphia premiere of "Disney's Aladdin" for a three-week engagement from June 13 through July 1 at the Academy of Music (Broad and Locust streets, Philadelphia, 215-731-3333, www.kimmelcenter.org).
The all-ages favorite, which offers adventure, comedy, and romance, features all of the cherished songs from the famous Academy Award-winning animated Disney film and the popular musical soundtrack.
"Disney's Aladdin" opened on Broadway at the New Amsterdam Theatre to critical acclaim in March 2014 and quickly established itself as one of the biggest new blockbusters in recent years. It broke 12 New Amsterdam Theatre house records
Produced by Disney Theatrical Productions, the show features music by Tony Award and eight-time Oscar winner Alan Menken along with lyrics by two-time Oscar winner Howard Ashman, three-time Tony Award and three-time Oscar winner Tim Rice, and four-time Tony Award nominee Chad Beguelin. It has a book by Beguelin and is directed and choreographed by Tony Award winner Casey Nicholaw.
"Disney's Aladdin" is adapted from the Academy Award-winning animated Disney film and centuries-old folktales including "One Thousand and One Night." This new production features a full score, including the five cherished songs from the Academy Award-winning soundtrack and more written especially for the stage.
The pivotal role of the Genie is performed by Michael James Scott.
"The stage adaptation is obviously influenced by the animated movie 'Aladdin,'" said Scott.
"The cool thing is that they went back to the original aspects of 'Aladdin.' Songs that were cut from the film are now on stage. The show is a melding of the two. Aladdin has three friends that were in the original script.
"There are little things with Jafar. His sidekick is not a parrot but rather a character they created for the stage. Casey was really adamant that there wasn't going to be animals on stage. This was a real fantasy world with real people. They had to do some things to make it work."
The animated film "Aladdin" was released by Disney in 1992. It was a critical and box office smash and became the highest-grossing film of the year. The film won the Oscar for Best Original Score and introduced the hit song "A Whole New World," which won the second of the film's two Academy Awards as Best Original Song.  The Peabo Bryson/Regina Belle recording of the tune soared to #1 on the Billboard Hot 100 chart.
"Playing Genie is a dream role," said Scott. "I originated the role of Genie in Australia. I did the show on Broadway. Then, I left to do 'Dirty Rotten Scoundrels' on Broadway. Then, they brought me to L.A. to join the North American tour of 'Aladdin.' I've had a pretty successful career on Broadway."
The list of Scott's Broadway credits includes "The Book of Mormon,: "Elf," "The Pirate Queen," "Mama Mia!," "All Shook Up," "Hair," "Tarzan" and, of course, "Disney's Aladdin."
"Audiences love this show because they get transported to a movie which is so beloved," said Scott. "The cool thing is that there is a new wave of audiences who don't know the show. Another big attraction is Alan Menken's songs.
"Right now, in this world, we need to smile, to laugh and to love. This is a show of love, happiness and fantasy.
The Genie can grant three wishes. Scott described what he would ask for if granted three wishes.
"My three wishes would be stability in our world, family care and having it so my partner and I can go anywhere we want on vacation."
Video link for "Disney's Aladdin" — https://youtu.be/2K-9vrwilEQ.
"Disney's Aladdin" will run June13-July 1 at the Academy of Music. Tickets start at $20.
American Aquarium will perform at Boot and Saddle (1131 South Broad Street, Philadelphia, 215-639-4528, www.bootandsaddlephilly.com) on June 13 as part of its tour supporting the album "Things Change," which was just released on June 1 via New West Records.
The band's seventh studio album is its finest collection of southern rock-n-roll to date and the group's first release on a label after selling thousands of records on its own.
Since the release of his highly acclaimed solo album "Rockingham" (2016), there have been numerous changes in BJ Barham's life. The previous configuration of American Aquarium, which he helped found in 2006, dissolved last year, allowing him to successfully put together an entirely new lineup last fall.
While past members have left indelible marks, the band has always been anchored by the literary songs and sometimes roaring, sometimes whispering, drawl of Barham. American Aquarium's current lineup includes Shane Boeker on lead guitar, drummer Joey Bybee, bassist Ben Hussey, and Adam Kurtz on pedal steel and electric guitar – along with a reinvigorated front man in Barham.
"We made the record in December," said Barham, during a phone interview last week from a tour stop in Pittsburgh.
"Once you create a piece of art, you want to put it out as soon as possible. But, the powers that be said – you have to wait until June to put it out. Now that it's out, it's been worth it.
"The last six months have definitely been the decanting period for the band. If we had toured right out of the gate, it wouldn't have the weight it does now."
Recorded at 3CG Records in Tulsa, Oklahoma, "Things Change" was produced by Grammy-nominated singer-songwriter John Fulbright and features cameos from Americana standouts including John Moreland and Jamie Lin Wilson.
"Most of the record was arranged in the studio," said Barham. "Only two or three were done before we went in. I stated writing in September and October – me and my guitar sitting in the living room – peace and quiet waiting for the muse. It starts with lyrics or maybe a melody. It starts with one line. Everything I write is like a folk song – three-chord songs.
"The most important part is the lyrics. The ultimate goal as an artist is to bring about hope – about finding light in hard times. When I'm done with the forts part of the writing process, I take it to the band. That's when you put the meat and muscle on the bones."
This time, there were new players receiving Barham's songs.
"Since 2006, I've had over 30 members in the band," said Barham. "Last year, the real core group had a mass exodus. In February 2017, they came to me and said – we don't want to play music with you anymore. I wouldn't have fired anybody – but this was a blessing. When it all happened, it didn't come as a surprise.
"Things happen for a reason. I was invigorated. I got new guys and I was excited about being in a band again. I was excited about playing music again.
"We're a rock-and-roll band but there is also a twangy thing coming. We're a full-time rock-and-roll band and a country band. People come up to us all the time and say – I hate country music, but I love you guys. If we can accomplish that, I'm happy."
Video link for American Aquarium – https://youtu.be/0SbP7GKTyr0.
The show at Boot & Saddle, which has Cory Branan opening, will start at 8:30 p.m. Tickets are $15.