By Denny Dyroff, Entertainment Editor, The Times
There is a great variety of live music on tap in the area this weekend – a folk/country singer-songwriter from Los Angeles, rocking twin sisters from New Jersey, a young Australian singer-songwriter, a Pennsylvania-born song stylist whose repertoire covers more than a half-century, a guitarist-singer-songwriter from Kenya, a heavy twin-guitar band from Georgia and a Frank Zappa tribute band featuring members of the Mothers of Invention
Southern California transplant Michelle Lewis, just released her latest album – "All That's Left" – and is having a CD Release Party on December 1 at Burlap & Bean Coffeehouse (204 South Newtown Street Road, Newtown Square, 484-427-4547, www.burlapandbean.com).]
"I recorded the album in Los Angeles – in Laurel Canyon," said Lewis, during a phone interview Wednesday afternoon from a tour stop in Boston.
Lewis has lived in L.A. for four years but was born and raised in the Boston area – in Milford, Massachusetts. She also is a graduate of Boston's Berklee College of Music.
"I recorded a few of the songs last year and then did the second batch this year," said Lewis. "I worked with the production team of Anthony J. Resta and mix engineer Karyadi Sutedja. It's been almost 10 years that we've been working together.
"I made my first album – 'This Time Around' – in 2004. Then, after I graduated from Berklee, I started hitting the road."
Lewis has been a longtime collaborator with Resta (Elton John, Duran Duran, Shawn Mullins) including work on her EPs "Broken" (2009) and "Paris" (2011), her second full-length album, "The Parts Of Us That Still Remain" (2014), and "All That's Left" (2018).
What sets Lewis apart from a lot of today's singer-songwriters is her use of finger-picking when accompanying herself on guitar.
Hypnotic finger-style guitar melodies give away her Berklee College of Music education. Her fingers move swiftly and lightly over the guitar, an exacting technique applying all five fingers to plucking patterns that build immersive melodies. Her live shows contain an astonishing lack of strumming.
"When I first picked up acoustic guitar as a teenager, my dad said – you should learn a couple finger-picking songs," said Lewis. "I did, and I was hooked. I just developed my technique from there. And, finger-picking lends itself to my vocal style."
"All That's Left" is an intense collection of 10 tracks — a transformative journey from regret to compassion. Lewis weaves an emotional journey, conveyed in vivid ashes of sorrow and garnished with comic turns of forbearance. The album gathers upon all the consequences of holding people close.
More polished than folk and more personal than pop, Michelle writes intensely visual songs with a gut punch of emotion. As a storyteller, she explores life's defining moments, juggling the immediacy of first-hand experience with the serenity of emotional wisdom.
"With my songwriting, mostly I'll get an idea for a song or a lyric will pop up in my head and I want to write a song around it," said Lewis. "Sometimes, a melody will come first. I try to let things come naturally with inspiration. I just kind of let it flow. Once I get the first line, I go from there.
"On my new album, the title track – 'All That's Left' –was a completely different song when I wrote it. I kept the chorus and then started from scratch for the rest of the song. The last song I wrote for the album – 'Pillow' – came really quickly. I wrote it in a couple hours.
"I tend to write mostly on guitar – mainly because I don't have a piano now. It would be fun to write on piano and I'll probably do that on my next album."
Video link for Michelle Lewis – https://youtu.be/Ccj-HITwdQk.
The show at Burlap & Bean Coffeehouse, which has Seth Glier as the opener, will start at 8 p.m. Tickets are $15.
On December 1, Nalani & Sarina will headline a show at the Queen (500 North Market Street, Wilmington, 202-730-3331, www.thequeenwilmington.com) that is billed as "Students Give: A Holiday Concert and Gift Drive." The show also features West Grove's Amanda Nolan along with Glass Doors and Reece Ratliff.
Ratliff, a sophomore at Wilmington's Tower Hill School, is taking the lead on this holiday gift drive and fundraiser for Adopt-A-Family and its holiday gift assistance program. He will be releasing his debut EP in the coming months and will be releasing a single from the album at this show.
Gable Music, producers of the award-winning Ladybug Music Festival, is assisting in organizing the event and is proud to present Nalani & Sarina as the event headliner. The twin sisters from New Jersey were recently presented keys to the city by Wilmington Mayor Mike Purzycki during the Ladybug Festival over the summer.
Nalani & Sarina have been building a huge fan base in the Mid-Atlantic region for the last five years. The duo has performed at a variety of venues around the area including Kennett Flash, the Eagleview Concert Series in Exton, The Queen, and the Ladybug Festival. The highly-talented twins, who are in their early 20s, have already established themselves as top-flight vocalists, songwriters, and multi-instrumentalists.
They have self-released several well-crafted albums and singles. Now, they are ready to take it to another level – with a sparkling new album called "The Circle."
"The album dropped in May," said Nalani Bolton, during a phone interview Friday, as the duo travelled to an afternoon radio interview in Bowling Green, Ohio and an evening show in Louisville, Kentucky.
"The album is doing great," said Sarina Bolton. "It's on our own label – Telepathy Records – and is distributed by Kobalt (a label servicing company that handles publishing, licensing and other services). It took about two years to complete the album. We've been getting great responses.
"Now, we're doing this circle tour to get the music out there. We're circling the country and we've had our fair share of biscuits and gravy. The goal for a lot of these places is to visit radio first and get our name out. We did a radio swing down here in the South in September and have been building up a fanbase through social media. Radio has been really supportive. We did a Triple A Radio convention in Boulder, Colorado in the summer and that helped a lot."
Nalani said, "The demographics are different in every city. In Nashville, we had a ton of young people out. In Chattanooga, we had music lovers of all ages. It's great to actually hear people respond after waiting so long to get the album out.
"We just kept writing songs – songs that kept changing. We did all the recording with our engineer Julian Herzfeld and Greg Thomas at Julian's studio in Wayne and also at Carriage House Studio in Stamford, Connecticut.
"With the songwriting, we had a new approach this time. The songs on our last album were based on personal experiences. This time, it's other people's stories — more of a world-wide approach. It is observational writing geared to people our age. It's a combination of first person and third person.
"We're writing about people our age – observing other people's stories. It's like a story about kids' lives from their early to late 20s – love, first relationships, work. The songs are about what life is like for people our age. But, people of all ages can relate to these songs. We've had older people tell us that they can identify with these songs."
Nalani said, "The vibe of the album is very mature. We think the sound and the material has matured. Our early stuff was all about relationships. Now, we are more worldly. We look at the world the way it is today – especially for people our age. We always like to challenge ourselves."
The sisters graduated from high school with honors but never looked to continuing their education on in college.
"We graduated early from Hunterdon Central High a few years ago and we've been doing music ever since," said Nalani.
With roots based in rhythm-and-blues, soul, rock and especially funk, the sisters create vocal harmonies that only twins can make.
"We're identical twins," said Nalani. "We both started playing classical piano when were six and then studied operatic vocals when we were in sixth grade. Classical music and opera provided good basics for us. Our mom was a folkie, so we listened to a lot of folk music when we were young — great songwriters like Leonard Cohen and Bob Dylan. And, we've listened to a lot of classic rock.
"We always have the funk. It's impossible for us to keep the funk out. We've always had funk in our blood. We play shows with just the two of us, it always sounds more singer-songwriter. When we do shows with our band, it gets funkier. We've been finding ways to combine all our styles. With this record, we've meshed the styles.
Sarina said, "We love playing The Queen. It's one of our favorite places. We'll be going on around 9:15 p.m. There are three other acts. The opening act is Amanda Nolan. We've heard her play before and she's really good."
Amanda Nolan is a singer/songwriter/performer from West Grove who describes her sound as "Pop with a touch of country and a little bit of soul." She has just released her third EP of original music — "All Mine" — and her music has been featured on 93.7 WSTW's "Hometown Heroes" radio program.
Nolan has been writing her own music and performing originals and covers on guitar and piano at venues all over Pennsylvania and Delaware for the last four years.
Video link for Nalani & Sarina – https://youtu.be/77tnYL-htDc.
Video link for Amada Nolan – https://youtu.be/Wh2lwfutZCk.
The show at the Queen, which also features Amanda Nolan, Glass Doors and Reece Ratliff, will start at 7 p.m. Tickets are $15.
Australian singer-songwriter Didirri has come to America for a tour in support of his new EP "Measurements" – a tour that will stop in Philly on December 1 for a Sofar Sounds show (Broad and Bainbridge streets, Philadelphia, www.sofarsounds.com).
"This is my third time to come to America, but the first two times were just for the business part of it," said Didirri during a phone interview Friday afternoon from a tour stop in Boston. "This is my debut tour. It's a three-week tour and I have one week left.
"I have just one EP at the moment. I've released five singles starting with 'Blind You' in May 2017. The others are 'Jude.' 'Bird Sound,' 'Formaldehyde,' and 'I Just Can't Get Last Night Out Of My Head.' I'll be recording an album in January and February in Australia."
Didirri is from Warrnambool, a city in Victoria not far from Melbourne. He goes by just one name. The name is derived from an indigenous word and meditative practice Dadirri meaning "Deep, Quiet, Listening."
"I decided to use just my first name," said Didirri. "It has more meaning. And, it gives me some anonymity.
"My father is a singer-songwriter and my mother is a painter so I've always been creative. In Melbourne, I studied jazz on piano. Then, I started writing songs. I wanted to explore what I could do musically.
"I put lyrics to music and tried to express them on piano. It wasn't really what I was looking for, so I decided I was going to start writing on guitar – and it was perfect. The songs felt like they were true and honest."
Didirri's songs appealed to both him and his fans.
According to Didirri, "Each song I write tackles a different part of my own morality. I was pondering metaphorically what my scribblings were and came to the conclusion that they are my 'measuring tape' to hold up to the world. The yardstick to check myself with."
For a while, Didirri was balancing an artistic career with a day job — but just for a little while.
"Three years ago, I started busking and working full-time," said Didirri. "I was working for an electronics company. I got fired so then I started touring. I was driving a lot and doing shows. I was booking my own shows and I put a half-million kilometers on my car.
"When my songs started getting played on national radio, things took off. I got an internet following and it branched out. I was having people in America and the U.K. listening to my music."
Now, Didirri is playing small shows in the states to build his career here. It is very different from Australia where he draws large crowds whenever he performs.
"I like the challenge to prove myself," said Didirri. "I like having to convince people."
Video link for Didirri – https://youtu.be/y2rZeppgSFM.
The Sofar show will begin at 7:30 p.m. Tickets are $25.
Nellie McKay treats fans to live renditions of classic songs that are commonly referred to as standards. Her set list might also feature a Beatles song or even the Frank Zappa classic tune, "Hungry Freaks Daddy."
McKay is touring on-and-off in support of her new album "Sister Orchid" – an album filled with songs that were popular long before she was born. On December 1, she will bring her musically-diverse and highly-interesting live show to the Rrazz Room (6426 Lower York Road, New Hope, 888-596-1027, www.TheRrazzRoom.com)
The album includes timeless gems such as "Willow Weep for Me," which was first recorded in 1932 by the Paul Whiteman Orchestra and later was a hit for Billie Holiday in the mid-1950s; "Georgia on My Mind," a Hoagy Carmichael song from 1930 that was a hit for Ray Charles in 1960; and "In a Sentimental Mood," which was penned and performed by Duke Ellington in 1935.
On McKay's website, "Sister Orchid," which was released on May 18 on Palmetto Records, had this description – "Conjuring the image of a lonely all night truck stop along Highway 1 on the California coast, all but lost in the fog that comes creeping along the shoreline… this album speaks of the night, the outsider, the plaintive wail of those lost at sea. 'Sister Orchid' was conceived in solitude, executed in darkness. It comes from a place of quiet, a world of low lights and cool drinks, up against a hard wall.  An oasis of hungry eyes and easy promises, warm as a biscuit, the kind of place your mother warned you against."
"It took me a long time to make this album," said McKay, during a phone interview last week. "I've known some of these songs since I was little. All of them are standards.
"For many years, I thought about doing a solo album like this. It seemed right. Selecting the songs to record was extremely difficult – almost impossible – because there are so many great songs. The songs I chose blended together well on this album."
The album features McKay on vocals with just piano accompaniment.
"I recorded it last summer in Pennsylvania and New York," said McKay. "The song list was large. We had about 40 songs and then whittled it down. Everything had something going forward.
"It was just me on this record. I sang and played piano. I think it has a different flavor than most albums – no other instruments."
McKay first played shows in this area back in 2004 to accompany the release of her debut album "Get Away from Me" on Columbia Records
When she was getting started, McKay's music bridged the gap between jazz and hip-hop — a combination not often heard in today's pop music.
McKay was born in London and raised in New York, the Pacific Northwest and Pennsylvania's Pocono Manor. When she was still in her teens, she was living in her own apartment in New York — at the edge of Harlem at 123rd and Amsterdam.
McKay, who attended school at Pocono Mountain Junior and Senior High, learned to play a variety of instruments including piano, cello, timpani, vibes, triangle and saxophone. Her main concentration has always been on keyboards.
"I played with the East Stroudsburg University Jazz Ensemble when I was still in high school," said McKay. "Patrick Dorian, a music professor at ESU, gave me my first formal jazz training. He taught me a lot about composition."
Eventually, McKay began playing gigs at New York piano bars such as Don't Tell Mama's, Stonewall Bistro, Psychic Cafe, Regents, Rose's Turn, and Mozart Café (where she was canned because she liked to play Christmas songs in August when people weren't sick of them). A record deal with Columbia followed and the rest is history.
"Sister Orchid" marks McKay's seventh label release in just 31 years. Her previous albums include "Get Away from My Head," "Pretty Little Villagers," "Obligatory Pie," "Normal as Home: A Tribute to My Day," "Sweet Mobile" and "Blueberry Reader."
McKay is like a modern-day "Renaissance Woman."
On Broadway, she won a Theatre World Award for her portrayal of Polly Peachum in "The Threepenny Opera." She also co-created and starred in the award-winning Off-Broadway hit "Old Hats," and has written and produced musical biographies around a compelling gallery of ladies – from environmental pioneer Rachel Carson to the life, conviction, and execution at San Quentin of underdog Barbara Graham.
Recent projects include "The Big Molinsky – Considering Joan Rivers," and "A GIRL NAMED BILL – The Life and Times of Billy Tipton," which was named one of the "Best Concerts of the Year" by The New York Times.
McKay's screen work includes roles in "PS I Love You" and "Downtown Express." She contributed movie music to "Rumor Has It," "Monster-in-Law," "Gasland," "Last Holiday," and "Private Life."
In the television world, her music has been heard on "Mad Men," "Boardwalk Empire," "Weeds," "Grey's Anatomy," "NCIS," "Nurse Jackie," and "SMILF." Additionally, McKay's writing has appeared in The Onion, Interview, and The New York Times Book Review.
"Right now, it's a cabaret act," said McKay. "That's what we'll do – a classic cabaret show. I'll be playing all the songs from the album. Also, people call out request and I like to oblige them."
McKay also has devoted much of her life to projects combating animal abuse.
She is a recipient of PETA's Humanitarian Award and The Humane Society's Doris Day Music Award in recognition of her dedication to animal rights.
"I've been a vegetarian since I was eight," said McKay. "I've been vegan since 2004. Non-violence begins on your plate."
Video link for Nellie McKay – https://youtu.be/ZuA1CtFF18w.
The show at the Rrazz Room (6426 Lower York Road, New Hope, 888-596-1027, www.TheRrazzRoom.com) will start at 8 p.m. Tickets are $45.
Moving to America from another country can be a challenge – even in the days before Trump instituted his questionable immigration policies.
Singer-songwriter J.S. Ondara found this out five years ago – and it had nothing to do with passports, country of origin or visas.
Ondara, who is opening for Lindsey Buckingham on December 1, came to America from his home in Nairobi, Kenya. His destination was Minneapolis, Minnesota – and its far-from-equatorial climate.
"I moved to Minnesota when I was 20," said Ondara, during a phone interview Wednesday afternoon when he was on the road in upstate New York.
"I didn't have a concept of how cold it would be. Even now, we're driving in a blizzard here in New York State. I was on this spiritual journey flowing Bob Dylan and I knew he was from Minnesota.
"Growing up in Nairobi, I was listening to Dylan and to American and British pop songs on my battery-powered radio. I was listening to bands like Nirvana and Radiohead.
"I was taught the English language in school, but it was through listening to this music that I really learned how to speak English. My first language is Swahili and I also speak Kisii."
The Kisii language – also known as Gusii — is a Bantu language spoken in the Kisii district in western Kenya. Swahili is also a Bantu language. It is spoken in Kenya and other parts of eastern and southeastern Africa, including Tanzania, Uganda, Rwanda, Burundi, Mozambique, and the Democratic Republic of the Congo.
"I started learning guitar after I moved to the states," said Ondara. "I had some relatives scattered around the states, but I wanted to pursue music and there was no music in my family. I had the idea that I was going to move here and start a band. It didn't work out that way."
So, Ondara had to pursue a music career as a solo act.
"I went to open mics and, slowly but gradually, the word spread," said Ondara. "I kept writing more and playing more. My first big break was when The Current, a public radio station in Minneapolis, started playing my music and invited me to play at their birthday show."
On the heels of his first official single release, Ondara has been named an NPR Music Slingshot Artist! Ondara's debut album, "Tales of America," is set for release in February on Verve Forecast.
The completely acoustic album was produced by Grammy-nominated Mike Viola (Ryan Adams, Jenny Lewis) and recorded at Boulevard Recording and East West Studios in Los Angeles. All lyrics were written by Ondara and the album features collaborations with artists including Andrew Bird, Taylor and Griffin Goldsmith of Dawes and Joey Ryan of The Milk Carton Kids.
From a stockpile he says is hundreds of songs deep, Ondara chose 11 for "Tales of America." They are captivating tunes built around acoustic guitars and adorned with subtle full-band accompaniment for an openhearted folk-rock feel. He sings in a strong, tuneful voice well-suited to the gorgeous melancholy he expresses in his songs.
"I've been in the studio for a long time," said Ondara. "I started making the album December last year. Then, I toured and went back and finished it in July. I'll put out a new single next week, another in January and then put the album out on February 15."
In the meantime, Ondara will have to endure another chilly winter in North America.
"This is the time of year that I really miss Nairobi," said Ondara, as the snow swirled around his car in blustery upstate New York.
Video link for J.S. Ondara – https://youtu.be/MMq4A6Tk0a0.
The show at the Scottish Rite Auditorium, which has Lindsey Buckingham as the headliner, will start at 8 p.m. Tickets are $69.50, $59.50 & $39.50.
Other upcoming shows at the venue are holiday concerts by Dave Koz on December 5 and the Mavericks on December 8.
If you're a rock music fan who appreciates instrumental music but is looking for something other than prog rock or strummed acoustic guitars, Double Ferrari is just what you need.
Double Ferrari is an instrumental four-piece band from Athens, Georgia that explores the vibrational and harmonic capabilities of the electric guitar in a high-energy, up-tempo hard rock context.
On December 2, Double Ferrari will roar into the area for a show at The Mothership (602 South 52nd Street, Philadelphia, www.facebook.com/The-Mothership-prev-Eris-Temple-106865082707217/). The quartet is touring with kindred spirits (and fellow Athens locals) Lazer/Wulf.
Guitarists Jace Bartet and Bryant Williamson, drummer Ryan Houchens, and Bass VI player Luke Fields have each cut teeth in various bands for more than a decade, with current projects spanning stylistically from the propulsive juggernaut of Cinemechanica and the DIY multimedia experiment of Bit Brigade, to the exuberant big-band folk rock of Family and Friends.
"We've been on the road for several months and we're about to go back out again," said Bartet, during a phone interview Friday afternoon from a tour stop in Richmond, Virginia. "We've done 100 shows so far this year. I'm feeling pretty tired."
But, when Bartet and his bandmates hit the stage, all signs of fatigue disappear.
By eschewing vocals, Double Ferrari asserts that the human voice is merely one among many instruments that may or may not be included in music. The stories of Double Ferrari songs are subjective but real.
"According to Bartet, "It sounds like kite-surfing with guitar strings, except the kite is a fighter jet that drops pizza instead of bombs. It's meant to be an ode to the inclusive potential and universally adrenalizing nature of electric guitar harmony."
Double Ferrari officially came into existence a few years ago.
"The current group has been playing in Athens since 2014," said Bartet. "It's been a slow-moving thing. We're not playing the most sexy and fashionable music out there. Instrumental bands are not what SoundCloud wants.
Double Ferrari evolved from Bartet's previous band National Anthem, which he formed with Brent Blalock, guitarist Allen Owens, vocalist Nick Simmons and drummer Tim Payne in 2011.
"Brent and I wanted to be a metal band without a singer but that didn't really gel," said Bartet. "The band folded but I still had these riffs. Then, I joined Bit Brigade, a video game tribute band,"
In 2014, Bryant Williamson and Luke Fields, who were members of Bit Brigade, asked Bartet to rework some of National Anthem's material into instrumental tracks.
"They said to me — what if we just do this band with your riffs," said Bartet. "A lot of this material had been simmering for a while. It's been a passion project. In 2014, we became Double Ferrari. I wanted to change gears from National Anthem.
"There was already a National Anthem song called 'Double Ferrari' so we decided to call the band Double Ferrari. We thought it was a good name to describe the two-guitar harmonies. It's a weird, sly, abstract reference to two-guitar harmony."
The band's self-titled debut album was produced by Tim Green at Louder Studios (The Champs, Melvins, Joanna Newsom) in Grass Valley, CA and was released by Ernest Jenning Record Company on vinyl, compact disc, and Nintendo Entertainment System cartridge in October 2017.
"We're greatly into The Champs," said Bartet. "They're heavy without being metal. We wanted to have Tim Green, who is in The Champs, produce our album. We did the drums in Athens and then went to Tim's studio in California to record the guitars and bass.
"I have a vision of what I want our second album to be. Now, I need time off just to write songs and finish the album."
Video link for Double Ferrari – https://youtu.be/KObc1-Gyblo.
The show at The Mothership, which also features Lazer/Wulf and Stinking Lizaveta, will start at 8 p.m. Tickets are $15.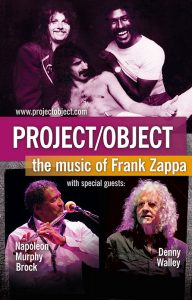 Another show on December 2 will feature Project/Object, who will perform the music of Frank Zappa at the Ardmore Music Hall (23 East Lancaster Avenue, Ardmore, 610-649-8389, www.ardmoremusic.com)
Project/Object is the longest continually touring alumni-based Zappa tribute in the world. The band features former Zappa members Napoleon Murphy Brock and Denny Walley along with founding member Andre Cholmondely. This is a band that has been around for quite a while.
"Andre has had Project/Object going for over 20 years," said Walley, during a phone interview Wednesday afternoon from his home in Atlanta, Georgia. "I've been playing with him over a period of time – eight-to-10 years. I'm looking forward to hitting the road. We don't need to practice – we need to play."
Over the past two decades, Project/Object has hosted onstage more Zappa alumni than anyone other than Zappa himself. Project/Object is the band that brought most of the currently touring Zappa alumni out of retirement and onto the road. To date, more than 20 musicians, from every era of Zappa's history, have performed with Project/Object.
"The seed for Project/Object was planted when I was 16 and got deeply into Zappa," said Cholmondely, during an interview. "In 1989, I started hosting a 'Zappa Party' at my house and invited friends to listen to a ton of his music. Around 1990, we started performing a few Zappa songs and people dug it.
"We realized that there was a need there — an audience who had never heard of Zappa. I sent Ike (Willis) a tape of what we'd been doing, and he loved it. In August 1996, he came and said he was going to whip us into shape — and he did. We'd bring him east from Portland now and then to do a few gigs."
Officially billed as "Project/Object: The Music of Frank Zappa," the band goes through a cycle of touring followed by hibernation. But, when it's time to hit the road, all the players line up ready to go.
"It's been a while since our last tour," said Walley. "It's hard for Andre to get everybody together because they have other commitments. It was just a matter of co-coordinating people's availability. Andre has been busy, and Ike and I have been touring. Now, we have the time. That's why it's finally back on the road."
The band is back on the road with a short tour that reunites old bandmates Napoleon Murphy Brock & Denny Walley. The setlist features material that they performed on tour together with Frank, as well as Zappa classics and favorites from other albums they did with him.
Brock, the front man for Zappa's early seventies bands, first appeared on the breakthrough album "Apostrophe ('), and then handled lead vocals and sax for the "Roxy and Elsewhere" LP.
His vocals on "One Size Fits All" are legendary, and he appeared with Denny Walley on the iconic "Bongo Fury," which documents Zappa's 1975 collaborative tour with his old friend Captain Beefheart. Brock provided harmony vocals for "Sheik Yerbouti," one of Zappa's biggest selling albums. He also appears on "Thingfish" and "You Can't Do That Onstage Anymore – Helsinki."
Walley, a key member of Zappa's mid-70s and early-80s tours, is the band member that goes back the furthest with Zappa – all the way to elementary school. Walley also spent time playing in the Magic Band — a band that played the music of Captain Beefheart (aka Don van Vliet).
The Captain recorded some albums on his friend Frank Zappa's label. Walley appears on Beefheart's classic "Bat Chain Puller" album and on Zappa favorites such as "Joe's Garage" and "You Are What You Is." Zappa and van Vliet, who shared a love for avant-garde rock, are both deceased now.
"Frank, Don and I went to high school together," said Walley. "We went to Antelope Valley Union High School in Lancaster, California. My best friend in school was Frank's brother Bobby."
Project/Object re-creates Zappa's music better than any other band around — and has more authenticity.
"Andre never goes out without Zappa alumni in the bad," said Walley. "It gives the band more street cred. When making the set list, Andre more or less makes the decisions, but he asks band members for suggestions. We wanted to do some things that the band hasn't done in a while."
The current show features a performance of the entire classic Zappa/Mothers/Beefheart album "Bongo Fury," which featured both Brock and Walley. The band will also play a second set featuring classics, rarities and fan favorites.
Video link for Project/Object — https://youtu.be/GdLSV3CsbN4.
The show at the Ardmore Music Hall, which also features Consider the Source, will start at 7 p.m. Tickets are $16.