By Denny Dyroff, Entertainment Editor, The Times
This weekend, there is a wide variety of activities that can keep people of all interests occupied. Not surprisingly, the schedule is top-heavy with Halloween-related attractions and events.
Fortunately, for those who don't care about Halloween – or have already reached a saturation point with the marketing for the holiday — there are also many things to do this weekend that have nothing to do with ghouls, zombies, haunted activities or carved pumpkins.
On October 26 and 27, the Brandywine Ballet will present performances of "Carmina Burana" at West Chester University's Emilie K. Asplundh Hall (700 South High Street, West Chester, 610-696-2711, www.brandywineballet.org).
Artistic Director/Founder, Donna L. Muzio is presenting the first performance series of Brandywine Ballet's 40th Anniversary season. The fall program – "Carmina Burana" — will feature three dynamic and different works by resident choreographer Nancy Page along with a new contemporary dance piece by Tim Early and Rick Callender.
Page's powerful adaptation of "Carmina Burana" is set to Carl Orff's music piece of the same name which is based on a collection of medieval poems and texts. The epic score is brought to life by the dancers as the wheel of fortune turns from joy to bitterness to hope and to grief.
Other pieces by Page at this weekend performances will be "Never Ending Road," which is set to the music of Canada's Celtic songbird Loreena McKennitt, and an excerpt from "Colour Brillanté," which is a celebration of the colors of fall set to the music of Antonín Dvořák.
The fall repertoire series will also showcase a co-creation titled, "Visceral Form," by Tim Early (Brandywine Contemporary Co-Founder and Brandywine Ballet Principal Dancer) and Rick Callender (Brandywine Ballet Principal Dancer). This piece is informed by Stephen Early's paintings and set to music by Argentinian composer Gustavo Santaolalla.
Performances are scheduled for October 26 at 4 p.m. and October 27 at at 2 p.m. Ticket prices range from $25-$42.
A popular area autumn event is "Hayrides at Hagley" at Hagley Museum and Library (Buck Road East entrance via Route 100, Wilmington, Delaware, 302-658-2400,www.hagley.org).
This year, the hayrides will take place on October 26 and 27 from 11:30 a.m.-4 p.m.
Participants will be able to take a hayride along the Brandywine to experience the beautiful fall foliage in the Powder Yard. Guests can create fall-themed crafts, see a gunpowder explosion, a roll mill in action, and more.
Upon arrival, reserve your hayride at the Visitor Center. Come early to make sure you get a spot because rides are filled on a first-come, first-served basis.
Family-friendly activities include crafts such as needle felting, leaf animals, and corn husk dolls. Kids can explore the Powder Yards with a scavenger hunt during their Hayride. A guide will be on-hand to answer questions during the Hayride.
Another event on October 26 is "Science Saturday – Catapults and Pom-kins," which will run from 1-4 p.m. in the Visitor Center.
Participants can learn about momentum and energy transfer before taking on the challenge of building a catapult to launch a "pumpkin pom pom."
Visitors of all ages are invited to discover solutions to science and engineering challenges. This is a drop-in activity and people can join the fun at any time from 1-4 p.m.
Admission is $15 for adults, $11 for seniors (age 62 and up), and $6 for children (ages 6-14).
Longwood Gardens (Route 1, Kennett Square, 610-388-1000, www.longwoodgardens.org) celebrates the pumpkin with its Pumpkin Playground.
The special attraction is open now through October 31.
Visitors to the special area in the Children's Corner will find an array of hands-on pumpkin fun and have an opportunity to capture a festive fall photo with Longwood's pumpkins — including the largest pumpkin on display, which weighs more than 550 pounds.
To celebrate the arrival of autumn, Longwood has a new attraction – "Blooms & Bamboo: Chrysanthemum and Ikebana Sogetsu Artistry."
This once-in-a-lifetime experience features towering Ikebana bamboo art forms, enchanting Asian arrangements, and thousands of blooming chrysanthemums throughout the Conservatory. The displays have been crafted by masters from around the world.
The world's pre-eminent master of Ikebana Sogetsu, Headmaster Akane Teshigahara, has created spiraling and twisting works of bamboo art exclusively for Longwood's Conservatory and the results are extraordinary.
Longwood's Thousand Bloom Chrysanthemum—a single plant bearing more than 1,000 perfect blooms on a single stem—makes its dazzling debut October 24.
Admission to Longwood Gardens is $23 for adults, $20 for seniors and $12 for youth (ages 5-18).
On weekends now through October 26, the Kalmar Nyckel will be offering public sails from two locations in Wilmington, Delaware. The sailings will leave from the Kalmar Nyckel Shipyard (1124 East Seventh Street, Wilmington, Delaware, www.kalmarnyckel.org.)
For two decades, the Kalmar Nyckel, which has its home base in Wilmington, has been hosting riders all over the world – especially in Delaware.
A ride on the Kalmar Nyckel is a totally different from most tourist water rides. The ship is a beautiful recreation of the original Kalmar Nyckel, which was built in Holland in the 1620s. Her mainmast is taller than a 10-story building and she carries 7,600 square feet of sail area and six miles of rigging.
The original Kalmar Nyckel was a Swedish-owned, three-masted armed pinnace that sailed from Goteborg, Sweden in November of 1637 and brought the first permanent European settlers to the Delaware Valley.
In 1986 a group of citizens established the Kalmar Nyckel Foundation to design, build and launch a replica of the Kalmar Nyckel at a shipyard adjacent to the original landing site.
The new Kalmar Nyckel was constructed there and was launched on September 28, 1997. She was commissioned on May 9, 1998 and now serves as Delaware's sea-going Ambassador of Good Will. She is a fully functional sail training vessel and has represented Delaware all over the country.
Tickets are $35 for adults and $20 for youth (ages 17 and under).
Now through January 5, people can get in a happy mood by visiting HAPPY PLACE (HappyPlace.me).
Live Nation Philadelphia has brought HAPPY PLACE, an interactive, immersive pop-up exhibit with larger-than-life installations and multi-sensory themed rooms, to the King of Prussia Mall where it will run now January 5, 2020.
HAPPY PLACE is filled with multi-sensory immersive rooms inducing smiles and laughter, plus larger-than-life, one-of-a-kind installations including seven-foot stilettos made of a million candies and six-foot tall mirrored X and O letters surrounded by a wall of one thousand red lips.
From dancing in the world's largest confetti dome to posing inside the famous rubber ducky bathtub of fun and jumping off a rainbow into a pot of happiness, guests travel through each unique room guided by a team of specially selected and trained Happy People. HAPPY PLACE is created for an audience for all ages. Minors under 16 must be accompanied by an adult.
HAPPY PLACE features more than 15,000 square feet of playful spaces and cheerful moments including a Super Bloom room filled with 40,000 handmade gold flowers for the perfect photogenic floral backdrop, the World's Largest Indoor Confetti Dome, a Giant Rainbow complete with a Pot of Happiness into which guests can jump, the signature Rubber Ducky Bathtub of Fun plus other photo-friendly fantasy rooms.
Philadelphia's HAPPY PLACE, which will also add special features unique to Philadelphia, will occupy the space once occupied by JCPenney at the King of Prussia Mall, which is located at 160 North Gulph Road in King of Prussia.
HAPPY PLACE at King of Prussia Mall will also bring its charity Lemonade Stand, to work with local non-profit organizations throughout the Greater Philadelphia Region. To date, HAPPY PLACE has donated over $100,000 to local groups in the four cities it has resided in.
Video link for HAPPY PLACE — https://youtu.be/_hR57sn6R-k.
HAPPY PLACE will be open though January 5 at the King of Prussia Plaza. Tickets start at $30 for adults and $20 for children (ages 4-12).
Now through October 27, Lancaster will also be a place to go to enjoy a very special circus experience – Cirque Italia (https://cirqueitalia.com/).
The circus will take up residence at 142 Park City Center in Lancaster.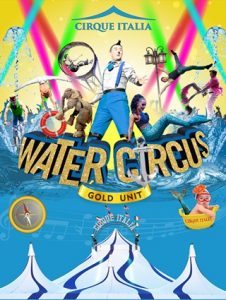 Cirque Italia is the first traveling water circus in the United States. The circus' stage holds 35,000 gallons of water and features a dynamic lid which lifts 35 feet into the air, allowing water to fall like rain from above as fountains dazzle below.
This incredible show takes place under "Grande Tenta" — the circus' majestic white and blue big top tent which came all the way from Italy.
Cirque Italia is a European style circus show with no animals and a Las Vegas style water show. It's a water spectacular similar to a smaller-scale Bellagio fountain show. With more than 30 artists, chosen in rigorous auditions from around 25 different countries, Cirque Italia delivers high-end entertainment at an affordable cost to nearly two million people in about 50 cities each year.
Video link for Cirque Italia – https://youtu.be/5-v5D6WH5pQ.
Ticket prices start at $25.
Now through November 17, Elmwood Park Zoo (Elmwood Park Zoo, 1661 Harding Boulevard, Norristown, www.elmwoodparkzoo.org) will be presenting its annual "Harvest Fest."
Visitors can participate in themed activities, navigate through a corn maze, play games like flip-a-chicken, bean bag toss, and basketball, paint a pumpkin, enjoy live entertainment, and sip on some festive fall drinks.
Hours are from noon-4 p.m. each day. Zoo admission is $17.95 for adults, $13.95 for children and $12.95 for seniors.
There will be plenty of activity this weekend on the area's tourist railroads.
The Strasburg Railroad (Route 741, Strasburg, 717-687-7522, www.strasburgrailroad.com) is presenting a special event on October 26 and 27.
Visitors can experience a once-in-a-lifetime steam train extravaganza as Strasburg Rail Road welcomes the iconic Norfolk & Western Class J 611 steam passenger locomotive to join its own locomotive #475 for five weekends of special events including: whistle blowing, photo sessions, behind-the-scenes tours, family-themed events, and exclusive in-cab opportunities, where passengers can operate and fire the J Class 611 or Strasburg's Class M #475.
The Strasburg Railroad is always one of the most popular spots around when it hosts "Day Out With Thomas."
There is a mutual love affair between kids and Thomas the Tank Engine and it's especially evident when Thomas gets up-close and personal with his fans during his visits to the Strasburg Railroad.
Every year, the steam locomotive named Thomas makes several visits to Lancaster County where he entertains enthusiastic children and their parents. The locomotive, which has its own PBS television series, will return to Strasburg for "Spooktacular Day Out With Thomas" on October 26 and 27.
For more than 50 years, Thomas the Tank Engine and his Island of Sodor friends have been favorites of preschoolers and their parents. Based on "The Railway Series" (classic stories authored by a father who loved trains and wanted a shared experience with his son), "Thomas & Friends" has evolved into a rite of passage that inspires imagination.
Fans will be able to get personal with Thomas the Tank Engine, a full-sized operating steam locomotive who will be talking for the first time ever. And, they will also be able to ride a train pulled by Thomas and meet the locomotive's buddy Percy.
Percy, who is a larger-than-life, full-size locomotive just like his friend Thomas, will be there for all days of the event. A ride behind Percy may be purchased as an add-on to the "Day Out With Thomas" ticket. Percy's ride will last approximately 12 minutes.
In between trips, Percy will talk with families and be available between trips for photos.
Tickets for "Day Out With Thomas," which are $23, include the train ride with Thomas the Tank Engine, as well as a variety of Thomas & Friends themed entertainment such as storytelling, video viewing, temporary tattoos of Island of Sodor friends and an Imagination Station. The Percy Package is available for an additional $6.
The "Great Pumpkin Express Trains" (West Chester Railroad, Market Street Station, West Chester, 610-430-2233, www.westchesterrr.net) are scheduled for October 26 and 27.
The "haunted trains" with ghoulish characters leave West Chester's Market Street Station at 11 a.m., 1 and 3 p.m. Tickets are $25 for adults, $18 for children.
The West Chester Railroad is also running its special "Fall Foliage Express" trains on November 2, 3, 9, and 10. Trains depart at noon and 2 p.m.
The round-trip train ride travels to the village of Glen Mills and back and lasts for 90 minutes. During the brief layover in Glen Mills, riders can explore the historic Pennsylvania Railroad station and have a snack in the railroad's picnic grove along the Chester Creek.
Tickets are $15 for adults, $13 for children ages 2-12 and free for kids under two.
The New Hope & Ivyland Railroad (32 West Bridge St, New Hope, 215- 862-2332, www.newhoperailroad.com) offers a two-and-one-half hour, 35-mile roundtrip ride on its "Fall Foliage Trains" from now through October 27. Every weekend, the rail line in Bucks County will operate regularly scheduled round trip trains out of New Hope Station and SEPTA's Warminster station.
Passengers can enjoy the sights of the beautiful fall scenery while riding aboard the rail line's "First Class Bar Car," "Antique Seat Coach" or "Open Air Car." Coach tickets are $40.99 for adults, $38.99 for children (ages 2-11) and $4.99 for toddlers.
Oct 31
The Trick or Treat train operates on select dates from October 11th thru Halloween (October 31st), with trains departing at 6:30 PM.
The Wilmington & Western Railroad (2201 Newport Gap Pike, Wilmington, DE, 302-998-1930, www.wwrr.com) is running its "Autumn Leaf Special" with trains on October 26, and 30 and November 2 and 3.
Trips are either a one-and-one-half hour roundtrips to the Mt. Cuba Picnic Grove or two-and-one-half hour roundtrips to Hockessin.
The W&WRR also is running its "Hayride Express" on October 11, 18 and 26 and November 1 and 8 at 7:30 p.m. each night. Visitors can experience a one-hour evening ride through the Red Clay Valley on an original railroad flatcar converted especially for hayrides.
The Colebrookdale Railroad (South Washington Street, Boyertown, www.dynamicticketsolutions.com)  is running its "Pumpkin Patch Trains" on October 26.
This is a trip on the rail line's Brill Motorcar to a Pumpkin Patch experience at Frog Hollow Farm.
Passengers deboard at Frog Hollow, select a refreshment, then select a pumpkin from our "pumpkin patch." They will have the opportunity to decorate the pumpkin with assistance from the rail line's friendly crew or take it home to carve.
Tickets are $25 for adults and $5 for toddlers (under 2).