By Denny Dyroff, Entertainment Editor, The Times
Every year when January arrives, Longwood Gardens (Route 1, Kennett Square, 610-388-1000, www.longwoodgardens.org) celebrates one of the largest families of plants in the world.
If you did a Google search to find out which are the largest families of flowering plants in the world, this is the answer you'd receive –
The three largest flowering plant families containing the greatest number of species are the sunflower family (Asteraceae) with about 24,000 species, the orchid family (Orchidaceae) with about 20,000 species, and the legume or pea family (Fabaceae) with 18,000 species.
The orchid is a flower that is acclaimed as one of the most beautiful, delicate and graceful flowers in the world. The Royal Botanical Gardens of Kew list more than 20,000 accepted species with about 800 new species added each year. Additionally, horticulturists have more than 100,000 hybrids and cultivars.
Longwood celebrates the orchid each year with its ultra-popular "Orchid Extravaganza" — an annual event that opens this year on January 18 and continues through March 24.
The celebration of the orchid species features thousands of orchid blooms along with a variety of displays and special exhibits throughout its four-acre conservatory. "Orchid Extravaganza" will also feature stunning displays of orchids in planting beds, containers and innovative exhibits.
As one of the first plant collections at Longwood, orchids have held a place of distinction since 1922.
Visitors will be able to escape to a balmy oasis filled with nearly 5,000 blooming orchids during Orchid Extravaganza. Longwood's heated four-acre Conservatory provides an escape from winter's chill and features thousands of colorful orchid blooms displayed in extraordinary ways.
In addition to the one-of-a-kind horticultural display, Orchid Extravaganza features activities and programs for the entire family, including concerts, talks, tours, OrKid Days, and more. The Gardens are open daily from 9 am–5 pm.
Guests will be amazed as orchid blooms cascade down walls, spill from containers, and hang from the ceiling– featuring Cattleya, Dendrobium, Phalaenopsis, Paphiopedilum, and Oncidium, among others.
In the Main Conservatory, a canopy of twelve pink and purple Orchid Orbs welcome you to a lush sanctuary of vibrant, artfully presented orchids.
In the East Conservatory, Cymbidium Edith McDade arrangements with Tillandsia chains accentuate the Oval Basin, while three large Cymbidium Edith McDade baskets hang from above.
New this year, six eight-foot tall color blocked panels filled with Phalaenopsis create an awe-inspiring display in the Patio of Oranges. In the Acacia Passage, delicate cascading branches of cinnamon wattle beckons with fragrant blooms, while 18 urns filled with yellow and white Oncidium and Phalaenopsis line this picturesque passageway.
Additional indoor highlights include the Mediterranean Garden featuring a riot of vibrant color January through April with Australian purple coral-pea (Hardenbergia) vines blooming like miniature wisteria. In the Estate Fruit House, nectarines, melons, and other fruits and vegetables flourish in the midst of winter.
OrKID Days are feature activities where families can discover the colors, patterns, and beauty of orchids through art activities and storytelling. OrKID Days are January 21, February 18, and March 9 from 11 a.m.-2 p.m. and are free with Gardens Admission.
On January 19 at 8 p.m., Producer and Musical Director Damien Sneed will bring the North American Tour of "We Shall Overcome: A Celebration of Dr. Martin Luther King Jr." to the Longwood stage. Inspired by the words and action of Dr. Martin Luther King, Jr., "We Shall Overcome" showcases repertoire from across the African American music traditions that electrified generations of civil rights activists and defenders with interwoven spoken word from Dr. King's recorded speeches.
Admission to Longwood Gardens is $25 for adults, $22 for seniors and $13 for students.
Undaunted by the winter weather, the Brandywine River Museum (Route 1, Chadds Ford 610-388-2700, www.brandywinemuseum.org) is responding with a festive outdoor event on January 18.
From 1-3 p.m., "Arctic BBQ" will be held at the museum along the banks of Brandywine Creek.
Visitors are invited to shake off the winter blues at this Saturday's "Arctic BBQ" by roasting marshmallows by the fire, going on a "Nature Scavenger Hunt" along the River Trail and participating winter creation make-&-take session.
If a chill sets in, visitors will be able to warm up under the museum's heated tents where there will be be a hot chocolate bar  as well as delicious BBQ by the Millstone Café available for purchase.
The event is free and open to the public.
Every Friday and Saturday in January, the Chaddsford Winery (632 Baltimore Pike, Chadds Ford, 610-388-6221, http://www.chaddsford.com) will present "Murder Mystery Nights 2020" from 6:30-9 p.m. each night.
Here is the scenario as posted by the winery – "After laying his claim in the East End, Jack the Ripper's killing spree fills the dodgy streets of London with panic and fear.  But as the fall weather sets in, the murders begin to subside.   The townspeople grow hopeful that Jack's finally buggered off and his horrific reign of terror has ended.
Then, on a bitter cold night in November, a baffling murder occurs.
Scotland Yard proves to be straight rubbish, unable to solve the crime.  Has Jack the Ripper returned or has another chap taken his place?
London needs your help!  Polish up your looking glass and help them uncover clues to pinpoint the killer and the motives.
Along with an evening of mystery and suspense, you'll enjoy bloody good hors d'oeuvres and downright brilliant PA wine!
Share this first-rate experience with your best lads – and don't forget to don breeches and frocks that are fit for the Queen."
The "Menu and Pairing Lineup" features Charcuterie Board with '17 The White Standard and '17 The Red Standard, Cucumber Finger Sandwiches with '17 Sauvignon Blanc and Chaddsford White, Shepherd's Pie with '17 Merlot and '16 Pinot Noir, Salt Beef Slider with PA Craft Beer, Corn Chowder with '16 Sur Lie Chardonnay and '17 Harbinger and dessert with coffee and tea.
Tickets are $60, and reservations are required.
Another winery event is "Winter Wine-derland," which will be held on January 18, 19, 25 and 26 from 11 a.m.-6 p.m. each day.
The outdoor winter festival will feature ice carvings, the "Chaddsford Prize Wheel," "Niagara Falls" Ice Luge Wine Shot (with purchase of a wine tasting), specialty cocktails, fire pits, live music and food truck fare from Plum Pit Food Truck.
The "Wine, Cheese & Honey Pairings at Penns Woods" at Penns Wood Winery (124 Beaver Valley Road, Chadds Ford, 610-459-0808, http://www.pennswoodsevents.com) provide a nice way for visitors to enjoy a winter weekend day.
Penns Woods Winery is joining forces with local cheese makers and local honey artisans to present exclusive pairings of wine, cheese and honey. The tastings will feature five premium Penns Woods wines, each paired with various cheeses and honey from local farms.
The mouth-watering tastings will be held every weekend in January from 11 a.m.-6 p.m. on Saturdays and 11 a.m.-5 p.m. on Sundays. As an added attraction, live music will be featured on January 19, 25, and 26 from 2-5 p.m. each day.
Tickets cost $28 per person in advance and reservations are required. Cancellations must be made within 72 hours or ticket holders will be charged the full amount of the tasting. Reservations are made and kept on the hour
There is a great event this weekend that will get kids' creative juices flowing — Hagley Museum's "STEMtastic Weekend."
-2400, www.hagley.org).
Visitors to the Hagley Museum, a 230-acre historical village on the site of the original du Pont Company gunpowder mills in northern Delaware, will be able to learn about a science in a fun way.
Hagley's STEMtastic Weekends are taking the place of Invention Convention with a new format that extends the fun beyond the Dr. Martin Luther King, Jr. weekend. Young inventors and tinkerers will take over the Visitor Center second floor gallery where they can investigate the inner workings of a variety of electronic gadgets, express their ingenuity by creating an invention and earning a "Hagley patent," enjoy robotics demonstrations by local robotics teams, and participate in hands-on activities that explore the many aspects of coding and robotics.
"STEMtastic Weekends" events are also scheduled for January 25 and 26 and February 1 and 2.
Admission is $8 for adults, $6 for children (6-14) and free for children (under six).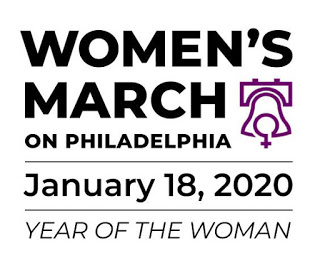 In 2017, the inaugural "Women's March on Philadelphia" (http://www.womensmarchphl.com/) was staged with great results. The event is being celebrated for the fourth time this year with a theme of "The Year of the Woman."
The event will get underway at 10 a.m. at Eakins Oval with participants gathering to march down the Ben Franklin Parkway to the Philadelphia Art Museum.
At the conclusion of the march, there will be rally with a variety of speakers that represent all that the movement is fighting for.
Anyone wishing to donate to the cause can do so at https://donorbox.org/women-s-march-on-philadelphia.
If you're looking for a fun family activity – an indoor activity unaffected by the weather — Linvilla Orchards (137 West Knowlton Road, Media, 610-876-7116, www.linvilla.com) has something just for you — the miniature golf course "Fore! the Planet."
Linvilla Orchard's "Fore! The Planet" is a highly interactive and playful museum exhibit created by the Academy of Natural Sciences in Philadelphia. This exhibition pairs important environmental issues with the fun of miniature golf.
It features 18 unique educational holes on a variety of topics — butterfly metamorphosis, a tropical rainforest, evolution, dinosaur extinction, food chains and more. Kids of all ages can enjoy playing miniature golf while learning about our environment on every hole.
The first hole is "Butterfly Life Cycle" and players must putt through each stage of the colorful insect's metamorphosis. The next five holes are titled "Seed Dispersal," "Bat Sonar," "Food Chain," "Evolution of a Golfer" and "Backyard Explorer" followed by "Natural Selection" and "Predators and Prey."
On the "Dinosaur Extinction" hole, players get to hit their balls toward the scientific theory of dinosaur extinction they find most plausible. The remainder of the thought-provoking holes are "Recycling," "Water Pollution," "Landfills," "Wild Corridors," "Bird Migration," "Spawning Salmon," "Alien Species," "Population Threats" and "Rainforest Threats."
The mini-course is open daily from 9 a.m. -5 p.m. through March 29. Tickets are $6.95 (ages 11 and over) and $5.95 (ages 10 and under).
Every year, the Garden State Discovery Museum (2040 Springdale Road, Cherry Hill, New Jersey, 856-424-1233, www.discoverymuseum.com) presents special programs designed to bring smiles to the faces of its young visitors.
On January 17, it will be time for "Frozen Bingo."  On January 18, the museum will host a program titled "Snowball Treasure Hunt." The event will run from 11 a.m.-3 p.m.
The "Snow Queen Meet and Greet" will run from noon-2 p.m. on January 19, 20 and 25 – also from noon-2 p.m. each day.
The main event on January 26 will be the "Frosty Sisters Meet and Greet" followed by "Alice in Wonderland Storytime" on January 27. Another upcoming special event is "Fire Science" on January 23.
Admission to the Garden State Discovery Museum is $15.95 for adults and children 12 months and over and $14.95 for seniors.
If you're into hot cars, then cold days probably won't slow you down and keep you from your date with all things motorsports this weekend.
The 34th Annual Motorsports Race Car & Trade Show will run from January 17-19 at the Greater Philadelphia Expo Center (100 Station Road, Oaks, 609-888-3618, www.aarn.com).
Race drivers and their cars thrive on sponsorship and it's prominently displayed on everything. So, it's no surprise that the official name of this weekend's show in Oaks is "Pioneer Pole Buildings Motorsports 2020 Fueled by Sunoco Race Fuels and Distributed by Insinger Performance Race Car and Trade Show."
The huge annual event will feature close to 300,000 square feet of exhibition space devoted to auto racing, street rods and everything else related to motorsports. There will be hundreds of exhibits, a full schedule of informative seminars and personal appearances by a wide array of racing legends.
There will be more than 200 motorsports vehicles of all types on exhibit. Several area speedways will have displays at the show and offer a great opportunity for fans to meet some of their standout performers and pick up a schedule of motorsports events for the 2020 season.
More than 600 exhibit booths featuring 400-plus racing dealers, hardcore manufacturers of racing equipment and more will be part of the huge show, which is billed as the biggest and best of its type in the Northeastern and Mid-Atlantic states.
Show attendees will have the opportunity to meet and collect autographs from well-known figures in motorsports, including a pair of legends – Kyle Petty and Dale Jarrett.
Another annual fan favorite at the annual show is the Ms. Motorsports Pageant, which is scheduled for Saturday evening at7:30 p.m. As an added attraction, there will be autograph sessions with many of the contestants from recent years.
Show hours are 2-9 p.m. on January 17, 11 a.m.-9 p.m. on January 18 and 11 a.m.-4 p.m. on January 19. Tickets for adults are $15 daily or $30 for three-day pass. Tickets for children (ages 6-12) are $5 daily or $10 for three-day pass.
Whether you're a handyman, a home improvement fanatic or just a tinkerer who likes working on small projects around the house, you should check out the 39th Annual Philadelphia Home Show. The event is running now through January 19 at the Pennsylvania Convention Center (12th and Arch streets, Philadelphia, 215- 418-2003, www.phillyhomeshow.com).
The well-attended annual show features a large number of exhibits representing the home renovation and decorating industry. Showcased products and services include roofing, windows, flooring, decking, landscaping, spas, contractors, designers, water, swimming pools, doors, gutters security systems, cabinetry, entertainment systems, appliances, furniture, vacuums and more.
Tickets are $13 for adults and $3 for children (ages 6-12).
Martin Luther King Jr. Weekend will be celebrated from January 18-20 at the Eastern State Penitentiary (2027 Fairmount Avenue, Philadelphia, 215-236-3300, www.easternstate.org) from 10 a.m.-5 p.m. each day.
Eastern State Penitentiary commemorates Dr. Martin Luther King, Jr. and his 1963 Letter from Birmingham Jail with special readings from the landmark text and opportunities for visitors to respond to its relevance today.
The event examines the following questions — Why did the civil rights leaders of the 1960s choose jail time to demonstrate their plight? How did Dr. King's letter, written in the margins of a newspaper and smuggled out of Birmingham Jail, create a pivotal moment in the American civil rights movement? If Dr. King were alive today, what issues would his letter address?
Professional actors will read excerpts from King's letter three times a day on Saturday, Sunday, and Monday at 11:30 am, 1:30 pm, and 3:30 pm. An informal Q&A moderated by a civil rights scholar follows each reading, giving visitors an opportunity to respond to the letter's relevance today. The readings are free and open to the public, subject to availability.
In partnership with Art Sanctuary, children ages 7-12 and their families can create art in response to themes found in the letter and read stories about Dr. King's life and legacy. Family activities are available on Monday, January 20, free and open to the public. No reservations required.
There will be birthday celebrations soon in Philadelphia for one of the city's most famous historical figures — Benjamin Franklin. A number of events celebrating Franklin's 314th birthday will be staged around Philadelphia's historic district starting this weekend.
"Benjamin Franklin Tippler's Tour" (Historic Philadelphia Center, 6th and Chestnut streets, Philadelphia, 215-629-5801, http://historicphiladelphia.org/tipplers-tour) will be held on January 17 and 18  starting at 5:30 p.m. each night.
The over-21 set joins a Colonial guide for the Tippler's Tour with Ben Franklin. It is a rollicking pub crawl with stops for drinks and snacks at several Old City establishments.
Ben Franklin, the "Birthday Boy," will join the tour along the way. He will hang around to chat with guests at City Tavern, the final stop, and to enjoy a Yards Brewing Company Franklin Spruce Ale.
For the past few months, people have been able to get in a happy mood by visiting HAPPY PLACE (HappyPlace.me).
Live Nation Philadelphia brought HAPPY PLACE, an interactive, immersive pop-up exhibit with larger-than-life installations and multi-sensory themed rooms, to the King of Prussia Mall where it was slated to be open until just after Christmas holiday.
Originally scheduled to run through January 5, HAPPY PLACE has been extended until February 29 and will be operating on Fridays, Saturdays, Sundays and Mondays only.
HAPPY PLACE is filled with multi-sensory immersive rooms inducing smiles and laughter, plus larger-than-life, one-of-a-kind installations including seven-foot stilettos made of a million candies and six-foot tall mirrored X and O letters surrounded by a wall of one thousand red lips. It features more than 15,000 square feet of playful spaces and cheerful moments.
HAPPY PLACE is created for an audience for all ages. Minors under 16 must be accompanied by an adult.
Tickets start at $30 for adults and $20 for children (ages 4-12).
"Grim Philly's Nightmare Before Christmas Tavern Tour (856-829-3100, http://www.grimphilly.com) will be held January 17, 18, 23, 24, 25, 30 and 31.
Participants will have the opportunity to toast with the ghosts of Christmas past while drinking in the yuletide spirits of grog and nog on this entertaining fact-filled tour.
The evening's activities include trivia and drinking games for chances to win free beer, drink and/or food samples for all at each stop and a variety of drink specials.
Participants can relax in warmth enjoying authentic handmade Christmas beverages, snacks and prizes (included) as they learn a full range of the surprising histories of Yule and Viking lore and Saturnalia — all which have worked their way in to our modern Christian celebrations including ideas of magick, gift giving…and origins in even infanticide and human sacrifice.
Guests will be able to revel in little known facts of our holiday past including the season's pagan roots in Roman, Celtic and German traditions, while learning of medieval, and New World additions in mumming and mistletoe.
The tour price of $45 includes guided historic tour of "Grim" Philly, tavern admissions and two "Christmas Drinks." The tours, which start at 6:30 p.m. on Fridays and 5 p.m., on Saturdays, will depart from 599 Market Street, Philadelphia.
The Chinese zodiac is a rotating cycle of 12 years in which each year is represented by a specific animal and its characteristics — rat, ox, tiger, rabbit, dragon, snake, horse, sheep, monkey, rooster, dog and pig.
2020 is the "Year of the Rat" according to Chinese zodiac.
On January 18, there will be a special event in Philadelphia to welcome in the "Year of the Rat" when the University of Pennsylvania Museum of Archaeology and Anthropology (33rd and Spruce streets, Philadelphia, 215-898-4000, www.penn.museum) hosts its 39th Annual Chinese New Year Celebration from 11 a.m.-8 p.m.
The popular annual event in Philadelphia will feature celebrations of Chinese culture and New Year traditions throughout the day with programs and activities for all ages, including children's workshops, storytelling, cooking demonstrations, arts and crafts exhibitions and martial and healing arts demonstrations.
There will be dance performances, Chinese music demonstrations, a Tai Chi workshop, a Kung Fu demonstration, a Family Zodiac tour and a Tangram Workshop.
The annual celebration will, as always, feature the "Lion Dance." Lion dancers and drummers begin inside at 4 p.m. and, weather permitting, wind their way outside for a firecracker finale.
Tickets are $18 for adults, $16 for senior citizens, $13 for students and free for children (under 6).
The Blue Cross RiverRink Winterfest, which is running now through February at RiverRink (Delaware Avenue at Walnut Street, Philadelphia, 215-925-RINK, www.riverrink.com), is featuring a special event this weekend — the Fifth Annual Brewfest.
"Brewfest," which is scheduled for January 18, features a variety of free events, including beer talks, instruction on home brewing and screenings of films and television shows that are considered "beer-centric."
Unquestionably, the biggest draw will be generated by a number of regional breweries that will be giving out samples of some of their best beers – including Downingtown's Victory Brewing Company.
The first session at 1 p.m. will feature Tröegs Independent Brewing, Sly Fox Brewing, Evil Genius Beer Company and Victory Brewing Company.
The second session at 5 p.m. will include Conshohocken Brewing Company, Yards Brewing Company, Dock Street Brewing, Love City Brewery and Victory Brewing Company.
The outdoor rink's hours are 1-10:30 p.m. Mondays through Thursdays, 1 p.m.-12:30 a.m. on Fridays, 11 a.m.-12:30 a.m. on Saturdays and 11 a.m.-10:30 p.m. on Sundays. Skating admission price is $4 and skate rental costs $10.
If you're a fan of the cold-weather season, there's a special event coming up that you're bound to enjoy — the 2020 Lambertville-New Hope Winter Festival (Various locations around New Hope, Pennsylvania and Lambertville, New Jersey, 215-862-5067, www.Winterfestival.net).
The popular annual event is running from January 18-26 in the two towns which straddle the Delaware River in Upper Bucks County — New Hope in Pennsylvania and Lambertville in New Jersey. The festival's organizers list two main goals — to provide a healthy cold-weather experience in their river town communities and to demonstrate that their diverse communities are alive and well in the winter.
The list of ticketed events includes "Oldies Dance Night," "Winter Festival Revolutionary Pub Crawl," "Winter Festival Pub Crawl After Party,"
"Taste of Winter Fest," "Winter Festival Magical Musical Pub Crawl,"
"Concert & VIP Reception with Abbey Road Live," "Beef 'n' Brew," "A Capella Extravaganza," "Chili Cook-off," "Winter Walking Food & Shop Tour," and "Soup-A-Thon Cook-Off."
Artists will be presenting live sculpting demonstrations at five locations — The Meet Group (100 Union Square, New Hope) and Lambertville Academy (87 North Main Street, Lambertville) on January 17, Havana Restaurant & Bar (105 South Main Street, New Hope) and Triumph Brewing Company (400 Union Square Drive, New Hope) on January 25, and Suez Water (11 Bridge Street, Lambertville) on January 26.
"Reading Fire + Ice Fest" (http://www.readingfireandicefest.com), which is the flagship winter festival of Berks County, will return to downtown Reading for its sixth year in 2020.
Produced and organized by the Reading Downtown Improvement District, the festival will take place January 17 and 18. Festivities will kick off on January 17 in the 600 block of Penn Street at 5:30 p.m.
"Reading Fire + Ice Fest" will feature a variety of both indoor and outdoor activities, including a chili cook-off, Snowfall Ball, professional ice-carving competitions, fire performances, live music, and concession stands. All outdoor activities will again be free, and the chili cook-off.
The fire performers will be Madeleine Bell and Flame Nouveau.
For those of you who want to cling to the Christmas holiday spirit for as long as possible, you've reached the end of the line – the final station on the 2019-2020 journey. The last holiday destination is a small town in Lancaster County – specifically, it is Choo-Choo Barn.
Founded more than 50 years ago, Choo Choo Barn — Traintown U.S.A. (Route 741 East, 226 Gap Rd, Strasburg, 717-687-7911, www.choochoobarn.com) presents a 1,700-square-foot train layout featuring more than 150 hand-built animated figures and vehicles and 22 operating trains. The majority of trains that are running in the display are "O Gauge" trains but there are also some HO Gauge trains as well as one N Gauge train.
Several of the original pieces and animations are still on the display today, including the ski slope, ski lodge and ice skaters, Dutch Haven, the Willows, the two-lane moving highway (in front of Dutch Haven), the farm with the tobacco barn, the Strasburg Fire House, the church beside Dutch Haven and a few other houses.
The layout features a special Christmas display now through January 20. The homes and businesses along the tracks have been decked out with holiday trim. And, there are 55 hidden Santas — one for each year the site has been open — located around the display for visitors to find.
Tickets are $8.50 for adults and $5 for children (ages 3 and under) at Choo Choo Barn — Traintown U.S.A.