By Denny Dyroff, Entertainment Editor, The Times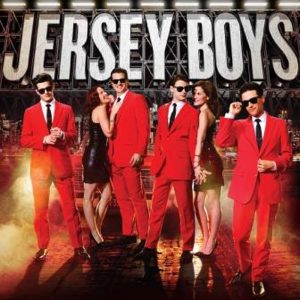 They may be "Jersey Boys" but the closest the four main cast members of the touring musical "Jersey Boys" will get to New Jersey for the next five months is this weekend when the show touches down in Wilmington, Delaware.
On January 18 and 19, the Playhouse (10th and Market streets, Wilmington, Delaware, https://www.thegrandwilmington.org/productions/6168-jersey-boys/) will host a three-show run of the hit jukebox musical "Jersey Boys."
The musical "Jersey Boys" exploded on Broadway in 2005 much the same way its subject matter made an immediate impact in the pop music world in the early 1960s. The show has toured the world numerous times and now is ready to spend a weekend in Delaware.
"Jersey Boys," which will make one visit to New Jersey when it hits Atlantic City for a two-week run in June, is a Tony, Grammy and Olivier Award winning hit musical based on the story of Frankie Valli and The Four Seasons.
The Four Seasons, who burst on the scene with the mega-hit "Sherry" in 1961, were a quartet featuring Frankie Valli, Bob Gaudio, Tommy DeVito and Nick Massi. The four guys from working-class families in North Jersey wrote their own songs, invented their own sound and sold 200 million records worldwide.
The cast of the current National Tour features Eric Chambliss as Bob Gaudio, Corey Greenan as Tommy DeVito, Michael Milton as Nick Massi and Jon Hacker as Frankie Valli.
"Jersey Boys" is a lively musical that features a number of hit songs by other artists from the era such as "Silhouettes," a hit by the Rays in 1957 (and also a Top Five hit by Herman's Hermits in 1965); "My Boyfriend's Back," which was a hit by The Angels in 1963; and "I'm in the Mood for Love," a Top 10 by Louis Armstrong in 1935.
Mostly, it features gold record singles by the Four Seasons, including "Sherry", "Big Girls Don't Cry", "Walk Like a Man". "December 1963 (Oh, What A Night)", "Dawn (Go Away)", "Big Man In Town", "Stay", "Let's Hang On!", "My Eyes Adored You", "Can't Take My Eyes Off of You", "Rag Doll" and "Who Loves You."
"This show has been touring for 13 years straight," said Chambliss, during a phone interview Thursday from a tour stop in Kalamazoo, Michigan. "It just celebrated its 5000th performance recently.
"We just ran into Bob Gaudio in Washington, D.C. He stopped by to say hi and watch the show. He does a good job of keeping tabs on it.
"Something I really like about Bob Gaudio is the role he played in the group. He was the last piece of the puzzle. He not only brought creativity but was also a smart businessman. He's always learning lessons as he goes. He continues to grow and that's an inspiration."
Gaudio wrote his first hit, "Who Wears Short Shorts," for the Royal Teens when he was 15 and then went on to become a founding member of the Four Seasons and the band's principal songwriter. He also produced the hit "You Don't Bring Me Flowers" for Neil Diamond and Barbra Streisand (Grammy nomination, Record of the Year) as well as six albums for Diamond, including "The Jazz Singer."
Other producing credits include albums for Frank Sinatra, Marvin Gaye, Diana Ross, Michael Jackson and the soundtrack for the film of "Little Shop of Horrors." Several songs co-written with Bob Crewe have been cover hits for such artists as the Tremeloes ("Silence Is Golden"), the Walker Brothers ("The Sun Ain't Gonna Shine Anymore") and Lauryn Hill ("Can't Take My Eyes Off You").
With his wife Judy Parker, Gaudio produced and co-wrote the "Who Loves You" album for the Four Seasons and one of Billboard's longest-charted singles (54 weeks), "Oh, What a Night." A high point in his career came in 1990 when, as a member of the original Four Seasons, Gaudio was inducted into the Rock and Roll Hall of Fame. In 1995, he was inducted into the Songwriters Hall of Fame, which hailed him as "a quintessential music maker."
 Adding to the authenticity of the show is the inclusion of Gaudio as composer and advisor. He is one of the three surviving members of the Four Seasons.
And, Gaudio still stays involved with "Jersey Boys," a show he holds close to his heart.
"This show isn't just four guys singing Four Seasons songs," said Gaudio. "After seeing how well 'Smokey Joe's Café' did, we realized that there was a place for rock-and-roll on Broadway. We told our stories to the show's book writers and then they ran with it. But, they had our artistic direction."
"Jersey Boys" had its world premiere at the La Jolla Playhouse in San Diego in October 2004. The show opened at the August Wilson Theatre on Broadway to critical acclaim on November 6, 2005.
"When it first opened in La Jolla, we had the final veto," said Gaudio. "The show is done in documentary style and is fairly accurate historically. But, some stuff in the show isn't chronologically correct. For example, the show opens with a French version of 'Oh, What A Night' when, in reality, that was one of our last hits.
"In the beginning, I came from a group called the Royal Teens. We were primarily an instrumental group. Finding Frankie was the key. That was the muse. The show depicts the issues and the inner turmoil we dealt with. But, when push came to shove, Frankie and I were on the same page."
One page led to another for the Four Seasons. When the story concluded, the four "Jersey Boys" wrapped up a career that included over 25 Top 10 hits, a slew of gold records and induction into the Rock and Roll Hall of Fame.
"This is the 'Second National Tour' of 'Jersey Boys' but it's the only one touring," said Chambliss. "There are only two productions running right now – Off-Broadway in New York and this tour we're on now.
"This is my second year of touring with this production. We start in late September and finish in early June. Last year, we finished touring and then they brought us to Atlantic City for the summer. I auditioned for the first time two summers ago and made my way right up into the role of Bob Gaudio."
"Jersey Boys" was one of Chambliss' earliest introductions to live Broadway musicals.
"I grew up a few hours south of Chicago in Ottawa, Illinois and 'Jersey Boys' was one of the first musicals I saw," said Chambliss.
"I saw it in Chicago when I was in high school. I absolutely loved the show. I had an appreciation for it before I ever knew I wanted to be a professional actor.
"I went to Northern Illinois University and stared as an engineering major. I also had a passion for theater. After two years, I switched my major from engineering to theater."
Chambliss' theatrical resume includes Broadway – "Fiddler on the Roof" (Sasha, u/s Perchik) — and Regional – "Gypsy" (Tulsa), "All Shook Up" (Chad), "The Full Monty" (Ethan), and "Altar Boyz" (Matthew).  Topping the list is his current gig – the irresistible jukebox musical, "Jersey Boys."
"Audiences really love this show and keep coming back again and again for many reasons," said Chambliss. "Obviously, the music is a really big reason.
"And they love it because of the story. It's a very interesting and unique story – a rags-to-riches story. There is just something about their story that is genuinely inspirational."
Video link for "Jersey Boys" — https://youtu.be/hmkCrqDV4Dw.
"Jersey Boys" will be presented at The Playhouse on January 18 at 2 and 8 p.m. and January 19 at 2 p.m. Ticket prices start at $75.
This week, the Kimmel Center's Broadway Philadelphia's 2019-2020 season will present a show that has been playing to packed houses for a quarter-century – "Riverdance."
From January 21-26, the Merriam Theater (250 South Broad Street, Philadelphia, www.kimmelcenter.org)will host a very special edition of the hit show based on Irish dancing — "Riverdance – 25th Anniversary Show."
"Riverdance – 25th Anniversary Show" is "Riverdance" taken to an entirely new level.
The iconic international dance production, known for its Grammy Award-winning score and powerful Irish dance numbers, continues to get better.
With new design elements and a whole new look — new sets, new scenic design, new costumes, new lighting, new animated technology, and new musical orchestrations — the production features a stellar cast, including local 17-year-old South Jersey fiddle player Haley Richardson as a member of the Riverdance band.
The show's top-flight line-up of Irish dancers includes Gianna Petracic, an internationally acclaimed dancer who has both Irish dance and ballet in her dance background.
"I've been with 'Riverdance' since 2014," said Petracic, during a phone interview Friday morning from a tour stop in Lancaster, Pennsylvania. "I spent a couple years in China with the '20th Anniversary Show' and have been touring for the last three years."
Petracic was born in Sydney, Australia, and has been dancing ever since she was a little girl. She attended the Halloran School of Dance, training in Irish dance, ballet, contemporary dance and musical theatre. There she obtained several championship titles in Irish dancing.
She also studied ballet part time at the Australian Ballet School and part time acting at NIDA (National Institute of Dramatic Arts). Petracic was a part of the cast of Prodijig's show "Footstorm." She is also an original cast member of "Heartbeat of Home" — touring and performing in London's West End as a featured dancer. Her older sister Natasia Petracic is a dancer with a "Riverdance" company that is on a U.K./European tour.
"I'm 26 and my sister is 27 – 14 months older," said Petracic. "When I was little, I started dancing because she started dancing. I danced in high school – ballet, Irish, jazz. I grew up doing competitive dancing."
Petracic's involvement in dance competition even brought her to Philadelphia in 2009 to compete in the 39th Oireachtas Rince na Cruinne, World Irish Dance Championships, which was held for the first time in North America at the Kimmel Center.
"In 2013, I started my pro dance career," said Petracic. "My sister and I have danced professionally ever since. We even debuted lead performances in 'Riverdance' on the same day. She did the matinee show and I did the evening show.
"'Riverdance' is always a 'thing' if you did Irish dancing. It's the most prestigious show in the world for Irish dance."
Initially, "Riverdance" was created as a seven-minute piece to be performed as part of the intermission entertainment at the 1994 Eurovision Song Contest. The piece was so well received that the team of producer Moya Doherty, composer Bill Whelan and director John McColgan expanded it to a full-length stage production.
The rest is written in the history books.
"Riverdance" had its world premiere in February 1995 at the Point Theatre in Dublin, Ireland and, since then, has been seen onstage by over 20 million people worldwide. Additionally, Whelan won the 1997 Grammy Award for "Best Musical Show Album".
"The 25th anniversary show still holds all the key aspects – with slight changes," said Petracic. "We have a flamenco dancer, two American tappers, a Russian folk dance with three male dancers and three female dancers. We have about 30 dancers altogether.
"It's also the same music – with a few changes. There are two new numbers in the show. We have four band members – pipes, fiddle, sax, drums. And the new 25th anniversary sets are great. Audiences really love them.
"Audiences love 'Riverdance' for many reasons but the dancing is the main reason. You can't beat the opening scene when the cast comes out in complete darkness.
"'Riverdance is the original. And it's the best. The show is a massive celebration of Irish culture."
Video link for "Riverdance – 25th Anniversary Show" – https://youtu.be/5gSbweqZ_I4.
"Riverdance – 25th Anniversary Show" will run from January 21-26 at the Merriam Theater. Ticket prices range from $40-$119.