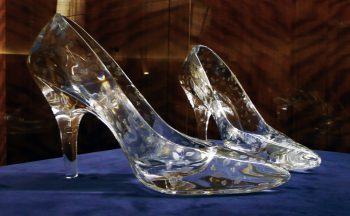 WEST CHESTER — You know the story of Cinderella, but you have never heard it told like this. Opera tutti,  or "Opera for all", presents the classic tale as a comic, fractured mini opera at Uptown! Knauer Performing Arts Center in downtown West Chester on Sunday, February 9 at 3:00PM. With a cast of fourteen talented local artists, the West Chester region is well represented in this ninety-minute production.
"The True Story of Cinderella" is performed annually to an almost cult following at Westminster Choir College in Princeton, NJ. The composer, Warren Martin (1916-1982), a Westminster graduate and beloved faculty member, wrote "Cinderella" for their annual May Day Celebration. Martin insisted that the work be sung "oratorio style", with singers in a row across the front of the stage, facing forward, not interacting with each other. This adds to the comedy, leaving no distraction from the humor inherent in the music and lyrics. Opera tutti will perform his work as it was intended with Uptown!s Executive Director, Catherine Friedman (soprano) in the lead role of Cinderella. Catherine, an alumna of Westminster, has been performing with Opera tutti for nearly three years.
Heidi Starr (soprano), Director of Opera tutti! initiated this series at Uptown! to offer a fun, accessible, music experience to fans and future fans of opera, operetta, classical, and Golden Age musical theater. She will play the role of Stepsister #2 in this production. The group's pianist, Tim Crawford of Downingtown, will accompany the cast, and their very versatile baritone, Matthew Maisano, will play the role of Stepsister #1.
Guest singers for this production include: Dr. Emily Bullock, (Mezzo-soprano), Associate Professor of Voice and Opera at West Chester University, in the role of Stepmother; Uptown!s Tech Director, Brydon Lidle IV (baritone), as Hermit #1; Prince, Brenten Megee (tenor), WCU graduate and student/choral conductor; Fairy Godmother, Lyndsay Varsaci, WCU alum and West Chester resident; Queen, Cynthia Rasmussen (soprano); King, Mike Spaziani (bass), Westminster and WCU alum and West Chester resident; Hermit #2, Brian George (baritone), of Wallingford, PA; Hermit #3, Shaun Yates (tenor), of Philadelphia; and Herald, Robert Davidson (bass/baritone), of Philadelphia. The Narrator is Rob Collins, of Springfield, PA.
Although "The True Story of Cinderella" is sung oratorio style, it promises to be more humorous than ever with witty lyrics, excellent timing, costuming, and a variety of music to keep the audience laughing. In this telling, each cast member has his or her own musical style which brilliantly captures the essence of each character. Opera, musical theater, and even vaudeville are all represented in this "tongue-in-cheek" opera for all.
Uptown! Knauer Performing Arts Center is conveniently located near parking, shopping and restaurants at 226 North High Street, West Chester. Purchase tickets at UptownWestChester.org, at the box office or call 610.356.ARTS(2787).