By Mike McGann, Editor, The Times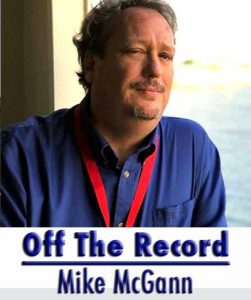 I don't want to nitpick, but…
Look, let's be clear: Gov. Tom Wolf has done a solid job in reacting to COVID-19 crisis. Compared to knuckleheads like Florida Gov. Ron DeSantis and Texas Gov. Greg Abbott, he's been brilliant. Compared to President Donald Trump….well, he's a super genius.
But, admittedly, that's been kind of a low bar. Compare Wolf to New York Gov. Andrew Cuomo and he comes up a bit short.
We'll get to the Pennsylvania Department of Health, which has performed poorly and offered what seems to be bad advice to the governor, in a moment.
Focusing on matters directly on Wolf's desk:
He needs to watch his language.
Monday he said: "Starting at 8pm, residents must stay home unless someone's life depends on leaving."
Yeah, that sounds like house arrest unless you need to go to the hospital. No food shopping, no going to pharmacy for essential medicines, no going outside for a walk.
But that wasn't the rule. You can shop for food as needed. You can go to the pharmacy. And yes, you can go out for a walk or a run, if you maintain proper social distancing.
If you look at social media, you see people panicked that they cannot go out — they cannot feed their families — and this was a giant unforced error, especially when the people of Pennsylvania are more than slightly scared.
If this is the best the governor's comm shop can do, maybe they need to find a better line of work. This needs to be clarified immediately and repeatedly — something I noticed legislators doing immediately.
Next, six days ago, Cuomo issued an executive order creating a 90-day pause on mortgage payments for the residents of his state, along with other orders related to credit. Where's Wolf on this? So far, near as I can tell, nothing has been done. Such an order, combined with a rent holiday, would offer a lot of relief to families worried about getting buried in debt. This needs to happen immediately.
Last, in terms of Wolf's direct actions, closing the state liquor stores was a mistake. Reopening them will create a crisis — crowds, lines and such at a time when social distancing is an issue — but someone needs to come up with a plan. One option: mail order, using drivers' license numbers (imperfect for those without drivers licenses, granted) and an email confirmation to prevent purchases by minors). Another option: in person appointments, allowing 5 to 7 people in the store at once.
Other states have allowed liquor stores to remain open — some people need (I'm fine with a beer, BTW, so this isn't for me) — as an option for people to calm their nerves. Not everyone wants to drink beer or wine, something should be done.
While many have praised Secretary of Health Rachel Levine and the Pennsylvania Department of Health (PADOH), I think she's failed too often during this crisis and made poor decisions.
I'm seeing decisions to limit testing to first responders, health care workers and those hospitalized. I get the massive, massive failure of the Trump Administration to plan and make sure the nearly 1 billion tests were ready — but we need to test almost everyone, or we will never get our hands around the spread. Without data, we're guessing.
Pennsylvania has done a fraction of the tests other states have — New York has three times more positive results than Pennsylvania has even tested. Chester County has tested less than 700 people out of something like 550,000. And tests seem to be coming back very slowly, multiple days instead of hours or minutes.
Yes, I get that the main issue is the criminal incompetence of Donald Trump, but other states seem to be finding ways to test more — New York tested more than 12,000 people on Monday, more than 91,000 overall — and Levine should be telling Wolf this is the highest priority. But she's not. Cuomo has also been much more aggressive in chasing ventilators and personal protective equipment than Wolf and his administration.
Let's be clear: New York is about a week ahead of us. It is going to get a lot worse here — and maybe worse than New York because our state government is behind the curve.
In fact, the state can't even accurately report positives — they overreport the number of positive tests in Chester County every single day because it cannot seem to figure out where Chester County starts and Delaware County ends. If we can't trust the numbers coming out of PADOH, can we trust any information coming out of the department?
Another illogical decision: in the middle of the night, without any consultation with the Pennsylvania Dental Association — DOH closed virtually all dental offices, requiring negative pressure isolation and HEPA filtration in order to stay open.
Virtually no offices — already restricted to emergencies — have that capability. In the order, DOH claimed that the standard is similar to that used in the state's dental schools, UPenn, Temple and Pitt. Slight problem: none of those schools have negative pressure isolation of HEPA filtration. Another case of DOH putting out incorrect information.
Now, if you have such an emergency — if you're in pain — you have the choice of going to a hospital (which will likely be very much more expensive if they'll even see you), get a prescription for pain meds (with the ongoing opioid crisis, maybe not the best choice) or suffer.
It's not like dentists were making money staying open — most were losing money by offering nothing more than emergency service and had broken out their Personal Protective Equipment and limited work to that advised by the American Dental Association to keep them, patients and staffs safe. They're frustrated by being unable to help their patients in a time of national crisis because of a boneheaded decision in Harrisburg.
Worse, though, it could add a burden on hospitals, clogging them with dental patients at a time when every effort should be made to clear these facilities to deal with COVID-19 patients. I haven't found another state doing this — New York and California, the state's with the biggest crisis right now, are limiting office visits to true emergencies, which had been the standard in Pennsylvania until the middle of the night, Sunday.
While Wolf has generally done a good job, his DOH continues to fail us. In the end, that falls on him. He needs to make changes, now, to keep us all safe and restore confidence in our state government.