By Mike McGann, Editor, The Times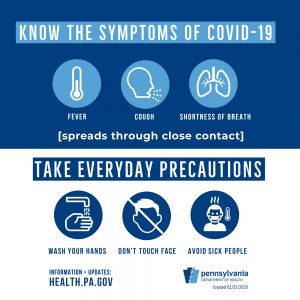 Numbers of COVID-19 cases around state and in Chester County continue to climb as the state moves toward delaying the spring primary elections and Gov. Tom Wolf announces a new $50 million plan to buy medical equipment around the commonwealth.
Statewide, the number of cases reported by the Pennsylvania Department of Health rose to 1,687 with 16 reported deaths in Pennsylvania from COVID-19. The state reports 16,441 negative tests. In Chester County, the county Health Department reports 84 cases, with 873 negative tests. Tredyffrin appears to be a bit of a hot spot, with 10 cases reported in the township.
As the pandemic continues to worsen nationally, statewide and in the county, government is moving to assist where possible.
Wolf announced a plan to spend up to $50 million in transferred state funding to purchase medical equipment and supplies for hospitals, nursing homes, and emergency workers to help fight the COVID-19 pandemic in Pennsylvania.
"We need more beds, more ventilators, more personal protective equipment, and so much more and we need it as soon as possible because the virus is here," Gov. Wolf said in a statement. "I am working to get this funding moving as quickly as I can. We need to do everything we can to support our front-line medical workers to protect them and ensure they have the equipment to care for patients. This funding is a step in the right direction."
With the legislature authorized to vote remotely, it moved quickly this week on a number of measures.
Both houses approved a measure to move the spring primary election from April 26 to June 2. Wolf is expected to sign the measure in the next day or so. Additionally, the state legislature passed measures to amend the state school code to address the missed school days caused by the pandemic; extended unemployment to employees impacted by mandatory business closures; and a zero-interest loan program for small businesses.
Of course, the federal $2 Trillion relief bill passed the US Senate Wednesday night and is expected to pass the U.S. House of Representatives, Friday and be signed into law shortly after by President Donald Trump. The package offers direct funds to most adults, boosts unemployment, offers special small business loans, funds for hospitals and state and local government, plus a loan program for larger businesses and support for the nation's airlines.
Meanwhile, State Police continues enforcement of the closure of "non life-sustaining businesses" by issuing warnings in the 10 counties covered by the order. No citations have been issued, but 13 additional warnings were issued on Wednesday, bringing the overall total since Monday to 57.