By Denny Dyroff, Entertainment Editor, The Times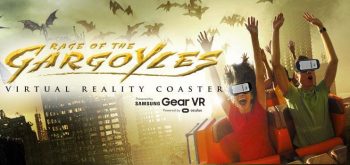 With the COVID-19 forcing everyone to remain at home, the situation is ripe for a case of restlessness and spells of boredom to set in.
Under normal circumstances, a good way for families to shed the shackles of boredom is to take a trip to an amusement park.
Physically, that's not possible right now. Fortunately, it is possible virtually.
The are several theme parks around the country that are offering virtual tours of their parks and their rides.
Six Flags Great Adventure (https://www.sixflags.com/greatadventure/attractions/vr2016/experience) has a heavy duty attraction.
Here's what you'll experience on Rage of the Gargoyles Virtual Reality Coaster at Skull Mountain:
Experience the incredibly immersive world of virtual reality – new to Six Flags Great Adventure on a roller coaster at 37 mph; fully integrated VR roller coaster utilizes Samsung Gear VR headsets, powered by Oculus, to provide a multi-dimensional experience; high-definition imagery and storytelling sync with 1,377 feet of plunging, twisting coaster track to create a one-of-a-kind, "real world" to "virtual world" thrill ride experience; for the first time ever on a roller coaster, you can engage in interactive gaming throughout the entire experience by shooting at flying demons; unique, sophisticated head-movement targeting allows you to instantly lock on a moving target – no touchpads or buttons required to fire.
Six Flags Great Adventure and Samsung provide all of the technology required for this thrilling experience
Link for Six Flags virtual ride tour — https://youtu.be/mA71-YAQIpw.
Dorney Park (https://www.dorneypark.com/) is offering virtual rides on Steel Force, Talon and Thunderhawk on its YouTube page. The park has announced that it won't open until mid-May because of the coronavirus crisis. In the meantime, it is offering online activities for kids on DorneyPark.com such as printing out a Planet Snoopy coloring book pages to color at home.
Florida and amusement parks in the spring go together like Mickey and Minnie.
Walt Disney World (https://disneyworld.disney.go.com/) is an entertainment complex in Bay Lake and Lake Buena Vista, Florida, in the United States, near the cities Orlando and Kissimmee.
The park is offering virtual tours including Flash Mountain, It's a Small World, The Seas with Nemo & Friends, Peter Pan's Flight, Frozen Ever After, and Buzz Lightyear's Space Ranger Spin.
Link for Frozen Ever After — https://youtu.be/ko08QBou0J8.
LEGOLAND Florida Resort (https://www.legoland.com/florida/) is a vacation destination in Winter Haven, Florida featuring a theme park, water park and on-site accommodations. It opened as Legoland Florida on October 15, 2011, and later rebranded itself Legoland Florida Resort with the opening of Legoland Hotel in May 2015.
The popular theme park has a variety of tours available. Two of the most popular are The Great Lego Race and Miniland.
SeaWorld Orlando (https://seaworld.com/orlando/) is a theme park and marine zoological park in Orlando. It is owned and operated by SeaWorld Parks & Entertainment. When combined with its neighbor Discovery Cove and Aquatica, it forms SeaWorld Parks and Resorts Orlando, an entertainment complex consisting of the three parks and many hotels
The virtual tour of Seaworld includes a tour of Discovery Cove and the option to "ride" the steel roller coaster Mako.
Universal Orlando Resort (https://www.universalorlando.com/web/en/us), commonly known as Universal Orlando or simply "Universal," is a theme park and entertainment resort complex based in Orlando.
The resort is closed but staying active by presenting a variety of virtual attractions for online visitors/
Orlando is still rolling out a serious welcome mat – even if it is just via computers.
According to the tourist area's website:
There's a fresh way to see Orlando, and you don't even have to be here to take advantage of it! With Visit Orlando's brand-new Orlando Virtual Tour, you can see it all from the comfort of your computer, tablet, mobile device or even virtual-reality headset, and without skimping on any thrills.
See It All Before You Arrive With Orlando Virtual Tour.
Using state-of-the-art technology, the innovative, interactive and intuitive Orlando Virtual Tour invites you to see everything there is to do in Orlando, including our world-famous theme parks and attractions, top hotels, dining and shopping hotspots, entertainment districts, and much more. No matter your preferred device, you can explore virtual thrills like standing on Main Street in front of Cinderella Castle at Magic Kingdom® Park at Walt Disney World® Resort, zip-lining over alligators at Gatorland®, and riding our tallest roller coaster, Mako®, at SeaWorld® Orlando.
In addition to Orlando Virtual Tour's main page, which encompasses the whole destination, you can narrow in on numerous areas, including Walt Disney World® Resort, Universal Orlando Resort, SeaWorld® Orlando, LEGOLAND® Florida Resort, International Drive, downtown Orlando, Restaurant Row, Winter Park and Lake Nona. (Click any of the preceding areas to go directly to their tours.)
Link for the site — https://www.visitorlando.com/en/things-to-do/virtual-tours.
For kids of all ages, visits to attractions with space themes are on the same plateau with amusement parks.
Space Center Houston (https://spacecenter.org/app/) is a leading science and space learning center, the official visitor center of NASA Johnson Space Center in Houston and a Smithsonian Affiliate museum.
The free Space Center Houston interactive mobile tour features audio tour, GPS maps, selfie filters, augmented reality experiences, virtual reality lite and more!
According to the website – Here are some of the amazing tools and features you get with the Space Center Houston interactive mobile tour:
Location-Aware Audio Tour: As you walk through the Space Center Houston, location-aware audio stops will tell you about our extraordinary journey into space and the people who got us there. Like…how did the American grandfather of rocket science, Robert Goddard, get kicked out of his hometown? Why did early astronauts bring water guns to space? And why is there so much Velcro on the International Space Station?
GPS-enabled maps: With wayfinding and GPS-enabled map technology, you'll be able to find everything from moon rocks to spacecrafts to bathrooms!
Daily and special events calendar with built-in notifications
Space Center Houston selfie filters: Picture yourself as an astronaut with the help of Space Center Houston's selfie filters.
Interactive augmented reality and Virtual Reality Lite experiences: Find Space Center Houston's Interactive augmented reality experiences around the center. With the Space Center Houston audio tour, you'll be able to explore the Moon, watch the Saturn V launch, and more, all with the power of augmented reality! You can even bring Space Center Houston home with you! Through Virtual Visits, you'll be able to see every gallery in 360 degrees!
Space Center Houston Event Calendar: With up-to-date event notifications and calendars, you'll know about every tour, demonstration, speaker, or special event at Space Center Houston.
Take It Home: Access every Space Center Houston audio stop, video, and more wherever you go! You will always have something new and exciting to learn about space exploration, whether you're in Space Center Houston's Starship Gallery or in your living room!
The National Air and Space Museum of the Smithsonian Institution (https://airandspace.si.edu/), also called the Air and Space Museum, is a museum in Washington, D.C. It was established in 1946 as the National Air Museum and opened its main building on the National Mall near L'Enfant Plaza in 1976.
As the most visited museum in the United States, it's hard to imagine what it would be like to walk through our exhibitions and be the only one around. Now, thanks to the incredible work of volunteer and photographer Jim Walker, you can have the Museum all to yourself (from the comfort of your own home!) with these stunning panorama images of our National Mall building.
Link for tour — https://airandspace.si.edu/stories/editorial/your-tour-through-national-air-and-space-museum.
You can also get an online tour of the facilities at NASA Glenn Research Center (https://www.nasa.gov/centers/glenn/home/index.html).
Select a tour and tap the icons to view videos, images and see testing in action: Virtual tour of NASA Glenn Hangar; Virtual tour of 8 x 6 Supersonic Wind Tunnel; Virtual tour of 9 x 15 Low Speed Wind Tunnel; Virtual tour of Simulated Lunar Operations Laboratory (SLOPE); Virtual tour of Zero-G; Virtual tour of Ballistics Impact Lab; Virtual tour of the Electric Propulsion and Power Laboratory (EPPL); Virtual tour of the Icing Research Tunnel (IRT); Virtual tour of the Space Environments Complex (SEC); and Virtual tour of Propulsion Systems Laboratory (PSL).
Closer to home, there are quite a few Philadelphia and eastern Pennsylvania attractions currently offering virtual tours.
The list includes The Museum of the American Revolution (www.amrevmuseum.org), Betsy Ross House (historicphiladelphia.org/betsy-ross-house), Valley Forge National Historical Park(https://www.nps.gov/museum/exhibits/valley_forge), the American Treasure Tour Museum (http://americantreasuretour.com/), The Railroad Museum of Pennsylvania(https://rrmuseumpa.org/about/musviews/), The National Toy Train Museum (www.nttmuseum.org), The Pennsylvania Historical and Museum Commission (http://www.phmc.state.pa.us/portal/communities/archaeology/resources/virtual-tour.html), and the Pennsylvania Lumber Museum (http://lumbermuseum.org/).
Also getting in on the "virtual" fun (actually, real fun virtually) are The Academy of Natural Sciences of Drexel University; American Swedish Historical Museum; Barnes Foundation; Bucks County Cultural Sites; The Clay Studio; Elmwood Park Zoo; The Fabric Workshop and Museum; Free Library of Philadelphia; Independence Seaport Museum; Museum of the American Revolution; National Marian Anderson Museum; Penn Museum; Philadelphia Museum of Art; and The Philadelphia Zoo.
If you go to Visit Philadelphia's website (https://www.youvisit.com/tour/visitphilly), you can be a tourist in the Quaker City without even getting up off the couch.
The organization has links to more than 20 different short virtual tours that provide a great introduction to the city.
The list of links includes Benjamin Franklin Bridge, Race Street Pier, Elfreth's Alley, Independence Hall Exterior, Independence Mall, Liberty Bell Center, Carpenter's Hall, National Constitution Center, African American Museum of Philadelphia, National Museum of American Jewish History, Second Bank of the United States, Washington Square, Reading Terminal Market, Avenue of the Arts, Pennsylvania Academy of Fine Arts, Penn Museum, The Franklin Institute, The Barnes Foundation, Schuylkill Riverbanks, Boathouse Row, Fairmount Water Works, and Philadelphia Museum of Art "Rocky Steps" at Philadelphia Museum of Art.
***
Here's something to ponder.
In December, the medical community will be facing a new crisis – finding enough obstetricians and enough beds in the maternity ward.
The era of "corona boomers" will begin.
And, at least 10% of the little buggers will be named Corona or variations thereof. There will also be baby baseball jerseys with their name and the number 19.
Lynn Carahaly, a former field hockey standout at Downingtown High and The Ohio State University, suggested a great name for the new batch of baby boomers – "Coronials."
***
Here's something else to ponder – the importance of washing your hands and maintaining the recommended distance — six feet — between you and everyone else.