By Mike McGann, Editor, The Times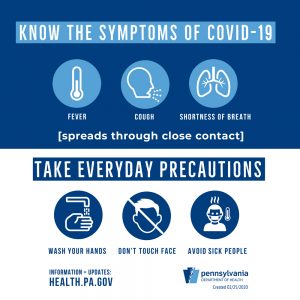 As the state legislature debates a bill that would reopen some Pennsylvania businesses, statewide cases continued a slow slide, as fatalities continued to mount — and Chester County saw an uptick in both cases and deaths from COVID-19.
The sate Department of Health (DOH) reported 1,145 new positive cases — bringing the statewide total to 26,490 — and 63 new deaths, bringing the statewide death toll to 647.
"COVID-19 cases and deaths continue to rise in Pennsylvania, and even though the daily increases are not exponential, now is not the time to become complacent," Secretary of Health Dr. Rachel Levine said. "We must continue to stay home to protect ourselves, our families, our community. If you must go out, please make as few trips as possible and wear a mask to protect not only yourself, but other people as well. We need all Pennsylvanians to continue to heed these efforts to protect our vulnerable Pennsylvanians, our health care workers and frontline responders."
Meanwhile, the state House of Representatives passed a bill Tuesday that would overrule Gov. Tom Wolf and reopen some of the state's businesses. SB613 would loosen some of the restrictions and bring the shutdowns into alignment with federal standards issued in March. Only two local legislators — John Lawrence (R-13) and Tim Hennessey (R-26) — voted for the bill, which now heads to the state Senate.
In Chester County, the Health Department listed 39 new cases — a total of 675 — and three new deaths, bringing the total to 23 in the county.
In other developments related to the virus outbreak, the state announced Wednesday that the Department of Revenue is providing relief to Pennsylvanians and businesses affected by the COVID-19 pandemic. The department is offering taxpayers increased flexibility, additional time to meet their tax obligations, and a pause on several of its standard enforcement actions.
"As we all work together to prevent the spread of COVID-19, it's critical for us to take action that will provide immediate relief for Pennsylvanians and our businesses," Gov. Wolf said. "In addition to extending tax filing and payment deadlines, we are giving taxpayers more time and flexibility in other areas so that they can concentrate on their well-being. This is a needed step that will help everyone during this uncertain time."
Also, the Department of Human Services (DHS) today announced that it is making temporary changes to Pennsylvania's Children's Health Insurance Program (CHIP) to keep families enrolled in CHIP for the duration of the public health emergency and to ease access to medical services for children being screened or receiving treatment for COVID-19.
"COVID-19 has created economic challenges for families across Pennsylvania, and we want to be sure that families are able to keep health care coverage to protect themselves and their children during this time. These changes are designed to ease access to CHIP and to keep families enrolled in health insurance during the COVID-19 pandemic," said DHS Secretary Teresa Miller.
Additionally on Wednesday, Gov. Wolf sent a letter to U.S. Department of Agriculture Secretary Sonny Perdue urging him to immediately publish a plan to support agriculture producers, food processors, workers, and local food systems, regardless of size of operation. The $9.5 billion included in the CARES Act – at Perdue's discretion to distribute across dairy, livestock, specialty crop sectors, horticulture, and restaurants – has the potential to ensure Pennsylvania remains a national leader in agriculture.
"We need Secretary Perdue to publish a plan that includes resources, guidance, and protection for the industry that is working to provide for Pennsylvanians and Americans despite the risk, stress, and uncertainty of our current pandemic," said Wolf. "Pennsylvania's farm families are working hard to sustain life; we need immediate federal action to sustain agriculture because every day, we rely on it.
"In addition to critical financial support, the industry relies on skilled labor to perform essential duties and keep the supply chain strong," added Wolf. "We can't have the fruits of their labor going to waste during a time when so many are experiencing food insecurity as they stay home to save lives."