By Denny Dyroff, Entertainment Editor, The Times
Back at the beginning of the year, Bowie fans were excited.
Sass Jordan was also excited about "A Bowie Celebration" tour through North America.
"A Bowie Celebration" was set to return to North America in March following a major European tour in January this year.  The run was slated to kick off in San Diego on March 3 and include 30 shows across United States and Canada – including a date at the Keswick Theater in Glenside.
"A Bowie Celebration" features key alumni musicians of David Bowie's bands from across the decades. Anchored by Mike Garson, the band features a revolving selection of additional performers which include Gerry Leonard, Carmine Rojas, Kevin Armstrong and Alan Childs. This tour will focus on Bowie's fifth album "Ziggy Stardust and the Spiders from Mars" and his eighth studio album "Diamond Dogs" — both ranked amongst the greatest albums of all time.
Garson, who is the keyboardist and band leader, is the longest-standing member of any of Bowie's bands, having performed with Bowie at more than 1,000 concerts. Leonard was a Bowie musical director and guitar player. Joining them are bassist Carmine Rojas and Alan Childs, who was Bowie's drummer on his 1987 "Glass Spider" world tour. Armstrong also joins the David Bowie alumni tour having recorded and played with Bowie at Live Aid, on the first Tin Machine album and tour, amongst other Bowie projects. Between them, the alumni band have over 40 years tenure recording, writing and playing live with Bowie.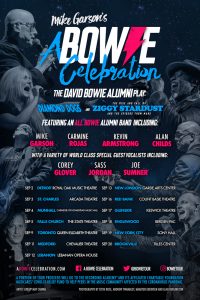 Other members of the current "A Bowie Celebration" lineup announced were vocalist Canada's rock sensation Sass Jordan, Corey Glover (founding member of Living Colour) and Joe Sumner (a singer-songwriter and bassist for the rock band Fiction Plane).
Unfortunately, COVID-19 arrived, and live concerts disappeared – at least for the immediate future.
Operating with a sense of optimism, Mike Garson's "A Bowie Celebration" has announced specific dates for 14 of the performances that were postponed or cancelled because of the global pandemic.  The tour will resume on September 2 in Detroit and include a show at the Keswick Theatre on September 17.
General and VIP tickets can be purchased here at http://www.ABowieCelebration.com/. A portion of tour proceeds will go to The Recording Academy® and its affiliated charitable foundation MusiCares® COVID-19 Relief Fund to help peers in the music community affected by the Coronavirus pandemic.
Video link for "A Bowie Celebration 2020 – North America" — https://youtu.be/KifisKYhQZs.
"This is a great show," said Jordan, during a phone interview prior to the cancellation of the spring shows. "I just got back from Israel with them.
"The project is Mike Garson's thing. Bernard Fowler was with the project for a while asked me to come on. The last two times they played Toronto, they asked me to come and sing a few songs. That's how I met them."
The band operates with Bowie's music as the core of its DNA.
Garson is featured on numerous Bowie albums, including his much talked about masterly solo on the "Aladdin Sane" track. Garson was Bowie's longest and most frequent band member.
On Garson, Bowie said "It is pointless to talk about his ability as a pianist. He is exceptional. However, there are very, very few musicians, let alone pianists, who naturally understand the movement and free thinking necessary to hurl themselves into experimental or traditional areas of music, sometimes, ironically, at the same time. Mike does this with such enthusiasm that it makes my heart glad just to be in the same room with him."
Leonard was music director and guitar player for Bowie on his "Reality" world tour and DVD along with Bowie's previous two records, "Heathen" and "Reality" and their subsequent tours along with his "The Next Day" album. Further credits include recording and touring as guitar player and music director for artists such as Suzanne Vegas, Rufus Wainwright, Laurie Anderson, Duncan Sheik and Roger Waters.
Rojas toured the world with Bowie, playing bass on several multi-platinum hits such as "Let's Dance", "China Girl", "Modern Love" and "Blue Jean" on the "Serious Moonlight" and "Glass Spider" tours. Rojas has also recorded and toured with Julian Lennon and Rod Stewart as musical director and bassist.
Armstrong first met Bowie in 1985 on sessions for  "Absolute Beginners" after which he helped him put the band together and play for his Live Aid performance followed by recording the Bowie / Jagger song "Dancing in the Street" together. Armstrong played on the Bowie's first Tin Machine album and tour and wrote and played on the "Outside" album with Bowie who introduced him to Iggy Pop and was featured on their "Blah Blah Blah" album. Armstrong continues to play with Iggy Pop today.
Childs was Bowie's drummer on his 1987 "Glass Spider" world tour and is featured on the tour album and DVD. Childs has also played with Julian Lennon, Rod Stewart, John Waite and many others.
Glover is a founding member of Living Colour, which earned numerous industry awards including back-to-back Grammys for Best Hard Rock Performance and emerged as one of the most influential rock acts of all time.
Jordan has received a Canadian Juno Award, Billboard's Best Female Rock Vocalist award and was a judge on the hit Canadian Idol television program. She also starred in the Off-Broadway production of "Love, Janis" and has worked with Aerosmith, The Rolling Stones, AC/DC, Steve Miller Band, Van Halen, The Foo Fighters, Cheap Trick, Santana, Joe Cocker, Styx, Rodger Hodgson, April Wine, Jeff Healy, and countless others.
In a pre-tour press release, Jordan said, "I am extremely honored to be part of a show that celebrates the astonishing legacy of one of my ultimate idols, David Bowie, as well as getting to play with some of the master musicians from his bands. Bowie is one of the reasons I wanted to be a performer, and doing this tour is like playing a love letter to his memory every night!"
Jordan is a British-born Canadian rock singer from Montreal, Quebec. Her first single, "Tell Somebody," from her debut album of the same name won the Juno Award for Most Promising Female Vocalist in 1989. Since then, she has been nominated three more times and won the Billboard Best Female Rock Vocalist award.
Jordan was born in Birmingham, England to French-born literary professor Albert Jordan and former ballerina Jean Lanceman. When Jordan was three years old, Albert Jordan moved his family from France to Montreal.
In her early teens, Jordan regularly sang and played guitar with a group of friends in Westmount Park. By the age of 16, Sass Jordan began performing with bands at clubs in downtown Montreal, eventually becoming a vocalist/bassist for high-profile local band The Pinups.
Montreal's burgeoning '70's scene included a 'no holds barred' approach to glam, punk, blues, prog, metal, country, jazz, folk, with the added attraction of a homegrown sound created by the Quebecois artists of the decade, unique to the landscape and pertinent to the denizens of the period. There was no better musical place to be in the '70's- and this was the backdrop that nurtured one of the pioneers of female fronted rock – Sass Jordan.
In 1986, Jordan made her recording debut on the Bündock album "Mauve" as co-lead vocalist on the song "Come On (Baby Tonight)." She soon began working as a session vocalist for other Montreal-based acts, notably for The Box. Local acts began recording songs written by Jordan, including the Canadian hit single "Rain" by Michael Breen, which was featured on his 1987 self-titled album.
The roots that grew Canada's "Queen of Rock" — Sass Jordan — started in Europe and edged across the pond to the veins of metal pulsing in the musical metallurgy of Montreal in the 70's.
In the years since these auspicious beginnings, Jordan has worked with many of the people that inspired her to do what she does including Aerosmith, The Rolling Stones, AC/DC, Steve Miller Band, Van Halen, The Foo Fighters, Cheap Trick, Santana, Joe Cocker, Styx, Rodger Hodgson, April Wine, Jeff Healy, and countless others. She has won various awards, including Juno and Billboard, and has sold over a million records worldwide.
Jordan was a feature actor in the episodic television show "Sisters." From 2003-2008, she starred as one of the four judges on the hugely popular television series, "Canadian Idol." Her songs and performances have been featured on numerous television shows, including the iconic 90's "Baywatch" and "Knight Rider," The Dennis Miller Show, and SyFy's "Defiance."
She is currently working on new music while continuing to perform live concerts. And, she is developing a webisode/podcast series called "Roadogs and the 10 Commandments of Rock" in support of her friend Tom Petersson's foundation — RockYourSpeech.com.
In the interview back in February, Jordan said, "When Mike invited me to do the Bowie tour in March and April, I thought it was a great idea. Some people had dropped out, so they asked me to join for shows in Europe and Israel.
"It's been a blast. Mike Garson is a badass. He's 74 years old and so energetic – and an unbelievable player. With this show, I'm onstage the whole time. I do about five songs including 'Five Years' and 'Panic in Detroit.'
"The timing of the tour is also good for me. I've got a new record coming out and I haven't been in the states in a year."
In the interim, Jordan's new album has dropped. "Rebel Moon Blues" was released on March 13 on Stony Plain Records.
"Rebel Moon Blues" is an eight-song album spotlighting her signature voice in a wholly dedicated blues endeavor across seven diligently selected covers plus one knockout original, "The Key." She is also introducing the world to a new brand — Rebel Moon Whisky.
With the new music, Jordan shows that she is just as adept singing the blues as he is belting out rockers.
According to Jordan, "I was very slow on the uptake. It was one of those things that's so dang obvious you just can't see it. But yeah, the blues has always been a huge part of my life. It's a big part of what I grew up with. It's been there through my entire career. People have always said, 'You're so bluesy.' And it's true.
"My singing is blues inflected. My songs use blues-type licks. If you listen to my album 'Rats,' it's totally blues-based. I didn't do any of that on purpose. It isn't contrived. It's just me. So, it's always been there. It just took me this long to decide I could finally do it for real. Or at least do my version of it."
Produced by Jordan and D#, "Rebel Moon Blues" is the JUNO Award-winner's ninth studio album and first release in nearly a decade. All killer and no filler, the album features the inimitably raspy rock goddess jubilantly celebrating the songs, sounds and styles of everyone from old masters like Willie Dixon, Elmore James and Freddie King to younger, louder guns like Gary Moore and Rory Gallagher.
"Rebel Moon Blues" was recorded at Toronto's Canterbury Music Company studio in just three fast-paced days, with Jordan and the Champagne Hookers — her touring band of guitarists Chris Caddell and Jimmy Reid, bassist Derrick Brady and drummer Cassius Pereira, augmented by blues harp master Steve Marriner and keyboardist Jesse O'Brien — all playing live in the same room at the same time.
According to Jordan, "The energy is so different when you're playing it live. It's a different frequency, a different vibe. It's very joyous. You can hear a lot of us laughing on there. I love that kind of thing. It's like you're right there with us. We're there, we're live, and we're having a blast, baby!"
Jordan has also come out with a new brand, Rebel Moon Whisky, to go along with her Kick Ass Sass wine.
According to Jordan, "Whisky is my spirit animal. There aren't any female singers doing a whisky line yet, that I know of. It's a whole new thing! Besides, what goes better with blues than whisky or wine?"
Video link for Sass Jordan — https://youtu.be/C9U9AjXVA1g.
It might be a while until Jordan's fans get to hear her perform songs from "Rebel Moon Blues" live. But, if all goes well, they'll be able to hear her perform Bowie songs on the rescheduled "A Bowie Celebration" tour.
Rescheduled appearances start on September 2 in Detroit and include stops in St. Charles, IL; Munhall, PA; Falls Church, VA; Toronto, ON; Medford, MA; Lebanon, NH; New London, CT; and Red Bank, NJ.
The final four shows are scheduled for the Keswick Theatre on September 17, Bergen PAC in Englewood, NJ on September 18, Sony Hall in New York City on September 19 and Tilles Center in Brookville, NY on September 20.
According to the tour website, "We should have more news on our show in Princeton, NJ soon. Unfortunately, we were unable to be reschedule shows in Seattle, Vancouver, Calgary, Winnipeg, Cleveland, Atlanta, Melbourne, Clearwater, Lakeland and Ft. Lauderdale this year. Those who have already purchased tickets to these previously scheduled shows should hear from your point of purchase about a refund. We look forward to returning to continue the celebration with you all next year…"

The Kennett Symphony has long been one of Chester County's cultural treasures. Because of the current pandemic, the Symphony has been forced to cancel the remainder of its 2019-2020 season – and to suffer related financial losses.
Kennett Symphony Music Director Michael Hall just posted the following message:
Dear Friends and Fans of the Kennett Symphony,
Thank you for being an important part of the Kennett Symphony family.  We miss seeing you in the concert hall. We are looking forward to being together again when it is safe to do so.
Over the past few weeks, we made the heart-wrenching decision to cancel the remainder of Kennett Symphony's 2019-2020 concert season – our Family concert, our Reimagined concert at Mendenhall Inn, two Longwood Gardens concerts and our spring fund raiser with the Philadelphia Orchestra Percussion Group.  With health and safety concerns for our patrons and the musicians paramount, it was the right decision. Ironically, when the need to bring music lovers together for inspiration and solace is greatest, our stage is silent.
Yes, our season ended, but we have much to do to ensure stability now as we plan for next season. Like our Symphony's strings, woodwinds, brass and percussion, all parts must harmonize to keep us operating smoothly. If you can, please consider a special gift to help us move forward.
Gifts in support of the Kennett Symphony will help us:
Honor our commitments to artistic direction, financial management, promotion, fund raising, personnel, and monthly expenses
Honor our commitments to our staff members
Seek out new ways to connect with you via media like Facebook, YouTube, and our website.
Your donation will help supply the energy, the inspiration and the resources to meet these objectives and respond to this crisis. Your support will help the Symphony take steps toward the 2020-2021 season.
Please support our mission with a tax-deductible gift to the Kennett Symphony. Thanks to generous donors, new and increased gifts will be matched $1 for every $2 you give.
On behalf of all of us at the Kennett Symphony, thank you for your support.  We send our best wishes for health and safety to you and yours.
Sincerely,
Michael Hall
Music Director
Video link from Michael Hall – https://youtu.be/sXeIrGOxZLs.
Live shows – from a Bowie band to the Kennett Symphony to just about everything else – are not going to happen again for a while. In the meantime, there is plenty of live music available via internet streaming.
Troubadour 77, which features Chester County native Anna Wilson (Piano/Lead Vocals) and her husband Monty Powell (Guitar/Vocals).
is inviting music fans to join the duo for their weekly "T77 SQUARED CONCERTS" featuring songs from their new album, "Revolution & Redemption," which was just released on April 10.
The next edition of "T77 SQUARED CONCERTS" is scheduled for May 7 at 8 p.m. at https://www.facebook.com/Troubadour77music/.
Some other programs slated for May 7 are:
KT Tunstall & The War and Treaty
When: 5 p.m. ET
Where: Paste Happiest Hour on YouTube
Ben Gibbard
When: 7 p.m. ET
Where: Death Cab for Cutie on YouTube
The Death Cab frontman streams shows live from his home weekly.
Indigo Girls
When: 7 p.m. ET
Where: Indigo Girls on Facebook & Instagram
The Indigo Girls will host a livestream and Q&A series every Thursday in May beginning this week.
Lake Street Dive
When: 8 p.m. ET
Where: Right here
This week Lake Street Dive are bringing volume two of their "Lounge Around Sounds Variety Hour" to the internet. This week's guest is Emily King, and they're donating a portion of proceeds to charity.
Waxahatchee & Kevin Morby
When: 9 p.m. ET
Where: Waxahatchee on Instagram
Kevin Morby and Katie Crutchfield (of Waxahatchee) host livestreams from their home weekly.
On May 8, there will be a variety of online offerings including:
The Tallest Man on Earth
When: 3 p.m. ET
Where: The Tallest Man on Earth on YouTube
The Tallest Man on Earth's Kristian Matsson jumps on YouTube on Friday afternoons to play covers by request as well as his own tunes. You can email requests toquestionsforkristian@gmail.com.
Hayes Carll & Tommy Emmanuel
When: 5 p.m. ET
Where: Paste Happiest Hour on YouTube
Frankie Cosmos
When: 9 p.m. ET
Where: @frankiecombos on Instagram
Greta Kline is going live every Friday night to chat with her Frankie Cosmos bandmates and a play a set of songs. It's different every week.
Runaway Horses with Margo Price
When: 9 p.m. ET
Where: Margo Price on YouTube
Country singer Margo Price's weekly radio hour Runaway Horses happens on Friday nights and features hand-selected tunes.
The Metropolitan Opera (www.metopera.org) is offering "Live Opera Streams" nightly with a schedule that this week includes such classics as "Macbeth," "Don Carlo" and "Il Barbiere di Siviglia" ("The Barber of Seville").
The schedule for the upcoming week is:
May 7
Strauss's Capriccio
Starring Renée Fleming, Sarah Connolly, Joseph Kaiser, Russell Braun, Morten Frank Larsen, and Peter Rose, conducted by Sir Andrew Davis. From April 23, 2011.
May 8
Viewers' Choice: Puccini's La Bohème
Starring Renata Scotto and Luciano Pavarotti, conducted by James Levine. From March 15, 1977.
May 9
The Opera House
A 2017 feature-length documentary by Susan Froemke about the creation and 1966 opening of the new Met at Lincoln Center
May 10
Mascagni's Cavalleria Rusticana and Leoncavallo's Pagliacci
Cavalleria Rusticana: Starring Eva-Maria Westbroek, Marcelo Álvarez, and George Gagnidze.
Pagliacci: Starring Patricia Racette, Marcelo Álvarez, and George Gagnidze.
Conducted by Fabio Luisi. From April 25, 2015.
Now that the 2019-20 season of Opera Philadelphia (operaphila.org) has been cut short due to the COVID-19 pandemic, the company is extending its season online with video streams of five recent productions, including four new works that received their world premieres from 2015-2019.
The five operas will receive digital premieres from May 1 through May 29 on YouTube. Following each digital premiere, the operas will remain available on-demand for varying lengths of time through Aug. 31, 2020.
On May 10 at 2 p.m. WHYY-TV12 will present a special broadcast of "We Shall Not Be Moved" for audiences throughout the Greater Philadelphia region. This acclaimed opera will also be broadcast for students on WHYY's secondary channel Y2 on Friday, May 15, at 1:00 p.m.
WRTI 90.1 is broadcasting four concerts by the talented young musicians of the Philadelphia Youth Orchestra (PYO) during the month of May in 2020. Performing with exceptional soloists and conducted by Maestro Louis Scaglione, the four-week schedule includes full concerts from 2016, 2017, 2019 and 2020.
The broadcasts – two of which will feature works by West Chester's Samuel Barber — will take place on May 10, 17 and 24 from 4-6 p.m. and will be co-hosted by WRTI's Kevin Gordon and Maestro Scaglione. It is available on the radio at WRTI 90.1, streaming at WRTI.org, and on the WRTI App.
The following concerts are planned in May:
Sunday, May 10, 2020, 4:00 p.m.
PYO Concert with Special Guest Celebrated Violinist Francesca dePasquale, PYO Alumna
(Performance date: February 23, 2020)
The program will open with Samuel Barber's Medea's Dance of Vengeance, then proceed with dePasquale as soloist with the orchestra in Dmitri Shostakovich's Violin Concerto No. 1 and conclude with Aaron Copland's Symphony No. 3.
Sunday, May 17, 2020, 4:00 p.m.
PYO Concert featuring organist Alan Morrison and Bravo Brass Alum and Euphonium Soloist
Joel Collier
(Performance date: June 5, 2016)
The performance opens with Samuel Barber's Toccata Festiva, featuring internationally acclaimed guest organist Alan Morrison. Next on the program, Joel Collier is guest soloist with PYO in the U.S. premiere of Symphony Concertante by Roland Szentpali. It is followed by Blue Cathedral by Pulitzer Prize winner and Philadelphia-based composer Jennifer Higdon and concludes with Sergei Rachmaninoff's Symphonic Dances.
Sunday, May 24, 2020, 4:00 p.m.
PYO Concert featuring Violinist Michael Ludwig, Mendelssohn Club of Philadelphia, Philadelphia Boys Choir, and guest vocal soloists Alexandra Nowakowski, Eric Rieger, and John Viscardi
(Performance Date: June 4, 2017)
The musical selections include the winning composition by Alan Mackwell in the Inaugural Young Composers Competition titled Secretly Ramses the Second, Glazunov's Violin Concerto with Michael Ludwig and Orff's Carmina Burana with the Mendelssohn Club Chorus, Philadelphia Boys Choir, and vocal soloists Alexandra Nowakowski, Eric Rieger, and John Viscardi.
Sofar Sounds (https://www.sofarsounds.com/v/listeningroom) has these streams upcoming — Lara Nuh "Live from Lima" on May 7 at 6 p.m.; Johari Noelle "Live from Chicago" on May 8 at 6 p.m.; and Tonina on May 9 at 6 p.m.
The Kennedys' All-Request Livestreaming Concert is slated to get underway on May 10 at 2 p.m. straight from their New York apartment to your home. The Livestream link —https://youtu.be/AAKrpegB0mg.
n May 1, ONCE Somerville (https://www.oncesomerville.com/) will be launching a brand new platform. The ONCE Virtual Venue (VV) will be a place for fans of the venue to interact and enjoy performances under the ONCE Presents identity. The programming will range from music to comedy, yoga, tutorials and more. The following is the lineup for May:
5/1: Virtual Venue Launch Party with DJ Flaccid & DJ Sir Rich Wentworth @ 8PM
5/2: Black Widow Yoga @ 11AM
5/3: ONCE Broadcast Bingo with Boopsie Commons @ 3PM
5/7: Billy Hough: 21st Century Blues
5/8:  No Small Children @ 7:30PM
5/9: Couchfest – Jill McCracken, Blindspot, Sur5ill @ 2PM
5/9: Dark Spring Boston Presents Pilgrims of Yearning Kelly Spyglass and Goddess Gloss @ 5PM
5/14: Sophia Belle of Home Despot @ 7:30PM
5/15: Dave Derby of the Dambuilders @ 7:30PM
5/16: The Talk Show! with Bethany Van Delft & Carolyn Castiglia, with Nick Chambers and Shalewa Sharpe @ 7PM.
Fearless Records will be hosting a one-time only, global event featuring most Fearless artists, and even a new artist signing announcement.
"Fearless At Home" will take place on May 9 at 3 p.m. via the label's YouTube channel. — http://fearlessathome.com.
The program will feature everything from live, acoustic sets to fun, at-home segments – and the opportunity to see the label's bands like you never have before.
This live-streamed, virtual event also functions like a "festival" to help raise funds for bands crew. Fearless will also be releasing two event-branded merch items where all net proceeds will be donated to Crew Nation.
GRAMMY Museum® (www.grammymuseum.org) has announced the next round of new and never-before-released free digital content while the GRAMMY Museum in Los Angeles is closed until further notice in light of COVID-19. The Museum's Public Programs digital series features new intimate sit-down interviews with artists and musicians recorded via Zoom, as well as archival Programs from its 200-seat Clive Davis Theater. The Museum is also releasing exhibit slideshows featuring items from past exhibitions.
The full May schedule is listed below:
DIGITAL PUBLIC PROGRAMS
*notes a never-before-released Program from the Museum archives
*5/2 — Trey Anastasio
5/4 — Kevin Cronin from REO Speedwagon
5/6 — Webb Wilder
*5/9 — Claudia Brant with Cheche Alara and Moogie Canazio
5/11 —Jim Lauderdale
5/13 — Melanie Martinez
*5/16 — Jordan Davis
5/18 — Dave Stewart with Thomas Lindsey
5/20 — Shinedown
*5/23 — Bush
5/25 — Brandy Clark
5/27 — JP Saxe
*5/30 — The Zombies
DIGITAL EXHIBIT SERIES
5/1 — Beyond Black — The Style Of Amy Winehouse
5/8 — Ravi Shankar: A Life In Music
5/15 — Deep Heart: Roots, Rock & the Music of Carlos Vives
5/22 — Leonard Bernstein at 100
5/29 — Marty Stuart's Way Out West: A Country Music Odyssey
National Public Radio has posted on its website (www.npr.org) the following schedule for live shows in the next week:
May 7
CLASSICAL
New York Virtual Opera Fest: Beth Morrison Projects "Opera of the Week"
Time: 12 p.m. ET
Link: Beth Morrison Projects
Lincoln Center at Home: New York Philharmonic featuring Renée Fleming
Time: 5:30 p.m. ET
Link: Lincoln Center
Roman Rabinovich, piano
Time: 7:30 p.m. ET
Link: 92Y
New World Symphony Archive+: Bach's Brandenburg Concerto No. 6 and Feldman's The Viola in My Life IV
Time: 2 p.m. ET
Link: Facebook
YoungArts: Conrad Tao
Time: 7 p.m. ET
Link: YoungArts
JAZZ
Joe's Pub Live From The Archive: Arooj Aftab, Vijay Iyer and Shahzad Ismaily
Time: 8 p.m. ET
Link: Public Theater
Norah Jones
Time: 4 p.m. ET
Link: Facebook
Halie Loren and Daniel Gallo
Time: 6 p.m. ET
Link: Facebook
ROCK
Pickathon Presents a Concert a Day: Mac DeMarco
Time: 4 p.m. ET
Link: YouTube / Twitch / Facebook
Diet Cig, Mannequin Pussy, The Tuts and more
Time: 3 p.m. ET
Link: Instagram
Radiohead: From the Radiohead Public Library
Time: 5 p.m. ET
Link: YouTube
Lollapalooza From the Vault: Foo Fighters
Time: 8 p.m. ET
Link: Lollapalooza
Tedeschi Trucks Band
Time: 8 p.m. ET
Link: YouTube / Facebook
Fire In The Radio
Time: 8 p.m. ET
Link: Instagram
MULTI-GENRE
Road-Less Livestream: dolltr!ck, Dana Williams, BLUEOX, AJ Smith and Frawley
Time: 7 p.m. ET
Link: Twitch
Shut In and Sing: Ruthie Foster, Cat Clyde, Kam Franklin and Jontavious Willis
Time: 8 p.m. ET
Link: Stage It
COUNTRY / AMERICANA
Watkins Family Hour with John C. Reily and Mike Viola
Time: 7 p.m. ET
Link: Crowd Cast
Indigo Girls
Time: 7 p.m. ET
Link: Facebook
Cam
Time: 1 p.m. ET
Link: Instagram
Zac Brown Band
Time: 8 p.m. ET
Link: Twitch / Twitter
The Secret Sisters
Time: 7 p.m. ET
Link: NPR Live Sessions
Cordovas
Time: 9 p.m. ET
Link: Facebook
Jillian Jacqueline
Time: 6 p.m. ET
Link: Instagram
Troy Cartwright
Time: 10 p.m. ET
Link: Instagram
HIP-HOP
The Roots: Live From The Archives
Time: 3 p.m. ET
Link: YouTube
EXPERIMENTAL
Fire Toolz with Quicksails, Machine Girl and Woody
Time: 9 p.m. ET
Link: Twitch
FOLK
Heather Maloney
Time: 8 p.m. ET
Link: Signature Sounds
Siren Songs
Time: 9 p.m. ET
Link: Facebook
BLUES
Bill Frisell Tribute To Rev. Gary Davis
Time: 4 p.m. ET
Link: YouTube
INDIE
Declan McKenna
Time: 1 p.m. ET
Link: Instagram
POP
Jesse & Joy
Time: 7 p.m. ET
Link: Instagram
Hot Chelle Rae
Time: 8 p.m. ET
Link: Twitch
R&B / SOUL
Chicano Batman
Time: 1 p.m. ET
Link: Instagram
Sebastian Mikael
Time: 7 p.m. ET
Link: Instagram
Mayer Hawthorne
Time: 10 p.m. ET
Link: YouTube
CABARET
Puddles Pity Party
Time: 7 p.m. ET
Link: Instagram
ELECTRONIC
TOKiMONSTA: Lost Resort with Channel Tres and Mr. Carmack
Time: 6 p.m. ET
Link: YouTube
May 8
CLASSICAL
Silkroad Live Stream: Yo-Yo Ma, Christina Pato, Sandeep Das, Eric Jacobsen, Colin Jacobsen and more
Time: 4 p.m. ET
Link: YouTube
Lincoln Center at Home: Reich/Reverberations
Time: 5:30 p.m. ET
Link: Lincoln Center
Carnegie Hall Fridays: Joyce DiDonato and Yannick Nézet-Séguin
Time: 10 a.m. ET
Link: Medici.TV / Carnegie Hall
New World Symphony Fellows: Live from our Living Room
Time: 7 p.m. ET
Link: Facebook
New York City Ballet: Alexei Ratmansky's Concerto DSCH
Time: 8 p.m. ET
Link: NYC Ballet
Live @ National Sawdust: Daniel Bernard Roumain and Mark Bathmouthi Joseph Masterclass
Time: 3 p.m. ET
Link: National Sawdust
JAZZ
Cyrille Aimée
Time: 4 p.m. ET
Link: Facebook / Instagram
SF Jazz Fridays at Five: Joe Lovano, Bill Frisell, Tyshawn Sorey, Marilyn Crispell and Carmen Castaldi
Time: 8 p.m. ET
Link: SF Jazz
ROCK
Squirrel Flower
Time: 1 p.m. ET
Link: Instagram
R&B / SOUL
Pickathon Presents a Concert a Day: Nathaniel Rateliff
Time: 4 p.m. ET
Link: YouTube / Twitch / Facebook
Jessica Childress
Time: 9 p.m. ET
Link: Instagram
Joe's Pub Live From The Archive: Martha Redbone
Time: 8 p.m. ET
Link: Public Theater
BLUES
Dom Flemons Tribute To Rev. Gary Davis
Time: 4 p.m. ET
Link: YouTube
COUNTRY / AMERICANA
Julian Taylor
Time: 2 p.m. ET
Link: Facebook
Will Hoge
Time: 3 p.m. ET
Link: Facebook
FOLK
SONiA disappear fear
Time: 2 p.m. ET
Link: Facebook
ELECTRONIC
Yaeji
Time: 11 p.m. ET
Link: Instagram
Diplo and RHYE
Time: 10 p.m. ET
Link: Twitch / YouTube / Instagram
POP
Chelsea Williams
Time: 8 p.m. ET
Link: YouTube
HIP-HOP
Big Freedia
Time: 9 p.m. ET
Link: Facebook
May 9
CLASSICAL
Daniel Vnukowski, piano
Time: 3 p.m. ET
Link: Facebook
JAZZ
DCJazzFest From Home: Melissa Aldana
Time: 7 p.m. ET
Link: YouTube / Facebook
MULTI-GENRE
LiveMedAid: Ed Robertson of Barenaked Ladies, Earth, Wind and Fire, Bombino and more
Time: 6 – 11 p.m. ET
Link: LiveMedAid / Facebook / Twitter
ELECTRONIC
Secret Sky Festival: Porter Robinson, Madeon, San Holo, Jai Wolf and more
Time: 2 p.m. ET
Link: Secret Sky
COUNTRY / AMERICANA
Pickathon Presents a Concert a Day: Zephaniah OHora
Time: 4 p.m. ET
Link: YouTube / Twitch / Facebook
Brandy Clark
Time: 6 p.m. ET
Link: Facebook
Sam Doores
Time: 7 p.m. ET
Link: NPR Live Sessions
Ike Reilly
Time: 9 p.m. ET
Link: Facebook
FOLK
Lianne La Havas
Time: 1 p.m. ET
Link: Instagram
Danny Schmidt and Carrie Elkin
Time: 6 p.m. ET
Link: Facebook
BLUES
Sonia De Los Santos Tribute To Rev. Gary Davis
Time: 4 p.m. ET
Link: YouTube
R&B / SOUL
Erykah Badu vs. Jill Scott
Time: 7 p.m. ET
Link: Facebook
Ruby Velle
Time: 9 p.m. ET
Link: Instagram
ROCK
Fearless at Home: Plain White Ts, As It Is, Grayscale, The Almost, Wage War and more
Time: 3 p.m. ET
Link: Fearless at Home
Michael McDermott
Time: 4 p.m. ET
Link: Stage It
METAL
Katonia
Time: 2 p.m. ET
Link: BlackBox
MUSICAL THEATER
Joe's Pub Live from the Archives: Eastbound
Time: 8 p.m. ET
Link: Public Theater
CHILDREN'S MUSIC
New York Virtual Opera Fest: Camerata Piccola's Party at the Opera
Time: 2 p.m. ET
Link: Facebook
May 10
CLASSICAL
David Krakauer and Kathleen Tagg
Time: 1 p.m. ET, 7 p.m. ET
Link: Table Pounding Music
FOLK
Lincoln Center at Home: Celisse
Time: 4 p.m. ET
Link: Lincoln Center
Tim O'Brien and Jan Fabricus
Time: 8 p.m. ET
Link: Signature Sounds
SONiA disappear fear
Time: 2 p.m. ET
Link: Facebook
HIP-HOP
Pickathon Presents a Concert a Day: Black Milk with Nat Turner
Time: 4 p.m. ET
Link: YouTube / Twitch / Facebook
BLUES
Jorma Kaukonen Tribute To Rev. Gary Davis
Time: 4 p.m. ET
Link: YouTube
COUNTRY / AMERICANA
Caitlin Canty
Time: 7 p.m. ET
Link: Bands In Town
May 11
CLASSICAL
San Francisco Ballet: Romeo and Juliet
Time: 5:30 p.m. ET
Link: Lincoln Center
New York Virtual Opera Fest: Lady M
Time: 7:30 p.m. ET, 9:30 p.m. ET
Link: Heartbeat Opera
BLUES
Kaia Kater Tribute To Rev. Gary Davis
Time: 4 p.m. ET
Link: YouTube
May 12
CLASSICAL
Lincoln Center Chamber Music Society
Time: 5:30 p.m. ET
Link: Facebook
Live @ National Sawdust: Emel Mathlouthi
Time: 8 p.m. ET
Link: National Sawdust
COUNTRY / AMERICANA
Caylee Hammack
Time: 6 p.m. ET
Link: Facebook
BLUES
Brandon Ross Tribute To Rev. Gary Davis
Time: 4 p.m. ET
Link: YouTube
FOLK
David Wax Museum
Time: 8:30 p.m. ET
Link: Facebook
May 13
CLASSICAL
Silkroad Home Sessions: Hanneke Cassel
Time: 12 p.m. ET
Link: Facebook
Live @ National Sawdust: Mariella Haubs
Time: 8 p.m. ET
Link: National Sawdust
JAZZ
Jazz At Lincoln Center From The Vault
Time: 8:30 a.m. ET
Link: YouTube
COUNTRY / AMERICANA
Bluegrass Situation Whiskey Sour Happy Hour
Time: 8 p.m. ET
Link: Bluegrass Situation / YouTube / Facebook
BLUES
Larry Campbell and Teresa Williams Tribute To Rev. Gary Davis
Time: 4 p.m. ET
Link: YouTube
CHILDREN'S MUSIC
Lincoln Center Concerts for Kids: Etienne Charles
Time: 4 p.m. ET
Link: Lincoln Center