By Mike McGann, Editor The Times @mikemcgannpa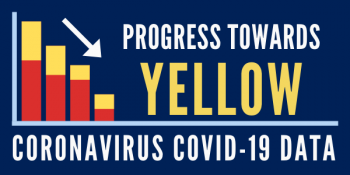 If all goes as planned, by the end of next week, folks in Chester County may be able to enjoy a sit down meal — outdoors — and argue about the Eagles' prospects for the coming season, after a series of adjustments in rules for areas in Yellow and Green status counties, announced Wednesday afternoon by Gov. Tom Wolf.
Wolf's orders will allow some restaurants to resume serving guests in outdoor seating and will allow the Philadelphia Eagles to reopen its training facilities and hold practices and games without fans — allowing the team to hold a June minicamp at its facility in preparation for the upcoming season.
Under Wolf's clarified orders, counties about to come under Green status will get access to indoor dining with limited seating, haircuts, gyms and gatherings of up to 250 people. Bradford, Cameron, Centre, Clarion, Clearfield, Crawford, Elk, Forest, Jefferson, Lawrence, McKean, Montour, Potter, Snyder, Sullivan, Tioga, Venango, and Warren all go to Green status, Friday. Chester County leaders expressed hope that the county would move to Green status by the end of June.
On June 5, when Chester County moves to Yellow Status, restaurants and retail food service businesses located will be permitted add dine-in service in outdoor seating areas so long as they strictly adhere to the requirements of the guidance, including maximum occupancy limits: 
• Indoor areas, including bar areas, of restaurants and retail food service businesses must be closed to customers except for through-traffic. Non-bar seating in outdoor areas (i.e., tables or counter seats that do not line up to a bar or food service area) may be used for customer seating.
Customers being served must be seated at a table

.

 
Still not permitted: dining indoors; self-service food options such as buffets or self-service drink stations; condiments on tables; reusable menus; or refilling food or beverage container or allowing implements brought in by customers.
Meanwhile, the state continues to see steady declines in new cases, with new cases falling to 625, for a total of 70,042. 108 new deaths were reported, bringing the state death toll to 5,373.
As part of the reopening process, the state is expanding testing and announced Thursday that it sent additional testing supplies to hospitals this week.
"We know we need to ramp up testing capabilities as a means to further mitigate COVID-19," Gov. Wolf said. "These supplies are critical to that goal. We will continue to distribute these supplies as quickly and efficiently as they become available."
Also, as counties move into the Yellow status, 60 more of the state's liquor stores will reopen on a limited basis, beyond what had previously been curbside pick up only. it is expected that similarly, on June 5, a number of stores in Chester County will reopen under the same restrictions:
• Stores will limit the number of customers in a store at any time, allowing no more than 25 people (employees and customers) in any location and further restricting numbers of customers in smaller stores.
• The first hour each store is open each day will be reserved for customers at high risk for COVID-19, including those 65 years of age and older. Voluntary compliance from all customers is encouraged in the interest of protecting the health and safety of our most vulnerable community members.
• Customers and employees will be required to wear masks and practice social distancing, guided by signage throughout the stores. 
• Signage will also direct customers to follow one-way patterns to avoid cross-traffic and encourage them to refrain from touching products unless they intend to buy them.
• Store employees will perform enhanced and frequent cleaning and disinfecting, and store hours will be modified to ensure appropriate time for cleaning and restocking.
All sales are final, and no returns will be accepted until further notice.
Prior to opening to the public, each location was professionally sanitized, and Plexiglas was installed at registers to provide a physical barrier between employees and customers at checkout. All Fine Wine & Good Spirits employees are being provided masks, gloves, and frequent opportunities to wash hands.