By Dr. Stephanie McGann, DMD FAGD, Columnist, The Times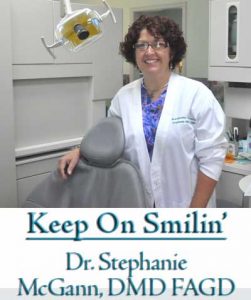 When contemplating my column for this month, I looked over the columns of years past and thought about how different things are now.  As I write this I am sitting in my office with the sound of the newly installed localized negative pressure units humming away as my hygienist is working with a patient. It sounds more like I am in a vacuum cleaner test facility than a dental office. But, my team and my patients are safer for it. We have all made a ton of changes to be safer and more hygienic.
As we are opening up and coming out of our COVID cocoons we must continue to be vigilant and more careful than ever. As a practicing dentist our profession has been working with infection control and safety measures all along. COVID made us all re-evaluate those and make them even better. So to be honest, going to the dentist is safer than ever. Why?  Because we are vigilant. Yet, even our vigilance to keep our patients and team members safe sometimes is unappreciated. I've seen a number of my colleagues and dental friends get negative reviews because they were being "annoying" with pre screening questions, not letting a patient with a fever get her teeth cleaned or not being willing to allow a toddler loose in the reception area with other patients waiting while mom has an appointment.  We all have to work together.
Decades ago the term universal precautions came into the mainstream vocabulary. When HIV/AIDS came onto the scene (dating myself here), we began wearing gloves for nearly everything. We evaluated our areas of potential cross contamination and updated and upgraded our infection control. Today is no different, now instead of a blood borne viral disease we are dealing with an airborne invader. Harder to stop but healthcare is really good at infection control and the new and updated universal precautions are probably here to stay.
So while healthcare is using all of its knowledge, expertise and experience to implement the new safety protocols, It's up to us to share and educate individuals and other businesses so they can learn from us.So I want to share tips for every family or small business owner on things they can do that will help prevent the spread of Covid-19 or any other airborne pathogen.
Masks work, they work best when everyone wears them. They work even better when everyone wears them properly over their mouth and nose.
Surfaces must be clean, really clean.
Hands must be clean washed and sanitized often throughout the day.
Use technology to help. Simple UVC light can be very effective. Light boxes that you can put your phone or small items are available on Amazon. Air Filters with UVC light can be great in many rooms in the house. With UVC it is important to read the instructions, it can be harmful if not handled properly. Businesses are installing larger UVC options in many areas.
Choose outside activities when possible and be mindful of distances.
This is the biggie and I know it's not very diplomatic — JUST DON'T BE STUPID. Viruses don't care about your political party, they can't read the Constitution and have just one thing on their agenda, finding their next host so they can replicate and infect even more. The only way to stop the spread is protect yourself from being their next victim.
The last reminders are hardly new but I have to do it anyway. I am just as guilty as the next person, I have noticed from personal experience that finding flour, sugar, cake mix, frosting etc in the store is harder than ever. We are all cooking in and baking more. Be mindful of all these new opportunities for sweets, brush and floss regularly and be sure to get back in the dental office as they begin to reopen for regular dental visits.  Don't hesitate to ask your dentist what upgrades they have made during these challenging times. Stay safe.
Dr. Stephanie McGann, who has more than two decades of dental practice experience, is a resident of the Unionville area and owns and practices at Rainbow Valley Dental, in Valley. She is a past President of the Chester/Delaware Dental Society and she is a Fellow of the Academy of General Dentistry.