By Dr. Stephanie McGann, DMD FAGD, Columnist, The Times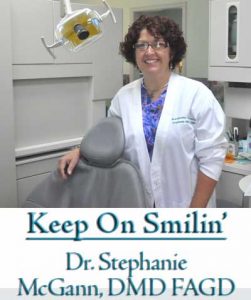 A more beautiful smile can be yours today, yes really.
Sometimes we need to revisit the past to find something new.  How about a nicer whiter smile today.  Years ago people got their teeth "bonded". It was the new tooth colored materials that allowed dentists to hand sculpt a better looking tooth in just one visit.  Bonding went by the wayside when porcelain veneers were developed. I believe there is still a place for a faster, less costly solution.
What has changed? Simple, some new tools allow dentists to make bonded restorations more simply.  Old school bonding could take hours and in the end cost just as much as having the laboratory fabricate the veneer.  New materials and techniques allow us to make composite veneers in a fraction of the time of old school bonding. The composites are better as well. I'm referring to using a tool called a UVeneer template.
A Composite veneer does not replace a longer lasting  porcelain laminate but it is a great option for someone who needs a better smile in a hurry.  Events such as weddings, reunions or job interviews are some of the reasons why people want a fast and less costly solution to their dental cosmetic needs. Sometimes a bonded veneer is a starting place while other dentistry is being performed before a final porcelain solution is available.
The difference between a porcelain laminate veneer, sometimes just called veneers is that the teeth are prepared for the laminates, an impression is taken and the veneers are made by a ceramist in a laboratory.  Later at a second visit they are bonded into place.  A composite veneer is made all in one visit, customized for your individual needs.
Pros and Cons:
Porcelain Laminate                                         UVeneer Composite Laminate
Time                Two visits (2-3 weeks apart)                          Same Day
Preparation     Varies                                                              Usually minimal
Longevity        5+ years                                                          1-3 years
Cost*               Approx $1200/tooth                                        $400-600/tooth
Whitening        Can be very white                                           Whiten within normal tooth shades
Repairable      Usually                                                            Yes
Reversible       Depending on amount of preparation            Yes
Thickness        approx 1mm                                                    Approx 1.5 – 2mm
Diet                 Avoid extreme pressure                                 Avoid extreme Pressure
*Many Network insurance plans have discounted fees available for their members in certain circumstances.
Who is a candidate for a UVeneer smile?  Many people choose UVeneers for a variety of reasons, sometimes it's to get a better smile for an event like a wedding.  Others want a reversible or less invasive option.  Maybe it's to close a space or reshape a worn smile whatever is the concern,  your dentist can tell you if UVeneers are right for you.
What's the process? First the dentist will evaluate if UVeneers are right for you. If teeth have decay, the decay will be repaired. Then the teeth are surface cleaned and etched. A plastic strip is placed between the teeth and composite resin is placed on the tooth. The presized, UVeneer template is firmly pressed on the tooth, excess is removed and a light is used to harden the material. This process is repeated for each tooth, usually 6-8 teeth in an arch.  Ask your dentist if they place chairside composite veneers and if they are using the new UVeneer system.
Of course, it wouldn't be fair if I didn't mention to protect that smile and your health by wearing a mask in public and don't forget to wash your hands.
Dr. Stephanie McGann, who has more than two decades of dental practice experience, is a resident of the Unionville area and owns and practices at Rainbow Valley Dental, in Valley. She is a past President of the Chester/Delaware Dental Society and she is a Fellow of the Academy of General Dentistry.