By Denny Dyroff, Staff Writer, The Times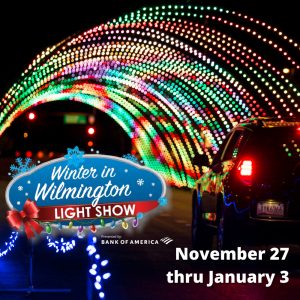 Thanksgiving has passed and Black Friday has arrived. That means the Christmas season has reached the top of the holiday rollercoaster and is now slamming downhill – full force at faster miles an hour.
Even though COVID-19 restrictions have eliminated a lot – a whole lot – of traditional area holiday activities, there are still holiday events everywhere that are going on now through the end of the year.
When The Grand in Wilmington (www.thegrandwilmington.org) was forced by pandemic restrictions to halt its presentation of concerts and theater shows earlier this year, it responded by presenting a series of drive-in concerts this summer and drive-in movies in the fall.
Now, The Grand is thrilled to turn on the lights around town with a new holiday activity sure to be enjoyed by multiple generations.
The "Winter in Wilmington Drive-Thru Holiday Light Show" opens on November 27 and is scheduled to run through January 3, 2021 on Wilmington's Riverfront.
When visitors drive their cars through the "Winter in Wilmington Light Show," thousands of lights immerse them in a holiday vibe.
The family-oriented activity features animated installations, interactive music, and holiday cheer.
The displays cover a wide spectrum of holiday themes with Santa, elves, colorful arches, candy canes, Hanukkah Menorahs, Christmas trees, angels, reindeer and a huge jack-in-the-box – all created with colorful lights.
According to The Grand's Executive Director Mark Fields, "The lights have to be out in our three theaters for the time being as we continue to weather the challenges of the coronavirus. We see this light show as a way that The Grand can still be a bright light for the entire community."
Tickets are $25 per car and are available online only at www.TheGrandWilmington.org. To help make the event enjoyable for everyone, advanced online reservations/pre-purchased admission is required.
The Grand's "Winter in Wilmington Drive-Thru Light Show" will be open every Thursday-Sunday November 27-January 3 from 5-9:30 p.m. nightly.
The holiday season at Herr's Snack Food Factory (20 Herr Drive, Nottingham, 610-932-9330, www.herrs.com) has arrived. The area around the factory site will be illuminated with thousands of lights and holiday displays.
Herr's "Holiday Light Display," which is free and open to the public, will be open nightly now through January 2.
Visitors to the site will be able to drive along a trail that is illuminated with more than 600,000 lights.
The special light exhibit will be open daily from dusk to dawn.
This weekend, for three days only, the Greater Philadelphia Expo Center (100 Station Avenue, Oaks, www.phestivaloftrees.com) is hosting "PHestivaL of Trees."
"PHestivaL of Trees" is a festive holiday drive-thru family event featuring 200 uniquely decorated holiday trees, live nativity scene, Hanukkah menorah, Kwanzaa imagery, 30 feet live decorated tree, light show and Santa himself.
This has been put together to support not-for-profit animal rescues and shelters. The focal point of the event is the display and sale of spectacular holiday trees by local designers, artists, florists, individuals, schools and community groups.
Hours are 4-11 p.m. on November 27 and 28 and 4-9 p.m. on November 29.
​The cost is $20 per vehicle (seats up to 8 people).
Elmwood Park Zoo (Elmwood Park Zoo, 1661 Harding Boulevard, Norristown, www.elmwoodparkzoo.org) welcomes back its holiday exhibit "Wild Lights" with opening night set for November 20.
Elmwood Park Zoo adds even more to the millions of LED lights that illuminate its 16 acres over the holidays during Wild Lights, lighting up on Friday.
Visitors can take a stroll through the "Oh Christmas Tree" display, where they will be surrounded by a glistening forest, or visit the big cats in Trail of the Jumping Jaguar.
Each night of the festival features live entertainment, animal encounters, holiday music and a chance to see Santa himself.
Admission is $12.95 for the event which is slated to run through December 30.
The Lehigh Valley Zoo (5150 Game Preserve Rd, Schnecksville, https://www.lvzoo.org/) is hosting its "Winter Light Spectacular" now through January 2.
This season's "Winter Light Spectacular," which runs from 5:30-10 p.m. nightly, will feature more than 30 scheduled event nights.
Guests are invited to bundle up and enjoy the beauty of nature as they stroll through tree-lined paths illuminated by more than 1.2 million twinkling lights and themed animated displays.
They also can warm up next to the cozy outdoor fire pits while enjoying hot cocoa and s'mores.
Children will be delighted when they encounter Santa, Radley the Sea Turtle, The Grinch, Woody, Buzz, Elsa, Princess Belle, Olaf and friends.
Ticket prices start at $8.
Dutch Wonderland Family Amusement Park (2249 Route 30 East, Lancaster, 866-386-2389, www.dutchwonderland.com) is hosting its "Holiday Lights Drive-Through Experience" now through December 31.
Visitors will be able to enjoy hundreds of thousands of holiday lights from the comfort of their vehicles.
This 1.5-mile journey through Old Mill Stream Campground is the perfect way to experience the magic of the season by taking in whimsical scenes, hundreds of thousands of twinkling lights, and special surprises.
Santa will be present each operating evening through December 23. After that, he heads back to the North Pole to prepare for the big day!
Holiday Lights is open 5-9 p.m. through December 31 excluding December 24 and 25. Tickets start at $15 per vehicle.
Longwood Gardens (Route 1, Kennett Square, 610-388-1000, www.longwoodgardens.org) has shifted into holiday mode with the arrival of "A Longwood Christmas."
The festive holiday display at Longwood Gardens, which is running now through January 5, features spectacular lights, lavish decorations, holiday music and colorful displays featuring thousands of brilliant poinsettias, brightly decorated trees and fragrant flowers — all inside the heated Conservatory.
Inside, you have an opportunity to stroll among beautifully adorned trees and plant palettes of delicate winter whites to rich reds and the greenest of evergreens as you wrap yourself in a nostalgic Christmas morning scene. You can engage your senses with fragrant lilies and paperwhites, and relish in the timeless beauty of Christmas favorites like poinsettias and kalanchoe woven throughout the Conservatory.
Outdoors, you can watch your family's eyes sparkle at all the wondrous sights and feel like a kid again with Longwood's whimsical Garden Railway. Celebrating its 20th anniversary, the Garden Railway is a fanciful blend of horticulture, engineering, and lighthearted fun in a special display located outdoors near the Terrace Restaurant. The Garden Railway operates during regular Gardens hours, weather permitting.
Each fall, members of our Horticulture, Facilities, and Guest Services departments team up to achieve the not-so-small feat of creating this multi-level world in miniature. Longwood Gardens showcases its collection of 31 locomotives, steam engines, diesel engines, and specialty engines – including the ever-popular Thomas the Tank Engine and many of his friends — as they rumble along nearly 500 feet of track amid textural foliage, flowering plants, and woody plants.
When darkness arrives at Longwood, a night-blooming garden of more than a half-million lights strung on close to 100 trees with approximately 40 miles of wire comes to life. A carillon with 62 cast bells plays holiday music every half hour during daylight hours. Longwood's Open Air Theatre fountains dance to holiday music each half hour — temperature permitting.
As always, admission by "Timed Ticket" — tickets issued for specific dates and times. Timed ticketing limits the number of people in the Gardens at any given time and allows guests to enjoy minimal lines and a better viewing experience.
You may enter the Gardens up to 30 minutes prior and 30 minutes after your designated time. Make every effort to arrive at your designated reservation time. Earlier or later arrivals may not be accommodated.
Admission to Longwood Gardens is $30 for adults, $27 for seniors (ages 62 and older) and college students, $23 for active military and veterans and $16 for students (ages 5-18).
"Holiday Magic at Brandywine", which was formerly known as "A Brandywine Christmas," is running now through January 10 at the Brandywine River Museum (Route 1, Chadds Ford 610-388-2700, www.brandywinemuseum.org). It is an annual event that is fun for the entire family.
The museum's ever-popular "critter" ornaments will be used to decorate holiday trees, wreaths and diorama settings throughout the museum. The intricately designed ornaments are made from all-natural materials by museum volunteers and have found homes on trees at the White House and the Smithsonian Institution.
The well-attended annual "Critter Sale" is scheduled for December 2-6.
"Holiday Magic at Brandywine" also features an extensive O-gauge model. Five moving trains operate at all times and include a 60-car freight train winding past a village, stone quarry, oil refinery, mountains, Herr Foods plant, running waterfall and animated skating scene.
Slightly modified this year to provide a safe and socially distant experience, the Brandywine Railroad will still feature plenty of trains, miniature details and the engaging elements that everyone loves—including interactive components operated by hands-free foot pedals.
The Brandywine's famous O-gauge display will feature model trains running on a thousand feet of track through a small village, a drive-in movie theater and even a carnival. This year the Brandywine also welcomes the exciting new additions of two model train sets with layouts once owned by Nicky and Jamie Wyeth—sons of the renowned American artist, Andrew Wyeth.
Nicky Wyeth's standard gauge train display features historic "tinplate" Lionel trains from the 1920s and 30s traveling around colorful buildings and scenery, including a large bridge modeled after New York's Hell Gate Bridge. The 8 x 12-foot display was also recently enhanced with modern reproductions of a 1940s monorail.
Artist Jamie Wyeth's N-gauge train display was originally co-owned by Jamie and his friend and fellow toy collector, artist Andy Warhol. Included in the 4 x 6 foot landscape are foothills of a mountain, train tunnels with a bridge crossing a lake, and even a diminutive industrial town with a main street packed with businesses and rowhouses, a steel mill, and a large metal warehouse featuring an oversized reproduction of Wyeth's own iconic painting, Portrait of Pig.
In addition to the Brandywine Railroad, this year's holiday offerings include the return of artist and composer Ann Wyeth McCoy's dollhouse, which features six rooms filled with three-dozen dolls and hundreds of miniature objects that will delight visitors of all ages.
Another popular attraction is "The Polar Express Virtual Read-Aloud," which is scheduled for December 3.
Admission is $18 for adults, $15 for seniors (65 and older) and $6 for children.
Kennett Square will host a Holiday Art Shop on November 28 from 1-4 p.m.
Kennett Brewing Company (109 South Broad Street, Kennett Square) is hosting a pop-up art exhibition/shop on November 30 and again on December 2.
Visitors will be able to browse with a delicious craft beer in hand, buy a few gifts or just enjoy the beautiful artwork. The event will feature several KBC artists and friends' artwork including ceramics, drawing, painting, photography, wood working, and wreaths.
"Christmas Around The Farm" converts a summertime destination for home-grown produce into a sparkling winter wonderland. The popular annual event at Linvilla Orchards (137 West Knowlton Road, Media, 610-876-7116, www.linvilla.com) is running now through December 23.
Visitors will be able to cut their own Christmas trees, or, if not so inspired, purchase them at the shop — which also features other decorations, including holiday wreaths. Christmasland features freshly cut trees, greens and holly, poinsettias, hand-made wreaths and a large variety of children's toys and collectables.
Santa will be stopping by on December 11 and 18 from 2:30-3:30 and 4-5 p.m. Santa will also be on hand every Saturday and Sunday in December from 11 a.m.-12:30 p.m. and 1:30-3 p.m. Kids are encouraged to bring their Christmas list to remind Santa of what they are wishing for.
To keep everyone safe this holiday season, Linvilla is asking that guests reserve a time slot ticket for each child visiting Santa. Timed tickets are our way to spread families out throughout the day. There is no fee.
To be extra safe, Santa will be in an outdoor covered location and has brought his Noelziphone to Linvilla. The Noelziphone is a very special device (found only at Linvilla) that children can speak in to give Santa their list of wishes while still staying safely distanced.
"Winter Fest" is running now through December 20 at Northern Star Farm (112 East Third Avenue, Trappe, http://www.northernstarfarm.net).
Northern Star Farm specializes in Ag-Entertainment which is based up the promotion of agriculture through a fun, yet educational approach.
"Winter Fest" activities include "Meet & Greets" with live reindeer and Dominick the Donkey, photos on Santa's Sleigh, horse-drawn wagon rides with sleigh bells, pony rides, Christmas Craft Village, Candy Cane Pedal Cart Speedway, Little Farmer Playland, Gingerbread House Contest, and more.
This event features free admission and free parking. All events are ticket based.
There is something special about riding on a train that is being pulled by a steam or diesel locomotive. Almost everyone enjoys the experience — even Santa Claus. This year, Santa will be visiting several of the area's tourist railroads to take special rides with his friends.
One of the best train rides with Santa Claus is the one presented by the West Chester Railroad (Market Street Station, West Chester, 610-430-2233 or www.westchesterrr.net).
The special "Santa's Express" trains (which feature heated cars decorated for the holidays) will run on November 21, 22, 27, 28 and 29 and December 5, 6, 12, 13, 19 and 20 at 11 a.m., 1 and 3 p.m. There will be additional departures at 5 p.m. on December 5, 6, 12, 13, 19 and 20.
The 75-minute journey on the trail line's heated decorated train travels through the Chester Creek Valley. Santa Claus will be greeting everyone at Market Street Station and then going along for the ride to Glen Mills.
Live music will be provided by Greg Wright.
Adult fare for the West Chester Railroad trips is $30. Tickets for children (ages 2-12) are $20 while toddlers (ages 9-23 months) get to ride for $8.
Additionally, West Chester Railroad is again hosting its popular "Christmas Tree Train" this holiday season on November 29 and 29 and December 6 and 13.
The rail line has partnered with Wiggins Tree Farm in West Chester. The train will depart Market Street Station at 8 a.m. Once on board, passengers will enjoy coffee, hot chocolate, and donuts.
The train will arrive at Wiggins at approximately 8:30 a.m. where passengers will disembark to choose and cut down a Christmas tree (hand saws will be supplied). Once a tree is picked, it will be banded up, tagged, and placed on our flat car. At 9:45 a.m., passengers will then board the train and be brought back to West Chester where the trees will be offloaded from the train.
The trip is approximately two and seating is very limited so please order soon. All trees have the special price of $60 for all Tree Train ticket holders. The price of the tree is not included in the price of your ticket.
The Wilmington & Western Railroad (2201 Newport Gap Pike, Wilmington, Delaware, 302-998-193, www.wwrr.com) will run its "Santa Claus Express" on Saturdays and Sundays between Thanksgiving and Christmas as well as November 27 and December 23.
Santa and Mrs. Claus will be riding along with passengers on the steam-powered 90-minute round trip to Ashland Station. They will be greeting everyone on board and offering chocolate treats to the youngsters. Santa will also be posing for pictures with his fans.
Steam locomotion will return to the Wilmington & Western for its annual Santa Claus Express. The rail line's 0-6-0 switcher No. 58 has returned to service after a multi-year restoration and will power some of Santa's trains through the Red Clay Valley this season.
Due to State of Delaware requirements, the railroad must maintain fresh airflow through the train. Although the train will be heated, doors and windows on the train will be open for November and December excursions. As a result, passengers are encouraged to dress warmly (or in layers) for this excursion.
Tickets for these trains, which run now through December 23, are $21 for adults, $19 for senior citizens and $18 for children.
The tourist rail line will also be running special "Holiday Night Express Trains," featuring a peaceful evening ride. Tickets for these trains, which are running now through December 30, are $16 for adults, $15 for senior citizens and $14 for children.
The Strasburg Rail Road (Route 741, Strasburg, 717-687-7522, www.strasburgrailroad.com) is running its "Santa's Paradise Express" now through December 20. Santa will be the featured guest on each ride from Strasburg to Paradise and back.
The rotund guy in the red suit will be greeting passengers, shaking hands, posing for photos and giving a treat to each child. After the train ride, children are treated to storybook readings of holiday classics. Visitors of all ages can also enjoy a ride aboard the Tinsel Trolley, a self-propelled motor car.
Tickets are $21 for adults, $15 for children (ages 2-11) and $4 for infants.
The Strasburg Railroad will also be running its "Night Before Christmas Train" on December 4, 11, 12, 17, 18, 19, 20, 21, 22 and 23.
This very special train recreates the excitement and anticipation of Christmas Eve. A reader dressed in a Victorian nightshirt and cap will read Clement Clarke Moore's classic poem "The Night Before Christmas" as the train rolls along. After the poem is read, passengers can enjoy a treat of milk and cookies.
Tickets for the "Night Before Christmas Train" are $21 for adults, $15 for children (ages 3-11) and $4 for toddlers (under age 3).
Children are also treated to storybook readings of holiday classics aboard the stationary heated caboose and visitors of all ages can enjoy a ride aboard "Santa's Christmas Trolley," a self-propelled motor car.
Trolley rides are offered on December 4, 11, 18, 21, 22 and 23. All tickets are $30.
The New Hope & Ivyland Railroad (32 Bridge Street, New Hope, 215-862-2332, www.newhoperailroad.com) is operating its "North Pole Express" now through December 30. Tickets start at $55.99 for adults, $45.99 for children (ages 3-11) and $14.99 for infants (ages 0-2).
Passengers can ride the rails with Santa, Mrs. Claus and a group of holiday revelers. Children and adults of all ages can sip hot cocoa and enjoy cookies while Santa visits with each child and presents them with a special gift. Local musicians will be on board to play and sing Christmas carols.
There will also be the rail line's "Santa Steam Spectacular" excursions running from November 29 until December 24.
Guests are invited to welcome the return of the historic #40 steam engine by joining Santa and Mrs. Claus for a ride upon their magical Steam Train adventure through the historic Bucks County countryside. This Santa Steam Spectacular departs New Hope Station for a round trip to the North Pole.
Tickets start at $69.99 for adults, $59.99 for children (ages 3-11) and $15.99 for infants (ages 0-2).
The Colebrookdale Railroad (South Washington Street, Boyertown, www.colebrookdalerailroad.com)  is running its "Santa's Polar Bear Express" from November 21-December 20.
Kids can join Santa on a magical adventure into "Christmas Past" on an exciting train journey. They will be able to sip complimentary hot cocoa or enjoy Christmas cookies and, on some trains, sing favorite carols as the Secret Valley passes by the window. Santa will bring a gift for every child, and every child has an opportunity to give their Christmas letter to him.
The rail line also is running "Twas the Night Before Christmas" excursions from November 21-December 20.
These special evening trains bring the storybook magic of the season to life. Kids are invited to wear pajamas and sip complimentary hot cocoa as the train crew reads "'Twas the Night Before Christmas." Rumor has it Santa himself will appear with a gift for every child.
Tickets for the "Polar Express" or the "Night Before Christmas" excursions are $65 for adults, $45 for children (2-12), $62 for seniors and $15 for toddlers (under 2).
The Allentown and Auburn Railroad (35 Railroad Street, Kutztown, 570-778-7531, https://allentown-and-auburn-railroad.square.site/) is running special "Santa Claus Train Rides" on November 27, 28 and 29 and December 5, 6, 12, 13 19 and 20.
The train will make a brief stop at the railroad's picnic grove where riders will have the option to purchase "holiday evergreens with a sprinkle of Christmas magic." When they get back to the Kutztown Train Station, visitors can also do some holiday shopping in the Allentown & Auburn Gift Shop, which features handmade and antique items.
Trains depart at 10 a.m., noon and 2 and 4 p.m. Tickets are $15 for adults, $13 for seniors, $9 for children and $.01 for toddlers (ages two and under).
A popular event in Delaware this weekend is "Steamin' Thanksgiving" at Auburn Heights Preserve (3000 Creek Road, Yorklyn, Delaware, 302-239-2385, http://auburnheights.org) on November 28.
Visitors are encouraged to climb into an antique automobile or board one of the trains and experience what it was like to travel at the turn of the 20th century. They can also tour the magnificent 1897 mansion that was home to three generations of the Marshall family.
Also included is entry to the Marshall Steam Museum, which features the world's largest operating collection of Stanley steam cars along with a 1930s working Lionel electric train display, a hands-on engine display, kids' activities and exhibits and the Museum Gift Shop. Self-guided experiences will be available along a designated route to ensure one-way paths and proper spacing.
Delaware State Parks owns and operates the Marshall Mansion at Auburn Heights and is responsible for decisions related to tours of the historic property. Tours will be offered, but visitors should be aware that tour groups will be limited to 10-12 people and may include individuals outside their household.
Activities run from 12:30-4:30 p.m.
Christmas trains also come in a smaller variety. Model railroad displays and the Christmas holiday season have been linked together since a time before even your parents were even kids.
The Morris Arboretum (100 Northwestern Avenue, Chestnut Hill, 215-247-5777, http://www.morrisarboretum.org) will open its popular Garden Railway Display next weekend and keep it running through December 31.
The display and buildings are all made of natural materials – bark, leaves, twigs, hollow logs, mosses, acorns, dried flowers, seeds and stones – to form a perfectly proportioned miniature landscape complete with small streams. Each building, while an exact replica of the original, is unique in its design. Philadelphia-area landmarks such as a masterpiece replica of Independence Hall are made using pinecone seeds for shingles, acorns as finials and twigs as downspouts.
The buildings are all meticulously decorated for the holidays with lights that twinkle along the tracks and around the surrounding landscape. The Garden Railway Display has become one of the Arboretum's most beloved attractions since it opened in 1998, and the Holiday Garden Railway is quickly becoming a favorite holiday tradition for many families.
There will also be Holiday Garden Railway Nights on November 28 and 29 and December 5, 6, 12, 13, 19, 20, 26 and 27 from 4:30-7:30 p.m. each night.
Admission to the Morris Arboretum is $20 for adults, $18 for seniors (65 and older) and $10 for students and military.
The 2020 Franklin Square Holiday Festival (200 North Sixth Street, Philadelphia, http://www.historicphiladelphia.org/franklin-square/holidays-in-franklin-square/) opens its season this weekend and it will run until December 31.
The Electrical Spectacle Holiday Light Show will be open from 4-8 p.m. daily and 4-9 p.m. on Saturdays and Sundays and will be closed on Thanksgiving and Christmas Day.
Visitors are invited to experience the magic of the holidays and celebrate traditions new and old at the Franklin Square Holiday Festival.
Inspired by Benjamin Franklin's electrifying genius, the free Electrical Spectacle Holiday Light Show presented by PECO is the key to holiday fun in Franklin Square.
Attendees can marvel at more than 50,000 lights as they shimmer, dance, and illuminate the Square to a soundtrack of holiday classics, some of which are performed by The Philly POPS in two alternating shows every 30 minutes. Every evening, one lucky audience member will be selected to "ignite' the 4:30 p.m. show.
Also available throughout the season will be the opportunity to play mini-golf on the Chilly Philly Mini Golf course.
It's a sure sign that winter has arrived when season opens for the Blue Cross RiverRink (Delaware Avenue at Walnut Street, Philadelphia, 215-925-RINK, www.riverrink.com).
Unlike most of the suburban ice rinks, RiverRink features public skating. Ice skating is the only use of the ice. This winter, RiverRink takes the ice skating experience on the Delaware River waterfront to another level by once again transforming the annual rink into a bona fide winter wonderland.
Open seven days a week, the Blue Cross RiverRink Winterfest is an immersive winter-themed experience with a popular bar and restaurant called The Lodge, winter beer garden-style landscaping, a brand-new light show, and a retail shopping experience from Art Star Gallery & Boutique.
The outdoor rink's hours are 1-10:30 p.m. Mondays through Thursdays, 1 p.m.-12:30 a.m. on Fridays, 11 a.m.-12:30 a.m. on Saturdays and 11 a.m.-10:30 p.m. on Sundays. Skating admission prices are $4 for admission and $10 for skate rental.
This weekend's schedule also features activities at the Center City Parks District's Rothman Orthopaedics Institute Ice Rink at Dilworth Park (1 South 15th Street, Philadelphia,http://ccdparks.org/dilworth-park),
The Rothman Institute Ice Rink at Dilworth Park is an unparalleled entertainment experience on Philadelphia's center stage in a wonderfully urban and unique setting. Open seven days a week, the rink offers wintery fun for all ages, with a full slate of programs.
Hours are Monday-Thursday: Noon-9 p.m.; Friday: Noon-11 p.m.; Saturday: 11 a.m.-11 p.m.; and Sunday: 11 a.m.-8 p.m.
Admission is $3 for Kids 10 & Under and $5 for Adults. Skate rental is $10.
When the Christmas season arrives in Europe, it is common to see Christmas villages erected in downtown locations of big cities. These villages are temporary sites that feature live music, a variety of holiday attractions and a large number of specialized vendors.
Philadelphia is keeping pace with the European cities with a Christmas village of its own — a special site that springs to life this weekend and continues until December 24. It will officially open on November 23.
"Christmas Village in Philadelphia" (Love Park, 1400 JFK Boulevard, Philadelphia, www.philachristmas.com) is a free outdoor holiday market event that captures the vibe of the traditional European Christmas markets.
Christmas Village in Philadelphia is modeled after traditional German Christmas Markets. The history of Christmas markets in Germany dates to the late Middle Ages. One of the oldest and most famous ones is held each year in Nuremberg in the state of Bavaria.
It has been passed down from generation-to-generation ever since the area's farmers started selling their crops in a farmers' market during the Advent time in the mid-16th century. The goods presented in wooden booths include a rich variety of holiday gifts including Christmas ornaments, arts and crafts, toys, sweets, as well as German food and drinks. People stroll around, meet friends, and enjoy live performances of Christmas music.
At the Village in Philadelphia, vendors selling traditional European food, sweets and drinks are set up in 80 wooden booths and timber houses that form a medieval village. They will also offer a unique shopping experience with international holiday gifts, ornaments, jewelry and high-quality arts and crafts.
The Village will feature the sights and sounds of the holidays with thousands of twinkling lights, giant glowing stars, festive decorations, a musical stage and children's activities. All the event's annual fan favorites will be back, including Photos with Santa, Käthe Wohlfahrt, Herrnhuter Stars, the German Grill and the event's main stage.
At the center of the market, an ornate and grand old-time carousel will be operating to give children of all ages a new holiday tradition while visiting the authentic German Christmas Market. The carousel features 20 wood-carved horses that will twirl around for an unforgettable view of the new market inside City Hall's courtyard.
Bethlehem, which is known as the "Christmas City," presents Christkindlmarkt Bethlehem (PNC Plaza at SteelStacks, 645 East First Street, Bethlehem, 610-332-1300,http://www.christmascity.org) every Thursday, Friday, Saturday and Sunday now through December 6.
Celebrating its 28th season, Christkindlmarkt is a one-of-a-kind family event that brings Bethlehem alive with the spirit of the season.
Christkindlmarkt Bethlehem showcases aisles of exquisite handmade works by the nation's finest artisans.
From stunning fine art photos of the Christmas City to handmade Moravian glass stars, Christkindlmarkt 2020 will offer a one-of-a-kind shopping experience that focuses on handmade gifts crafted by local and regional artisans, as well as holiday décor and collectibles offered by some of the region's top Christmas vendors.
The market also features live performances of Christmas music and vendors with an amazing variety of tasty food items.
Other special attractions include ice carving, glassblowing demonstrations, "Breakfast with St. Nicholas," outdoor artisan huts, fire pits and igloos in the Outdoor Village, and Käthe Wohlfarht with handmade ornaments, nutcrackers and collectibles from Germany.
For 2020, the event has undergone a major transformation. Gone are the four large tents on SteelStacks' PNC Plaza and in is a spacious, new layout highlighted by artisans and artists' huts spread across the SteelStacks campus, coupled with the unique holiday décor and lighting of Rileighs Outdoor Décor.
Now that Christmas activities have begun, Peddler's Village (Routes 202 and 263, Lahaska, 215-794-4000, http://peddlersvillage.com) is starting its "Holidays in the Village" celebration and that means there will be a lot of activity at the site over the next few weeks.
The Gingerbread Competition & Display is a feast for the eyes with creative and whimsical entries in several categories.
Slated to run through January 9, the "Gingerbread House Competition" features over $2,000 in cash prizes in such categories as Traditional and Authentic Reproduction of a Significant Building.
The Gingerbread entries will be on exhibit in the Shop #1 during shopping hours from November through early January. Entries are open to the public. Admission is free. Guests will be asked to wear masks and to social distance.
With more than 50 specialty shops, Peddler's Village's beautiful decorations and one million twinkling lights, set the mood for another holiday season.
Families can participate in Elf on the Stealth, an outdoor walking tour where visitors join Mrs. Claus in search of a missing elf.
"Holidays in the Village" is open now through January 10.
Another Bucks County attraction is the "Holiday Light Show" at Shady Brook Farm (931 Stony Hill Road, Yardley, www.shadybrookfarm.com)
The farm features a three–million-light Holiday Light Show with "Dashin' Through the … Lights," a family-friendly two-mile drive-through on Thursday and Friday nights.
The main display allows visitors to drive or (if weather permits) ride in wagons past post-sundown displays including illuminated tunnels.
The "Holiday Light Show" is open from November 21-January 10.
Timed tickets, which start at $25, are required.
LEGOLAND Discovery Center Philadelphia (Plymouth Meeting Mall, 500 W. Germantown Pike, Plymouth Meeting, https://philadelphia.legolanddiscoverycenter.com) is hosting a "Holiday Bricktacular" from November 20-January 3.
At "Holiday Bricktacular," which will be taking place every weekend this holiday season, visitors can enjoy seasonal build activities and holiday theming throughout the Center.
Participants can take a family holiday pic on a life size LEGO sleigh, hop on the Imagination Express, build ornaments to decorate their holiday tree and stop by the "Elves Workshop" for holiday build tips from LEGOLAND's  Master Model Builder and his team.
Also, everyone in encouraged to dress up in their favorite ugly sweater.
Admission starts at $17.95.
One of the best holiday events in the area is the annual "Yuletide at Winterthur." This year's 41st annual staging of the event, which runs from November 21 through January 3 at Winterthur Museum, Garden & Library (Route 52, Wilmington, Delaware,800-448-3883, www.winterthur.org).
Revel in the beauty and warmth of the holidays and explore treasures of Christmases past with displays of holiday traditions from the 1800s to the early 20th century, including displays of: the earliest types of colorful lights decorating house exteriors; the du Pont family holiday celebrations; and the evolution of Christmas trees over the decades from the 1880s to 1960s.
One of visitors' favorites every year is the 18-room dollhouse mansion created by designer and philanthropist Nancy McDaniel over a period of 30 years. It features amazing intricate details in each room and is even decorated for the holidays.
As always, the rooms will be enhanced with the floral displays so essential to du Pont's decorating, and with special Christmas trees inspired by the beauty of the Winterthur garden – including the popular Dried Flower Tree in the Conservatory.
A new feature this year is the "Outdoor 3D Holiday Light Show," which is running from December 1-12 from 5-9 p.m. each night. The Winterthur house serves as the backdrop for a du Pont family Christmas story, told using 3D images, video, lights, and sounds, for an immersive holiday experience. Another event premiere is "S'mores around the Fire" on Saturdays and Sundays through January 3 from 11 a.m.-2 p.m. each day. 
Timed Yuletide Tour reservations are required. Admission to Yuletide at Winterthur is $20 for adults, $18 for seniors (age 62 and older) and students (12 and over) and $6 for children (ages 2-11).
The Historic Odessa Foundation (Main Street, Odessa, Delaware, 302-378-4119, www.historicodessa.org) has two things going this holiday season – an outdoor holiday light display and an art exhibit.
This year, the Historic Odessa Foundation (HOF) is breaking from tradition of presenting yuletide vignettes inspired by classic children's literature in order to bring seasonal sparkle to the 18th century hamlet of Odessa with thousands of lights adorning the Historic Houses of Odessa.
"Look for the Light: Odessa at Night" begins on November 25 and runs through January 3 from 5-10 p.m. nightly.
Historic Odessa has had a long and storied past for celebrating the holidays. For 34 years the Historic Houses of Odessa, in the spirit of community partnership, and bedecked for the festive season, has thrown open the doors of its nationally recognized colonial buildings through which thousands of visitors have passed each Christmastime.
Every year, HOF staff have recreated holiday vignettes from a selection of children's literature, but due to COVID-19 restrictions this will be the first year in more than three decades that Historic Odessa is unable to welcome the visiting public to tour a featured storybook house. As a result, the festivities have been moved outdoor with the focus on holiday lighting.
There will also be "Candlelight Walking Tours" of the foundation's museum properties every Tuesday and Thursday evening in December beginning at 5:30 p.m. Tickets are $15 and include a libation at Cantwell's Tavern. Reservations are required for the tours, and can be made by contacting Jennifer Kostik at (302) 378-4119, or Jennifer.cabell@historicodessa.org.
Additionally, HOF is presenting its final art exhibit of the year titled "Oneness in Spirit: Art from The Artists' Gallery in Chestertown" now through December 30.
The Artists' Gallery in Chestertown, Md., currently operates with five partners that include Evie Baskin, Bonnie Howell, Mary Ellen Mabe, Nancy R. Thomas, and Barbara Zuehlke. Each is represented in this vibrant exhibit of their paintings at the Historic Odessa's Visitors Center.
The artists work well together, serving the same goal of presenting a wide range of fine art. Since the partners take turns working at the gallery, visitors get the opportunity to meet the artists and often view works in progress. The gallery celebrates both its variety and its oneness of spirit in providing a showplace for the partners and many other local and regional artists and craftsmen whose work often includes paintings, photography, pottery, woodcrafts and much more.
The Artists' Gallery opened as L'Atelier Gallery in Stevensville, Maryland twenty years ago and then merged with another gallery on High Street in Chestertown where it has reorganized and grown for the last 16 years.
The Historic Houses of Odessa were operated by Winterthur from 1958-2003. The Historic Odessa Foundation opened to the public in December of 2005.
Today, Odessa is a National Registered Historic District and is also home to a National Historic Landmark and two National Parks Service Network to Freedom Sites. The Historic Odessa Foundation is dedicated to preserving and interpreting the past through tours, focuses on exhibitions, and living-history programs for children and adults.
The American Music Theatre (2425 Lincoln Highway East, Lancaster, 800-648-4102, www.AMTshows.com) has a long tradition of presenting holiday shows every November and December.
The tradition continues this year – with a difference. This year, it's the "2020 AMT Virtual Christmas Show: Home For Christmas."
American Music Theatre is presenting "Home for Christmas," an eight-part holiday special created by an outstanding group of volunteer artists and production staff who donated their time to bring you the spirit of the season. This exciting musical celebration is a complimentary gift and was designed, performed, and filmed on the AMT Stage just for fans.
Featuring the AMT's world-class singers, dancers, and musicians, it is an AMT Christmas performance like never before
To view all "Home For Christmas" segments, visit the AMT YouTube Channel. If you subscribe and select the notification button, you will be notified each time a new video is released.
Adventure Aquarium's "Christmas Underwater," which provides visitors with a different look at Christmas, is running now through December 24 at the Adventure Aquarium (1 Riverside Drive, Camden, New Jersey, www.adventureaquarium.com).
The attraction features the "World's Tallest Underwater Christmas Tree." At over 18 feet tall, the tallest underwater Christmas tree on Earth has arrived in Shark Realm. Scuba Santa has collected corals from all over the world's oceans to decorate the tree along with colorful shells, thousands of twinkling lights, enchanting bubbles and a bit of magic.
"Christmas Underwater" offers a variety of activities geared for all ages including "Scuba Santa Appearances." 
New this year, while Scuba Santa is taking breaks from diving, guests can visit him for photos from his Magic Snow Globe. 
Admission to Adventure Aquarium is $31.99 for adults and $21.99 for children. 
"Hersheypark Christmas Candylane," which is the annual holiday event at Hersheypark (100 West Hersheypark Drive, Hershey, 800-HERSHEY, www.hersheypark.com), is running now through December 31.
The park has "decked the halls" with more than five million lights for the merriest event of the year — "Hersheypark Christmas Candylane." The event features rides and coasters, a visit with Santa, festive Hershey Character experiences, and, for the first time ever," the opportunity to explore Hershey's Chocolatetown in the winter.
This year's rides and coasters are the all-new Candymonium , Laff Trakk, Sidewinder , Wild Mouse, Wildcat, and Cocoa Cruiser. The Kissmas Tree display features the park's iconic Kisses Fountain decked out in its holiday best.
Santa and all nine of his reindeer make a special stop at Hersheypark Christmas Candylane® event each year. Visitors can get an up-close look at their favorite reindeer (including Rudolph) at Santa's Reindeer Stables complete with newly expanded viewing platform.
Visitors to Hershey can also experience the winter wonderland called "Hershey Sweet Lights, A Holiday Drive-Thru Spectacular." The attraction is a two-mile drive through wooded trails featuring approximately 600 illuminated, animated displays.
Admission to "Christmas Candylane" is $49.15. Tickets for the drive-thru start at $22.15 per car.
"A Very Furry Christmas at Sesame Place" (100 Sesame Road, Langhorne, www.sesameplace.com) is a festive, family-friendly celebration with everyone's favorite Sesame Street friends live and in-person at the amusement park in Langhorne.
The annual event, which runs through January 3, offers a wide array of family holiday activities.
Visitors to the park can sing along at three special Christmas shows and a spectacular music and light show at our giant 1-2-3 Christmas Tree, take a train ride tour through the Twiddlebugs'Gingerbread Cookie Factory on the Sesame Place Furry Express, take part in the Neighborhood Street Party sing-alongs.
As an added attraction this year, Rudolph the Red-Nosed Reindeer is spending the holiday season at Sesame Place. The lovable reindeer along with his friends Clarice and Bumble, will be available for photos with guests.
Tickets for "A Very Furry Christmas" are $35.99.
Anyone wanting to really get into a Christmas mood can visit Koziar's Christmas Village (782 Christmas Village Road, Bernville, 610-488-1110, www.koziarschristmasvillage.com) which began its 73rd season on November 7.
Koziar's Christmas Village is truly a holiday wonderland — a wintertime spectacle that delights young and old alike with a huge amount of holiday displays and special attractions. It will remain open every night through January 1 — including Christmas Eve, Christmas Night, New Year's Eve and New Year's Night.
The tours of "Christmas Village" feature visits to a variety of displays and exhibits, including "Santa's Post Office," "Christmas in the Jungle," "Manger Scene," "Christmas Beneath the Sea," "'Twas the Night Before Christmas," "Olde Fashioned Bakery Shop," "Toy Maker and his Toy Shop," "Christmas in Other Lands" and "The Olde Church".
Other attractions at Koziar's Christmas Village include a huge model train display, a toy shop, a country kitchen, indoor and outdoor Christmas displays and a place to visit with Santa and even get pictures taken with the old guy in the red suit. Admission to Christmas Village is $12 for adults, $11 for seniors (65 and older) and $10 for children (ages 4-10).
If you're looking for a non-holiday events this weekend, there are a few– albeit for those with less than mainstream tastes.
Ghost Tour of Philadelphia (215-413-1997, www.ghosttour.com), Ghost Tour of Lancaster (717-687-6687, www.ghosttour.com) and Ghost Tour of Strasburg (717-687-6687, www.ghosttour.com) operate through November and offer an eerily entertaining evening of true ghost stories and real haunted houses.
The Ghost Tour of Philadelphia is a candlelight walking tour along the back streets and secret gardens of Independence Park, Society Hill, and Old City, where ghostly spirits, haunted houses, and eerie graveyards abound. Tickets are $24.
Participants in the Ghost Tour of Lancaster explore the long-forgotten mysteries of one of America's oldest cities, with haunting tales of otherworldly vigils, fatal curses, and star-crossed lovers. The tour provides the opportunity to experience 300 years of haunted history from the Red Rose City's thorny past. Tickets are $18.
The Ghost Tour of Strasburg is a candlelight walking tour of the quaint and historic town of Strasburg in the heart of Pennsylvania Dutch Country. Visitors will experience an entertaining evening with a costumed tour guide spinning tales of haunted mansions, eerie graveyards, and spirits that roam the night … in a town lost in time. Tickets are $18.
On November 28 at 10 a.m., Fort Mifflin (Fort Mifflin and Hog Island roads, Philadelphia, 215-685-4167, www.fortmifflin.us) will host a special event called "Black Powder Friday at the Fort."
Visitors to the fort will be able to spend the day exploring one of the only intact battlefields of the American Revolution and enjoy musket and cannon demonstrations.
They can stretch Thanksgiving an extra day and give thanks for the soldiers that fought here, providing General Washington time to establish winter quarters in Valley Forge in 1777.
Fort Mifflin, which was originally called Fort Island Battery, was commissioned in 1771. It was also known as Mud Island Fort because it sits on Mud Island (also known as Deep Water Island) on the Delaware River near the Philadelphia International Airport. During the American Revolutionary War, the British Army bombarded and captured the fort as part of their conquest of Philadelphia in autumn 1777.
Guided tours at will be held at noon and 2 p.m. Black powder demonstrations and musket drills will be presented throughout the day.
Admission is $10 for adults, $8 for seniors and veterans and $6 for children (ages 6-12).