By Mike McGann, Editor, The Times @mikemcgannpa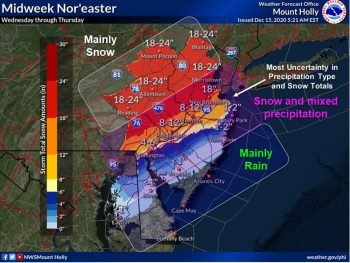 Chester County is going to get hit hard by an early winter storm — but how much snow you get may just depend on how far north you live in the county and where the rain/snow line ends up falling.
The storm is expected to hit the Chester County area Wednesday afternoon according to the National Weather Service, with total snow accumulations in parts of the county estimated to between 11 and 19 inches, once the snow ends early Thursday.
But, as always the devil is in the details.
While North Coventry might see 18 inches of snow, Kennett Square could see less than five inches — but will have a higher risk of ice and freezing rain, but either number could change dramatically, depending upon where the rain/snow line ends up. Keep in mind, the southern portion of the county could still see a foot or more of snow – with nearly two feet falling in the north — if the rain/snow line falls in southern Delaware. 
Keep track of the latest forecast, as it will literally be a minute-by-minute situation.
By the evening commute, the county's roadways are expected to be slippery at best, with travel becoming even more hazardous as the evening continues. The Thursday morning commute is expected to be difficult as well, as the final precipitation falls in the area.
Power outages are expected in the county, with higher likelihood in areas hit by freezing rain/ice. Residents are advised to make sure they have a couple of days of supplies in the house and to charge their mobile devices in case of power loss.
And whatever falls won't melt quickly – a deep freeze is expected for the end of the week, with frigid overnight temperatures on Thursday and Friday, according the NWS forecast. Temperatures are expected to moderate into the middle of next week, with rain expected on Christmas Eve and into Christmas day, before turning into snow by nightfall.