By Mike McGann, Editor, The Times @mikemcgannpa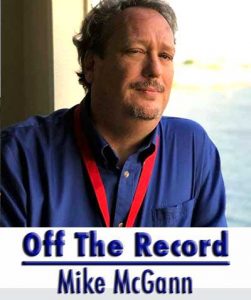 It's easy to be hung up on all of the bad things we're living through right now.
I'm not going to list them all, you know them all too well and don't need me to remind you.
So, as we head into Christmas week, I want to focus on the things we can celebrate – and yes, there are things.
With all of the difficulties, we've learned to appreciate the kindness and charity of the greater community. This is the year where one really can appreciate the concept, "but for the grace of God…"
Maybe, too, we've learned to appreciate the sense of community we'd come to take for granted. Being forced to largely exist within our own bubbles, we recognize how much we miss people, being around people. The shared experience of a blockbuster movie, that aural buzz one hears in a crowded restaurant. The crowd at a sporting event — whether pro sports or just local high school games.
I'm betting no one will take those experiences for granted when they return in 2021 — and appreciate them more.
You have to think that folks will better recognize that opportunities and time pass quickly, and we need to focus on spending time with the people we love and not put it off as we might in earlier, busier times. Not being able to see family and friends creates a longing, a recognition of how important these folks are to our lives. Maybe it shouldn't take a pandemic to remind us, but we've been reminded.
Our Christmas — whether you celebrate the secular version or the religious version — will be different this year. Instead of the hustle and bustle and large family gatherings, it will likely be a quieter day with room for contemplation. But maybe that's not the worst thing. A day of peace is still a rare thing for many of us. Yes, we will miss those we normally share the holiday with, but there should be some solace in knowing we're helping to keep them safe.
And it will make next Christmas that much more special – less of an ordeal to endure, but an even bigger reason to celebrate.
Better days will be coming and the holidays will give us time to pause and get ourselves prepared for the last, difficult weeks before enough of us are vaccinated to finally put this era of crisis behind us.
Don't dwell on the bad news, the chaos or the division — you can't change it this week and there will be plenty of time to work through these issues in 2021. Be present for those you can spend time with and keep those you can't in your thoughts.
Be kind to yourself, too. Indulge in an old favorite movie. Enjoy a book. Find ways to embrace a bit of peace in year that made it so difficult to find.
Yes, these will be Christmas holidays like no other. Focus on the things you have, not what you do not and it will be easier to find joy.
Stay safe.
From all of us at The Times, we wish you a peaceful and joyous Christmas.